Semiconductor Stocks Could be Big. Here's What You Need to Know...
Feb 2, 2022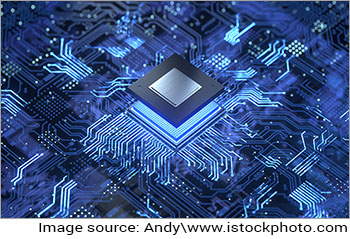 There is a lot of buzz around semiconductors at the moment. This is mainly due to the shortage of semiconductor chips.
You see, the pandemic led to an increase in demand for electronic devices, which in turn led to an increase in demand for semiconductor chips.
However, most of the chip makers in the US source their materials from China. A ban on Chinese companies led to a shortage of raw materials. This affected the production of semiconductor chips.
So what are semiconductors? And why are they important?
A semiconductor is a material with properties of both a conductor and insulator. Silicon, gallium arsenide, and germanium are common semiconductors.
They're used in most electronic devices because it's easy to control their conductivity compared to other elements.
Semiconductor chips perform a host of functions that range from transferring data in laptops to controlling the temperature in air conditioners.
These chips are also used in several new technologies such as the internet of things (IoT) and electric vehicles.
Semiconductors have more uses than one can think of. Here's a list of some emerging technologies that can make semiconductor stocks more desirable.
#1 Metaverse
The metaverse is first on our list of use cases that will lead to an increase in demand for semiconductor chips.
Metaverse is a digital world created by 3D graphic design that is supported by augmented reality (AR) and virtual reality (VR). With the metaverse, you can visit a bank, shop at a store, or even eat at a restaurant from the comfort of your own home. All this is done by your digital avatar.
Though technology companies are the primary beneficiaries of the metaverse, semiconductor companies also enjoy a share in this trend.
This is because the metaverse will require a lot of data processing in real-time. Semiconductor chips will help carry out this processing smoothly.
In metaverse, you can do everything that you do in real life. As the digital world will keep expanding to accommodate all our needs, simultaneously the semiconductor industry will grow.
According to a report by Everett, the global metaverse industry is expected to grow at a CAGR of 44.1% to reach US$ 872.4 bn by 2028.
This means the demand for semiconductor chips is only going to go up over the next few years.
#2 Electric Vehicles
Next on our list is electric vehicles, a trend that already has made a significant impact across the globe.
Semiconductors are already an integral part of a car's infrastructure. They are used in switches, sensors of heat and light, and microprocessors. For modern vehicles, they are also used in blind spot detectors and backup cameras.
When it comes to electric vehicles, semiconductors are used in batteries and power trains which are key to the essential firmware of an EV. They also have the potential to improve the battery life of EVs.
Another trend in the auto space that will push the demand for semiconductors is autonomous driving.
Self-driving cars require semiconductors to enable safety systems such as lane changing assistance, airbag deployment, collision avoidance sensors, and emergency braking.
Internet-enabled features such as GPS tracking and navigating need semiconductors to function smoothly.
As the automobile industry evolves, one can expect the use of semiconductors in the industry to increase.
#3 Solar Power
Third on our list is solar power, a key renewable resource that will help meet our planet's future energy needs.
Solar power is one of the cleanest forms of energy on this planet. All developed and developing countries are turning towards solar energy to fulfil their electricity needs.
The government of India also aims to increase its solar energy capacity to 450 gigawatts (GW) by 2030, a 60% increase from its current capacity.
So what role do semiconductors play in solar power?
Semiconductors are key to the functioning of solar power equipment as they help in converting sunlight into electricity with zero emissions.
They are also an integral part of solar cells. These are used in several devices such as watches, calculators, and many more.
An increase in the need for solar energy will drive up the demand for semiconductors going forward. This will positively impact the entire semiconductor industry.
#4 Artificial Intelligence
Fourth on our list is artificial intelligence (AI).
AI is a technology that makes it possible for machines to think. It's used everywhere, from a simple suggestion given by google search to big data analytics and military equipment.
As machine learning gains traction, the use of AI will to increase across sectors and industries.
AI applications process and store a large amount of data and semiconductors are integral to processing the data transfer at a faster speed.
Though many countries are not developed on the AI front, they are quickly adapting to it and making it integral for their future growth. This will positively impact the entire semiconductor industry.
#5 Drones
Another key area where demand for semiconductors will increase is drones.
Drones have been in use since the first world war. But it was not until recently that they were put to use across various industries.
Drones have multiple uses. Some of these include photography, filming, monitoring climate changes, delivering goods, and surveillance.
As the adoption of drones increases, semiconductors will be required in huge quantities as they form an integral part of drones. Semiconductors are used in many parts such as 3D cameras, microprocessors, microcontrollers, and gyroscopes.
The demand for drone-based services will further increase as new technologies such as AI and cloud computing are incorporated into drones.
#6 Electronics
Last on our list is electronics.
Though the use of semiconductors in the electronics industry is not new, it's a key industry that will boost the sales of semiconductors.
Semiconductors are used in smartphones, laptops, desktops, televisions, washing machines, LED bulbs, and other consumer electronics.
Over the years, as the consumer electronics industry evolved, the semiconductor industry also developed. In fact, it's due to these chips that our laptops and phones have become smaller and faster.
With the rising demand for consumer electronics, the demand for semiconductor chips will grow.
Can semiconductor companies keep up with rise in demand?
The size of the global semiconductor industry at the end of 2020 stood at US$ 426 bn. This is expected to reach US$ 803.2 bn by 2028.
Currently, most of the companies source their semiconductors from Taiwan as it manufactures more than 60% of the global semiconductor chips.
However, to alleviate the current crisis situation many countries are tapping into this new opportunity.
Several countries including India are providing incentives to set up semiconductor manufacturing facilities.
In India, the Tata Group and Vedanta Group have expressed their interest in this industry.
Despite the steps taken to address the shortage, the crisis is expected to last until 2023. This will create immense pressure on the current players in the industry.
To keep up with the surge in demand, semiconductor companies will need to keep up with new technological developments.
They will also have to make major changes to their manufacturing methods to incorporate the latest technologies to speed up chip production.
If they fail to do so, it will be difficult to keep up with the surge in demand.
Since we're talking about semiconductors, don't forget to check out the below video where Co-head of Research at Equitymaster Tanushree Banerjee, talks about the best semiconductor stocks in India.
Disclaimer: This article is for information purposes only. It is not a stock recommendation and should not be treated as such. Learn more about our recommendation services here...