Why Insurance Stocks are Falling
Feb 2, 2023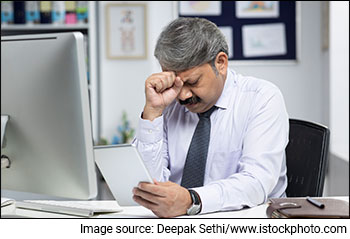 General Insurance Corp (GIC) down 12%.
HDFC Life Insurance and ICICI Prudential Life Insurance down 11% each.
Life Insurance Corp (LIC) and SBI Life Insurance down 8-9% each.
Insurance stocks witnessed a brutal selloff yesterday after Nirmala Sitharaman presented her Union Budget 2023 speech.
The top insurance stocks were already under pressure for the past couple of months due to business growth slowing down, among other reasons.
LIC share price was falling while HDFC Life Insurance and ICICI Prudential share prices have also witnessed selloffs.
Now, new developments in the Budget speech announced yesterday, have added to the pressure.
Let's find out why insurance stocks are falling.
How Budget 2023's new tax regime affects insurance companies...
The finance minister presented the Union Budget 2023 on 1 February 2023. The stock market cheered and soared high before cooling off.
Apart from Adani group stocks, the most active stocks on the Indian share market yesterday were insurance stocks.
Insurance companies suffered a big blow after Sitharaman announced a new tax regime on high value insurance policies.
Here's what she said,
"It is proposed to provide that where aggregate of premium for life insurance policies (other than ULIP) issued on or after 1st April 2023 is above Rs 500,000, income from only those policies with aggregate premium up to Rs 500,000 shall be exempt.

This will not affect the tax exemption provided to the amount received on the death of person insured. It will also not affect insurance policies issued till 31st March 2023."
So basically, what she said was insurance buyers would need to pay tax on insurance proceeds if the premium paid exceeds Rs 500,000.
This is bad news for insurance companies as it makes their products less appealing from a tax-saving perspective.
People's interest to buy high-value traditional insurance will get affected.
Several insurance companies have launched policies targeted at high net worth individuals or HNI, where the premium payable was above Rs 500,000. Returns from these insurance policies were tax free till the finance minister changed the rules yesterday.
Let's pretend you have a piggy bank where you keep your money safe. Some grown-ups have a special piggy bank too, but it's called an "insurance" piggy bank. They put their money in there so that if something bad happens, say their house catches fire or they get sick, they will have money to handle it.
But now, the grown-ups in charge of the country, called the government, decided to change the rules about the special piggy bank. Now if you put your money in there, you won't get to save as much money on taxes. This made the special piggy bank less special as many grown-ups wouldn't want to use it.
Performance of insurance stocks on budget day and in 2023 so far
Have a look at the table below to see the performance of insurance stocks
Insurance stocks in India
Source: Equitymaster
Points to keep in mind while investing in insurance stocks
Insurance stocks provide an excellent investment opportunity as they can be potential permanent wealth creators.
Recently, a new law was passed which allows the government to dilute its stake in public sector insurance companies.
These companies help diversify your portfolio and help in value addition. This is mainly because insurance companies make money from underwriting profit and investing.
Moreover, they don't pay taxes on the entire premium amount they receive. They only pay taxes on the income they receive as a surplus from expired policies.
However, insurance companies are not similar to financial services companies.
Their financial statements differ a lot. Moreover, valuing these companies is tricky, and there is a wide gap between Indian companies and their global peers.
Investors who wish to participate in this industry have to understand how the companies make money and also have to know which parameters to check. Select only those companies with a credible track record of managing the investible funds.
Alternatively, one can consider investing in companies with a significant stake in insurance companies to participate in this sector.
Check out Equitymaster's Indian stock screener which shows the valuations and fundamentals of all insurance companies in one screen...that should help you get a better grip.
Now Before You Go, This is Something You Need to Know...
Recently, our co-head of research, Rahul Shah uncovered these 3 amazing stocks.
All 3 of them are very strong on fundamentals.
Not only that... they are also the front-runners in riding what Rahul calls India's third giant leap.
A leap that could potentially generate wealth far beyond anything we have seen till now.
Rahul shared his entire research on this subject at his recent special event... including details of these 3 must own stocks.
Disclaimer: This article is for information purposes only. It is not a stock recommendation and should not be treated as such. Learn more about our recommendation services here...