Budget 2022's Thrust for Massive Capex: 5 Companies Nearing Capex Completion
Feb 3, 2022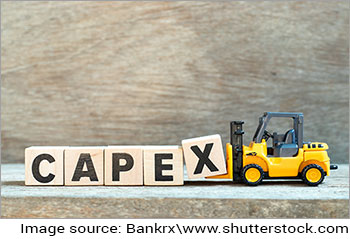 In the Budget 2022 speech, Finance Minister Nirmala Sitharaman announced a sharp jump of 35.4% in capital expenditure to fund various infrastructure projects in fiscal 2023.
The capital expenditure target for fiscal 2023 now stands at Rs 7.5 tn.
Sitharaman said capital investment holds the key to India's revival and public spending is required to take the lead.
Capital expenditure (capex) is nothing but funds used by a company to acquire, upgrade, and maintain physical assets such as property, plants, buildings, technology, or equipment.
Ever since the government's higher capex was announced, companies with high capital expenditure, in the capital goods and infra sector, are in focus.
Why?
Tracking a company's capex plans provides information about its growth prospects.
It also indicates the management's outlook on the company's growth.
Although capex plans give an idea about the growth momentum, one must also look at the demand for the company's products and the funding of capex plans along with past performance.
If it's taking on huge debt for capex, it's clearly a red flag.
In today's article, we take a look at companies which have undertaken big capex plans and are nearing completion.
These companies are in high growth sectors and have potential to increase their topline due to the capex.
#1 Laurus Labs
Laurus Labs is engaged in offering a broad and integrated portfolio of Active Pharmaceuticals Ingredients (API) including intermediates, generic finished dosage forms (FDF) and contract research services to cater to the needs of the global pharma industry.
The company has various state-of-the-art manufacturing facilities that enable it to develop quality affordable medicines for challenging diseases.
The company has seven manufacturing facilities in Visakhapatnam (Andhra Pradesh), one API facility in Bibinagar (near Hyderabad), and a Kilo Lab at its R&D centre in Hyderabad.
Last week, the company posted good December 2021 quarter results with all segments continuing to show strength. While API segment revenues were up 88%, formulations registered 61% year on year growth.
In order to supplement future growth, Laurus Labs undertook capex of Rs 7 bn in fiscal 2021. This was done to increase capacity by almost two times by March 2022.
The company recently announced a capex of Rs 15-17 bn spread over the next two years i.e. until 2023 to further increase its capacities.
Have a look at the image below which shows the company's capex plans.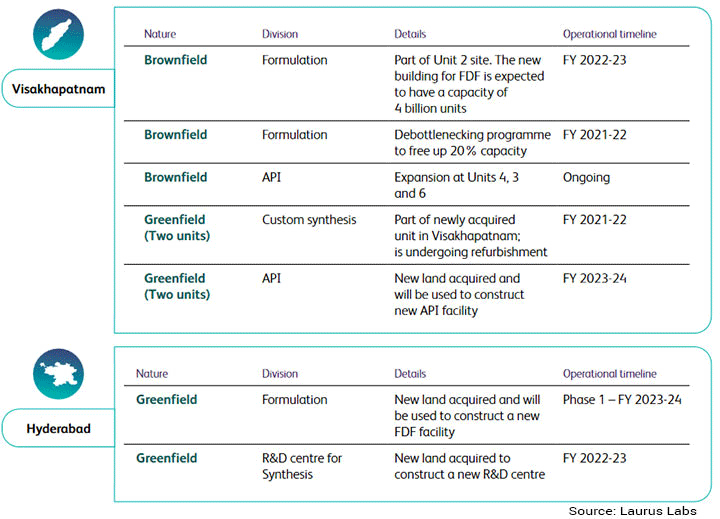 Most of the capex which the company did in fiscal 2022 is for growth in fiscal 2023 and beyond, according to Dr Satyanarayana Chava, founder of Laurus Labs.
Note that Laurus Labs has set a revenue target of US$1 bn by 2023 which it aims to achieve via this expansion. It expects growth to sustain in formulations aided by new approvals and steady growth in custom synthesis.
To know more, check out the financial factsheet and latest quarterly results of Laurus Labs.
#2 Borosil Renewables
Borosil Renewables is engaged in the business of manufacturing of extra clear patterned glass and low iron solar glass for application in photovoltaic panels, flat plate collectors, and green houses.
It's the first and only solar glass manufacturer in India.
Last year, the company undertook capex expansion worth Rs 5 bn to double its solar panel glass capacity. Currently, it has a 450-tonne per day capacity at its Baruch plant, which is expected to increase to a capacity of 950 tonnes per day in July 2022.
Notably, this is Borosil's second doubling of its capacity in the past five years. It undertook Rs 2.4 bn expansion in 2016.
For this capex, it successful raised funds (Rs 2 bn) via QIP back in December 2020.
Note that Borosil Renewables spotted the opportunity in the segment quite early back in 2008 and commissioned its solar glass manufacturing facility in January 2010.
And the rest they say is history.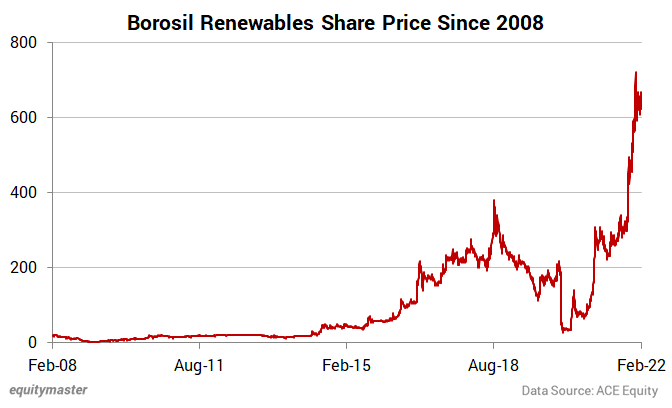 At that time, the industry was at its nascent stage. While many saw the growth potential, the company was in for a very tumultuous decade as can be seen from its stock price chart above.
Here's Pradeep Kheruka, the company's Chairman in his own words.
China started to dump material into India at prices much lower than the cost of production. It was impossible to stand up against Chinese competition initially.
The company is set to benefit more as the government in Budget 2022 announced a proposal to include solar module manufacturers in the performance linked incentives (PLI) scheme.
An additional Rs 195 bn will be allocated to the scheme, which aims to promote manufacturing of high-efficiency modules with priority to fully integrate manufacturing units to solar PV modules.
To know more, check out Borosil Renewables latest quarterly results.
#3 Hikal
Hikal is a partner to companies in the pharma, crop protection, and specialty chemicals industry. It's in the business of supplying research services, active ingredients, and intermediates for its customers.
While Hikal enjoys synergies from the China+1 strategy, it's also enthused by recent opportunities arising from global supply chain disruption. Due to this, Hikal has planned a much higher capex program.
At present, Hikal is executing a nearly Rs 6 bn capex program. While parts of the program will be completed over the next few months, a major part of the benefit is expected to come in fiscal 2024.
This capex is to scale up its pharma and crop protection business (contract manufacturing and proprietary products).
What's more, the company has also culminated a 10-year contract in the emerging vertical of the animal health business.
Hikal has a strong product profile and good relationships with leading multinational pharma as well as agro-chemical (crop protection segment) companies in the world. It's the exclusive supplier for various off-patent and on-patent chemicals to innovators.
In the pharma segment, Hikal derives most of its revenues from the sale of Gabapentin API. It continues to maintain its global market leader position, with around 35-40% market share in Gabapentin.
Over the last one year, shares of the company have gained 140%.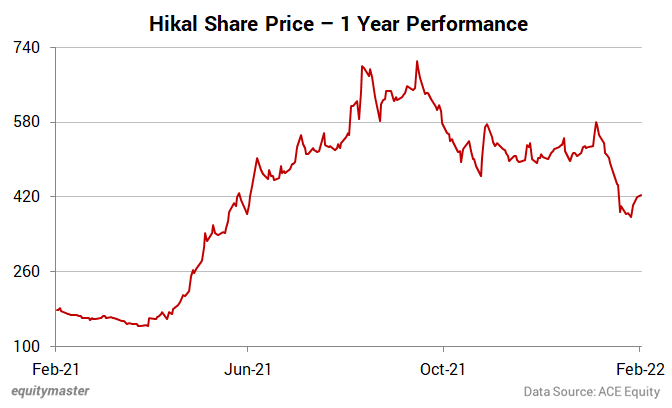 Stock of the company came under selling pressure recently following the tragic Surat gas leak incident in which six people lost their lives.
Reports stated that the industrial chemical leaked was allegedly collected from Hikal in Taloja of Maharashtra. However, the company's management clarified the leak did not come from the tanker that was from Hikal.
To know more about the company, check out Hikal's latest shareholding pattern.
#4 Alkyl Amines Chemicals
Alkyl Amines Chemicals is a leading manufacturer of amines chemicals which find applications across pharma, agrichem, personal care, polymers, rubber, oil & gas, water, and many more industries.
Alkyl Amines has segmented its products across three major categories - aliphatic amines, amines derivatives, and specialty chemicals. It holds a strong market share of 40-50% on an average across all the products.
The company has been continuously adding new products and capacities to meet the growing demand for its products.
In 2018, the company commissioned a new methylamine plant at Dahej. It increased its capacity utilisation which helped it to increase market share in methylamines significantly.
Then in 2020, the company enhanced its DMA HCL and isopropyl capacities.
In 2021, it also added methylamine and acetonitrile capacities, among other smaller capacity enhancements to meet demand.
With a growing demand for its products, the company's board recently approved an investment of approximately Rs 3.5 bn for increasing the capacity for aliphatic amines by 30-40% at its Kurkumbh and Patalganga sites in Maharashtra.
The capacity will be added in the next 15 to 18 months and will contribute significantly to the company's topline.
Note that in the last one decade, the company has multiplied its topline and operating profits by 14 times and 65 times, respectively.
And Mr Market has not left all these efforts go unnoticed. The stock of Alkyl Amines is one of the biggest wealth creators of the past decade.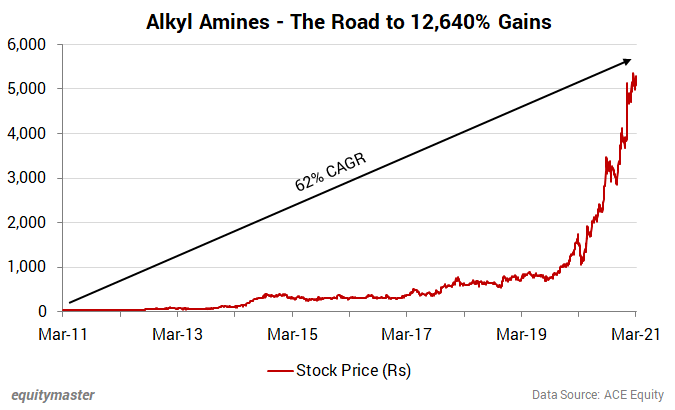 The stock is likely to be in focus for the next few months as Finance Minister Nirmala Sitharaman recently announced changes in customs duty for the sector.
As per market experts, the custom duty cut in methanol is a big positive for amine stocks like Alkyl Amines, which use the chemical as their main raw material.
#5 Tata Chemicals
Tata Chemicals is part of the Tata Group. The company's business segments include basic chemistry products, salt, and specialty products.
Currently, the company is third largest producer of soda ash in the world with presence across the globe. It is also the sixth largest manufacturer of sodium bicarbonate in the world.
It also has an established market presence in the agri science & crop protection business through its subsidiary Rallis India, another hidden Tata group company.
Tata Chemicals has allocated Rs 24 bn towards capacity expansion projects at its Mithapur plant. Of this, around Rs 8 bn has been spent and the rest will be incurred over the next one year.
Have a look at the image below which shows Tata Chemicals' capex projects.
Ongoing Capex Projects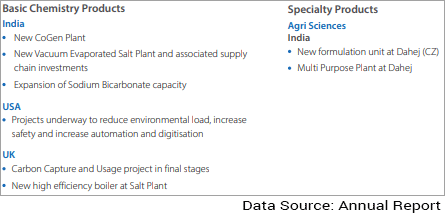 Apart from this, the Tata group company has big expansion plans for lithium-ion cells for electric vehicles (EV), chemicals, nutritionals, and agri-sciences.
To know more, check out Tata Chemicals latest quarterly results and Tata Chemicals financial factsheet.
Did Budget 2022 set the revival of capex in motion?
Note that the higher allocation in Budget 2022, Rs 7.5 tn to be precise, works out to 19% of the total expenditure of Rs 39.5 tn. That's massive.
The last time the share of capex touched a similar figure was when it came in at 19.3% for the financial year 2005.
The economic survey released a day before the budget did highlight that capex had earlier been affected by restrictions and labour availability. This has changed now as restrictions eased in the second half of the financial year 2021 and the momentum has continued in fiscal 2022 too.
Many companies have planned huge capex plans over the next three years starting 2022. This just shows that there will be a strong recovery.
Research Analyst at Equitymaster, Aditya Vora believes the Budget 2022 shows the clear thrust on reviving private sector capex.
This is a strong push for the capital goods sector thus benefitting old economy like cement and steel. As per Aditya, private capex could be the next trigger for the economy.
Here's what he wrote in a recent editorial:
Outlay for capital expenditure was raised by 35% from Rs 5.5 trillion to Rs 7.5 trillion. Out of the Rs 7.5 trillion capex, 25% is for roads and highways while defence will get 21%.

What does this mean for the markets?

To put it simply, the 2003-2008 period for capital goods and infrastructure is ahead of us.

If the last couple of years was about public capex done by the government, the next couple of years are likely to be led by private capex.

You can play the private capex cycle indirectly by investing in steel and cement companies.

Think of the additional cement and steel required to build roads, highways, hospitals, and buildings.

While the tide will be towards tech stocks and new age IPOs, I believe companies in the infrastructure, capital goods should be looked at.
To know what's moving the Indian stock markets today, check out the most recent share market updates here.
Disclaimer: This article is for information purposes only. It is not a stock recommendation and should not be treated as such. Learn more about our recommendation services here...