6 Popular Stocks of the 80s. Where are they now?
Feb 4, 2022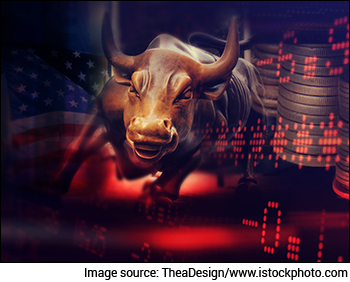 Some companies just aren't what they used to be.
'Buy bluechips and hold on to them forever', my grandfather used to say. 'As long as you have bought a good stock, don't worry, you will always make money'.
But the truth is that advice is unfortunately flawed. Today's bluechips are not tomorrow's bluechips.
This elite club of blue chips does not offer a 'Life Membership' option.
Diamonds may be forever, bluechips not so much. These 6 darlings of the markets in the 80s were regarded as blue chips at one time.
Today, these companies, though existing, are not thriving the way they used to.
And a few have ceased to exist.
Believing you can buy a popular stock today and be rewarded for just holding on to it is preposterous!We took a trip down memory lane to find 6 companies that peaked in the '80s and early 90s. Many of them have spiralled downwards since their prime. But some still exist.
An investor who bought these blue chips in the 80s and held on to them for the last 40 years would find himself in a bit of a pickle.
Whether you want to reminisce about your favourite stock, say Orkay Industries or you're curious about what happened to Hindustan Motors, read on to explore Equitymaster's list of famous bluechips of the 80s and the reversal of their fortunes.
#1 Bombay Dyeing Ltd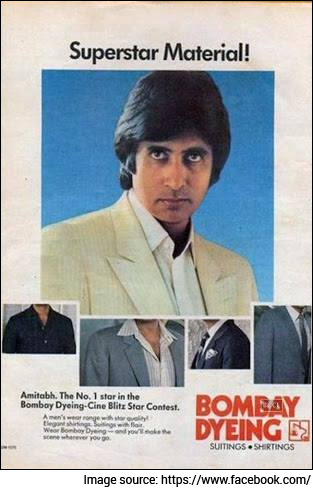 Bombay Dyeing & Manufacturing Company Limited, the flagship company of the Wadia Group was established in 1879 by Nowroji Nusserwanji Wadia.
The company had humble beginnings. A red-brick shed housed the operations, with the cotton yarn being dip dyed by hand and sun dried. There was only one store and a single manager.
Nowroji's son Sir Ness Wadia as chairman of Bombay Dyeing in the late 19th century, played an important role in turning the city of Bombay into one of the world's largest cotton trading centres.
Over the years, Bombay Dyeing has been one of India's largest producers and exporters of textiles.
Being one of India's most successful companies, Bombay Dyeing found itself to be a part of the BSE 30 companies in 1986 along with its chief rival Reliance Industries.
Most people remember Ambani vs Wadia of the 1980s as the most celebrated battle in Indian corporate history.
But few know the peculiar sale of Bombay Dyeing to the RPG group in 1971.
In 1971, Neville Wadia, the then Chairman of the company was keen to settle in Switzerland and decided to sell his assets in India including Bombay Dyeing.
Rama Prasad Goenka grabbed the opportunity and an agreement for the sale was duly signed between the two.
But Neville's 26-year-old son Nusli, had other ideas. He set about reversing the deal that had already been signed with Goenka by taking support from his great friend and mentor J.R.D. Tata and the company employees.
He even increased his stake by an additional 11% in the company.
Faced with fighting his son, Neville had no option but to ask Goenka to nullify the deal.
As Goenka explained to Gita Piramal for a piece in Open magazine, "We had signed the deal with Neville Wadia... But after Neville Wadia had signed, Nusli baulked. Neville Wadia offered me Rs 5 lakh to return the contract. Pallonji Mistry assured me that if the matter came to court, he would vouch for the legality of the sale and the presence of the contract. Like an idiot, I told Neville: 'If you offer me a drink, I'm prepared to cancel the deal.' He rushed off to get the finest bottle of Royal Salute. But I was an idiot. There is no room for emotions in business."
Bombay Dyeing stayed with the Wadia group and under Nusli Wadia it expanded its business over the years.
However, the company's fortunes changed once the Dhirubhai Ambani-led Reliance also ventured into manufacturing polyester clothing.
Bombay Dyeing found it hard to sustain business because duties made the chemical dimethyl terephthalate, or DMT, which it used as a key ingredient, more expensive to import than purified terephthalic acid, which Reliance used.
It was alleged this was a result of Ambani's excessive influence on the central government then.
Over the years, the company lost several big business opportunities to its competitors, while struggling to restructure its businesses.
In 2008, the company sold off its DMT plant in Patalganga which accounted for 65% of its total revenues.
The company's revenues have increased from Rs 11.9 bn in FY96 to just Rs 12.25 bn in FY21. That implies a meagre compounded growth rate of 0.12% over 25 years!
The company's only saving grace has been its old land bank at near zero cost. Under its arm, Bombay Realty, it is developing and undertaking real estate projects of the company.
The group has diversified into several other businesses, including airlines, food, chemicals, petrochemicals, plantations, and light engineering.
However, it remains to be seen if the company can turn itself around and retain its lost glory.
For the year ended March 2021, the company reported a loss of Rs 4.7 bn.
To know more, check out Bombay Dyeing's financial factsheet.
#2 Hindustan Motors Ltd
Hindustan Motors Limited (HML) was India's pioneering automobile manufacturing company and the largest car manufacturer in India before the rise of Maruti Suzuki.
Founded in 1942 by Mr. B.M. Birla, it was one of the original three car manufacturers in India.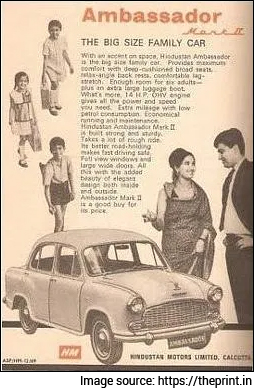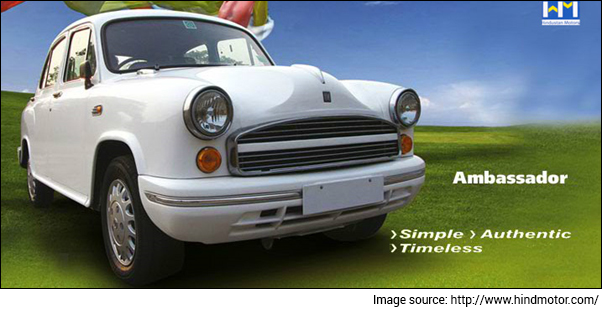 Often referred to as a "Sarkari Car", it was mostly operated by Government Servants, PSUs, PSU Banks etc. Their patronage alone drove the sales of the company.
In the pre-liberalized India of limited purchasing options, it was the vehicle of choice for consumers and the leader in car sales until the early 90s, when the industry was opened up.
Post liberalization in the 1990s, a number of foreign players entered the Indian markets through joint ventures and tie ups.
HML tried to remain competitive by launching variants of its vehicles with minor modifications. There was no major overhaul, no makeover, nor much advertising.
The company believed that its name was enough to retain its position in the market dynamics. Unfortunately, that wasn't the case.
HML's joint venture with Mitsubishi in the late 90s was expected to be the much-needed turnaround for the company. However, the hype soon faded as volumes did not match expectations.
Back in 1992, it would have been difficult not to consider Hindustan Motors as an investment proposition.
The auto industry had been booming in the past few years, with companies reporting the highest sales volumes year after another.
Given its early mover advantage and in-depth knowledge of the Indian market, HML was in a unique position. However, it failed to adapt with the fast-changing environment.
The company's revenues peaked in FY2000 at Rs 12.5 bn. Since then, things have gone downhill.
Over the last two decades, the company tried to revive sales by tying up with various players but failed to capture any market share.
The company was finally compelled to declare "Suspension of work" at its plants since 2014 due to lack of orders.
Production of the famous Ambassador stopped in 2014 and the brand was eventually sold to France's Groupe PSA for Rs 80 cr.
For well over five decades, the Ambassador was very much a part of and reflective of India's social fabric. When production ceased, a significant section of Indian society bade it a tearful goodbye as did the likes of the BBC and several international media.
It outlived prime ministers, bureaucrats, film stars but nothing & nobody ever outlives the market.
The company's script was excluded from the BSE-Sensex, on 19 August, 1996. Perhaps it was a sign of things to come...
#3 Mukand Ltd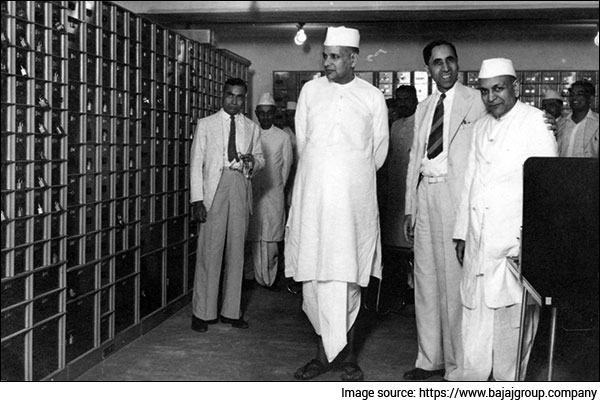 Lala Mukand Lal sets up Mukand Iron & Steel Works in Lahore but is unable to run the plants. On Gandhi's suggestion, Jamnalal Bajaj, seen here at the Lahore factory, acquired Mukand Iron & Steel Works Ltd. in 1939. In 1989 the name of the company was changed to Mukand Ltd.
Mukand Limited is a part of the Bajaj Group and produces alloy steel and stainless steel in India and most of the revenues come from the steel division.
Incorporated in the year 1937 as Mukand Iron & Steel Works Limited, was acquired by Shri Jamnalal Bajaj and Shri Jeevan Lal Shah, on the behest of Mahatma Gandhi in the year 1939.
When the BSE Sensex was first constituted in 1986, Mukand Ltd found itself among the elite 30 companies on the list of most liquid and financially sound companies across key sectors of the Indian economy.
By 1989 the company had grown to become a multi division, multi product conglomerate with its products reaching across the globe feeding a variety of industries.
Liberalisation in the early 1990s resulted in rapid growth in the steel industry.
What Changed?
The steel industry experienced a difficult phase between 1997 and 2001 due to a severe recession in the global economy which led to a demand-supply mismatch with potential production capacity being much higher than demand.
Prices of certain steel products during this period touched a 20-year low and most producers in India made heavy losses. Most producers including Mukand Ltd suffered heavy losses during this period.
To add to that, the company had made substantial investments in real estate and other non-core assets at the time with a view to get attractive returns on the large cash surplus with the company.
These investments were made before the company decided to implement the Ginigera Steel Project (GSP) and later on due to a downturn in the real estate sector it was unable to liquidate these assets to finance the GSP.
This resulted in the company having to borrow funds to finance the increased cost of the project due to cost and time over-run.
Even as company's cash flows declined sharply, the company debt continued to increase.
The company reached a stage where it was unable to service its debt servicing obligations and its bank borrowings also became irregular.
As a result, the company entered into a Corporate Debt Restructuring plan (CDR) which was approved in July 2003 and helped the company in getting back to its feet.
It returned to profitability in 2005 but has slipped into losses for most of the financial years since then.Mukand Ltd has been languishing for years and became the smallest Bajaj group company, hamstrung with high debt that went as high as Rs 31 bn in 2019 following bad business calls.In August 2021, the Bajaj family decided to buy out its partners, the Shah brothers as part of a major restructuring exercise.
#4 Orkay Industries Ltd
Who remembers the one-time rivals of the Reliance group?
Once upon a time, there was a company, Orkay Industries Ltd (earlier Orkay Silk Mills Ltd) headed by Kapal Mehra who took on the mighty Ambanis.
Where is it today?
In 1981, Orkay was among 43 applicants for a licence to manufacture partially oriented yarn (POY).
Only three emerged triumphant with the all-important piece of government paper: Orkay, Reliance, and JK Synthetics.
Orkay was till then a small concern with a turnover of less than Rs 200 m.
In 1984, Orkay Industries went public with a share issue which was immediately oversubscribed at least 15 times.
Although, the company was not a bluechip at the time, the frenzy in trading of shares in Orkay was unbelievable.
Word was on the street that Orkay was the real deal... the blue-chip of the future. Having seen the phenomenal success of Reliance, investors lapped up the shares and trading on Dalal Street sent the Rs 10 share soaring to Rs 180 in no time.
Kapal Mehra often claimed, Orkay was a mini-Reliance which would in no time become a maxi-Reliance and Orkay showed all the signs of being a money-spinner.
The company had increased its turnover by eight times in the last five years, a record few other companies could match.
The group was involved in the organised synthetic textiles industry till the 1980s, like Reliance combining the knitting and weaving of textiles with the processing of fabrics and synthetic yarns.
In the 1980s, it too diversified, like Reliance and ambitious plans of Rs 3 bn were drawn up to diversify into petrochemicals, leasing, telecommunications, and electronics.
And then, all hell broke loose in 1985. A series of raids by customs, excise, and income tax authorities very nearly pushed the company to the brink of closure with evasion claims totalling Rs 1.5 bn.
To add to that, Orkay had to shell out Rs 600 m more on its foreign loans due to devaluation of currency.
In the same year, Mehra landed in jail on charges of under invoicing polyester chip imports worth Rs 50 lakh.
Insiders allegedly believed it was orchestrated on the behest of Ambani who saw Orkay as an alarming threat to Reliance.
Although Mehra did get out of jail a few weeks later, the damage was already done.
There was a run on the fixed deposits, funding from banks dried up and Mehra lost a significant part of his wealth just trying to support the Orkay scrip in the market - with prices having crashed to around Rs 35.
By then, the company had become cash-strapped and had to give up its growth plans as it needed fund to stay afloat.
In 1999, the Bombay High Court issued winding up orders for the company.
The Orkay story reminds one of a quote by Robert Frost "Take care to sell your horse before he dies. The art of life is passing losses on".
#5 Ballarpur Industries Ltd
Ballarpur Industries Limited (BILT) is a subsidiary of the Avantha Group, and was once India's largest manufacturer of writing and printing paper.
Karam Chand Thapar established the company in 1945 as Ballarpur Paper and Straw Board Mills Limited and in 1975, it was renamed Ballarpur Industries Limited.
The Thapar group was among the top corporate houses in India till the 1990's and the current chairman Gautam Thapar belongs to the third generation of the family.Being the flagship company of the Thapar group, at one point in time BILT was one of the blue-chip stocks investors couldn't get enough of and it was also a part of the BSE 30.
What went wrong?
During the late 90s, the slowdown in the paper industry impacted Ballarpur and the company was already reeling under pressure.
With the liberalisation wave hitting the country, the government permitted large companies to enter into new sectors which had export potential. Every large industrial house was getting into areas in which they had no core competence.
BILT diversified into a host of unrelated businesses like leather, garments, light weight concrete blocks and reinforced slabs, prawn culture, compressed straw board, nylon, newspaper publication etc.
The company also erred by trying to ape the west and make paper products used in international markets but India had its own market and needs.
The group was unsuccessful in most of these unrelated businesses and ended up incurring huge losses.
Finally, it decided to hive off some of these businesses. The major among them was edible oil and glass.
By then, the group had slowly slipped down among the rankings of the big business houses of the country.
In 1999, the Thapar family business assets went through restructuring and they were divided among the four sons of Karam Chand Thapar.
After the division of the group business, Gautam Thapar, grandson of Karam Chand, started functioning autonomously to grow his share of the business.
In 2007, he consolidated all his inheritance under one banner: Avantha Group. It had exposure to sectors such as paper, pulp, power, industrial solutions, consumer electricals, food processing, chemicals, farm forestry, and information technology-enabled service (ITeS), among others.
Gautam set out to spread his wings globally. BILT made an ambitious acquisition of Sabah Forest Industries, Malaysia's largest pulp and paper mill, for US$261 m in 2006.
However, it failed to scale up its Malaysia operations, as the cost of importing from that plant to India became higher than buying it locally, making the acquisition unviable.Most of his acquisitions were funded through debt. None of the companies were able to fully integrate these acquisitions into ongoing businesses.
In hindsight, the company's ambitious plans to vertically integrate and gain access to pulp and fibre through Sabah, clearly backfired.
The company is a far cry from its past glory. It's net worth has turned negative. Recently, lenders of the troubled Ballarpur Industries Ltd (BILT) have applied for the company's liquidation. The financial creditors' admitted claims are just over Rs 31 bn.
In 2021, the Enforcement Directorate arrested Gautam Thapar for allegedly laundering over Rs 5 bn taken from Yes Bank through his alleged "paper companies" and by carrying out "sham transactions".
#6 Premier Automobiles Ltd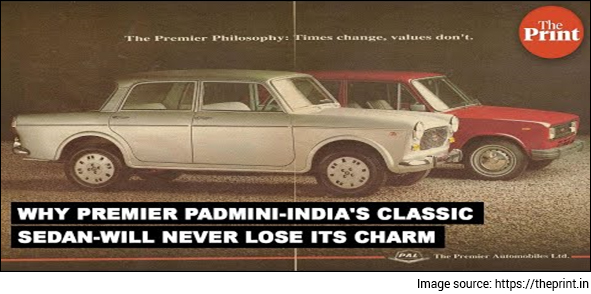 Premier's roots trace back to 1944 when the company was established by Walchand Hirachand, one of the biggest industrialists of independent India.
Premier Automobiles Ltd was part of the BSE Sensex for almost a decade right from 1986 when Sensex came into existence until 1996 when the company was reduced to a fringe player.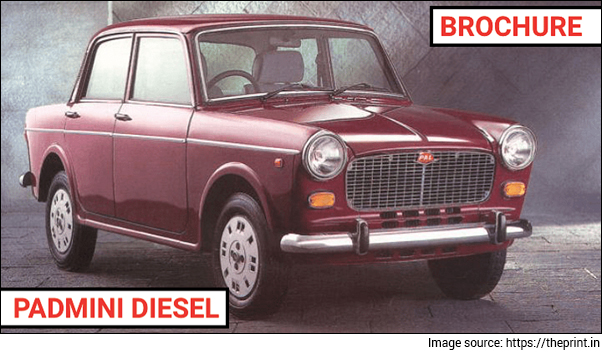 In 1952 the company, signed a licence agreement to make in India a version of Fiat 1100. The venture marked the beginning of an independent automobile industry in India.
Premier manufactured a version of the Fiat 1100 D beginning in 1964 and continued production all the way till 2003.
The car was initially marketed as a Fiat ("1100 Delight") and subsequently as the Premier Padmini.
At that time the market was dominated by the Ambassador produced by Hindustan Motors based in Kolkata since 1958. The Fiat 1100 Delight was the first car which actually challenged the monopoly of HM Ambassador.
As the government did not encourage new entrants, the company dominated the automobile space until the 1980's.
What went wrong?
The entry of Maruti 800 in the early 1980's, a joint collaboration of the government and Japanese company Suzuki Corporation shook up the industry. Being cheap and fuel efficient, the car was instantly lapped up by the Indian automobile market.
The economic liberalisation in the early 1990's ushered in global automobile companies such as Toyota, Honda, General Motors, Ford, and Hyundai among others.
These companies made significant capital investments to achieve production levels, exports and increased localisation, while Premier tried to minimise expenses on product development by buying out phased-out models of Western car manufacturers at lower prices.
In such a competitive environment, car sales of Premier started declining steadily.
The company took refuge in the taxi segment and held fort for a while, before the Bombay high court ruled that taxis older than 25 years be taken off the roads.
In the two decades that followed, Premier Ltd made an unsuccessful foray into engineering, arriving finally at the bankruptcy court in 2018.
According to a disclosure made to the stock exchange recently, the company will soon be acquired by Chennai-based Fab Metals Pvt Ltd under the insolvency process.
Lenders will recover only one-fifth of their dues following the sale of the company.
Lessons from the Past for the Future
The idea behind this article was not only for investors to reminisce about popular stocks of the 80s but also for new investors to understand that stocks come and go but cycles occur forever.
At one point in time these companies were the most traded stocks in the market but investors made the mistake that the good times for these scrips would go on endlessly.
Over the last few decades, there have been many examples like HFCL, Mazda Enterprises, GTL which soared to great heights and crashed, never to rise again.
In recent years, stocks like Alkyl Amines up from just Rs 140 to Rs 3,135 or Adani Enterprises up from Rs 90 to Rs 1,767 have been the "Hot Stocks" for investors and their success drives investors to constantly popularise them.
The lesson to take home is that stocks become popular based on the time and trend that they are in and the only way a stock can stay relevant is by companies staying relevant across time.
Disclaimer: This article is for information purposes only. It is not a stock recommendation and should not be treated as such. Learn more about our recommendation services here...
Yazad Pavri
Cool Dad, Biker Boy, Terrible Dancer, Financial writer
I am a Batman fan who also does some financial writing in that order. Traded in my first stock in my pre-teen years, got an IIM tag if that matters, spent 15 years running my own NBFC and now here I am... Writing is my passion. Also, other than writing, I'm completely unemployable!