The Story of an Indian Village that Landed a Rs 3,000 Crore Fortune...
Feb 4, 2022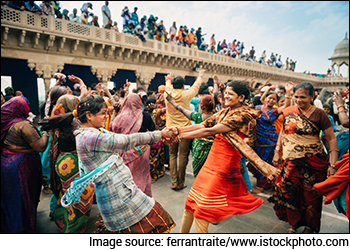 "Time is the only luxury stock market offers".
The quote is indeed true. It's common knowledge that long term investing can lead to enormous wealth creation.
However, this is easier said than done.
A lot of investors don't stick with their investments for long. The main reason for this is they weren't convinced of their decisions in the first place.
On top of that, being impatient doesn't help.
The legendary investor, Warren Buffett once said... 'Investing is simple but not easy'.
If we learn to control our instincts and stop reacting to market volatility, we'll reap the benefits of long-term investing.
And it's not difficult if we are determined. There are many investors out there who have done so. In turn, the market has rewarded them.
These investors and their stories are an inspiration for us to practice long-term investing.
This article brings you an amazing story. It's about a small town that is home to many millionaires.
The town I am talking about is Amalner.
Amalner is an Indian town located in the Jalgaon district of Maharashtra. It's also the birthplace of Wipro, a multinational IT services company.
The Wipro that we know of today is India's third largest IT services company. However, Wipro wasn't incorporated as an IT company. Instead, it started off as a manufacturer of edible oil.
In 1945, M.H. Hasham Premji incorporated Western India Vegetable Products after acquiring an oil mill from one of his debtors.
He had his hands in many non-business activities. Due to this he couldn't devote his time entirely to the business. As a result, the company didn't grow much under his stewardship.
However, post his demise in 1966, Azim Premji, his son, took over the reins of the company. He set it on the path of exponential growth.
Azim Premji played a pivotal role in Wipro's success. He took some risky bets by diversifying into other industries.
He started off by extending the company's edible oil business to add consumer products, such as soap, to the portfolio. Further, Wipro partnered with General Electric (GE) to manufacture and supply medical devices in India.
However, it was Premji's bet on the IT industry that paid off very well.
Indeed, Premji transformed the fortunes of the company and along with it, the fortunes of many of its shareholders, especially the early investors.
Back in 1970 when the company went public, the issue wasn't fully subscribed. A lot of investors stayed away from investing in the company.
However, many in Amalner had bought the shares already from Premji's father. Those who didn't, subscribed to it later in 1970.
Shantilal Jain, who worked in Wipro's Amalner factory, bought one share of face value Rs 100. On an estimated basis, that one share was worth more than Rs 50 m in 2016.
Amazing, isn't it?
What's interesting is that these people sat tight and never cared to sell their holdings even when the share price plunged drastically between 1970 and 1985.
These shares have trickled down the family tree spanning several generations. Ashish Pahade, when asked about his reluctance to sell Wipro shares, said "I have inherited these shares from my father. Why should I sell them?"
Someone in Pahade's family bought Wipro's shares for a few hundred rupees in 1970. Today, those shares are worth more than Rs 50 m.
It's estimated the people in Amalner hold more than 3% of the total outstanding shares of Wipro - worth about Rs 30 bn i.e. Rs 3,000 crores in 2016.
And that's not all. Their dividend income is in the millions.
Wipro's shares continue to be a major source of income for Amalner's residents. They don't seem interested in selling any of their shares.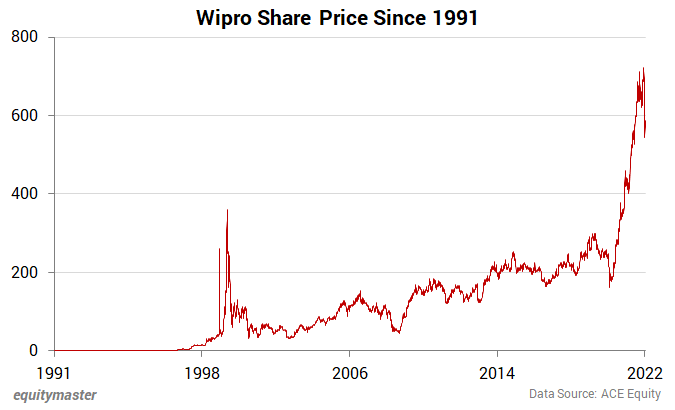 Amalner's story is a classic case of buy and hold forever. It inspires many to stick with their investments for decades.
A key takeaway from this story is that even if you invest in a single company with strong fundamentals and stick to it for decades, you stand a chance of raking in millions.
This is what Richa Agarwal, lead smallcap analyst at Equitymaster, had to say about such investment opportunities.
Whether it's TV, Radio, Newspapers, or Online, financial experts have been drumming the word "diversify" into our heads for decades.

But think of what it would be like to earn one crore from 3 or... 2 or... just 1 stock. However, this is possible only when one knows when to buy the right stocks.

Even a small stake in the RIGHT stock could make one a crorepati in the long term.

That's the potential the 'crorepati' stock has over the long term.
However, it's difficult for a small investor to zero in on such investment opportunities. This is because there are 5,000 companies listed on the stock exchanges.
That is why, as per Richa, the 'crorepati stock' must display these three characteristics...
An unlimited audience and market leadership
Insider ownership
Profit accelerators
Now, Richa has zeroed in on 3 stocks that could potentially give multibagger returns in the long term. She has found a way of getting rich with little-known Indian stocks.
But an important part here is timing. One must move on this opportunity that's playing on India's growth story.
Keeping in mind the business growth potential, these stocks are an absolute bargain for those who are quick enough, and smart enough to get in now.
Join your wealth creation journey now.
Happy Investing!
Disclaimer: This article is for information purposes only. It is not a stock recommendation and should not be treated as such. Learn more about our recommendation services here...