Acche Din Ahead for India's EV Battery Companies
Feb 4, 2022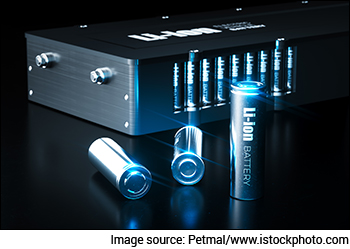 Electric Vehicles (EV) are the hottest trend in the stock market.
Indeed, the market has rewarded any auto company with a credible EV story with rich valuations. If you're a shareholder of Tata Motors, you already know this.
In fact, about a year ago, auto companies without an aggressive EV plan were underperforming the rest of the market.
Now however, the EV craze in the market has reached almost every stock associated with EVs.
The Union Budget 2022 has added more to this fire.
In her budget speech, Finance Minister Nirmala Sitharaman, announced the government's upcoming EV battery swapping policy.
As pr news reports, NITI Ayog is working on the details of the policy and it could become a reality in a few months. This national policy will be a game changer for the entire auto sector.
So how will it play out?
Let's find out...
The Core Issue
The battery is the most important, and expensive, part of an EV. You could say it's the brain, heart, and soul of an EV combined.
The batteries need to be charged regularly. In case of heavy use, EVs would need to be charged daily.
It's impractical to drive an EV to a petrol pump to get it charged. This is because it takes a long time to charge such big battery packs.
So it's best to charge an EV at home.
But this presents a big problem. The lack of charging points in crowded areas. It's impractical for each and every standalone house or building to have EV charging points.
Thus the idea of battery swapping makes a lot of sense.
The business model will be called 'Battery as a Service'.
An owner of an EV can detach the battery from the vehicle and charge it remotely. At the same time the depleted battery can be swapped for a fully charged one.
This greatly increases the range of an EV. It will significantly boost demand for EVs because range in a top concern for any potential EV customer. The process is quick and easy. And there's hardly any need to wait in long lines at a charging station.
This is great for the passenger car industry.
But it's also very useful for commercial vehicles too. The long waiting times for trucks to charge up their batteries will be cut short. A battery swap will take only a few minutes. This will increase the amount of time trucks spend on the roads delivering goods. This means more revenue for truck operators.
There is another important thing to note...
The Big Value Proposition
When battery swapping becomes mainstream, maintenance costs for EVs will fall drastically. EV owners won't feel the need to buy a new EV if they can simply keep swapping batteries.
This ensures a lot of revenue for the companies making the batteries. No matter what happens to the rest of the EV supply chain, battery makers will be laughing all the way to the bank.
Currently, Indian electric vehicle makers import batteries from China, which is the world's top producer of batteries.
However, companies are now accelerating plans to produce EV batteries in the country, hoping to take advantage of the government's subsidies.
The new EV battery policy will give a huge boost to the sector.
Here's what the Finance Minister said...
'Considering the constraint of space in urban areas for setting up charging stations at scale, a battery swapping policy will be brought out and inter-operability standards will be formulated.

The private sector will be encouraged to develop sustainable and innovative business models for 'Battery or Energy as a Service. This will improve efficiency in the EV ecosystem.'
How did the Industry React?
The auto industry was pleased.
Here's the official response of TVS Motors...
In the electric mobility space, we strongly support the measures undertaken by government to promote clean and green mobility, mainly introducing the battery-swapping policy (which) will be instrumental in supporting an efficient EV ecosystem.
This is what SIAM said...
It will create new avenues for companies to venture into the business of battery swapping. Additionally, creating special clean zones will further accelerate the adoption of EV's and spread awareness amongst the citizens.
Startups like Sun Mobility also welcomed it...
Battery swapping technology addresses key challenges around upfront cost, range anxiety and long charging time enabling faster adoption of EVs. As the policy unfolds, it would be great to see the government addressing key points around how customers can access subsidies, range per charge criteria and GST for swapping services in line with EVs.
One Possible Concern
At the heart of this new policy is the term 'inter-operability'.
At the moment every EV maker produced their own battery. There is no fixed standard for batteries.
This is important because users of EVs will want to swap their batteries quickly and seamlessly. No one wants to face issues like they do when charging cell phones.
Customers will find it highly inconvenient if they find the charging station does not have the battery that fits in their car.
If every EV maker has their own battery standard, battery swapping will be a non-starter.
Thus, the government will need to step in to ensure there are certain minimum standards. Every company making EV batteries will have to follow these standards.
This will ensure customers are not inconvenienced.
Thus when this policy is rolled out, you won't need to worry about which EV you buy as far as charging the battery is concerned. You will be able to do it at any location which offers battery swapping.
You can rest assured the 'new' battery in our car will offer the same performance as the 'old' battery.
So will companies go along with this?
It could take a while.
Major auto companies don't share any technology. They will have to collaborate on this one if they want a quick adoption of EVs in the country.
Alternatively, the government will have to mandate a standard and offer subsides.
Top EV battery Companies in India
We first wrote to you about EV battery players in India last year.
Here's the link to that article.
In that piece we mentioned 5 companies to watch opt for...
#1 Amara Raja Batteries
#2 Exide Industries
#3 Tata Group
#4 Hero MotoCorp
#5 Maruti Suzuki
A few months later, we provided a detailed update on the plans of these companies. You can read the update here.
If the post-budget commentary of these companies is anything to go by, the industry is certainly happy with the policy announcement.
But how they respond in the market with specific products and strategies will be known only after a few months once the policy is rolled out.
And when it is, rest assured we will write to you again with all the details.
Meanwhile, we recommend you watch this video by our co-head of research, Tanushree Banerjee on how India has an edge over its rivals in the EV race.
Should You Invest in Smallcaps Now?

Before you make that decision, here's something you should know...

Richa Agarwal, our top small cap analyst, has just published her report on smallcaps.

It's called Top 3 Stocks for 2023.

If you want to grab a copy of this report, all you need to do is join Richa's upcoming mega event.

It's Free.

Full Details Here

Disclaimer: This article is for information purposes only. It is not a stock recommendation and should not be treated as such. Learn more about our recommendation services here...