What to Expect from India's Top EV Stocks in 2022
Feb 8, 2022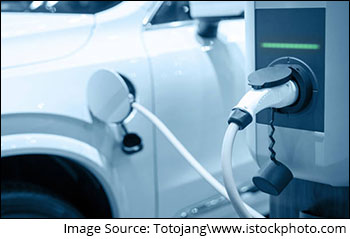 Electric vehicles (EVs) is the top trending topic in the market.
This technological marvel has ignited a certain sense of curiosity. As a result, consumers across the world are embracing this technology, driving the growth of the EV industry.
According to a report, India's EV market is currently valued at US$1 bn and is expected to reach to US$ 150 bn by 2030, implying a CAGR of 90%.
The sheer size of the market has got many companies excited about the opportunity at hand. As a result, many companies have taken the plunge into the EV supply chain.
India's EV revolution is of paramount importance for the Indian government.
Why?
India is Asia's second largest carbon emitter. Due to this, India is seen in a negative light especially in the international stage.
To shed this image, the Indian government has made bold commitments. And it certainly doesn't want to fall short of its commitments.
The country had set a target of reducing carbon emissions by 1 m tonnes by 2030 and EVs could certainly aid the government meet this ambitious target.
Therefore, the government has launched several schemes such as FAME 2 and production linked incentive (PLI) to catalyse the adoption of EVs in the country. These schemes will surely benefit the players making up the EV supply chain.
In today's article, we look at the top Indian EV players and what their future looks like.
#1 Tata Motors
Of course, the first stock on our list is Tata Motors.
Tata Motors is at the forefront of India's EV revolution. With sharp focus on sustainable mobility, it commands a lion's share of 71.4% in India's EV market.
It's EV portfolio has a mix of commercial and passenger vehicles that caters to the needs of businesses and institutions as well as retail consumers.
Tata Nexon, company's flagship EV product is the most popular EV among Indian masses. It accounts for 65% of total EV sales in India.
Indeed, Tata Motors is driving the growth of the EV industry in India.
For the financial year 2021, Tata Motors' passenger vehicles (PV) division turned out to be a star performer. It clocked positive growth despite the tough operational environment posed by the pandemic.
While other segments reported muted or negative growth, PV segment's contribution to the total revenue grew by 2.8% year on year (YoY).
On top of that, the PV segment recorded its highest ever sales in the last 8 years primarily driven by higher EV sales.
Clearly, EVs and retail consumers are key priorities for the company and it has laid out plans to work systematically on its priorities.
Let's talk about EV orders. Tata Motors has received an order of 500 EV buses under FAME 2, a scheme to promote faster adoption of EV's in the country. Some of these buses are expected to be running on roads in 2022.
The company is firing on all fronts to bolster its EV business.
To start with, it has unveiled a roadmap "Reimagine", to expand its electric fleet.
According to the roadmap, the company will have 10 new EVs in its portfolio by 2025. Moreover, Jaguar Land Rover (JLR), the company's luxury fleet, which accounts for 78% of its total revenue, will go all electric by 2036.
The company may launch some of its models in 2022.
The Tata group has a long term vision of being a sustainable business conglomerate. As a result, the group is building a comprehensive EV ecosystem by synergising competitive strengths of different Tata companies.
For example, the group is leveraging the expertise of Tata Power to install EV chargers across the country.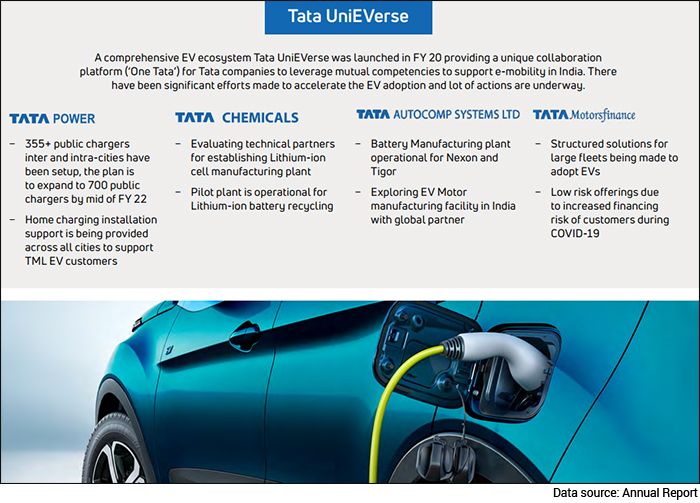 Such an ecosystem will strengthen consumer confidence in India's EV ecosystem and drive the company's sales. It will also enable the group to maintain quality control, cut dependence on external vendors, and reduce input costs.
Talking about costs, with its turnaround 2.0 strategy in place, the company plans to be debt free by 2024. It expects to realise higher profits and creating value for its shareholders.
Investors should expect to see lower debt on the company's balance sheet in 2022.
Though the brand Tata is synonymous with trust, the company is being aggressive on the marketing front. It invested a great deal of money to be the title sponsor of forthcoming season of the Indian Premier League (IPL).
All its efforts may drive the company's sales either in the short term or long term.
The company's strategy is working in its favour as of now. Its financials in fiscal 2021 were much better than what it reported in fiscal 2020. The company reported higher EBITDA margins and positive free cash flow even though revenue declined. The company is determined to continue its positive financial momentum in 2022 too.
#2 Sona Comstar
Sona Comstar is a prominent player in the global EV supply chain. It's one of the leading manufacturers and suppliers of auto components and systems in the global EV market.
Its EV business has witnessed stellar growth lately. For the year ended March 2021, its EV business accounted for 14% of the company's total revenue compared to meagre 2% a year ago.
The company has laid out plans to further strengthen its EV business.
To start with, Sona Comstar has its eyes on India's electric 2-wheeler market. India's electric 2-wheeler market is expected to grow at CAGR of 52% by 2030.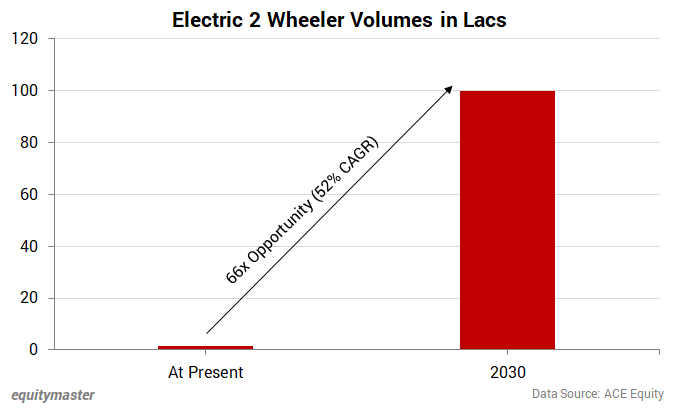 In the last five years, two-wheeler sales in India were around 2 crore units per year.
The sector is cyclical and has been in the downturn for some time. If we consider a moderate 5% growth for the next 10 years, then by 2030, we are looking at 2-wheeler sales of 3 crore units. Even if one third of this is EV sales, that's 1 crore electric 2-wheelers per year.
In the last 2 years, average electric 2-wheeler sales were 1.5 lakh units. From 1.5 lakh to 1 crore, that's a 66x opportunity in 2-wheeler EVs.
This is an annual growth rate of 52% over next 10 years. It's an almost vertical growth opportunity.
Sona Comstar already has a significant presence in the India electric 2 wheeler market. It is a leading supplier of BLDC motors which increases the efficiency of the vehicle, increasing its mileage.
The company aims to clock higher sales as it expects manufacturers to replace ordinary DC motors with BLDC motors in order to make their products more efficient. Therefore, investors could expect higher sales in 2022.
Stringent emission norms have made it imperative for automobile manufacturers to electrify their fleet. However, many consumers are sceptical of the capabilities of EVs.
To maintain a healthy balance, many manufacturers are opting for hybrid vehicles which can run on both battery and fossil fuels.
The main difference between an ordinary vehicle and hybrid vehicle is belt driven starter generator (BSG) motor. It's an essential component that makes the concept of hybrid vehicles a reality.
The global market for hybrid vehicles is expected to grow about 4 times, accounting for 21% of global passenger vehicle (PV) sales in 2025. Sona Comstar aims to tap this opportunity by being the largest supplier of BSG motors.
It has developed a prototype which is currently being tested. The company may start manufacturing BSG motors in 2022, should the prototype clear all testing stages.
For the year ended March 2021, Sona Comstar had 15 orders from EV manufacturers out of which 8 are under execution. The company may complete the rest in 2022.
EV manufacturers across the world are scouting for components that make their vehicles lighter and more efficient. Sona Comstar claims to be among a few companies that can manufacture highly efficient automotive components.
Its R&D capabilities enable it to develop highly innovative and efficient components to cater the evolving demands of global EV manufacturers. The company conducts its R&D activities at 3 R&D centres located in India.
In the financial year 2021, the company's R&D expenditure accounted for 5.8% of its total revenue. It is expected that the company will allocate more towards R&D in the financial year 2022 so as to stay ahead of its competitors.
All of this would drive Sona Comstar's financial growth either in the short term or long term.
#3 Hero Motocorp
Hero Motocorp is one of India's largest manufacturers of motorcycles.
The company caught on the EV wave early by investing in Bengaluru based e-mobility company Ather Energy. The company holds a 38% stake in Ather Energy which has become one of the leading manufacturers of electric 2-wheelers in India.
In March 2021, Ather Energy launched its first electric scooter, Ather 450x. Since then, it has expanded its distributorship across India. It's expected that Ather will continue to add more distributors strengthening its presence pan India.
Ather stands to be the biggest beneficiary of India's rapidly growing EV market. As a result, investors could see a sharp spike in consolidated revenue of Hero MotoCorp, should electric scooters sell like hot cakes.
Apart from its investment in Ather, the company is developing and manufacturing a range of electric 2-wheelers under the Hero brand.
The company recently announced it will double up its EV production capacity to 5 lakh units/annum. Also, it sold 15,000 electric scooters, highest in India for six months ended July 2021. It is expected that the company will realise record breaking sales in 2022.
Hero MotoCorp is also betting big on battery swapping technology. Vehicles marketed under the Hero brand come with a battery swapping mechanism making it convenient for riders to power up their vehicles instantly.
Moreover, to win consumer confidence and bolster its sales, the company has forged a strategic partnership with Gogoro, a smart mobility solutions company based out of Taiwan.
Hero MotoCorp aims to leverage this partnership to develop a wide network of battery swapping stations in India.
The company has a vast distributor network where these stations could be installed making the service easily accessible for its consumers. It can also offer this service to other manufacturers.
The company may see a spike in its sales should they install some of these stations in 2022. If not, the company's efforts won't go in vain in the long term.
Ather's exponential growth, new models under the Hero brand, and battery as a service, will only amplify the financials of Hero MotoCorp going forward, the glimpse of which could be witnessed in 2022.
Conclusion
India's EV industry is still in its nascent stage. The industry is witnessing multiple business models being proposed.
Many opportunities are emerging. In such a scenario, the plans of the companies can help an investor get some clarity.
The plans of a company inform investors of the growth opportunities or the measures it's taking to strengthen the existing business. It also informs us about how the company will achieve the same.
An investor can then analyse the impact these new developments will have on the company's finances.
An important thing to note here is that the plans of any company are forward looking. It's up to investors to decide if the company will be able to meet its goals or not.
Also, you should not invest by solely being impressed by a company's future plans. Only if investing was this simple!
As long as you do a good job of knowing which developments will impact the long term fundamentals and which ones won't, you are bound to do well.
Meanwhile, we recommend you watch this video by our co-head of research, Tanushree Banerjee on how India has an edge over its rivals in the EV race.
Investment in securities market are subject to market risks. Read all the related documents carefully before investing
Safe Stocks to Ride India's Lithium Megatrend
Lithium is the new oil. It is the key component of electric batteries.
There is a huge demand for electric batteries coming from the EV industry, large data centres, telecom companies, railways, power grid companies, and many other places.
So, in the coming years and decades, we could possibly see a sharp rally in the stocks of electric battery making companies.
If you're an investor, then you simply cannot ignore this opportunity.
Details of our SEBI Research Analyst registration are mentioned on our website - www.equitymaster.com
Disclaimer: This article is for information purposes only. It is not a stock recommendation and should not be treated as such. Learn more about our recommendation services here...