Why Adani Group Shares are Rising
Mar 6, 2023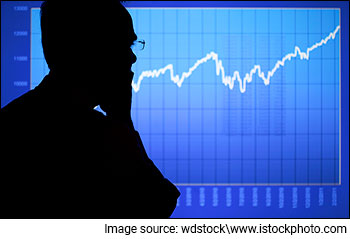 Before we move to today's topic, here's a quick recap of all that has transpired ever since Hindenburg released a report on the Adani group in January 2023, outlining allegations of corporate fraud and stock market manipulation.
First, we explained what to do when one of your favourite stock crashes...this might help shareholders in Adani group stocks to decide their next course of action.
The Adani stocks selloff also had a major impact on its recently acquired companies ACC and Ambuja Cements. Check out why Ambuja Cements is falling and what lies ahead for the bluechip stock.
Apart from that, here's a list of our recent top editorials on Adani group...
With that out of the way, let's get to the latest updates.
Initially when Hindenburg released its report, Adani group stocks fell like nine pins.
Some Adani stocks plunged over 50% in a matter of days. Here's how their performance looked like between 24 January 2023 and 6 February 2023.
Data source: Equitymaster
After two weeks, the situation has stabilised and performance of Adani group stocks is back to normal.
Mind you, there could be more volatility in Adani group stocks going forward as many things are left unanswered and experts have pointed out other loopholes.
But for now, Adani group stocks are rising. Let's find out why first and then we'll take a look at the individual performance of companies.
Why are Adani group stocks rising?
Adani group stocks have seen a sharp turnaround in the past 5 days.
The group's flagship firm Adani Enterprises has rallied more than 70% in the past five trading sessions.
Following the strong recovery rally, the market capitalisation of 10 listed Adani Group companies has jumped to over Rs 8 trillion (tn).
Adani Group Stocks Performance in the Past 5 Days
| Company | Change (%) |
| --- | --- |
| Adani Enterprises | 80.9 |
| Adani Green Energy | 34.3 |
| Adani Power | 34.3 |
| Adani Wilmar | 34.3 |
| NDTV | 31.9 |
| Adani Ports | 25.6 |
| Adani Transmission | 21.5 |
| Adani Total Gas | 20.9 |
| Ambuja Cement | 19.2 |
| ACC | 11.7 |
Data source: Equitymaster
Adani Group stocks have witnessed a strong recovery rally over the past few trading sessions due several reasons.
First, let's take a look at what the group is doing to reclaim investors' faith. The group's management recently held a roadshow in Hong Kong and Singapore, where it presented investors with a plan to repay debt.
The rally gained further momentum after a US-based global equity-investment company, GQG Partners, bought shares worth US$1.87 billion (bn) in four Adani Group companies.
GQG bought 3.4% of Adani Enterprises for about US$ 662 million (m), 4.1% of Adani Ports for US$ 640 m, 2.5% of Adani Transmission for US$ 230 m and 3.5% of Adani Green Energy for US$ 340 m.
It should be noted that it was the promoters of Adani Group who sold shares to GQG Partners in a block deal.
The massive investment by GQG Partners is one of the primary reasons behind the recent rally.
Also, this is not the first time that Adani group shares are experiencing such a sharp recovery. The group companies are known to be volatile and a similar uptrend rally was also seen in the first week of February 2023. We discussed the probable factors behind the rally in this editorial back then.
Much has changed since then. Read on to know more...
Making Sense of the Recent Rally in Adani Group Stocks
A big cause of concern for investors has been Adani group's massive debt. The Adani group, investing in India's growth story and on its way to achieve glory, has taken massive debt to finance projects, etc.
To soothe investors' nerves in the ongoing selloff, Gautam Adani and his family repaid Rs 92.5 billion (bn) debt in February 2023.
This amount was initially taken as a loan by Adani group promoter entities, backed by share pledges.
Partial payment for these loans were due in May 2023 but the group paid back to lenders such as Credit Suisse, JP Morgan, Barclays, among others.
Here's that the group said in its press release:
"In light of recent market volatility and in continuation of the promoters' commitment to reduce the overall promoter leverage backed by Adani listed company shares, we are pleased to inform that promoters have paid the amounts to prepay $1,114 million ahead of its maturity of Sep 2024"
In fact, a spokesperson has reportedly said the group wants to prove within a quarter, their ability to prepay Rs 200 bn of loans to regain investor faith.
And the group has started off well...Adani Ports recently announced to repay debt of Rs 50 bn.
When a company repays or prepays its debt, it reduces debt burden and the risk of default. Additionally, a company that is able to repay or prepay its debt is often seen as having a strong financial position and cash flow.
So this could be one reason why Adani groupx` stocks are rising.
The other reason why Adani stocks are seeing an uptrend is because some of the group companies have reported good quarterly numbers for the December 2022 quarter.
Let's take a look at the quarterly numbers and their individual performance.
# Adani Ports
On 7 February 2023, Adani Ports reported a 16% fall in its consolidated net profit to Rs 13.2 bn. Meanwhile, revenues saw a growth of 17% year-on-year (YoY) to Rs 47.9 bn.
Profit figures were below street estimates.
It was the full year guidance which improved the stock's sentiment. The company is expecting full year revenue to be in the range of Rs 192-198 bn. In FY22, the company's revenues stood at Rs 159 bn.
The company is projecting an EBIDTA of Rs 122-126 bn for 2023. In 2022, EBITDA was around Rs 110 bn.
Once the company repays debt of Rs 50 bn in the year starting in April 2023, its net debt to EBITDA ratio will come to about 2.5 times, an earnings statement read.
In the past four trading sessions, the stock is up 20%. In 2023 so far, Adani Ports share price is down 27%.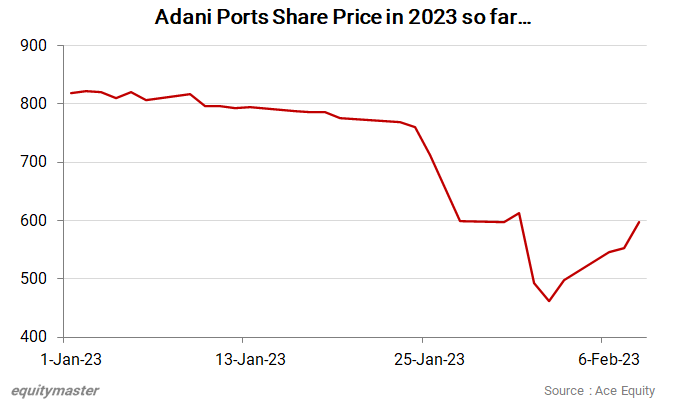 When the group's promoters prepaid debt, close to 168 million (m), shares of Adani Ports (around 12% stake of promoters) were freed from pledged shares.
Here's what Aditya Vora wrote on Adani Ports in his recent editorial...
While I agree that Adani group is plagued with slew of negative news flows, big money is made when you cut the noise and focus on fundamentals.

I believe the ship is not going down.... this is not a Yes Bank or a DHFL in my view. Adani Ports has hard assets which contribute to the economy of the country.

Its gross block has grown 10 times in 10 years and profits have multiplied 6 times over the past 10 years while the company is available at its 10-year average PE multiple.

While I agree the volatility is going to be extreme over the next few weeks, diamonds are found in the rubble and not in the sky.
You can read the entire editorial here: The Only Adani Stock Worth Looking At.
# Adani Enterprises
The group's flagship firm has to be the most volatile stock among the lot. In just four trading sessions, the share price of Adani Enterprises has managed to move over 100%!
Allow us to explain...
The Nifty 50 company slumped around 35% in a single trading session in early February 2023 to hit a 52-week low of Rs 1,017 on the BSE.
On the same day, the stock managed to recover all the losses and even end with marginal gains...talk about volatility!
The investor who bought the stock on Friday would be sitting on multibagger gains in just four sessions.
The rally comes after exchanges put the company under their short-term additional surveillance measure (ASM). These measures were reportedly aimed at curbing speculation and short selling.
Other reasons behind the rally in Adani Enterprises include JPMorgan saying that Adani companies are still eligible for inclusion in its influential bond indexes.
In the past four trading sessions, the stock is up 29%. In 2023 so far, Adani Enterprises is down 47%.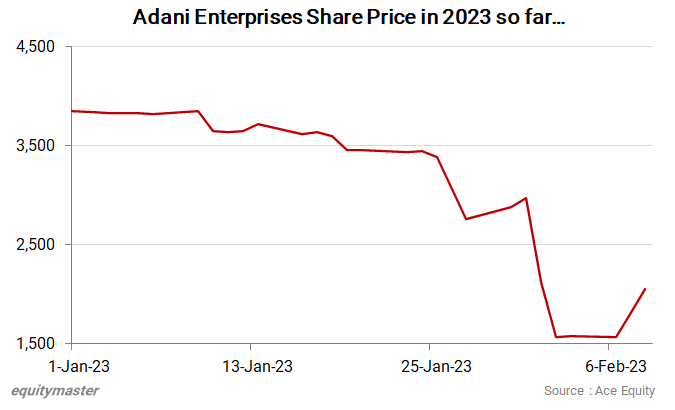 # Adani Green Energy
On 7 February 2023, Adani Green reported its quarterly results for the quarter ended December 2022.
The green energy company reported consolidated net profit at Rs 1.1 bn, which was 110% higher compared to last year's Rs 490 m.
Revenues came in at Rs 19.7 bn, up 41% from Rs 14 bn reported in the year-ago period.
In its press release, the company said it's on track to reach 8,300 MW commissioned capacity, the largest in India, by end of this year.
Good quarterly results and promoter pledging coming down to 1.36% from 4.36% improved sentiment for the company.
In the past four trading sessions, the stock is down 7%. In 2023 so far, Adani Green shares have fallen 55%.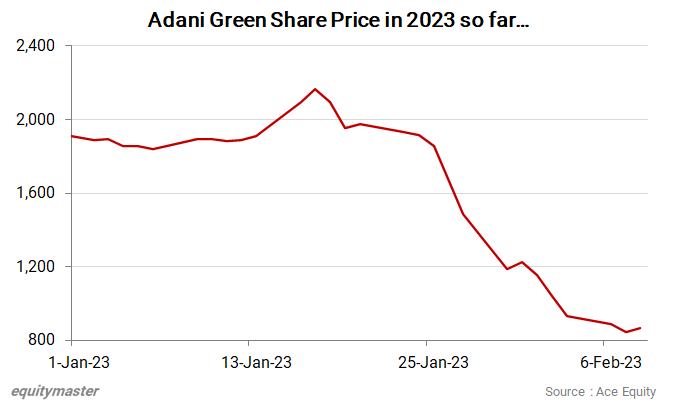 #4 Adani Transmission
On 6 February 2023, Adani Transmission reported a 73% growth in its consolidated net profit, which came in at Rs 4.8 bn.
The company said in its exchange filing, the profit was aided by a one-time income from a regulatory order.
With prepayment of loan, close to 11.8 m shares (1.4% stake) of Adani Transmission were released from pledged shares.
In the past four trading sessions, the stock is down 6%. In 2023 so far, Adani Transmission shares have fallen 49%.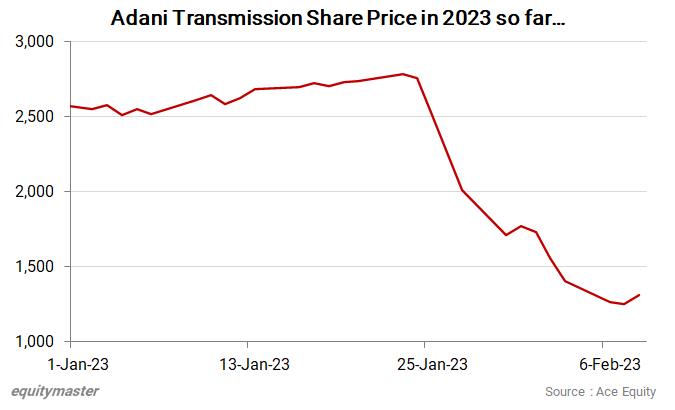 What next?
Adani group stocks have bounced back in style. But they're still trading with steep cuts when compared with their yearly highs.
Except Adani Ports, the other six companies are trading with deep cuts ranging between 40-65%.
Investors are now waiting with bated breath for earnings of Adani Power and Adani Wilmar. Both these stocks hit upper circuit today ahead of their earnings release later in the day.
They are also tracking developments on the outcome of MSCI Inc.'s quarterly review of its gauges. This is due tomorrow, 9 February 2023.
It appears the Adani-Hindenburg story is going to keep the markets busy for a long time to come.
In the meantime, you could quickly refer to both fundamentals and valuations of Adani group stocks on Equitymaster's Indian stock screener.
We recently added a new section in the screener where you can view the fundamentals of companies within a business group in one screen. This should help you get a better grip on fundamentals, business group wise.
Dig deeper into top Adani group stocks now.
Investment in securities market are subject to market risks. Read all the related documents carefully before investing
Want to Grow Your Wealth With Safe Stocks?
If you want a simple, safe, and hassle-free approach to long term wealth building...
Without having to worry about negative news or every little downswing in the market...
And without having to worry whether your investments will actually "deliver"...
You must read our note on Blue Chip Stocks now.
Details of our SEBI Research Analyst registration are mentioned on our website - www.equitymaster.com
Disclaimer: This article is for information purposes only. It is not a stock recommendation and should not be treated as such. Learn more about our recommendation services here...
Yash Vora is a financial writer with the Microcap Millionaires team at Equitymaster. He has followed the stock markets right from his early college days. So, Yash has a keen eye for the big market movers. His clear and crisp writeups offer sharp insights on market moving stocks, fund flows, economic data and IPOs. When not looking at stocks, Yash loves a game of table tennis or chess.