Top 4 Multibagger Textile Stocks to Add to Your Watchlist
Feb 11, 2022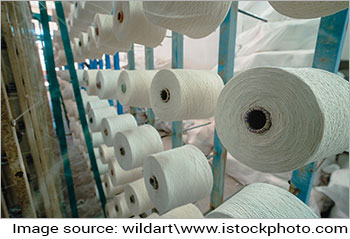 India is the largest producer of cotton accounting for 22% of world's cotton production. It's also among the largest producers of other fibers such as jute and silk.
With enough raw material and low labour costs, India is among the largest manufacturers of textiles and apparels.
The Indian textile industry is the second largest provider of employment in the country only next to agriculture. The domestic textile industry constitutes 5% of the country's GDP. The textile industry contributes to the country's GDP directly as well as indirectly.
Indian textiles and garments industry is expected to reach US$190 bn by 2025-26, up from US$103.4 bn today.
After a dry spell of 3 years, the industry is on the cusp of a major turnaround. Textile companies have clear visibility of profits. They are responding to the China plus one strategy positively.
On top of this, the government has announced a production linked incentive (PLI) scheme with total outlay of Rs 106 bn to bolster India's textile manufacturing capabilities.
India's textile industry is set to experience high growth and now seems to be the best time to invest in the industry.
This article brings you the top listed companies in the textiles space.
#1 KPR Mills
KPR Mills is a prominent player in the Indian textile industry.
Incorporated in 1984, the company is part of KPR, a renowned business group with business interests in several other sectors such as sugar production, power generation, etc.
The company is engaged in manufacturing yarn, knitted fabrics, and readymade garments.
The company operates 12 textile mills with a total production capacity of 100,000 metric tonnes (MT) of yarn per annum, 40,000 MT of fabric per annum, and 115 m of knitted garments per annum.
Supply-demand mismatch has resulted in high inflation across industries. Textile industry too is facing the brunt of high inflation with cotton prices soaring to multi year highs. This in turn has impacted the margins of companies.
KPR Mills reported a lower gross margin of 38.2% for the quarter ended December 2021 compared to the gross margin of 44.6% in the corresponding period of the previous year.
However, the company isn't worried about high cotton prices. It plans to pass on high input costs to its customers and maintain its margins.
So yes, it's true the company is facing some headwinds now. But KPR's long term growth prospects look bright. To start with, KPR Mills is venturing into retail with its menswear brand "FASO".
Also, it's ramping up its capacity by setting up a new manufacturing facility in Tirupur, Tamil Nadu.
This will enable the company to produce 42 m garments, taking its total capacity to 157 m. It's slowly expanding its garment production. It also plans to increase its margins going forward.
The government's support to the textile sector via policies and schemes like the PLI scheme and textile parks, is the cherry on cake.
All this will only bolster the company's robust financials.
KPR Mills is posting robust numbers every passing year. It's profits have grown at a CAGR of 12.4% in the last five years. On top of that, the company has negligible debt on its books. It's debt to equity ratio is 0.1.
In the year gone by, KPR has rewarded its shareholders with massive returns of around 250%.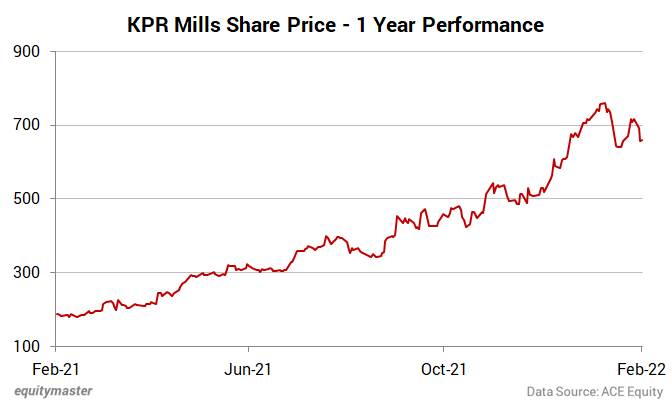 For more details, check out KPR Mills' financial factsheet and quarterly results.
#2 SRF
Incorporated in 1970, SRF is a diversified conglomerate with a presence across different industries such as textiles, chemicals, packaging, etc.
SRF manufactures a range of specialised textile products. It's product portfolio includes tyre cord fabrics, belting fabrics, PVC coated fabrics, and laminated fabrics. These products are used in tyres, conveyor belts, car seat belts, advertising hoardings, etc.
SRF is India's largest manufacturer of tyre cord fabric with a total market share of 40%. Tyre cord fabric is made up of either nylon or polyester threads. As the name suggests, it's used as a reinforcement in rubber tyres. It gives tyres strength to bear heavy loads.
SRF installed its first plant in 1974 to manufacture tyre cord fabric. Today, it manufactures various textile products at 5 plants across the country.
Apart from supplying to the domestic market, SRF exports its products to more than 75 countries.
The company's financials reflect its leading position in the market. It's profits have grown at a CAGR of 18.4% over the last five years. It has manageable debt on its books which is due to the capital intensive nature of its businesses.
The government's PLI scheme for the textile industry may bolster the financial growth of the company. As a result, the company has planned a capex of Rs 12.5 bn.
For more details, check out SRF's financial factsheet and quarterly results.
#3 Lux Industries
Lux Industries is engaged in manufacturing a range of garments for men, women, and kids. The company specialises in manufacturing innerwear products.
Lux Industries operates in the mid value segment. It has an all-weather portfolio of more than 100 products marketed under 16 brands.
The company is the largest manufacturer of branded innerwear products in its respective market segments. It has a 15% market share in India's organised innerwear market.
Lux Industries has focused on expanding its production capacity ever since it started its operations. As a result, the company has 7 state of the art manufacturing facilities in India with production capacity of 30 m garments.
The company's brands are popular among the Indian consumers primarily because of the value for money proposition and strong marketing campaigns.
Over the years, Lux has had many Bollywood celebrities as its brand ambassador. The glamour of Bollywood celebrities along with a lot of creativity makes the company's commercials memorable.
To ensure steady supply of its products, the company has established a wide distributor network of 1,150 dealers and more than 2 lakh retailers.
Apart from the domestic market, Lux industries exports its products to more than 46 countries. In the financial year ended March 2021, exports were 8% of the total revenue. As of now, its export business is small, but the company is determined to increase its share in the revenue pie.
Higher input costs have impacted the company's gross margins. Lux industries reported a gross margin of 54% compared to 62% in the corresponding quarter of the previous year.
Lux could have passed on the higher costs to the end consumers. But it didn't do so as it saw an opportunity to snatch some market share from the unorganised sector.
This strategy seems to have worked in its favour. The company reported robust growth in sales and profit for the quarter ended December 2021. Its sales and profit grew 69.6% and 82.7% YoY.
For more details, check out Lux Industries' financial factsheet and quarterly results.
#4 Ambika Cotton Mills
Incorporated in 1988, Ambika Cotton Mills is engaged in manufacturing premium quality cotton yarn.
Its products are used as raw materials in manufacturing shirts globally. In fact, the company is the market leader in the shirt segment. The company counts some of the top global shirt manufacturers as its key clients.
It's also one of the leading exporters of cotton yarn in India. The company derives nearly 70% of its revenue from exports.
Ambika Cotton Mills too is feeling the pinch of inflation. For the quarter ended December 2021, the company reported a slight drop in its gross margins on YoY basis. It reported a gross margin of 45.3% compared to 48.2% in the corresponding quarter of the previous year.
However, it exceeded expectations in terms of profit growth. Ambika Cotton Mills net profits grew by a whopping 146% YoY.
Following the results, Vijay Kedia bought 40,007 shares of Ambika Cotton Mills for a total of Rs 90 m .
Investors in the company rejoiced as the stock price surged 190% in the last one year.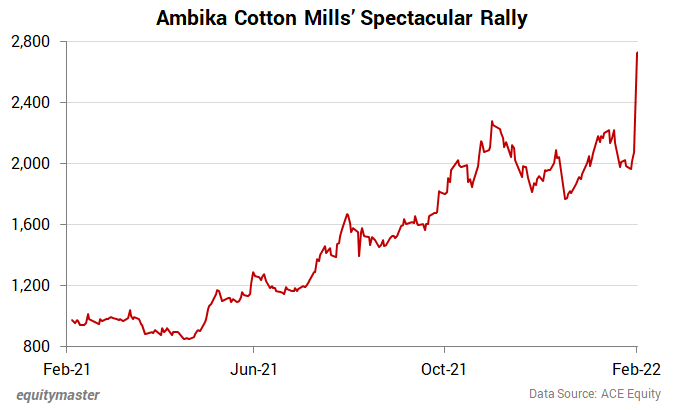 For more details, check out Ambika Cotton Mills' latest shareholding pattern and financial factsheet.
Conclusion
It's true that the Indian textile industry is facing some headwinds as a result of which textile stocks could experience extreme volatility in the short term.
However, the long term prospects of the Indian textile industry looks bright.
Besides government's support and the shift in the global supply chain, the Indian textile industry is extremely resilient. Going from zero to 2 lakh PPE kits per day during the peak of pandemic is a testament to its resilience.
Textile companies are currently trading at attractive valuations. Investors shouldn't miss this golden opportunity to create wealth for themselves.
While all these reasons are compelling, one must view textile stocks with the same amount of caution as one would view other stocks.
If you plan to invest, assess the fundamentals and prospects of the business. Sustained research must not be compromised despite the positive odds.
Happy investing!
Disclaimer: This article is for information purposes only. It is not a stock recommendation and should not be treated as such. Learn more about our recommendation services here...