Top 4 Tata Group Small-cap Companies
Feb 12, 2022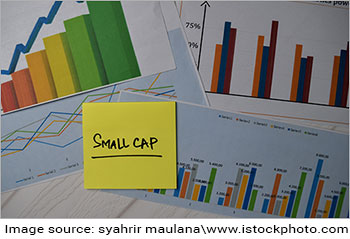 There's no doubt that the Tata Group has emerged as the most trustworthy groups in the last few decades.
The group is one of the biggest Indian conglomerates with a presence across ten business verticals through thirty companies.
It is also one of the leading players in most of its segments, including IT, electric vehicles, energy, and tourism.
The group's companies, be it smallcap, midcap or largecap, have made their mark in their respective industries.
Here are the top four Tata companies in the smallcap space that you must include in your watchlist.
#1 Rallis India
First on our list of smallcap stocks is Rallis India, an agrochemicals company.
Rallis is one of the leading players in the crop protection sector and manufactures pesticides, fungicides, and herbicides.
It is also present across the agricultural input value chain and manufactures seeds and organic plant growth nutrients.
The company has partnered with global corporations in the crop protection segment. It does contract manufacturing for them in its four state-of-the-art manufacturing facilities located across India.
It also has a strong distribution network of more than 2,000 dealers and 40,000 retailers. This has helped it establish a pan India presence covering 80% of districts in India. The company also exports its products to more than 70 locations.
Rallis's revenue has grown at a steady rate of 7% CAGR in the last three years, driven by new product launches and capacity expansion. The company's profits have also grown at a CAGR of 13.9% during the same period.
Moreover, it has a healthy three-year average dividend payout of 27.8%.
Rallis is already in the middle of a capacity expansion plan for formulations, new active ingredients and backward integration sourced from internal accruals. It expects this to reflect in the revenues in the medium term.
The company is also planning to expand its footprint in the international market in the crop protection segment. It already has 92 products and 15 molecules in the pipeline.
To know more about Rallis India, check out its factsheet.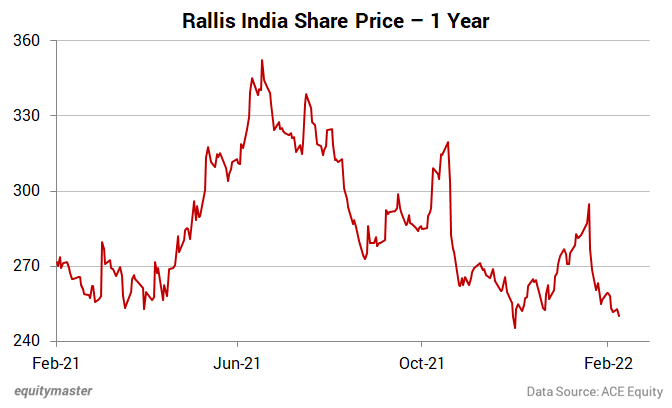 #2 Tata Coffee
Next on our list is Tata Coffee, Asia's largest integrated coffee company.
The company primarily engages in the production and distribution of coffee and tea in Indian and international markets.
It also manufactures pepper in its coffee and tea estates and is the world's largest corporate producer of Indian origin black pepper.
The company owns and operates 25 coffee and tea estates in India spread across 8,000 hectares of land through which it manufactures coffee for its key markets such as India, the USA, and commonwealth nations.
Some of the brands it owns are Tata Coffee Grand, Eight-o-Clock, and Sonnet. It is also the sole supplier of premium quality coffee beans to Starbucks stores in India.
In the last three years, Tata Coffee's revenues have grown at a CAGR of 7.9%, and its profits at 25.5%.
The revenue and profit growth was led by higher volumes of the Eight-o-Clock brand and better performance of the plantation segment.
To know more about Tata Coffee, check out its factsheet.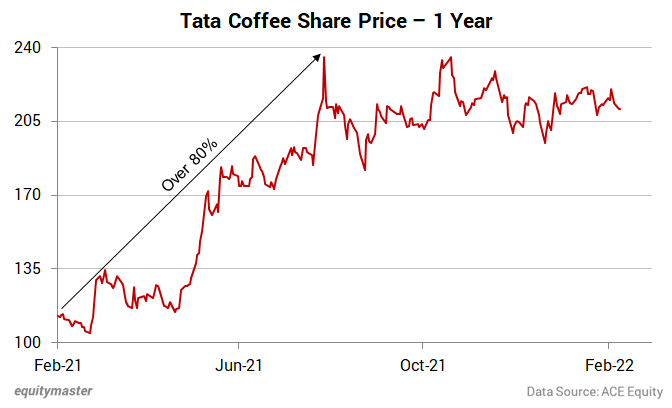 #3 Tata Steel Long Products
Third on our list is Tata Steel Long Products, one of India's largest speciality steel plants.
Formerly known as Tata Sponge Iron, the company primarily engages in manufacturing high alloy steel, sponge iron, and power.
Its products are used in several industries, including the auto sector, wire rope industry, secondary steel sector, infrastructure, railways, and agriculture sectors.
The company has a manufacturing capacity of 1 million tonnes per annum (MT) of each of steel and iron, an iron ore mine of 2.5 MT, and a captive power capacity of 160 megawatts (MW) spread across two manufacturing facilities located in India.
In the last three years, the company's revenue has grown at a healthy CAGR of 66.3%, driven by higher production of steel and iron and improving infrastructure projects in the country.
Its profit also grew at a CAGR of 66.3% during the same period.
Tata Steel Long Products targets import substitution and enriches its portfolio by launching new products and expanding its customer base. This is expected to drive the revenue of the company going forward.
The company is also concentrating on deleveraging its books and becoming debt-free by 2027. In the financial year 2021, it pre-paid a gross debt of Rs 13.3 bn. It reduced its interest costs to the extent of 20%, indicating higher net margins in the medium term.
To know more about Tata Steel Long Products, check out its factsheet.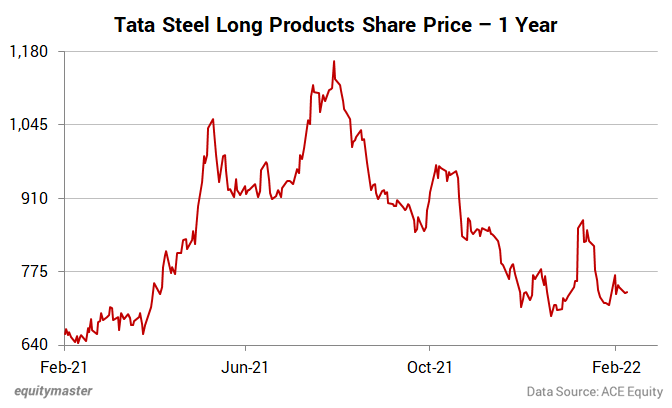 #4 Nelco
Last on our list is Nelco, India's leading VSAT provider.
The company offers solutions in VSAT connectivity, Satcom projects, and integrated security and surveillance solutions.
It basically enables enterprises to effectively operate their businesses from remote locations by providing reliable and cost-effective satellite services.
Nelco's customers include government, defence, and enterprise customers across different segments.
A few industries it caters to are aviation, banking, renewable energy, oil and gas, maritime, mining, and construction.
In the last three years, the company's revenues have grown at a CAGR of 5.4%. This was due to the increasing client base of the company, resulting in a greater number of orders.
Nelco's net profit and net margin in the financial year 2021 stood at Rs 124 m and 5.5%, respectively.
The company has also been paying dividends consistently for the past three years, and the average dividend payout stands at 18.87%.
In 2022, the company's revenues will grow as the aviation industry's adaptation of the satcom services increases.
To know more about Nelco, check out its factsheet.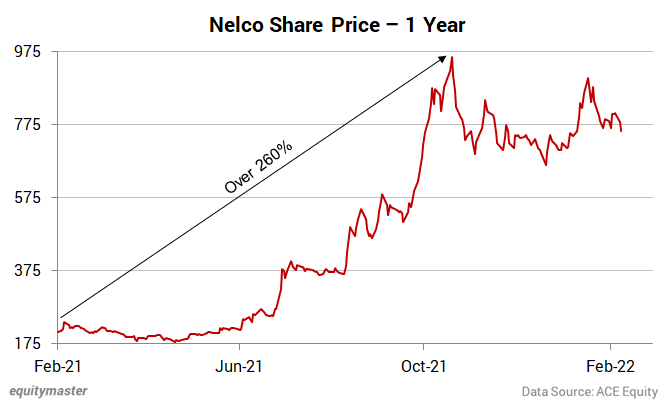 Tata Group - The Most Trusted Brand Among Investors
As the Indian markets surged over the last two years, one group provided investors with significant returns.
There are no second guesses here when we say it's the Tata Group.
Seven of its companies emerged as multibaggers and gave more than 100% return and in some cases more than 1,000% return in just one year.
The group is not only creating value with its products and services. It is also significantly contributing to its shareholder's portfolios.
In September 2021, Equitymaster conducted a poll consisting of 17 of the most popular corporate groups in India.
The Tata Group has emerged as an undisputed winner with 66.3% of the total votes, more than double the number of votes (31.8%) it received in the last poll.
The group's 153-year-old legacy is a testament to the fact that creating value is not only about the quality of the product or service but also about the quality of a firm's conduct, both internally and externally.
You can read the entire report here: India's Most Trusted Corporate Group is...
In a similar vein, back in August 2021, the Co-head of Research Rahul Shah talked about the stellar performance of Tata group companies in the bull market in one of his videos.
Rahul Shah also compared the performance over a 5-year and a 10-year period.
Tune in to find out more:
Here are Links to Some Very Insightful Equitymaster Articles and Videos on Tata Group Stocks:
Investment in securities market are subject to market risks. Read all the related documents carefully before investing
Want to Grow Your Wealth With Safe Stocks?
If you want a simple, safe, and hassle-free approach to long term wealth building...
Without having to worry about negative news or every little downswing in the market...
And without having to worry whether your investments will actually "deliver"...
You must read our note on Blue Chip Stocks now.
Details of our SEBI Research Analyst registration are mentioned on our website - www.equitymaster.com
Disclaimer: This article is for information purposes only. It is not a stock recommendation and should not be treated as such. Learn more about our recommendation services here...