Why Olectra Share Price is Falling
Feb 15, 2023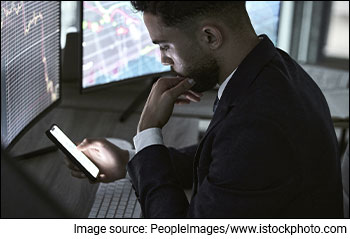 In June 2022, Co-head of Research at Equitymaster Tanushree Banerjee wrote this in one of her editorials:
Several socks like CV maker Olectra Greentech have seen gains like 2,000% in 12 months, once their EV upside was visible. Plus, they saw their order books swell.

But in this case investors seem to be buying into this smallcap purely out of speculative reasons.

Don't get me wrong. The EV opportunity is here to stay. And several stocks in the EV ecosystem have long runway ahead of them.

But piling on to stocks without fundamentals, purely due to the herd mentality reminds me of the fate of stocks like Vakrangee.
The reason we are highlighting this excerpt is because the share price of Olectra Greentech has seen a sharp correction in recent days.
The Indian stock market has been abuzz with the meteoric rise of electric vehicle related stocks, and one such company that caught everyone's attention was Olectra Greentech, the commercial vehicle (CV) manufacturer.
As investors rushed to cash in on the EV boom, Olectra shares were on a roll between November 2020 to February 2022.
However, the tide has now turned, and the company's share price has been on a downward spiral for quite some time. Investors who were once bullish on the stock are now wary, as the price continues to fall.
Today, let's delve into the reasons behind the fall in Olectra Greentech shares and the implications of the same.
Termination of a large bus order
In October 2022, Olectra Greentech informed exchanges that a bus order worth Rs 700 million (m) stands terminated.
This order was from the Gujarat State Road Transport Corporation (GSRTC) to supply an additional 50 buses.
Initially, the EV bus maker received an order from GSRTC for supplying 50 electric buses. This order was smoothly executed.
But the agreement for additional buses was called off.
Olectra and GSRTC could not agree on critical aspects that were considered for arriving at the cost of the project.
Since October 2022, Olectra shares have lagged the markets and fallen around 30% till mid-February 2023.
The cancelled bus order is not the only reason dragging the stock lower, which brings us to the next reason.
Supply chain constraints
In its earnings call, the company mentioned there are some supply chain issues in China. Olectra could not import the cells which are required to make the batteries.
Due to this, Olectra was not able to supply the required number of buses as per the plan.
The company started the year with a target of 1,200 plus buses. It appears that it will make less than 50% of this.
Along with that, there's also the concern about competition. Some of the company's competitors are offering better prices and the industry is getting consolidated.
Quarterly results of Olectra Greentech
While the company's share price is falling, the quarterly numbers paint a different picture. In the December 2022 quarter, Olectra reported its best ever quarterly numbers.
The company's standalone revenues went up by about 20% on a year-on-year basis. Profit after tax was up 4%.
Sales during the quarter, were driven by the performance of electric segment where volumes grew by 38% from 103 electric buses delivered in last year to 142 buses delivered in the current year.
The company also reported decent performance from its insulator segment due to healthy operating margins, primarily from the export business.
Even though Olectra has lost the GSRTC order, the company's order book continues to be strong.
It has been consistently bagging larger orders for electric buses.
The company's robust order book will drive its revenue going forward.
At present, it has a manufacturing plant in Hyderabad, manufacturing 150 buses per month. The company has invested Rs 8 bn in building a new manufacturing plant with a capacity to produce 10,000 buses per annum.
This will be operational by January 2024.
How Olectra Greentech share price has moved recently
On Tuesday this week, Olectra Greentech shares crashed up to 10%.
Today, the stock opened marginally higher at Rs 422 against its previous close of Rs 421. As the session progressed, Olectra shares gained 3%.
In the past five days, Olectra Greentech share price is down 10% while in 2023 so far, Olectra shares are down by 15%.
The company touched its 52-week low of Rs 410 on 14 February 2023 and its 52-week high of Rs 804 on 17 February 2022.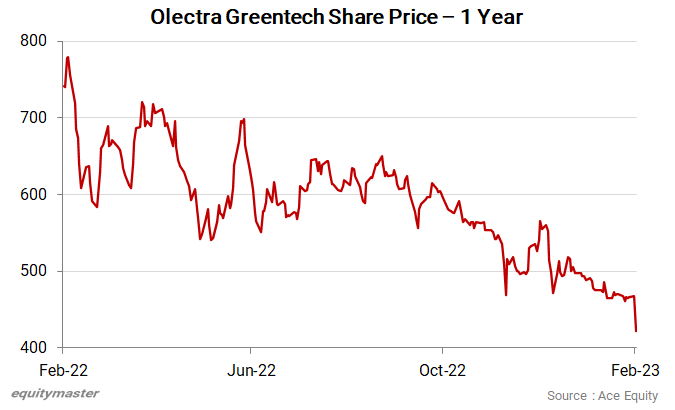 Take a look at the table below to see how the company performs against its peers.
Comparative Analysis
Company
Olectra
DCX Systems
Kaynes Tech
Syrma SGS
ROE (%)
4.7
79.8
24.5
13.4
ROCE (%)
7.7
21.6
26.5
16.9
Latest EPS (Rs)
6.9
6.8
7.2
3.1
TTM PE (x)
61.3
23.4
124
84.8
TTM Price to book (x)
4.3
2.4
4.8
3.2
Dividend yield (%)
0.1
0
0
0
Industry PE
72.5
Industry PB
4
Data Source: Ace Equity, Equitymaster
About Olectra Greentech
Olectra Greentech is the largest pure electric bus manufacturing company.
It is a pioneer in electric bus manufacturing and has a leading market share of 35% as of March 2022.
The company also forayed into three-wheeler electric autos and electric trucks.
To learn more about the company check out, Olectra Greentech's financial factsheet.
Investment in securities market are subject to market risks. Read all the related documents carefully before investing
Want to Grow Your Wealth With Safe Stocks?
If you want a simple, safe, and hassle-free approach to long term wealth building...
Without having to worry about negative news or every little downswing in the market...
And without having to worry whether your investments will actually "deliver"...
You must read our note on Blue Chip Stocks now.
Details of our SEBI Research Analyst registration are mentioned on our website - www.equitymaster.com
Disclaimer: This article is for information purposes only. It is not a stock recommendation and should not be treated as such. Learn more about our recommendation services here...
Yash Vora is a financial writer with the Microcap Millionaires team at Equitymaster. He has followed the stock markets right from his early college days. So, Yash has a keen eye for the big market movers. His clear and crisp writeups offer sharp insights on market moving stocks, fund flows, economic data and IPOs. When not looking at stocks, Yash loves a game of table tennis or chess.