How to Profit from India's Lithium Discovery
Feb 16, 2023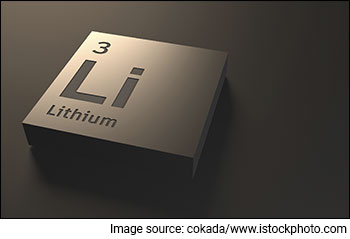 The big national news over the weekend was the discovery of Lithium in India.
The discovery was made by the Geological Survey of India in the Salal-Haimana area, of the Reasi district, in Jammu & Kashmir.
The figure announced was stunning: 5.9 million metric tonnes (MMT). At current prices, that's worth US$ 34 trillion (tn). For context, the size of India's economy is about US$3.5 trillion (tn).
The discovery has put India on the map as far as electric vehicles (EVs) are concerned. EVs are powered by Lithium-ion batteries.
There has been tremendous excitement in government circles, the media, and corporate India after this announcement was made.
There is talk about how India is all set to become the next EV hub and how our dependence on China for EV batteries will disappear.
Is this wishful thinking? Is it realistic? And most importantly, how can you, the investor, profit from it?
Let's find out...
The Discovery
First, the discovery itself is huge. There's no doubt about it. These reserves, if proven, will put India in 6th place in terms of amount of mineable quantity.
Also, India's mining secretary confirmed that the quality of the metal is high, around 500 parts per million (ppm). This compared to 200 ppm in normal grades of Lithium found in other countries.
The leaders in Lithium resources are Bolivia, Argentina, Chile, Australia, and China. The entire world is estimated to have around 98 MMT of Lithium resources. But the actual proven reserves are only about 26 MMT.
This is because of the difference between the terms, 'resource' and 'reserve'. The former is the estimated amount after initial surveys are done. The latter is the final proven amount that can be extracted.
The figure announced by India is the resource amount. The final reserve, that can be mined, will be lower. However, this will still be more than enough to make India one of the world's largest producers of Lithium, once the mining starts.
And that brings us to...
The Mining
So when can we start extracting this treasure? After all, we won't sit on this US$34 tn bonanza for very long.
Well, we can't start right away that's for sure.
Why not?
As per United Nations standards, there are four stages of exploration before mining can begin. These are named G4 to G1 in that order.
The first stage (G4) is where the initial reconnaissance work is done to identify areas where a resource with sufficient mining potential may be present. Also a decision is taken about where the prospecting needs to be conducted.
The second stage (G3) is the prospecting stage where a target area for mining is identified. Also in this stage, the 'resource' amount is estimated. The technical term is 'inferred resources'. This is where India is now. The 5.9 MMT of Lithium announced is the inferred resources.
The third stage (G2) is the general exploration stage. Here a study is done to narrow down the area of interest in mining, along with technical details of the site as well as the ore. This stage also provides a better estimation of the inferred resources.
The fourth stage (G1) is when the detailed exploration is done and a proposal to conduct a feasibility study for mining is made to the government.
If a feasibility study is proposed, then the concerned government agency, will conduct it and inform the government about how to go about mining the ore.
If the government decides to go ahead, it will invite draw up the rules to be followed while mining and then invite private mining companies to bid for the mining rights.
The winning company will then begin to mine the ore.
As you can see, there are still a few steps to be completed before India becomes a Lithium powerhouse. The entire process would take at least 3 years. But considering the massive implications of this discovery, we can rest assured that the government will make it happen.
Lithium Stocks: Which Companies Will Benefit?
This is the million dollar question on the minds of stock market investors.
To answer this question, we must expand our horizon beyond the mining of Lithium and think about the entire EV ecosystem. This is the best way to find multibagger stocks in 2023.
We need to think about how this discovery will shape the entire EV market in India. This line of thinking will eventually point us in the right direction when looking for the best EV stocks in India.
The Ecosystem
First the mining companies will obviously benefit from this discovery. They will profit selling the Lithium ore. These are the most obvious Lithium stocks.
However, this will be difficult. Lithium is a highly reactive metal. It's mining and extraction is a very complex process. They will also have to abide by very strict environmental rules and local labour laws.
Also, India currently does not have the technology to produce the final Lithium-based product that is used in the cells, inside EV batteries.
This is done in advanced Lithium refineries, the majority of which are in China. We will have to not only mine the ore but refine it in the country to get the maximum benefit from this discovery. Otherwise we will just be an exporter of raw ore, without adding any value in the ecosystem.
Thus investors will have to keep a hawk eye for an announcement by an Indian firm that will take this step. Don't focus on only the mining stocks. The value addition will be done by the refiners. This could be the same company or a different one. There could be foreign partners involved as well.
Then come the buyers of the refined Lithium. These are the companies that make Lithium-ion cells that are used in EV batteries. Chinese firms dominate here.
In India, HEG has will be a supplier of anodes to Indian cell makers (see the winners of the PLI scheme below). Watch this video for more.
Then come the battery markers. The cell makers usually assemble the final batteries too but that is not the case in India as we import the cells. Currently, all the EV battery makers in India rely on mostly Chinese firms for the Lithium-ion cells.
Neogen Chemicals has planned to develop cells for EV batteries. Recently, the company started manufacturing electrolytes for lithium-ion batteries.
In India, battery assembly is done by Ola Electric Mobility and Aether Energy, a subsidiary of Hero MotoCorp. Both are unlisted.
The government has come out with a PLI scheme for battery makers. The winners were Reliance New Energy, Rajesh Exports, and Ola Electric Mobility.
Then there is the smart mattery management system which is used in EVs. This too is mostly imported by Indian firms.
There are also parts used along with the battery like the motor, power train, electronics, and the control systems. Bosch and ABB are present in this space but it's not a major part of their business yet. Even in this case, Indian firms mostly import these components.
Software is an important part of EVs. Tesla cars, for example, receive software updates via the internet just as our computers do. In this space, Tata Elxsi and KPIT Technologies are well-known names.
This brings us to the vehicle makers and the ancillary firms.
The Big Boys
Among the big boys, Tata Motors is the clear leader. The company has a roadmap to develop EVs in almost every segment. This made it a darling of the stock market. However the stock has cooled off over the last year or so.
Hero MotoCorp is present in this segment with its unlisted subsidiary, Ather Energy. Investors aren't exactly enthused with Hero about the company's EV plans but the success of Ather will certainly establish the company as a market leader.
TVS Motors is also making its presence felt. It was an early entrant but did not make much progress. However, the company has established itself, has a clear plan for growth, and is now in execution mode. Time will tell how much success is in store for the company.
Bajaj Auto is creating a separate EV division. It has invested around Rs 10 bn to this end and will launch several two-wheeler EVs in the near future.
The Little Guys
The EV ecosystem in India may be in a nascent stage but there are several small firms that are doing great work. No matter what happens with Lithium mining in India, some of these stocks are potential multibaggers.
Here's a brief update on these firms. Keep them on your watchlist.
Battery markers Exide and Amara Raja have a large overhang of legacy batteries as the industry moves to EVs. These firms have been a bit slow to move but are now investing billions of rupees to build EV battery capacity.
Olectra Greentech share price is falling but do keep an eye on this pure-play EV bus maker. The EV boom in public transport is just taking off. There's a long runway ahead.
Kabra Extrusiontechnik is a new player in this space with its battery division, Battrixx. It provides cell packs as well as smart battery management systems.
Minda Corporation has entered the EV space by focusing on R&D. it aims to become a Software-as-a-Service (SaaS) firm in the EV sector.
Sona Comstar has quickly established itself as a serious contender in India's EV ecosystem. More than 60% of its order book is from EV firms.
JBM Auto has big plans in the EV space. It has set up EV charging stations and has entered the EV bus segment. The company is investing heavily to establish itself in the market.
Fiem Industries is not a direct play on the EV market but as a dominant provider of energy efficient lighting systems, it has a solid place in India's auto market.
These are a few examples for your watchlist. You can track India's EV stocks using Equitymaster's EV Stock Screener.
In conclusion...
The Lithium discovery has brought the focus on India's entire EV ecosystem. From mining firms to the final vehicle makers, all stand to benefit from India's self-reliance in this basic raw material.
Costs will come down for the entire industry which should hopefully be passed on to the consumer. This in turn will drive the growth of the entire industry. Smart investors should keep their eyes open for any opportunity that arises in this space.
Finally, track the developments in the Lithium story. There could be big announcements soon. For example, Indian corporate groups, with expertise in mining and refining could announce plans of setting up Lithium refineries. PSUs will also be involved for sure.
This would be a massive gamechanger in the entire ecosystem and would signal India's direct challenge to China's dominance in the industry.
We are in for exciting times ahead. Watch this space...
Investment in securities market are subject to market risks. Read all the related documents carefully before investing
Want to Grow Your Wealth With Safe Stocks?
If you want a simple, safe, and hassle-free approach to long term wealth building...
Without having to worry about negative news or every little downswing in the market...
And without having to worry whether your investments will actually "deliver"...
You must read our note on Blue Chip Stocks now.
Details of our SEBI Research Analyst registration are mentioned on our website - www.equitymaster.com
Disclaimer: This article is for information purposes only. It is not a stock recommendation and should not be treated as such. Learn more about our recommendation services here...