India's Green Hydrogen Policy: 5 Companies that Could Emerge Big Winners
Aug 6, 2022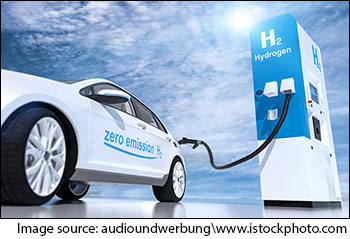 Editor's note: The hype for green hydrogen stocks is real.
Governments all over the world are making the switch. Over 30 countries have released hydrogen roadmaps, 200+ hydrogen projects, and ambitious investment plans.
India isn't far behind. Lately, you must have seen news around how Indian companies and big Indian corporates are investing in the green hydrogen space.
The top green hydrogen companies in India are leading the charge as they have an early mover advantage.
In February this year, the government came out with its green hydrogen policy. When the policy was announced, we wrote to you about the companies that will benefit the most.
Post that policy announcement, it appears a comprehensive green hydrogen mission is in the works as most of these companies have laid out their roadmap.
The government's policy is primarily focused on reducing the cost of green hydrogen by addressing the delivered cost of green power and creating giga-scale demand via existing hydrogen-consuming industrial sectors.
Continue reading to know more about this policy and which companies stand to benefit...
India's Green Hydrogen Policy and the Companies that Could Emerge Big Winners
Hydrogen has been the 'fuel of the future' for a long time. It has tremendous promising benefits.
However, we are only now seeing some constructive initiatives in its production and use.
Green hydrogen is the hydrogen produced by splitting water into hydrogen and oxygen using renewable electricity.
Investments in the green hydrogen space are already going up. The fuel has various uses - a raw materials in industry, fuel cells, renewable energy storage - which make it a viable replacement for non-renewable energy.
To stimulate this industry, the government has unveiled the first phase of India's green hydrogen policy.
Policy for producers
In a big boost to India's clean energy push, the government on Thursday announced the first phase of the National Hydrogen Policy.
In the initial phase, the centre will provide the open access, free storage for 30 days and free transmission if the facility is set up before 2025.
The government allowed 25-year free inter-state transmission of renewable power for production of green hydrogen with a view to boosting the usage of the truly carbon-free fuel and making India an export hub.
This will help in accomplishing the aim of producing 5 million tons of green hydrogen by 2030, as well as the growth of renewable energy capacity.
Furthermore, the new policy would promote green hydrogen production by allowing any firm to set up capacity anywhere in the country. They can also buy green power from exchanges. In both cases, inter-state transmission will be free when the power is used for producing green hydrogen.
The government will also allow the green hydrogen or ammonia manufacturers to bank unconsumed renewable power, for up to 30 days, with distribution companies and take it back when required.
Banking lets renewable energy producers send unused electricity to the grid, which can then be used when required.
It also plans to construct bunkers near ports to store green ammonia for export.
The transmission charge waiver will be available for projects commissioned by 30 June 2025 and the link to the grid will be provided on priority.
Under the ambit of the mission, the government would support research, demand generation, infrastructure development and other parts of the process to ensure that India would be able to produce and use hydrogen as a fuel, especially in the transport sector.
India imports 85% of its oil and 53% of its gas requirement. The policy is aimed at boosting production. The fuel could be a game changer for India's energy security.
This comes at a time when sustainable energy, environmental preservation, and energy transformation have taken centre stage in India's government policy. India has vowed to be carbon neutral by 2070 at the COP26 meeting in Glasgow last year.
Top Indian companies poised to benefit from the green hydrogen policy
Reliance Industries: Mukesh Ambani has an ambitious plan to transform Reliance Industries into a green energy company.
Earlier this year, Asia's richest man announced plans to invest US$75 bn in renewable infrastructure including generation plants, solar panels, and electrolysers.
There is speculation this strategy entails transforming all that clean power into hydrogen. If so, it would be a big endorsement in the next-generation fuel.
Last week, Reliance made headlines when it unveiled new plans to produce blue hydrogen from petroleum coke - an oil refinery by-product.
Reliance Industries is targeting to become one of the largest producers of blue hydrogen globally, producing the zero-emission fuel at costs that will be half of the global average.
Update: Reliance has said that it plans to bid for any production-linked incentives the government may offer to encourage the technology,
GAIL: The Gas Authority of India (GAIL), India's largest state-owned natural gas company, wants to build the country's largest green hydrogen plant in the next 12-14 months.
According to the natural gas corporation, GAIL aims to buy a 10 MW electrolyser to produce 4.5 tons of green hydrogen daily.
Two weeks back, GAIL said it has commenced India's first-of-its-kind project of mixing hydrogen into the natural gas system at Indore, Madhya Pradesh.
The hydrogen blended natural gas will be supplied to Avantika Gas, one of GAIL's joint venture with HPCL, for retailing of CNG to automobiles and piped natural gas to households in Indore.
Update: GAIL has awarded the contract to set up the PEM-based project in Madhya Pradesh. The project has been designed to produce around 4.3 metric tonnes of hydrogen per day with a purity of about 99.9%.
NTPC: Just like GAIL, NTPC plans to produce green hydrogen on a commercial scale.
NTPC has been aggressively pushing for greening its portfolio and the green hydrogen project is another step towards achieving a low carbon footprint.
It has also been promoting the usage of green hydrogen-based solutions in sectors like mobility, energy, chemical, fertiliser, steel etc.
Update: NTPC has awarded the green hydrogen fuelling station project in Leh, Ladakh to Amara Raja Power Systems.
Adani Group: According to a report, billionaire Gautam Adani's, Adani Group, has set up a new subsidiary, Adani New industries (ANIL) to undertake green hydrogen projects, generation of low carbon electricity and manufacture of wind turbines, solar modules, and batteries.
The group is looking to become the world's largest renewable energy companies and produce the cheapest hydrogen.
In November last year, Adani stated his group will invest US$70 bn in the new energy space in the next decade.
Update: In its AGM held recently, Gautam Adani said that green hydrogen is the fuel of the future. He said that the group is investing US$70 bn in a new energy business that will turn India from net importer of oil, to an exporter of green hydrogen.
From diagnostics to renewable energy, the Adani group is investing in high growth sectors.
L&T: In December 2021, Larsen & Toubro (L&T), India's leading engineering conglomerate, and ReNew Power India's leading renewable energy company, announced a partnership to tap the green hydrogen business in India.
Under this agreement, L&T and ReNew will jointly develop, own, execute, and operate green hydrogen projects in India.
L&T said it has partnered with Norway-based HydrogenPro to access its electrolyser technology to enter the green hydrogen market. As part of the agreement, L&T and HydrogenPro will set up a joint venture company in India to manufacture gigawatt-scale alkaline water electrolysers based on the latter's technology.
How did the industry react?
Well, surely, companies welcomed the policy saying that it is the first concrete step in the direction of creating a favourable regulatory and enabling environment for the green hydrogen and ammonia sector in India.
They, however, are still awaiting clarity on some points such as charges for intra-state wheeling of electricity.
Centre to launch Green Hydrogen pilot project with Toyota in March
In a recently held press conference on 10 February, Nitin Gadkari, Union Minister for Road Transport and Highways said the government is working with Toyota, to launch a Green Hydrogen-based pilot project in India.
Gadkari said that the government might launch the project by mid-March 2022. He has often emphasised the importance of green hydrogen as a zero-emissions fuel. He said green hydrogen will be the fuel of the future.
To minimise dependency on petrol and diesel fuels, the government has promoted the use of cleaner alternative fuels like as ethanol, methanol, bio-diesel, bio-CNG, LNG, electric, and fuel cells.
The road transport ministry has also advised the country's automakers to begin developing new cars with flex-fuel engines within six months.
Should you include green hydrogen stocks in your portfolio?
India's foray into the field of green hydrogen has been ground-breaking.
The sector currently has a high cost of manufacturing, but due to rising demand, technological advancements, and strong government support, the industry will soon achieve economies of scale, thus lowering costs.
Apart from that, India's current energy import bill is over US$160 bn (Rs 12 tn) a year. The continued coal and oil dependency will increase this amount by 2-3 times.
To cut down expenses and reduce this dependency, sustainable sources of energy like green hydrogen will become more of a necessity than a choice in the near future. The government's nudge is another area that is creating an opportunity for the sector.
It has announced a draft policy mandating that green hydrogen account for 10% of the overall hydrogen needs of refiners by 2023-24. For the fertiliser sector, the requirement is around 15%.
It also plans to increase non-fossil energy capacity to 500 GW by 2030 and meet 50% of its energy requirements from renewable energy by 2030.
While these reasons are compelling, one must view green hydrogen stocks with the same amount of caution as one would view other stocks. You must do your due diligence.
Before taking a plunge, we recommend you check out our guide on how to invest in green hydrogen stocks. That should help you get started.
Also check out the video by Co-head of Research at Equitymaster, Tanushree Banerjee, in which she explains why this fuel is a game-changer for electric vehicles (EVs).
As per Tanushree, this is a chance for India to innovate and cash in on the latent demand for new age fuels like green hydrogen.
Happy Investing!
Disclaimer: This article is for information purposes only. It is not a stock recommendation and should not be treated as such. Learn more about our recommendation services here...