Feb 21, 2022 - A Proven Technical Indicator Signals a Possible Buy for these 5 Stocks
A Proven Technical Indicator Signals a Possible Buy for these 5 Stocks
Feb 21, 2022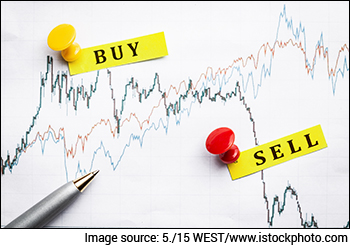 Investors and traders alike are already in a state of disbelief...
We're not even two months into the new year and some stocks have fallen more than 50% from their peak. While there are a few which have gained 500%.
If the heavy selling by foreign investors and rising inflation concerns weren't enough, now geopolitical tensions have added to worries.
Clearly, this year has started with a lot of uncertainty.
As markets continue their downtrend, the dampened sentiment is seen by many investors and traders as a contrarian opportunity, all with the help of an indicator.
The 200-Day Moving Average (DMA).
A 200-DMA is nothing but simply the average closing price of a stock or an index over the last 200 days.
This indicator has been around for ages and followed by global fund managers worldwide.
For instance, legendary fund manager Paul Tudor Jones, whose trading strategies have been admired and followed by many, survived the 1987 crash. The only publicly known reason for that was the 200 DMA rule.
The legendary trader was quoted saying this in Tony Robbins book "Money":
Tony Robbins: So my next question is, how do you determine the trend?
Paul Tudor Jones: My metric for everything I look at is the 200-day moving average of closing prices. I've seen too many things go to zero, stocks and commodities. The whole trick in investing is: "How do I keep from losing everything?" If you use the 200-day moving average rule, then you get out. You play defense, and you get out.
Moving averages vary in their duration depending on the purpose they are used for. These averages can be for useful indicators for studying price behaviour over the long term.
For example, if price is consistently trading above the 200 DMA, it can be viewed as an upward trending market and vice versa.
Since it's a long term average, the 200-DMA is considered as a major support level for an index or a stock. As the markets have corrected this year, many quality stocks have slipped below their 200 DMAs.
Let's take a look at the top ones. Investors who are looking to bottom fish in this market should keep these in their watchlist.
#1 HDFC AMC
The 1-year share price chart of HDFC Asset Management Company (HDFC AMC) clearly indicates that it has been part of the recent sell-off.
From highs of 3,300 touched in September last year, the stock of HDFC AMC currently trades at Rs 2,200, just 4% shy from its 52-week low of Rs 2,118.
HDFC AMC currently trades below its long-term 200 DMA average of Rs 2,761.3.
HDFC AMC Share Price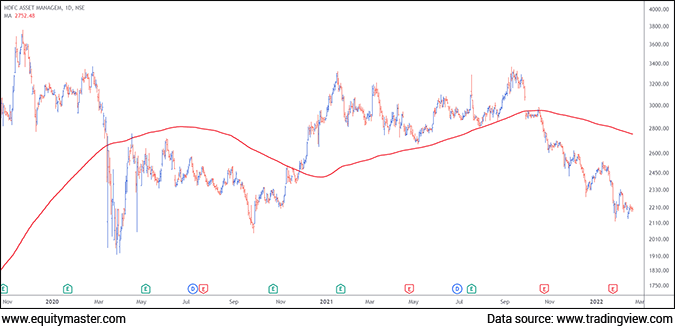 The fall is not limited to HDFC AMC. Other HDFC group stocks too have witnessed huge sell-off, but the fall is deeper in HDFC AMC.
The reasons are obvious. Foreign investors (FIIs) have huge stakes in all these companies. As the FII sell-off intensified, HDFC group stocks started to come down and hit multi-month lows.
HDFC Group Companies Under Pressure amid FII Selloff
| Company | 52-Week High | Current Price | Fall from Peak (%) | FII Stake (%) |
| --- | --- | --- | --- | --- |
| HDFC | 3,021 | 2,441 | -19% | 72.1 |
| HDFC Bank | 1,724 | 1,510 | -12% | 37.5 |
| HDFC AMC | 3,363 | 2,203 | -34% | 10.5 |
| HDFC Life | 776 | 590 | -24% | 30.5 |
Source: Equitymaster
For HDFC AMC, weak results added to the selling pressure. The company's profit after tax (PAT) slipped 3% in the December 2021 quarter to Rs 3.6 bn even as revenues saw a 14% growth.
Another worrying reason for the fund house is that is has been losing market share. HDFC AMC's overall assets under management (AUM) fell to 11.7% in December 2021 compared to 13.1% a year ago.
In the more profitable actively-managed equity schemes, its share has gone down from 13.6% to 11.6% in the same period.
But HDFC AMC, being a leader in the Indian mutual fund industry, has enough tailwinds in its favor. It has been the most profitable AMC in India since fiscal 2013. The company also enjoys strong patronage of the HDFC brand.
While the company has lagged in the most recent quarter, its performance overall during fiscal 2021 showed an improvement across most equity categories.
The mutual fund industry in India still remains underpenetrated. Mutual fund AUM as a percentage of GDP is much lower than the world average. So there's headroom for growth in the long run.
To know more about HDFC AMC, check out its financial factsheet and latest quarterly results.
#2 SBI Cards
An 84% growth in the net profit of SBI Cards in the December 2021 quarter worked no wonders for the stock.
Even after it reported robust fee incomes, lower provisions, and a fall in net NPAs, the stock continued its downtrend. Although it did gain 5% on the day of the result.
The stock of the second largest credit card issuer in India is on a continuous downtrend. There are two main factors at play here.
One is of course the selling pressure by FIIs. The other is global brokerage Goldman Sachs downgrading the stock.
While FIIs sold around 3% of their stake in the December 2021 quarter, Goldman Sachs is expecting the stock to underperform.
Another reason could be selling by domestic mutual funds. While the latest shareholding pattern showing an increase in mutual fund exposure might paint a good picture, that's not the case. Many mutual fund schemes have sold their total holding of SBI Cards in the recent selloff.
SBI Cards currently trades at Rs 830, nearly 17% below its long term 200 DMA of Rs 1,001.
SBI Cards Share Price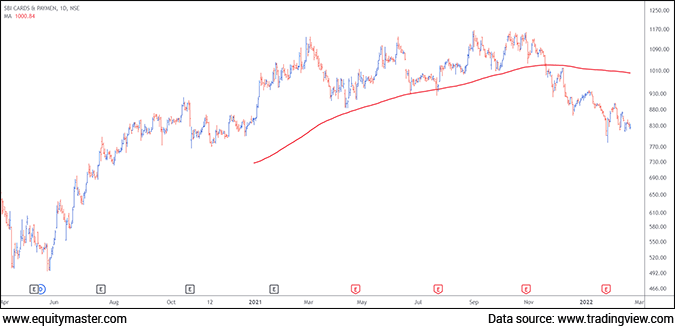 #3 IndiaMART InterMESH
A selloff was triggered in the stock of IndiaMART InterMESH last month when the ecommerce player posted weak results.
The B2B ecommerce firm posted a 12.4% decline in consolidated net profit to Rs 702 m in the December 2021 quarter.
Revenues too showed a muted growth of 8.35 to Rs 1.9 bn. The company is facing challenges with medium and small enterprises, which form the bulk of its client base.
In the past one year, the stock is already down over 40% with most of the losses coming after mid-January.
IndiaMART InterMESH currently trades at Rs 5,000 levels, around 13% lower from its 52-week low of Rs 4,350. It's down 31% from its long term 200 DMA of Rs 7,217.
Down 26% in 2022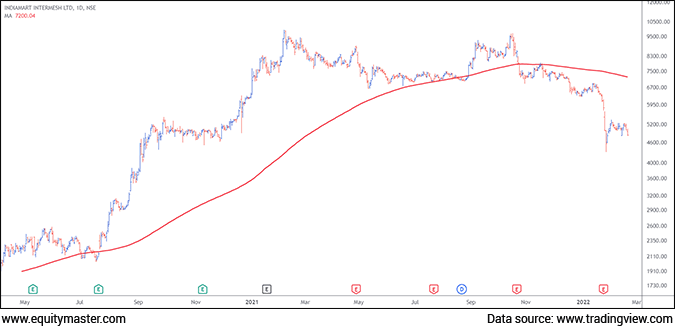 IndiaMART InterMESH has an established presence with more than 55% market share in India's online B2B classified space.
Analysts are bullish on the stock as the underpenetrated industry of B2B ecommerce offers growth opportunities.
So don't be surprised if IndiaMART's near-monopolistic nature and its unique business wins the favor of investors. The company is cash positive and carries no debt. Its sales and profits have grown in the past five years.
To know more, check out IndiaMART's financial factsheet and latest quarterly results.
#4 Metropolis Healthcare and Dr Lal PathLabs
Metropolis Healthcare
Like IndiaMART InterMESH, shares of Metropolis Healthcare are also the victim of weak quarterly results.
Shares of the diagnostics company have been under pressure since the start of January 2022 with steep losses registered in the week gone by.
The company reported weaker-than-estimated results for the December 2021 quarter last week and that sent its stock tumbling 10% the very next day.
Metropolis Healthcare's net profit declined 29.7% to Rs 412 m. The diagnostics chain had reported a net profit of Rs 586 m in the same period of the previous fiscal.
Another reason the stock is under pressure is due to FII selling. Metropolis Healthcare is a FII-heavy stock with 30% FII holding as of December 2021.
The stock currently trades at Rs 2,000, around 7% higher to its 52-week low of Rs 1,848. Its long term 200 DMA is Rs 2,853, 30% higher than its current market price.
In the results commentary, the management gave some relief to shareholders. The management said Metropolis is well on track to execute the expansion plans where it will add 90 new labs and 1,800 new service centers across regions over the next three years.
Dr Lal PathLabs
Another diagnostics stock which is facing the heat is Dr Lal PathLabs.
It's the same story with Dr Lal PathLabs too. The company reported lower than estimated earnings and sure enough, the market sent the stock for a tailspin.
Dr Lal PathLabs reported a 39.3% decline in net profit at Rs 582 m as against Rs 959 m in the previous corresponding quarter.
Total revenue witnessed a single-digit growth of 9.8%.
Dr Lal PathLabs is also a FII heavy stock with 25.5% stake as of 31 December 2021.
Over the year gone by, the stock is up 9% and currently trades at Rs 2,735, 22% lower from its long term 200 DMA of Rs 3,463.
Over the past 2 months, the correction in diagnostic stocks has been brutal. Metropolis has lost over 40% since start of the year while its peers too are sulking. The fall in Dr Lal PathLabs has been in line with broader indices.
Here's what Research Analyst at Equitymaster Aditya Vora has to say about diagnostics stocks...
The stocks of diagnostic companies were trading at much higher valuations than their historical valuation bands.

Any disappointment in their operating performance would have led to a sharp de-rating.

And that is exactly what happened.

What followed was a set of disappointing quarterly results, leading to declines in these stocks. As I said, when things are priced to perfection, any disappointment will have an adverse impact.

The recent correction in diagnostic stocks has clearly eliminated the valuation froth in many of them.

Sharp falls in stocks like Metropolis and Thyrocarebhas taken their current valuations at or below their 3 years average PE.
As per Aditya, if the margins stabilise at these levels, a time correction in these stocks could be a good opportunity to accumulate from a long term perspective.
#5 Quess Corp
The last stock on our list is Quess Corp.
The stock has been sent to the cleaners since the start of January, falling from Rs 890 to Rs 570 at present. On Friday though, the stock made a speedy recovery and settled 7% higher.
It currently trades 21% lower from its long term 200 DMA of Rs 817.
Shares of the temporary staffing company have been on a downtrend ever since its CEO's sudden exit. Due to the CEO's exit, shares of the company did not factor in the robust results it reported.
Quess Corp's PAT was up 94% YoY at Rs 890 m with operating leverage enabling non-linear growth. Revenues saw a 31% YoY growth driven by general staffing, IT staffing, and IFM.
This was the quarter where Quess Corp reported its highest ever revenue, EBIDTA, and profit before tax.
The jitters due to the CEO's exit seem to have normalised now after the stock recovered in the past two sessions. The company even said the change of CEO will not impact Quess Corp's strategy.
India's largest staffing firm is now banking on people going back to offices, which will give a boost to the company's facilities and food business.
To know more, check out Quess Corp's financial factsheet and its latest quarterly results.
Which other stocks are currently trading below their 200 DMAs?
Apart from the names above, here are the stocks trading below their long term 200 DMAs.
Stocks Trading Below 200-DMA
| Company Name | Current Price | 200-DMA | Marketcap (Rs bn) | % Below DMA |
| --- | --- | --- | --- | --- |
| Zomato Ltd. | 86.0 | 131.8 | 677.6 | -35% |
| Paytm | 833.6 | 1,250.2 | 540.6 | -33% |
| Nykaa | 1,399.3 | 2,029.8 | 663.1 | -31% |
| Info Edge (India) | 4,427.8 | 5,515.5 | 570.2 | -20% |
| ICICI Prudential Life Insurance | 525.2 | 609.9 | 754.8 | -14% |
| BPCL | 373.5 | 431.8 | 810.1 | -13% |
| ICICI Lombard General Insurance | 1,283.3 | 1,481.6 | 629.9 | -13% |
| HDFC Life Insurance | 590.8 | 680.3 | 1,248.2 | -13% |
| Godrej Consumer Products | 827.7 | 942.2 | 846.4 | -12% |
| Dr. Reddy's Lab | 4,320.5 | 4,879.5 | 719.1 | -11% |
| Shree Cement | 24,386.0 | 27,523.6 | 879.9 | -11% |
| Torrent Pharma | 2,647.9 | 2,958.9 | 448.1 | -11% |
| Muthoot Finance | 1,327.1 | 1,478.7 | 532.6 | -10% |
Data Source: Ace Equity
Why the 200-DMA shouldn't be the only indicator to look at
Like most investing tools, the 200-DMA has its limitations. It should not be the only indicator to look at.
For example, if the stock closes below its 200-DMA level on consecutive days, it would suggest more weakness ahead. Investors, who ignore this important point, would not be happy with the outcome.
Also, they don't take into account the change in company's fundamentals. It just uses the recent chart history and avoids the 'day-to-day' noise.
That is why, it should not be your only buy sign.
Instead, the most reliable option for you dear reader is to combine DMAs with other technical indicators. This can help cut down your margin of error.
But the average does give us an idea about the state of market situation.
Historically, when an index or a stock dips below its 200-DMA, it can show early signs of recovery and a possible technical pullback.
Since you're interested in technical indicators, do check out the below video where Brijesh Bhatia, Research Analyst of Fast Profits Report, talks about moving averages and other indicators.
We also recommend you take a look at these insightful articles and videos on trading and technical analysis.
Disclaimer: This article is for information purposes only. It is not a stock recommendation and should not be treated as such. Learn more about our recommendation services here...
Yash Vora is a financial writer with the Microcap Millionaires team at Equitymaster. He has followed the stock markets right from his early college days. So, Yash has a keen eye for the big market movers. His clear and crisp writeups offer sharp insights on market moving stocks, fund flows, economic data and IPOs. When not looking at stocks, Yash loves a game of table tennis or chess.