Top 4 Small-cap Multibagger Stocks to Add to Your Watchlist
Feb 21, 2022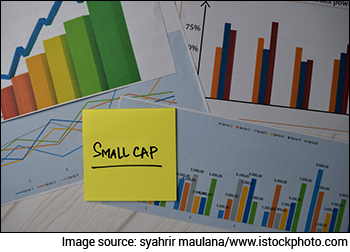 India has been one of the most successful emerging markets in the last couple of years. The BSE Sensex and the Nifty 50 have returned 16.4% and 17.8%, respectively, during the last year.
From the market bottom in March 2020, till December 2021, small-cap stocks have outperformed largecaps.
However, concerns over the Federal Reserve's projected interest rate hikes, geopolitical tensions between Russia and Ukraine, and high valuations, sent smallcap stocks into a tailspin in the first two months of 2022.
The BSE Small-cap index has dropped about 8% in the previous two months.
Small-cap stocks are volatile in nature and are prone to market downturns. Investing in smallcaps in the current market scenario is risky. But some stocks have emerged as multibaggers from this space.
Here is a list of the top small-cap multibagger stocks that have provided exponential returns over the past one year.
#1 Brightcom Group
Homegrown digital market company, Brightcom Group has left everybody speechless with its exceptional performance.
Shares of this Hyderabad based company has rallied over 2,320% in the last twelve months.
The multibagger penny stock, which was trading at Rs 6 per share in February 2021, rose to a high of Rs 148 on the BSE today.
If an investor had invested in this digital marketing company a year ago and had remained invested, Rs 1 lakh would have turned to Rs 24.7 lakh today.
The rise in Brightcom Group shares may be linked to the company's good financial performance, a plethora of favourable events, and business expansion.
The Ad-Tech company registered 168% growth in consolidated net profit at Rs 3.7 bn for the quarter ended 31 December 2021, against Rs 1.4 bn in the same period last year.
To reward its investors, the company's board of directors announced a 2:3 bonus shares. The move will boost liquidity in the stock.
The company's performance has improved due to increased use of digital media and digital channels to conduct commerce across the world.
Brightcom provides comprehensive online or digital marketing services to direct marketers, brand advertisers, and marketing agencies.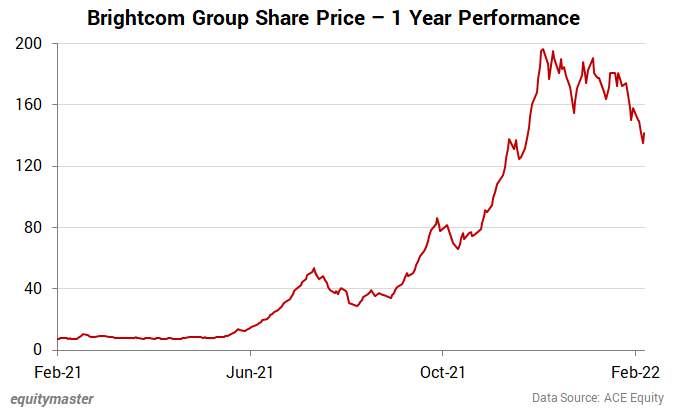 To know more about the company, check out Brightcom Group's financial factsheet and latest quarterly results.
#2 GRM Overseas
Another stock on the list is from the food sector.
A leading basmati rice maker in India, GRM Overseas shares has gone up from Rs 50 to Rs 600 in the last one year. This means the stock has returned 1,100% to its shareholders. A one-year investment of Rs 1 lakh in this company would currently be worth Rs 12 lakh.
The smallcap rice milling company's stock price shot up from Rs 1.9 to Rs 935.4 in last 10 years, logging around 49,110% rise in this period.
Last month, the company announced it has associated with Udaan, India's largest Business-to-Business (B2B) ecommerce platform. Now, its subsidiary GRM Foodkraft (GFK), the 10X rice brand will be available on the B2B platform.
GRM Overseas is primarily engaged in the business of milling, processing, and marketing of branded and non-branded basmati rice in the domestic and overseas market.
The company exports basmati rice to over 38 countries including Middle East, UK, USA, Europe, and Australia. It's also the 3rd largest exporter of basmati rice to the Gulf Region and the 5th largest exporter globally.
Presently, exports account for 88% of revenues of the company and the domestic market accounts for 11% of revenues.
For the December 2022 quarter, the company's net profit went up by 39% to Rs 3 bn compared to Rs 2.1 bn reported it in the same period last year.
Over the period of last five years, the counter has delivered returns of 13,500%. In growth terms, that implies to a CAGR of 167%!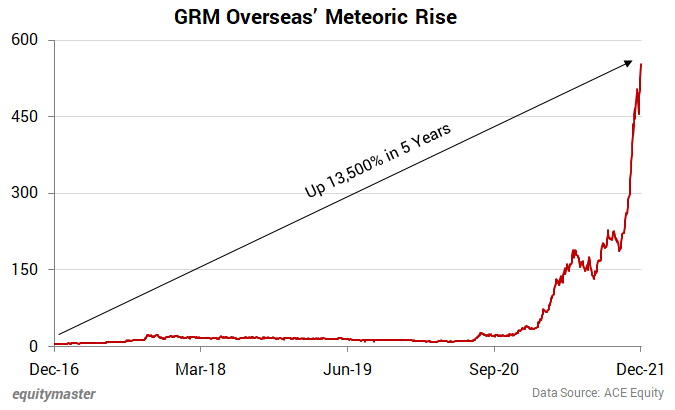 To know more about the company, check out GRM Overseas financial factsheet and latest quarterly results.
#3 Vishnu Chemicals
Despite the fact that the market has taken a hit as a result of the Fed rate hikes and the Russia-Ukraine conflict, chemical sector stocks are on fire.
In the small-cap space, Vishnu Chemicals is a multibagger stock that has given phenomenal returns to its shareholders.
The stock has surged over 671% in the last one year, from Rs 168 in February 2021. The stock is up 23% in this month itself.
An amount of Rs 1 lakh invested in the shares of Vishnu Chemicals a year ago would have turned into Rs 8 lakh today.
Vishnu Chemicals is in the business of manufacturing, marketing and export of Chromium chemicals and Barium compounds across the world. Located in Hyderabad, the company is serving more than 12 industries across 57 countries globally.
The company's consolidated net profit surged 567% to Rs 246.1 m on 126.7% increase in net sales to Rs 3 bn in December 2022 quarter over the same period a year ago.
In the ongoing quarter, the company said it commenced operations at the backward integration project at Visakhapatnam. On the subsidiary front, the 50% increase in capacity of Barium chemicals is on-schedule and will commence operations in this quarter itself.
The company's focus on manufacturing, consistent quality products has helped it create a long sustainable relationships with clients. The backward integration plant is a milestone for the company. It's a very strong asset and implies the firm will be healthy and profitable.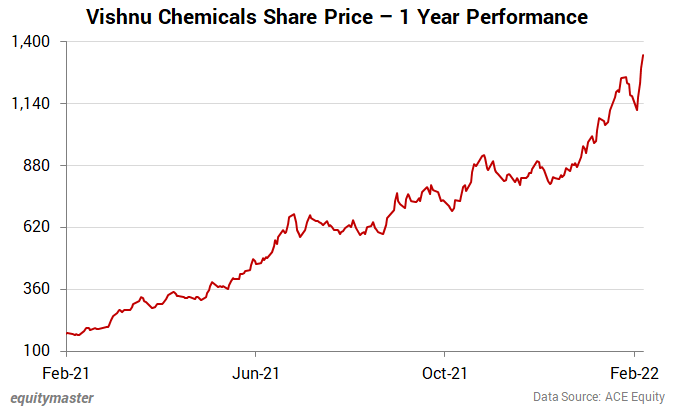 To know more, check out Vishnu Chemicals' 2020-21 annual report analysis.
#4 RattanIndia Enterprises
The stock price of Rattanindia Enterprises went up from Rs 4.5 to Rs 47.8 today and has given a whopping 595% returns to its shareholders in the last twelve months.
Taking cue from RattanIndia Enterprises share price history, if an investor had invested in this multibagger penny stock 1 years ago, and had remained invested in this scrip throughout this period, its Rs 1 lakh would have turned to Rs 10.5 lakh today.
However, in last one month, it has been under pressure losing near 19%.
On the financials, the performance of the company does not match the bumper rise in the stock.
In the December 2021 quarter, the company reported net loss of Rs 9 m compared to net profit of Rs 1 m in the same quarter last year.
Reason behind the share price surge can be attributed to the company's drone division.
RattanIndia Enterprises started its drone business with its wholly owned subsidiary - NeoSky India Ltd. It made a strategic investment in the US-based urban drone logistics platform - Matternet.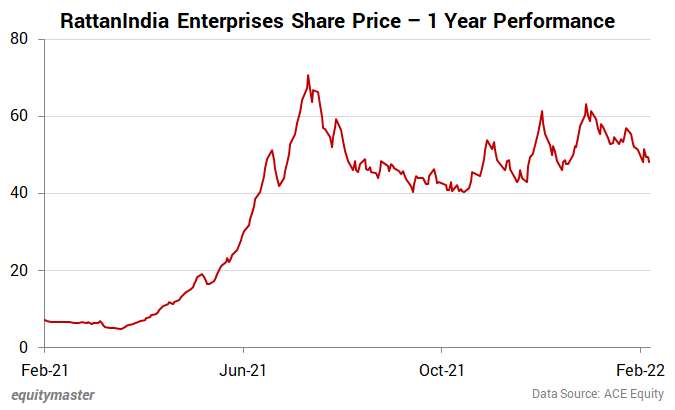 To know more, check out RattanIndia Enterprises' financial factsheet.
Is it a good time to buy small-cap stocks?
Smallcaps offer not only potential growth but diversification away from companies in the largecap and midcap universe.
However, small-cap stocks can be quite volatile. That isn't necessarily a problem, but some investors don't have the appetite for wild swings.
Small-cap stocks may have a place in your portfolio if you are willing to maintain an investment for several years and are fine with the stock price moving considerably.
Owning small-cap stocks can enhance the overall growth rate of your portfolio if you commit to a buy-and-hold investment approach.
To help you understand the pros and cons of investing in small-cap stocks, please read this article - Is it a Good Time to Buy Small-cap Stocks?
Happy Investing!
Disclaimer: This article is for information purposes only. It is not a stock recommendation and should not be treated as such. Learn more about our recommendation services here...