4 Metaverse Stocks in India to Add to Your Watchlist
Jul 28, 2022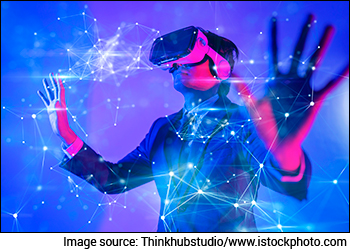 Editor's note: Do you know what the best companies and the fastest growing companies have in common?
They create categories. These companies are able to identify new technology and then apply it to solve large problems globally.
These companies are often considered as the multibagger stocks for next 10 years as they are able to disrupt legacy companies over the long haul.
Even if legacy companies have significant market share and scale at present, the new technology allows the disruptors for use cases that were previously unavailable.
The history has given us many examples to talk about...like Uber. Do you know that Uber would have successfully failed if smartphones weren't invented?
The passenger and the driver both need to have GPS-enabled devices so they could effectively and efficiently find each other for pickup or drop-off.
The average person was not going to walk around with a large brick GPS device in their pocket just in case they may need a cab.
Smartphones and the GPS system created the foundation for Uber. Uber took that technology and applied it to the global problem of transportation. And the rest is history.
Similarly, a new theme is evolving right in front of us. No, it's not the electric vehicle megatrend or the massive opportunity for semiconductor boom.
What we're talking about is metaverse.
Metaverse is a digital world in which physical, augmented, and virtual realities (collectively called extended reality) come together to offer real time experiences.
Metaverse has arrived in India and companies are tapping into this evolving theme and getting future ready. You won't believe it but IT companies are leading the charge and Tech Mahindra recently announced that it has 60 metaverse projects that it is working on.
Earlier this year in February 2022, we wrote to you about the 4 Indian companies that have taken the leap and forayed into the metaverse technology.
Continue reading to know more about these metaverse stocks in India and whether there are any additions to the list.
Metaverse Stocks in India to Add to Your Watchlist
Last month, we wrote to you about the Metaverse.
We explained how this disruptive theme couldn't be explained in one single note.
Here's an excerpt...
The metaverse is an extension of our real world into the digital realm.

It is a space where you can do everything you do in this real world, on the internet.

And...many more things that would not be possible in the real world.
So basically, in metaverse as a "virtual environment" you can literally go inside of a screen instead of just looking at it. You can meet, greet, work, play, and do numerous things using the internet.
If you still don't understand the concept, read this article. It will make the concept easier to understand.
Ever since Facebook's boss Mark Zuckerberg announced the company's new brand name, Meta, the 'Metaverse' has become a buzzword.
As per an industry report, India's augmented reality (AR) and virtual reality (VR) market stood at Rs 135 bn in FY20. With a projected growth of 38% every year, this could grow to 10 times its size by 2027.
Worldwide, spending on AR and VR, is forecast to reach US$160 bn by 2023, from the US$16.8 bn forecast for 2019. So it's no wonder companies are pumping in huge sums in this latest tech trend.
Indian IT companies are preparing for a surge in demand for technology services aimed at the metaverse. TCS, Infosys, HCL Tech, and Wipro are piloting new initiatives, building proof-of-concept and virtual laboratories to equip themselves for the metaverse.
IT companies are known to adapt to the latest trends but there are other Indian companies too which have shown deep interest in the adoption.
Here are four of them which are looking to tap the metaverse market.
#1 Reliance Industries
First on our list, we have none other than India's most valued company in terms of marketcap - Reliance Industries.
In 2020, Reliance Jio announced smart glasses called Jio Glass. The company announced the launch in its 43rd Annual General Meeting (AGM).
During the launch, the company said Jio Glass is designed for teachers and students to enable 3D virtual rooms and conduct holographic classes via the Jio Mixed Reality service in real-time. Apart from this, they can also be used to perform virtual meetings.
Jio Glass will use a combination of AR and VR to make video conferencing better. To improve its AR and VR services, Jio has partnered with a startup Tesseract.
Further, Reliance Jio invested US$15 m in Two Platforms Inc (TWO), a Silicon Valley startup for a 25% equity stake.
Founded in July 2021 by Pranav Mistry, a pioneer in the field of AR/VR, artificial intelligence (AI) and robotics, Two Platforms is an AR startup that builds interactive and visual AI experiences. The startup enables real-time AI voice and video calls, digital humans, immersive spaces, and lifelike gaming.
Reliance group is investing heavily in tech platforms. Recently, it's on an acquisition spree and has invested in several tech platforms, apart from the above two.
All these investments show Mukesh Ambani's serious intensions for entering the metaverse.
To know more, check out Reliance Industries' financial factsheet and its latest quarterly results.
#2 Nazara Technologies
Next on our list, we have Rakesh Jhunjhunwala backed gaming company Nazara Technologies.
One of the ways in which Nazara generates revenue is by selling in-app virtual items, representing functional items or feature enhancements to gamers. These can be purchased and used within the app.
Nazara Technologies has invested in VR gaming firm InstaSportz which is engaged in the business of running sports and VR entertainment zones in India and abroad.
The gaming company also has a stake in Nodwin, an Indian e-sports firm, which is in turn, partnering with other firms for more immersive experiences.
In 2021, Nodwin gaming acquired the gaming and adjacent IP (intellectual property) business of OML Entertainment, a media and entertainment company.
Nazara also has a stake in Next Wave Multimedia, a firm looking to launch non-fungible tokens (NFT).
Last year in August, it also acquired Hyderabad-based OpenPlay for Rs 1.9 bn. OpenPlay will offer tech platforms for Nazara to build a network of skill gaming destinations operating on a common platform.
Nazara's founder Nitish Mittersain has said the gaming industry is going to be a completely virtual in few years down the line. He believes the metaverse is here to stay and determine a pivotal role in India's gaming industry.
Tech shares have taken a hit amid the market volatility. Nazara Technologies has been no exception. The stock of the company is currently trading around 45% lower from its highs.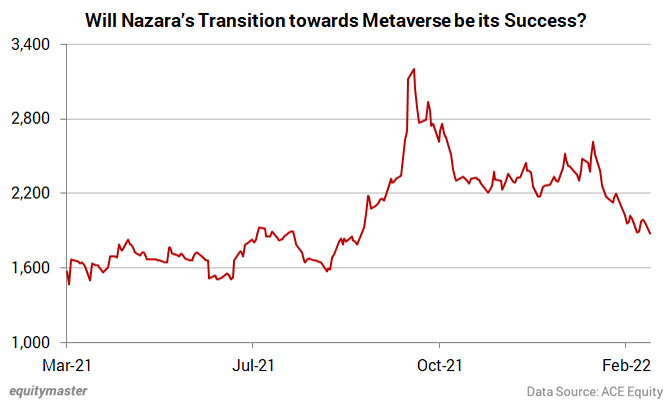 Originally started operations as an aggregator of games, Nazara has expanded its reach by various acquisition and that bodes well for the company.
To know more, check out the financial factsheet of Nazara Technologies.
#3 Hindustan Media Ventures (HMVL)
You may be wondering how a traditional publishing company like Hindustan Media Ventures (HMVL) is making use of metaverse.
Well, this unusual suspect could potentially ride this wave through optionality. HMVL has invested in WURKR, a UK and India-based SaaS platform. This platform enables teams to work together from anywhere in an immersive virtual workspace.
We all know that the work from home trend is here to stay. We have video calling and screen sharing applications like Teams, etc, but the experience is limited to calls, texts, and screen sharing.
WURKR increases the online experience by creating a virtual office space where employees can co-work, interact, visit rooms, and move from one place to another with their colleagues just like in a brick-and-mortar office.
WURKR's virtual workplace management platform replicates a physical office environment in the cloud, backed by video technology.
#4 Triveni Engineering & Industries
Last on our list, we have a sugar company - Triveni Engineering & Industries.
This sugar company, which is mainly into sugar & allied businesses and engineering business, has also taken the indirect way and invested in a gaming startup.
Triveni Engineering and Industries is an investor in JetSynthesys, a gaming startup where Flipkart, Sachin Tendulkar, and Adar Poonawala have invested as well.
JetSynthesys has a catalogue of over 300 games across HTML, Java, Android, and iOS platforms spanning multiple segments. JetSynthesys is also the co-founder of e-sports company, Nodwin Gaming, in which Nazara has stake.
Apart from celebrity investors, the company is also backed by former Infosys chairman Kris Gopalakrishnan and the promoters of Thermax.
Under its arm, JetSynthesys has Wakau Interactive, a social media platform. Wakau offers a combination of mobile-first screen experience and short video content in entertainment and fashion domains with a video commerce element.
According to JetSynthesys MD and vice chairman Rajan Navani, short video sharing social media platforms have been seeing great traction from users since the last couple of years. With Wakau, it helps build connections, a community of followers, and will also make a mark in the metaverse.
The exact amount invested by Triveni Engineering is unconfirmed.
To know more, check out Triveni Engineering's latest quarterly results and its financial factsheet.
Which other Indian companies have plans to enter or have entered the metaverse?
Apart from the above, here are few other companies which have forayed into the metaverse or have immediate plans to do so.
Indian Companies in the Metaverse
Source: Equitymaster
To conclude...
We can safely assume that the metaverse is here to stay for a long-long time.
Many are calling it the investment theme of 2022.
With metaverse coming in the picture, demand could soar for companies which specialises in building virtual worlds which integrate online experiences and make them actionable.
So don't be surprised if more companies tap into this red hot disruptive theme.
Lead smallcap Analyst at Equitymaster, Richa Agarwal, aptly put it...
2022 and the rest of this decade will be all about disruption. And you will have to look beyond front runners to be on the winning side of this trend.
Do check out Richa's video on metaverse where she discusses the best way to invest in it.
As per Richa, metaverse could be to this decade what internet was to last decades.
Happy Investing!
Disclaimer: This article is for information purposes only. It is not a stock recommendation and should not be treated as such. Learn more about our recommendation services here...
Yash Vora is a financial writer with the Microcap Millionaires team at Equitymaster. He has followed the stock markets right from his early college days. So, Yash has a keen eye for the big market movers. His clear and crisp writeups offer sharp insights on market moving stocks, fund flows, economic data and IPOs. When not looking at stocks, Yash loves a game of table tennis or chess.