These 2 Tata Group Stocks Have Started 2023 with a Bang. Will the Rally Continue?
Feb 22, 2023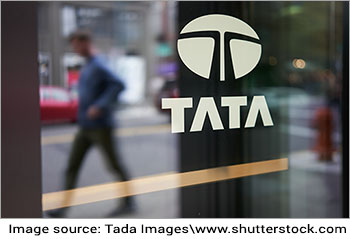 We're two months into 2023 and the Indian share market has completely flipped upside down already. Both benchmark indices Sensex and Nifty have shown sharp moves on particular days.
This volatility comes as the Adani crisis continues to dominate headlines following allegations by Hindenburg Research.
The crisis has deepened so much that it has now raised questions about other Indian conglomerates too.
Amid all this, the performance of the most reputed Indian business group has remained rangebound so far.
Several stocks from the Tata Group have given negative returns so far in 2023. Even the strongest Tata Group companies such as Titan and NELCO are down 5-20%.
Worst Performing Tata Group Stocks of 2023 so far
Data source: Equitymaster
Out of 28 listed companies, about 17 companies have failed to continue the good show in 2023.
However, some of their stocks have performed well on the bourses .
In today's article, we'll talk about the two outliers in the Tata Group that have managed to provide good returns.
#1 Benares Hotels
Benares Hotels is a subsidiary of the Indian Hotels Company. The company's hotels include Taj Ganges and Taj Nadesar Palace in Varanasi as well as The Gateway Hotel in Gondia, Maharashtra.
This lesser-known or the hidden Tata group stock has rallied 24% so far in 2023, on the back of robust revenues reported for the December 2022 quarter.
For the December 2022 quarter, the company reported a 46.7% YoY rise in revenue to Rs 282.6 million (m). It reported a revenue of Rs 192.7 m in the same quarter last year.
Meanwhile, the net profit jumped 87.9% YoY to Rs 82.9 m from Rs 44.1 m a year back.
For the quarter under review, Benares Hotels reported its highest-ever EBITDA. It reported a 66.4% YoY rise in EBITDA from Rs 126.6 m from Rs 76 m in the December 2021 quarter.
The company also doubled its EBITDA and grew revenue by 51% above the pre-covid level for the first nine months of the current financial year.
These robust financial results were due to continued high demand and increased momentum in social events.
Benares Hotels Financial Snapshot - 5 years
| Particulars | 18-Mar | 19-Mar | 20-Mar | 21-Mar | 22-Mar |
| --- | --- | --- | --- | --- | --- |
| Total revenues (Rs in m) | 483 | 604 | 638 | 248 | 500 |
| Growth (%) | - | 25.1 | 5.6 | -61.1 | 101.6 |
| Operating profit (Rs in m) | 113 | 175 | 208 | 4 | 145 |
| Operating profit margin (%) | 23.8 | 29.2 | 32.6 | 1.6 | 29.1 |
| Net Profit (Rs in m) | 65 | 87 | 106 | -52 | 57 |
| Net profit margin (%) | 13.7 | 14.6 | 16.7 | -21.6 | 11.3 |
Data source: Equitymaster
As visible from its December 2022 earnings, the company has bounced back with tourists starting to travel again in full swing.
It is virtually a debt-free company.
The company is looking forward to expanding its properties with low or zero debt.
For more details, see the Benares Hotel company fact sheet and quarterly results.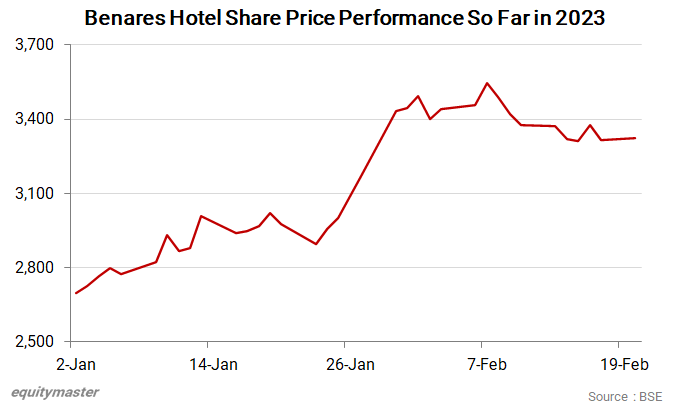 #2 Tata Motors
Second on the list is Tata Motors.
Tata Motors is engaged in the manufacturing of products passenger cars, trucks, vans, coaches, and buses. The company is also a market leader in the electric passenger vehicle segment in India.
With a 14% rise in its share price so far in 2023, Tata Motors is the second top performer of the group.
The rally comes after the company swung back to profits in December 2022 quarter after seven consecutive quarters of losses.
For the December 2022 quarter, revenue jumped by 22.9% YoY to Rs 896.1 bn.
It posted a consolidated net profit of Rs 30.4 bn in December 2022 quarter, against a loss of Rs 15.1 bn in the same quarter last year.
These profits were on the back of a strong order book, better semiconductor chip supply, tempered commodity prices, and a better product mix.
The December 2022 quarter was the best for passenger vehicle sales, as Tata Motors saw its highest-ever retail sales, which crossed 50,000 units.
Over the last five years, the company's sales have remained flat while its net profits have shown a de-growth of 10.5%.
This downfall was due to a lower-than-expected supply of specialised chips and lower sales of JLR.
Tata Motors Financial Snapshot
| Particulars | 18-Mar | 19-Mar | 20-Mar | 21-Mar | 22-Mar |
| --- | --- | --- | --- | --- | --- |
| Total revenues (Rs in m) | 29,72,818 | 30,62,338 | 26,47,274 | 25,55,522 | 28,28,778 |
| Growth (%) | - | 3 | -13.5 | -3.5 | 10.7 |
| Operating profit (Rs in m) | 3,08,689.00 | -63,174.00 | 1,44,293 | 1,54,122 | 2,27,199 |
| Operating profit margin (%) | 10.6 | -2.1 | 5.5 | 6.2 | 8.2 |
| Net Profit (Rs in m) | 68,131 | -2,89,337 | -1,09,752 | -1,30,161 | -1,12,347 |
| Net profit margin (%) | 2.3 | -9.6 | -4.2 | -5.2 | -4 |
Data source: Equitymaster
However, the winds have changed with chip supplies improving over the last few months.
Also, the demand for PVs in general, and JLR (Jaguar Land Rover) products in particular, has remained strong in key markets globally, though the macro environment is not supportive.
Apart from this, its India CV (commercial vehicle) business has continued to see cyclical recovery and has a positive outlook.
The management has also made a strategic shift to a demand-pull model to restore its double-digit margins.
Tata Motors, on 20 February 2023, signed a Memorandum of Understanding (MoU) with the ride-sharing app Uber.
Both companies have inked a pact for 25,000 units of Tata Motor's XPRES-T electric sedan for Uber India's premium category vehicles. This MoU marks the largest four-wheeler EV fleet order in the Indian industry.
Also riding the electric vehicle (EV) megatrend, Tata Motors has remained in the fast lane when it comes to electric vehicles (EVs). The Tata group is leading India's EV revolution.
Apart from this, it has entered a strategic partnership with Japanese semiconductor manufacturer Renesas Electronics Corporation to design, develop and manufacture semiconductor solutions for domestic and global markets.
For more details, see the Tata Motors company fact sheet and quarterly results.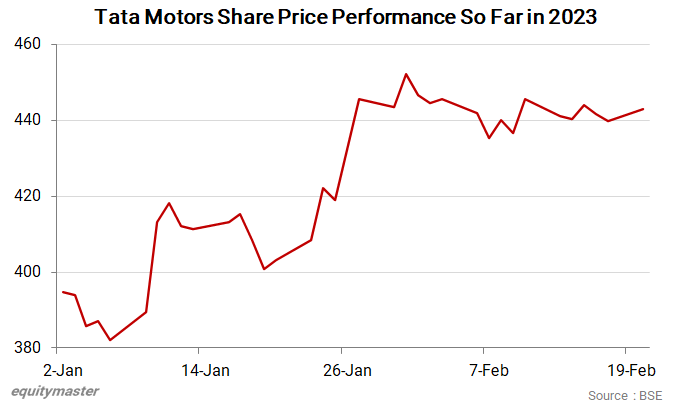 Tata Group: Path Ahead
Given the pace at which the Tata group is expanding, the conglomerate has firmly entrenched itself with the with the Indian people for more than 150 years and is not likely to relinquish that position any time soon.
The Tata Group has big goals for its upcoming stage of development.
With a renewed emphasis on India, the group is planning to devote over 80% of its capital expenditures to local businesses over the next five years, with an expected investment of US$ 90 bn.
It includes Tata Power's plan to spend over US$ 10 bn over the next five years in renewable energy, a US$ 5 bn project to build Giga factories and its bets in tech and electronics.
The group intends to make 5G telecom gear and is also beefing up its play in the semiconductor space.
Two more group companies, Tata Play and Tata Technologies, are expected to go public in 2023.
Then there's also Tata Electronics, which is hailed as the Tata group's next TCS. It will be interesting to watch out for these IPOs coming up.
Stay tuned.
As you're interested in Tata group stocks, check out the new section in our Stock Screener where you can view the fundamentals of companies within a business group in one screen, including the Top Tata group stocks. This should help you get a better grip on fundamentals, business group wise.
Investment in securities market are subject to market risks. Read all the related documents carefully before investing
Want to Grow Your Wealth With Safe Stocks?
If you want a simple, safe, and hassle-free approach to long term wealth building...
Without having to worry about negative news or every little downswing in the market...
And without having to worry whether your investments will actually "deliver"...
You must read our note on Blue Chip Stocks now.
Details of our SEBI Research Analyst registration are mentioned on our website - www.equitymaster.com
Disclaimer: This article is for information purposes only. It is not a stock recommendation and should not be treated as such. Learn more about our recommendation services here...