Listing the Unlisted: 5 Popular Unlisted Companies to Watch Out for
Feb 22, 2023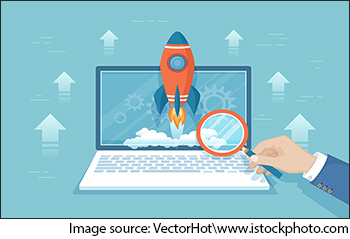 When it comes to investing, most people tend to look towards the stock market and publicly traded companies.
But did you know that there are many private companies that are equally, if not more, profitable and popular than their public counterparts?
These unlisted companies have chosen not to go public through an initial public offer (IPO) so far and instead rely on private funding from venture capitalists, angel investors, and private equity firms.
This means they are not easily accessible to the average retail investor. One would have to invest in a listed company which has taken a stake in the unlisted company.
So today, we thought about exploring 5 popular unlisted companies that are worth keeping an eye on. These companies are already making waves in their respective industries and have the potential to become even more successful in the future.
While they may not be publicly traded now, there is always the chance they could go public in the coming years. This would provide a unique opportunity for investors to get in on the ground floor.
By the way, we have written two such editorials in the past, which you can access here and here.
Let's get started...
#1 IdeaForge
First on our list is IdeaForge Technology.
This drone company is making headlines lately as it has announced to go public in 2023.
IdeaForge is a pioneering Indian drone manufacturer. It has contributed significantly to developing unmanned aerial vehicles, also referred as drones, for various applications.
IdeaForge was founded in 2007 and enjoys 15 years of research and development (R&D) history. The company's innovative drone technology and collaborations with leading organisations make it a key player in the Indian and global drone markets.
The company is licensed by the Ministry of Defence and owns more than 20 global patents. It is a leader in security and surveillance and enjoys a 90% market share.
While the company boasts an impressive client roster like the Indian military, Adani group, L&T, IOC, Survey of India, Indian Railways etc., Infosys is its marquee investor. The Indian IT giant owns a 20% stake in the company, according to company filings.
The company recently filed for an initial public offer (IPO) and is set to raise about Rs 7.5 billion (bn).
The proceeds from this issue will be used for repayment/prepayment of certain indebtedness availed by the company, funding working capital requirements, investment in product development and general corporate purposes.
In April 2022, the company's founder said that the business has shot up 10x in just 2 years.
Can the company continue to grow at the same momentum going forward? We don't know for sure.
But we can tell you one thing. The prospects of the drone industry look solid at the moment. ideaForge is at the top of the list when it comes to companies which will benefit from the government's PLI scheme for drones, the China one plus strategy, and the transition of India into a global supply chain hub.
According to ideaForge's DRHP, the global drone industry is estimated to be at US$ 21.1 bn as of December 2022.
The industry is expected to increase at a CAGR of close to 20% and reach US$ 91 bn by December 2030!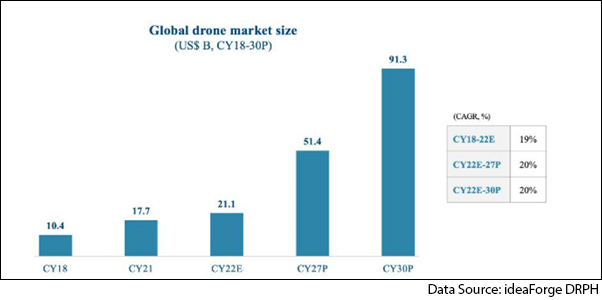 In the past, we've mentioned several times on how you can profit from India's drone revolution.
While the growth prospects seem appealing, the industry is still at a nascent stage, at least in India, so ideaForge has a long journey ahead of it.
#2 Tata Electronics
Next on our list is Tata Electronics.
The Tata group company could come out with its IPO as soon as this year in 2023.
Tata Electronics is a leading Indian electronics company. It has established itself as a key player in the domestic and international markets.
Founded in 2007, Tata Electronics boasts a diverse portfolio of products and services. But the company came into the limelight when the chairman of Tata group, N Chandrasekaran announced the company's foray into the semiconductor business in December 2022.
Apart from recently venturing into high-growth sectors like semiconductors, their product portfolio includes power electronics, automation systems, defence electronics, and internet of things (IoT) solutions.
Tata Electronics' focus on innovation, R&D and its diverse product portfolio, make it a valuable partner for customers in various industries. The newest addition to the company's list of products bears witness to the same.
The Tata Group has initiated discussions with Taipei's Wistron Corp, one of the three top vendors for Apple in India. The companies will establish a joint venture, with Tata taking a larger stake.
In the joint venture, Tatas will run the show, but Wistron may keep a small share to leverage the global vendor ecosystem of Apple. The structure of the deal is still under work.
While the business numbers for Tata Electronics are not publicly available, the company is also well-poised to benefit from the transition in the country.
Initiatives like the National Manufacturing Policy, aiming to increase the share of manufacturing in GDP to 25% by 2025, and the PLI scheme for manufacturing, seeking to develop the core manufacturing sector at par with global manufacturing standards, will act as major tailwinds for the business.
For more details on Tata Electronics, check out the below video:
#3 Zoho
Third on our list is Zoho Corporation.
Zoho is an Indian software company established in 1996.
The company offers an array of applications that cater to businesses of all sizes, including customer relationship management (CRM), project management, invoicing, email, social media management, and many more.
Its applications are cloud-based, meaning they can be accessed from anywhere with an internet connection.
Zoho has also developed its operating system, Zoho One, which integrates all of its applications into a single platform.
The company achieved significant revenue growth in recent years. While the sales have tripled in the last 5 years, the profits are up 6 times. The business has been churning a profit from its first year of establishment.
Zoho Financial Snapshot (2018-2022)
| | 2017-2018 | 2018-2019 | 2019-2020 | 2020-2021 | 2021-2022 |
| --- | --- | --- | --- | --- | --- |
| Revenue Growth (%) | 24.70% | 37.10% | 29.20% | 22.30% | 28.30% |
| Net Profit Margin (%) | 16.90% | 15.60% | 18.70% | 36.70% | 40.20% |
Data Source: Ace Equity
In December 2020, it crossed US$1 bn in annual recurring revenues, which was a major milestone for the company.
According to Forbes, Vembu, Zoho's founder, is the 48th richest person in India, with a net worth of US$3.75 bn as of 2022
The company has not shied away in expressing its decision to not go public over the past few years. But who knows? Maybe the company could get listed on the bourses a few years down the lane.
#4 Serum Institute of India
The fourth unlisted company on our list is Serum Institute of India (SII).
Serum Institute of India is a Pune-based biotech company specialising in the production of vaccines. The company was founded in 1966 by Dr Cyrus Poonawalla but only shot to fame during the pandemic.
SII, in collaboration with Astra Zeneca, manufactured and supplied the Covishield vaccine. Thereafter, it quickly ascended to one of the world's largest vaccine manufacturers, boasting a production capacity of over 1.5 billion doses per year.
In the last decade, SII has launched around three to four vaccines. The business spans 147 countries, with over 70% comprising exports. However, its next leg of robust growth will come from the expansion in the vaccine segment of the business.
In the following decade, the company plans to launch a new vaccine every year with the advent of new technology. Recently, the company launched its cervical cancer vaccine, India's first indigenous vaccine against Human papillomavirus (HPV).
Apart from focussing on vaccines, the company has been investing in a myriad of businesses.
SII has a minority stake in the initial public offering (IPO) bound Policybazaar. The vaccine maker also has a majority stake in Wellness Forever Medicare Ltd, a pharmacy chain that claims to be the third largest retail pharmacy and wellness network by the number of stores.
And recently, Serum Institute Life Sciences, a subsidiary of the Serum Institute of India, bought 15% of Biocon Biologics, the bio-similars arm of Biocon Ltd.
SII's business has been profitable long before the pandemic came knocking on our doors. But this war against the covid-19 helped the company realise its true potential, eventually placing it on the fast track to growth.
Serum Institute of India Financial Snapshot (2018-2022)
| | 2017-2018 | 2018-2019 | 2019-2020 | 2020-2021 | 2021-2022 |
| --- | --- | --- | --- | --- | --- |
| Revenue Growth (%) | 5.9% | 20.9% | 0.9% | 41.1% | 220.6% |
| Net Profit Margin (%) | -7.0% | 17.8% | 0.0% | 72.9% | 185.7% |
| Return on Equity(%) | 15.1% | 15.3% | 13.4% | 19.6% | -40.6% |
Data Source: Ace Equity
#5 UpGrad
UpGrad India is an online education platform that provides professional courses to individuals who wish to enhance their skills and advance their careers. It was founded in 2015 by Ronnie Screwvala, India's serial entrepreneur.
The company partners with universities and industry experts to create courses that cater to professionals across various domains. Some of their popular programs include data science, digital marketing, software engineering, management, and entrepreneurship.
The courses are delivered online through live sessions, recorded lectures, and interactive assignments. Learners can interact with industry experts, mentors, and peers through a dedicated platform, allowing networking and collaboration.
The company's revenue stood at Rs 6.9 bn in the financial year 2022, up 111% from Rs 3.3 bn reported in 2021.
While revenues paint a rosy picture, the company is still loss making like Zomato and Paytm.
The net loss widened almost three times to Rs 6.3 bn during 2022 compared to Rs 2.1 bn in 2021. A large chunk of UpGrad's earnings go towards marketing and promoting the business. This is not surprising.
A wide majority of startups lose money in their initial years of operations. Jubilant Foodworks, which is now widely successful and profitable, wasn't profitable for many years in its initial years of operations.
With a market size of US$2.8 bn in 2022, the ed-tech industry is likely to touch US$10.4 bn by 2025, driven by burgeoning demand and emerging business models. While the industry was growing well, the pandemic accelerated the expansion of ed-tech companies.
UpGrad has played a significant role in democratising access to education and seems well-poised to bite off a large chunk of the market. While the business is still losing money, it seems well-funded by some of the top business families in the country.
UpGrad recently raised US$210 m from marquee investors and family offices. These include Bodhi Tree (a JV of James Murdoch & Uday Shankar), the family office of Bharti Airtel, Narotam Sekhsaria family office (Ambuja Cements and ACC), and Artisan Investments (the family office of Lakshmi Mittal - ArcelorMittal).
In December 2021, it was reported that UpGrad is planning to go public by end of 2023, so this is another exciting unlisted company you should watch out for.
In conclusion
Investing in unlisted companies can be challenging due to the limited information available about their financial performance.
But the potential for high returns and the opportunity to invest in innovative and fast-growing companies are attractive.
The Indian government has taken several steps to encourage startups, so we're likely to see more unlisted companies go public in 2023 and in the coming years.
Investment in securities market are subject to market risks. Read all the related documents carefully before investing
Want to Grow Your Wealth With Safe Stocks?
If you want a simple, safe, and hassle-free approach to long term wealth building...
Without having to worry about negative news or every little downswing in the market...
And without having to worry whether your investments will actually "deliver"...
You must read our note on Blue Chip Stocks now.
Details of our SEBI Research Analyst registration are mentioned on our website - www.equitymaster.com
Disclaimer: This article is for information purposes only. It is not a stock recommendation and should not be treated as such. Learn more about our recommendation services here...