Are Zomato, Paytm, and Nykaa 'Priced to Perfection' Despite the Recent Sell-off?
Feb 24, 2022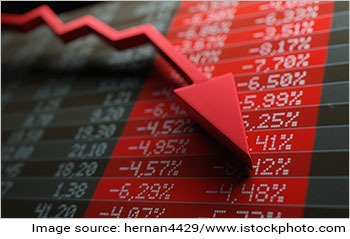 Interest rate hikes, tensions of war between Russia and Ukraine, and record inflation have spooked equity markets. Across the globe stocks have corrected sharply.
New age tech companies have been hammered down a lot. These are the same set of stocks that soared high when the market was in an upbeat mood.
Trading at a crazy valuations, these stocks were long due for a correction. What kept them buoyant was all the optimism around them.
This optimism stemmed from a belief that these stocks would turn out to be multibaggers in the long run. However, this belief was mere speculation because their valuations didn't justify their weak fundamentals at all.
And now, an unfavourable market situation has ruined investors' optimism around tech stocks. This has triggered a massive selloff in the new age tech stocks.
In this article we will look at the top Indian new age tech stocks that tumbled and the factors that caused the selloff in the first place.
#1 Zomato
Ordering food has never been easy as it is today. The credit goes to food tech companies such as Zomato. They make it convenient to order food at a click of a button. It's due to this convenience that Zomato is massively popular among the Indian masses.
Zomato is the largest food delivery companies in India. Whenever anyone thinks of getting their food delivered, Zomato or Swiggy are the names that come to mind. That is the kind of brand identity the company has built over years. As per some estimates, Zomato satiates the palate of 35-45 m customers.
During the first wave of the pandemic, Zomato found itself in a tough spot. The company was cash strapped and needed investments desperately. With no private equity funds willing to take the risk, Zomato turned to India's public market for raising fresh money.
Zomato launched its IPO in July 2021 asking for investments of up to Rs 93.75 bn. Though the company had been making losses, the IPO received a good response. Despite rich valuations, the issue got oversubscribed 38.25 times, thanks to its strong brand identity combined with the IPO craze back then.
To everyone's surprise, the stock got listed at a premium of 51% to its issue price. The upward momentum continued for the next few months.
However, it didn't last long. Following the financial numbers reported for the quarter ended December 2021, the stock has been in a downward spiral.
Tensions between Russia and Ukraine have accelerated the selloff. As a result, the share price of Zomato has corrected sharply.
Though the share price is marginally above its issue price, it is down 51.7% from its all-time high. This is equivalent to marketcap loss of Rs 683 bn.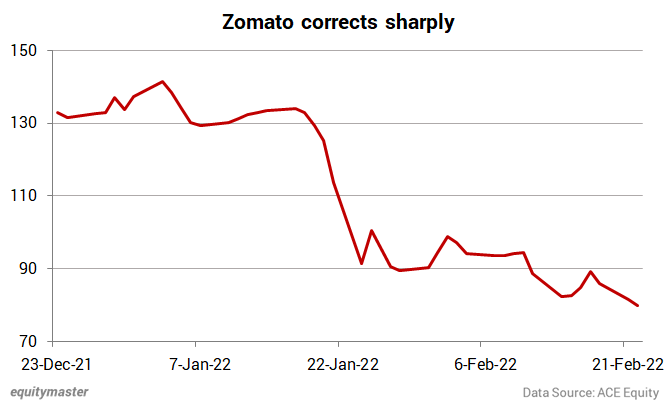 Zomato can surely deliver sweets to your home. But would it add some sweet gains to your portfolio? Only time will tell.
If you are looking to invest in Zomato, we recommend you to dive deep into its fundamentals. Check out Zomato's financial fact sheet and quarterly results on our website which will surely aid your analysis.
#2 Nykaa
Nykaa is engaged in the business of delighting customers (mainly women) or pampering women. It's an e-commerce platform dealing exclusively in beauty and personal care products.
Nykaa is the only company in this list which was profitable when it floated its IPO. High gross margins on beauty and personal care (BPC ) products is the primary reason behind Nykaa's profitability. The other being its own branded products wherein the margins are even higher.
Nykaa is a prominent player in the Indian BPC market. The company is a market leader in terms of average order value. It's average order value stands at Rs 1,900, the highest in the industry.
With many positives, Nykaa's IPO was supposed to be a blockbuster. Nykaa got listed at a premium of 78% to its issue price.
However, many were concerned about its extremely high valuation.
For the quarter ended December 2021, Nykaa reported a weak set of numbers which triggered a selloff in the stock. Currently, the shares of Nykaa are trading near its issue price, 48.4% off it's all time high which translates into a marketcap loss of Rs 560 bn.
For more details, check out Nykaa's fact sheet and quarterly results.
#3 Paytm
Paytm is one of the largest fintech companies in India.
Incorporated in 2010, Paytm is a digital platform that offers all the financial services one could imagine from insurance to equity broking.
It's the most popular payments app in the country with more than 300 m registered users and 21 m merchants as of March 2021.
Following the raging success of tech IPOs such as Zomato and Nykaa, Paytm floated its IPO in November 2021. It was India's largest ever IPO at that time with an issue size of Rs 183 bn.
Though the company is among the leading fintech companies in India, profits remain elusive. It was because of this reason the company's IPO received a tepid response. Moreover, the company asked for outrageous valuations which didn't justify its fundamentals.
What followed next was an investor's nightmare.
The share price slipped 27% on the very first day. The selloff intensified over the next few days as fear gripped small investors.
Interestingly, the share price touched every target predicted by Macquarie, a global investment bank based out of Australia.
According to Macquarie, the stock of Paytm may continue to tumble as talks around interest rate hike heats up. Many investors believe that interest rate hike would increase the cost of capital for Paytm thereby reducing its margins on its loan disbursals.
Paytm's shares are currently trading at Rs 810 per share, down 62.3% from its issue price. Paytm proved to be a major wealth drainer for investors as it wiped off Rs 866 bn off the table.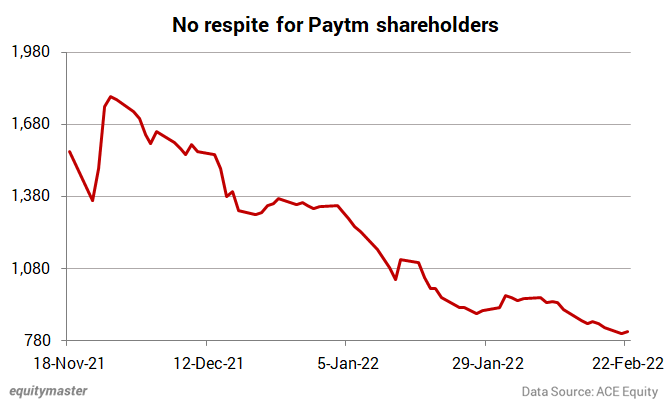 Right now, Paytm is a must have in your phone, not in your portfolio.
When it came out with its IPO, Co-head of Research at Equitymaster Tanushree Banerjee did a detailed analysis on the stock and explained why you should avoid the Paytm IPO.
For more details, check out Paytm's factsheet and quarterly results.
#4 PB Fintech
PB Fintech is the parent company of Policybazaar and Paisabazaar two popular online financial platforms.
While Policybazaar is a platform for insurance products, Paisabazaar sells credit cards and loans.
Policybazaar is a market leader when it comes to online sales of insurance products. The platform accounted for 65.3% of online sales of insurance products.
Paisabazaar too, is a market leader in terms of online disbursal of credit. The platform commands a market share of 51.2% in the online credit segment.
These platforms combined have a base of 48.8 m users. These platforms have all the renowned financial companies onboard.
Amid the euphoria for IPOs, PB Fintech raised Rs 56.25 bn via the public market. Due to its weak fundamentals, the stock got hammered soon after it got listed on the bourses.
The company reported extremely weak numbers for the quarter ended December 2021. This led to sharp fall in share price as investors offloaded their holdings.
PB Fintech share price is down 50.5% of its all-time high which means the stock has wiped off Rs 30.7 bn of investors' money.
If you wish to invest in PB Finetch, read about the company and its business extensively. Though the fundamentals are extremely weak, a thorough analysis of the company might unveil some positives.
You can start your analysis by checking out PB Fintech's financial fact sheet and quarterly results.
Conclusion
To have or not to have these stocks in your portfolio, that's the important question.
We are not against the idea of investing in these new age tech stocks. All we are asking for is to buy a great business at a reasonable price.
What is noticeable is that many people have invested in these new age stocks without having any idea of the business.
They have invested in a dream, a dream that these stocks would turn out to be multibaggers in the long run. This dream may or may not come true.
Howard Marks, founder and CEO of Oaktree capital management, once said:
"It's easy to invest in dreams. The challenge is to discern value in what's tangible today"
Let me explain.
If we like a particular stock and have a strong bias towards it, let's say Zomato, we can easily cook up the company's outlook as per our convenience irrespective of what the fundamentals reflect.
In such cases, a person ends up paying an extremely rich valuation for something that's not real or could not be realised.
What's difficult is to analyse the fundamentals objectively and to pay a reasonable price for what's real or could be realised.
We at Equitymaster abide by the same philosophy and have been emphasising it across all our articles.
To end with, we would recommend our readers to analyse the fundamentals thoroughly before investing in any of the stocks discussed above.
Happy investing!
Disclaimer: This article is for information purposes only. It is not a stock recommendation and should not be treated as such. Learn more about our recommendation services here...