Top 4 Profitable Penny Stocks Investors Should Keep an Eye on
Feb 28, 2022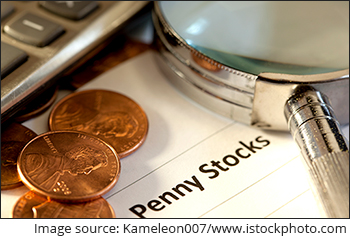 Retail investors have a strong liking for penny stocks. There are two reasons for this.
First, stocks in this category generally trade within a range of Rs 100 making it affordable for retail investors.
Second, these stocks have immense growth potential. Hence they can reward investors with phenomenal returns.
The question is - Are fundamentally strong penny stocks real?
Though rare, it's possible.
The word 'penny' has some negative connotations attached to it. Penny stocks are often thought of as junk stocks.
But that is far from the truth.
There are many examples of fundamentally strong penny stocks.
For example, take the case of Titan, a fundamentally strong company that traded in single digit in early 2000s.
Rakesh Jhunjhunwala lapped up shares of the company at Rs 3 a piece and made a fortune as it went from being a penny stock to bluechip.
So yes, fundamentally strong penny stocks are for real and we have a few to share with you.
#1 PNB Gilts
PNB Gilts plays a crucial role in India's debt ecosystem. The company's core business revolves around government securities (G-secs) or gilts as it is known.
G-secs or gilts are issued by the Reserve Bank of India (RBI) on behalf of the government. Since the issue size of these securities ranges between Rs 150- 180 bn, there exist a huge market for underwriters.
The company is a wholly owned subsidiary of Punjab National Bank (PNB). It is engaged in the business of underwriting g-secs or gilts.
Now, let's understand what underwriting means.
Underwriting is widely practised in the financial industry. Underwriting is the process through which a financial institution or an individual agrees to take up a financial risk in exchange for a nominal fee.
In case of g-secs, underwriters take up a risk of selling securities for a specified amount. The government gets the specified amount irrespective of the price at which these securities are sold.
Underwriters charge a nominal fee for the services they render. On top of that, an underwriter could either pocket a profit or book some loss depending upon the sale price of securities.
PNB Gilts is the only underwriter listed on the Indian stock exchanges. The company boasts of strong and robust financials.
Amid the pandemic when most companies struggled with their finances, PNB Gilts turned out to be a standout performer.
Transactions in government securities surged sharply as RBI took several measures to ensure sufficient liquidity in the economic system. As a result, the net profit of PNB Gilts surged 143% year on year (YoY) basis for the financial year 2021.
PNB Gilts Financial Profile (FY17-21)
| | FY17 | FY18 | FY19 | FY20 | FY21 |
| --- | --- | --- | --- | --- | --- |
| Revenue (Rs m) | 2,775 | 715 | 1,177 | 4,034 | 6,554 |
| Revenue Growth (%) | | -74.2% | 64.6% | 242.7% | 62.5% |
| Net profit (Rs m) | 1,672 | 14 | 529 | 1,864 | 4,541 |
| Net profit growth (%) | | -99.2% | 3,678.6% | 252.4% | 143.6% |
Source: Equitymaster
It is not just a one off. PNB Gilts has been a consistent performer for the last few years. The company's revenue and profit grew at a CAGR of 16% and 22.1% respectively over the last five years.
PNB Gilts has been generous in sharing its profits with its shareholders.
The company has a history of rewarding its shareholders with dividends every year. For the year 2021, PNB Gilts paid its highest ever dividend of Rs 10 per share of face value of Rs 10.
For more details, check out the company's financial factsheet and quarterly results.
#2 Texmo Pipes
Texmo Pipes is one of the major manufacturers of polymer pipes and fittings.
The journey of Texmo pipes began in 1988 when Sanjay Agarwal set up a facility to manufacture polymer pipe products under the head of Shree Balaji Industries.
Thereafter, more units were installed under different names. In 2008, Texmo was incorporated by amalgamating all the units.
Today, the company boasts of a widespread clientele that includes some of the largest Indian corporations such as Reliance, Tata Power, L&T, etc.
With 5 manufacturing facilities, Texmo's total production capacity stands at 75 metric tonnes per day. The company has more than 1,200 dealers and distributors under its pan India distribution network.
Over the last few years, Texmo Pipes' fundamentals have improved dramatically. The company morphed its losses into profits.
Moreover, the profit growth has been impressive.
For the financial year 2021, Texmo's net profit grew by 177% YoY primarily driven by increased construction activity as India's real estate sector picked up pace.
Texmo Pipes Financial Profile (FY17-21)
| | FY17 | FY18 | FY19 | FY20 | FY21 |
| --- | --- | --- | --- | --- | --- |
| Revenue (Rs m) | 2,736 | 2,444 | 2,571 | 2,721 | 3,484 |
| Revenue Growth (%) | | -10.7% | 5.2% | 5.8% | 28.0% |
| Net profit (Rs m) | -13.00 | 2.00 | 30 | 39 | 108 |
| Net profit growth (%) | | 115.4% | 1,400.0% | 30.0% | 176.9% |
Source: Equitymaster
Along with healthy profits, the company has a healthy balance sheet as well. It has no debt on its books.
Going forward, the company is expected to witness high growth as the Indian pipes and fitting industry is expected to grow at a CAGR of 11%.
While increased infrastructure spending will ensure more business for the company, input cost inflation will result in higher market share for Texmo.
To know more, check out the company's factsheet and quarterly results.
#3 Kothari Sugars and Chemicals
Kothari Sugars and Chemicals is engaged in the business of manufacturing sugar and its derivatives.
The company kicked off its operations in 1961 by establishing a sugar mill in Tiruchirapalli, Tamil Nadu.
Today, Kothari Sugars has two cane crushing facilities in Tamil Nadu with a total cane crushing capacity of 770,823 tons per annum.
In addition to these cane crushing units, the company has a distillery unit where it produces sugar derivatives such as ethanol.
As part of its effluent treatment system, the company also manufactures nutrient rich organic manure by combining distillery effluents with mud. This organic manure is then used by cane growers associated with the company.
As far as financials are concerned, the company has reported healthy sales growth along with steady profits.
Kothari Sugars Financial Profile (FY17-21)
| | FY17 | FY18 | FY19 | FY20 | FY21 |
| --- | --- | --- | --- | --- | --- |
| Revenue (Rs m) | 3,041 | 2,838 | 3,322 | 3,528 | 4,200 |
| Revenue Growth (%) | | -6.7% | 17.1% | 6.2% | 19.0% |
| Net profit (Rs m) | 108 | 3 | 127 | 194 | 190 |
| Net profit growth (%) | | -97.2% | 4,133.3% | 52.8% | -2.1% |
Source: Equitymaster
Kothari Sugar's revenue and net profit grew at a CAGR of 6.67% and 12% respectively over the last five years.
In order to reduce pollution, the Indian government has set an ambitious target of having 20% ethanol blended petrol (EBP) by 2025.
Going forward, the central government's ethanol blending push may propel the company's growth.
For more details, check out the company's factsheet and quarterly results.
#4 Ambalal Sarabhai Enterprises (ASE)
Ambalal Sarabhai Enterprises is one of the oldest conglomerates of India. The company has diverse business interests with a major focus on the pharmaceutical sector.
ASE manufactures active pharmaceutical ingredients (APIs), also known as bulk drugs, final formulations, and diagnostic kits via its various subsidiaries and joint ventures (JV).
Synbiotics, one of ASE's subsidiaries, is the only manufacturer of Amphotericin B, a niche API, in India. Amphotericin B is the most effective anti-fungal API and is used to treat Mucor mycosis, also known as black fungus.
If you may recall, incidents of black fungus surged when the pandemic was at its peak. As a result, the demand for Amphotericin B shot up which benefitted ASE.
ASE played a crucial in India's efforts to mitigate the pandemic. CoSara Diagnostics, 50-50 JV between ASE and US based Co-Diagnostics Inc, manufactured and supplied real time RTPCR kits across India.
Due to this, ASE clocked a profit growth of 30% in the financial year 2021.
For the December 2021 quarter, ASE's profit grew by 30% YoY as the demand for Amphotericin B continued to be robust and the demand for its specialty pharma products revived in the international markets.
Ambalal Sarabhai Financial Profile (FY17-21)
| | FY17 | FY18 | FY19 | FY20 | FY21 |
| --- | --- | --- | --- | --- | --- |
| Revenue (Rs m) | 1,314 | 1,244 | 1,519 | 1,335 | 1,636 |
| Revenue Growth (%) | | -5.3% | 22.1% | -12.1% | 22.5% |
| Net profit (Rs m) | -185 | 11 | 20 | 154 | 202 |
| Net profit growth (%) | | 106% | 81.8% | 670.0% | 31.2% |
Source: Equitymaster
Planning to invest in ASE? Check out its financial factsheet and quarterly results first.
Snapshot of Most Profitable Penny Stocks from Equitymaster's stock screener
Here's a quick overview of these companies based on some crucial financials.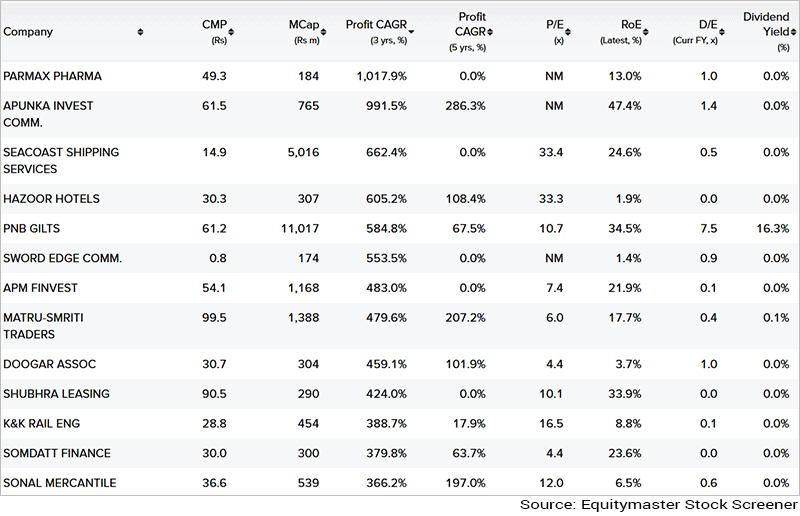 Please note these parameters can be changed according to your selection criteria.
This will help you in identifying and eliminating stocks that are not meeting your requirements and give emphasis on those stocks that are well inside the metrics.
A word of caution before you invest in penny stocks
Though fundamentally strong, these stocks still carry the inherent risk of being extremely volatile. So make sure you have a high appetite for volatility before investing in these stocks.
This article might have helped you discover these stocks. However, as an investor it's your responsibility to analyse the company thoroughly. So, make sure you do your homework.
Well, that's it from our side. If you like our content let us know by dropping a thumbs up in the comment box below.
Now Before You Go, This is Something You Need to Know...
Equitymaster's co-head of research, Tanushree Banerjee, believes that one of the fastest growing sectors this decade will be defence.
In fact, within defence there are segments with 33x growth potential by 2030. Yes, it's a massive opportunity.
Tanushree has already identified 3 next-generation defence stocks to ride this mega opportunity.
Now, these are not ordinary defence stocks.
Very few people know about the real potential of these companies.
Because these companies are working silently on developing next-generation warfare technologies.
Our research says that these 3 defence stocks could potentially provide you some of the biggest gains of your lifetime.
* 2 out of these 3 stocks have already run up. Act fast or you might completely miss out on this big opportunity.
Disclaimer: This article is for information purposes only. It is not a stock recommendation and should not be treated as such. Learn more about our recommendation services here...