Mar 8, 2023 - ONGC Share Price: Oil is Well!
ONGC Share Price: Oil is Well!
Mar 8, 2023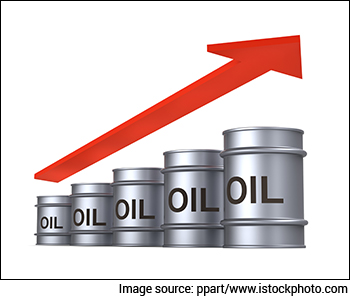 It's a stock that poses a conundrum (local and global) for investors on a daily basis.
Oil & Natural Gas Corp (ONGC) has been a key beneficiary of rising crude oil prices over the past twelve months. At the same time, the company is subject to strict pricing regulations of the central government.
Nevertheless, the broad volatility witnessed on Dalal Street over the past six weeks amid the Adani stocks selloff has led investors to once again look at the attractive valuations and dividend yield offered by ONGC.
The key reason for investors to monitor ONGC share price with a microscopic lens is the windfall tax levied by Centre on profits made by oil marketing companies (OMCs) like ONGC on any price they get for crude oil above US$75 per barrel. This windfall tax is reviewed on a fortnightly basis.
As a result, estimating the earnings of ONGC over the next few quarters is fraught with uncertainty.
ONGC recently reported a 26% year on year (YoY) growth in its standalone net profit to Rs 110.4 billion (bn) in the December 2022 quarter. This despite its tax burden having risen 36.4% YoY in the quarter under review to Rs 36.3 bn.
The company's oil price realisations were US$87.1 per barrel in the third quarter of FY23, a rise of 15% YoY. ONGC's standalone business includes gas, which is also subject to government pricing regulations.
The benefit of higher crude oil prices had provided the company with an earnings momentum even during the first three quarters of FY23. Its net profit had risen 24.3% YoY to Rs 390.8 bn in the period under review.
Attractive valuations
ONGC ended Monday's trade at Rs 158.2. It has risen nearly 10.5% over the past one month compared to a mostly flat BSE Sensex.
Today, the stock opened 1% lower and is currently trading at Rs 156.
ONGC share price is trading well below its 52-week high of Rs 194.6 that was reached on 8 March 2022.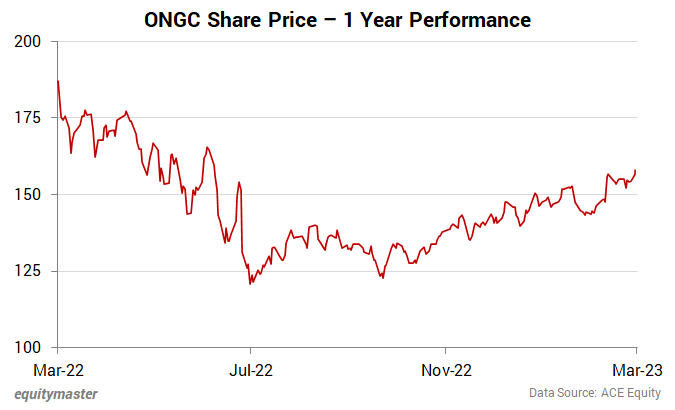 ONGC trades at barely four times estimated standalone FY23 earnings. Apart from a strong financial performance, investors are also increasingly drawn to the strong dividend yield of ONGC of nearly 6.8%.
The company's two interim dividends during the current financial year amounted to Rs 10.75 per share (face value of share Rs 5).
ONGC Dividend History
| Year Ended / Source Date | Dividend per share (Rs) | Dividend Yield (%) |
| --- | --- | --- |
| 9-Feb-23 | 4.0 | 2.5 |
| 9-Nov-22 | 6.8 | 4.3 |
| 31-Mar-22 | 10.5 | 6.4 |
| 31-Mar-21 | 3.6 | 3.5 |
| 31-Mar-20 | 5.0 | 7.3 |
| 31-Mar-19 | 7.0 | 4.4 |
| 31-Mar-18 | 6.6 | 3.7 |
| 31-Mar-17 | 9.1 | 4.9 |
| 31-Mar-16 | 8.5 | 4.0 |
| 31-Mar-15 | 9.5 | 3.1 |
Source: Equitymaster
Other leading global upstream oil players like Brazil-based Petrobras trades with a price to earnings (PE) multiple of 2.2 times (trailing 12-months according to global financial sites) and US-based Exxon Mobil trades with a P/E of 12.8 times (trailing 12-months).
Your strategy
The possibility of a downside risk in ONGC share price appears limited. Investors could add this undervalued stock to their watchlist for the next few weeks.
Take a look at the table below which shows the comparative analysis of ONGC with its peers.
Comparative Analysis
Company
ONGC
Oil India
Deep Energy Resources
ROE (%)
19.9
24.3
0.1
ROCE (%)
16.9
21.8
0.2
Latest EPS (Rs)
33.6
84.0
0.4
TTM PE (x)
4.7
3.1
265.0
TTM Price to book (x)
0.7
0.7
0.9
Dividend yield (%)
3.1
5.4
0.0
Industry PE
5
Industry PB
0.80
Data Source: Ace Equity
For more, check out ONGC's financial factsheet.
Also take a look at the detailed editorial we covered last year on why ONGC share price was falling and what lies ahead for the PSU company.
Happy Investing.
Disclaimer: This article is for information purposes only. It is not a stock recommendation and should not be treated as such. Learn more about our recommendation services here...
Amriteshwar Mathur is a financial writer with over 20 years of experience. His partnership with Equitymaster involves writing on topics that are critical to understand if Indian investors are to realise their long term wealth building goals.