Everything You Need to Know about the Massive Selloff by FIIs
Mar 9, 2022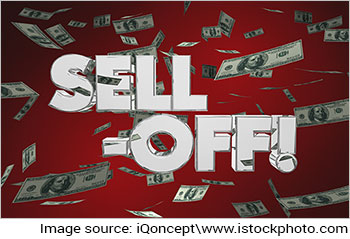 Foreign institutional investors (FII) have many options for investing their funds.
Of their many investments, they invest a certain portion of the funds in emerging markets like India.
Of late, there is news nearly every day on how FIIs are turning cautious on India. You might be aware that an important factor driving the fall in Indian equity markets is FII selling.
The FII flows for the past six months seem to confirm this fact. Six straight months of selling. Talk about pessimism. This is perhaps the longest monthly selling streak, that too with high volumes.
But why have FIIs turned bearish on a promising developing country like India after staying bullish for quite some time?
It's because there are concerns with respect to the tapering of easy liquidity.
The US Federal Reserve's decision to tighten monetary policy and the added geopolitical tensions have triggered safe haven buying.
This means that global investor funds which was looking for returns in all kinds of markets is now moving back to their home countries. As the US is the spigot for such flows, most of the money is flowing back to the US.
An important point to note here is that FII inflows are relative in nature. That is, FIIs tend to allocate funds among emerging economies based on the risk return profile of the country.
While India may be one of the fastest growing economies among emerging economies, the impediments of achieving a decent growth rate are many. Rising interest rates, burgeoning deficit, combined with rising crude oil prices may have an adverse impact on the growth of the Indian economy.
In a situation like this, FIIs are forced to sell stocks to send money back home. They sell whatever they can, even their favourite stocks like HDFC, which they have been holding for years.
The FII selling was bound to impact the overall sentiment in the market. And that's exactly what it did.
This relentless selling has got investors worried.
When did the selling start?
FIIs began selling October 2021 onwards when the market touched its record high. The BSE Sensex hit a record high of 62,245 while the NSE Nifty crossed the 18,600 mark.
From their peaks, both benchmarks have already corrected nearly 12% (after factoring in the recovery seen in past two days).
High valuations and the markets running ahead of fundamentals raised fears.
The FII selling was seen in pockets where valuations ran up beyond fundamentals. Large and midcap stocks with high FII exposure and reporting second quarter results below street expectations were brutally punished.
Large and midcap stocks with high FII exposure face the heat
Source: Equitymaster
FII holdings of companies in the BSE 200 index declined to 23% in the quarter ended December from 23.8% in the previous quarter.
The US central bank was looking to stop measures for economic stimulus and increase interest rates sooner than expected.
A rise in interest rates does not bode well for the Indian equities which up until October 2021 saw strong foreign inflows because of pandemic-led easy monetary policies in the US.
Which stocks are FIIs selling?
FII favourite stocks such as HDFC, HDFC Bank, ICICI Bank, Infosys, and Kotak Mahindra Bank have seen a correction of some sort.
While we don't know exactly which stocks in what quantities FIIs sold these shares, it's expected that the FII stake will be lower for the March 2022 quarter when companies declare their shareholding patterns.
Out of the 40 sectors that FIIs invest in, the assets under custody (AUC) of the top 16 sectors accounted for 92.1% of the total FII AUC of US$ 603.4 bn.
Data from NSDL shows that February 2022 AUC at US$ 603.4 bn is down 5.6% over January 2022 and down 7.7% over December 2021 levels.
In January 2022, healthcare and IT stocks took the brunt of the FII selling. For February 2022, IT stocks were again under pressure.
IT companies have been facing the heat especially after the results hinted that most large IT companies faced the headwinds of weaker operating profit margins, a weak spending in fiscal 2023 and steep attrition rates.
Financial entities too are under pressure since the last two months. In January, FIIs were heavy sellers in NBFCs, selling stocks worth US$ 1,169 m. They expect RBI to hike rates which is not good for NBFCs and banks.
Due to heavy selling witnessed in HDFC twins and Kotak Bank, which are high FII exposure stocks, the Nifty Bank index took a beating.
What about buying?
While majority of sectors witnessed selling, there were two which bucked the trend. Metals and healthcare.
FIIs were net buyers to the tune of US$ 357 m in metal stocks. The Russia-Ukraine crisis led to a sharp spike in the prices of metals and other commodities on the London metal exchange.
Meanwhile, it appears that the healthcare sector saw net inflows of US$85 m due to safe haven buying. Healthcare and FMCG tend to do well in uncertain times.
Since you're interested in tracking what FIIs are buying and selling, check out Equitymaster's Powerful Stock Screener.
This tool tracks the stocks recently bought by foreign institutional investors along with the stocks recently sold by them.
Knights in shining armor
At a time when FIIs are selling big time, domestic institutional investors (DIIs) including mutual funds saw this as an opportunity to buy and provided support.
They took the contrarian stand and lapped up Indian shares. It appears as DIIs are telling FIIs, 'Move over as we are calling the shots now'.
DIIs have played an important role in the past few months and have helped cushioned the fall.
FII & DII Activity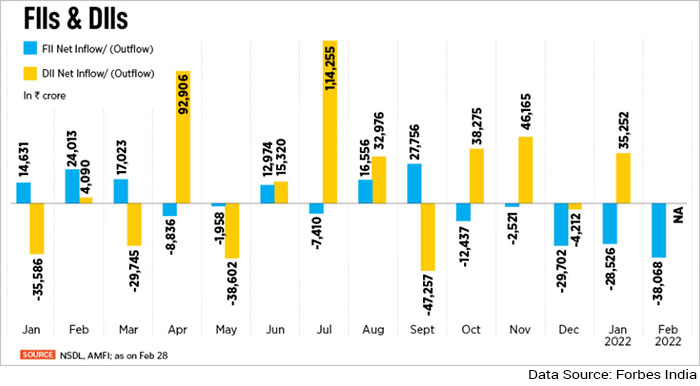 It seems as if the resilience of DIIs has held the market together for now.
The road ahead...
While there are instances of a similar situation where FIIs sold off positions in the past, never before have Indian equities come under so much intense discussion and scrutiny with regards to FIIs.
Some believe the Indian growth story is still on. Others say the elephant has run out of steam.
No matter what the outcome, one thing is very certain. You can't afford to ignore India any more. Love it, or hate it, but you can't do without it.
Even if FIIs remain bearish, the India growth story would remain intact.
All being said, interest rates in the US will play a crucial role in deciding the FII's course of action.
In volatile times like these dear reader, do not get carried away. Don't be worried about FII outflows (or inflows) into India, provided you have a long-term investment horizon.
A long-term horizon tends to negate the adverse effects of volatile FII fund flows.
You need to understand that a fundamentally strong stock will attract investors (FII or otherwise) over the long-term, once the true value of the company is understood.
The idea is to conduct one's own research and hold onto fundamentally strong stocks. Let the fundamentals dictate investment decisions, not FII fund flows.
Happy Investing!
Disclaimer: This article is for information purposes only. It is not a stock recommendation and should not be treated as such. Learn more about our recommendation services here...
Yash Vora is a financial writer with the Microcap Millionaires team at Equitymaster. He has followed the stock markets right from his early college days. So, Yash has a keen eye for the big market movers. His clear and crisp writeups offer sharp insights on market moving stocks, fund flows, economic data and IPOs. When not looking at stocks, Yash loves a game of table tennis or chess.