6 New Sectors the Tata Group is Tapping. Investors Take Note...
Mar 11, 2022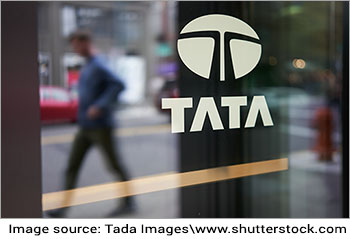 The Tata group is India's largest business house.
The group comprises around 30 odd companies which further span across business verticals such as software, hospitality, automobiles, steel, chemicals, airlines, retail, defence, etc.
The Tata group has thrived for more than 100 years. This begs the question...
How did a company which started off as a small trading firm become an industrial behemoth?
One of the reasons is the group's focus on expansion. Like we mentioned in one of our articles before, when it comes to globalisation by Indian companies, the Tata Group is the first name that springs to mind.
Right from humble beginnings when its founder, Jamsetji Nusserwanji Tata started his business career in 1868 trading with China, the Tata group has always had a global outlook.
The group's presence across several sectors is a testimony of its expansion efforts. And the good thing is, expansion still forms the core of its business strategy. The group is actively looking to make forays in sunrise industries and seize opportunities.
Let's look at the sectors the Tata group is tapping without making much noise.
Starting with cosmetics...
#1 Cosmetics and beauty products
Growing fashion consciousness is driving Indians to spend more on cosmetics and beauty products. As per estimates, the Indian cosmetics and beauty products market will reach to US$20 bn by 2025.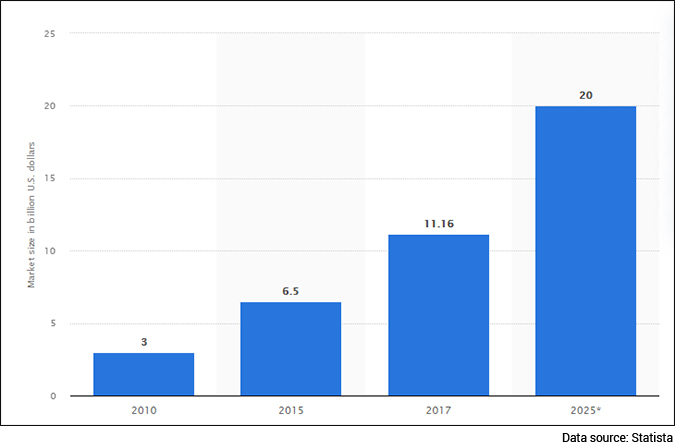 Encouraged by a promising outlook, the Tata group has re-entered the sector it left years ago.
The Tata group once owned Lakme, India's leading cosmetic brand. Lakme was a subsidiary of Tata Oil Mills. But in 1998, the Tata group sold Lakme to Hindustan Unilever (HUL) for Rs 2 bn and exited the business.
But now, as the group renews its focus on cosmetics, it aims to make StudioWest the next Lakme.
StudioWest is a range of cosmetic products owned by Westside, a retail chain that sells fashion products. Westside is one of the brands owned by Trent, a company backed by the Tata group.
Apart from this, the group also has a perfume brand Skinn under its kitty, which is part of the listed Titan Company. Skinn has impressive growth prospects and is eyeing a Rs 5 bn turnover and to double its market share by 2023.
With the help of Tata Digital, the group is developing an online marketplace to sell cosmetics. Once launched, this marketplace will be a direct competitor of other online platforms such as Nykaa, MyGlamm, Lush, and Purplle.
It seems as if the group is all set to disrupt the cosmetics market with its re-entry. The group will be hoping to replicate steps of newly listed Nykaa, which partly owes its success in bringing global cosmetic and beauty products to Indian customers.
#2 Payment Processing
Forget cash. Digital payments are the future.
Making payments has never been as easy as it is today. We can pay our bills from our mobile phones at a click of a button. About 3-5 years ago, it used to be 95% cash payment. Today 80% of payments is done via 'Google pay' or 'Phone Pe'.
One incredible payment technology that deserves a mention here is unified payment interface (UPI)
An indigenous technology, UPI has taken the Indian digital payment ecosystem by storm. Since its launch in 2016, UPI has become India's most popular mode of digital payment. As of 31 December 2021, UPI facilitated 4.5 bn transactions worth Rs 8.27 tn, growing almost 100% year on year.
As per estimates, UPI will continue to garner more users as more people get the hang of its user interface (UI). UPI showed us that cash is no longer king and digital payments are the future.
To avoid the concentration risk, the RBI floated a proposal of developing an alternative payment system. For this purpose, it invited bids from the private players to set up an umbrella entity, like the NPCI.
The National Payments Corporation of India (NPCI) is an umbrella entity that maintains and operates UPI. Unlike NPCI, which operates as a non-profit, the new umbrella entity will be a for-profit entity. It will charge a commission on every transaction facilitated by its payment system.
Spotting an opportunity, the Tata group decided to enter India's trillion-dollar retail payments market. It has floated Ferbine, a pan-India new umbrella entity (NUE) which will develop and operate a new payment system.
Incorporated on 18 January 2021, Ferbine aims to offer payment, remittances, and technology services. Besides the Tata group, Mastercard, Bharti Airtel, HDFC Bank, and Kotak Mahindra Bank are some of the marquee investors in Ferbine.
Tata group's message is clear here. The adoption of digital payments is beyond imagination and the trend is only likely to accelerate further. The internet and smart phones are the enablers.
The NUE license will go a long way in helping Tata group strengthen its foray into digital payments and also set the groundwork for its consumer 'Super App'. Amazon already has all this under its app.
Tata Digital has also set up a new financial marketplace entity called Tata Fintech to compete with Amazon and Reliance. Tata Fintech will offer a host of financial products including a retail payment gateway.
The Tata group will now take on likes of Amazon and Reliance, which too have NUE plans. While Reliance has reportedly partnered with Google and Facebook, Amazon has partnered ICICI Bank, Axis Bank among others for a license.
#3 Food delivery
There's a wonderful quote that goes something like this:
Resiliency is the ability of adapting to adversity and overcoming it.
The Tata group is an epitome of a resilient business.
When Covid hit the hospitality sector in 2020, Tata group's Indian Hotels (IHCL) started venturing into areas for revenue generation. This included home delivery of food and beverages.
IHCL launched its online food delivery platform - Qmin.
The company later expanded Qmin to a much broader concept Qmin Shop along with Qmin on the Move, a food truck which caters to on-the-go meals.
This truck addresses the need for quick and easy meals for those on the go and extend its services to corporate functions, small weddings, birthday parties and festivals, according to the company.
Indian Hotels plans to expand Qmin (which is currently present in 16 cities) to Tier-I cities like Bengaluru and Delhi, followed by Tier-II locations.
Following Indian Hotels' move, Oberoi Hotels too launched its own food application.
Also, the Tata group is eyeing a potential investment in Dunzo, which is reportedly stuck as Dunzo doesn't want to give majority control.
Hotel companies such as ITC, Hyatt, and Accor have all partnered with food delivery apps like Zomato and Swiggy to boost catering business. The food delivery industry, which is currently dominated by Zomato and Swiggy, is likely to see competition from other firms going forward.
In the food space, the group is also readying up its ready-to-cook meals business via Tata Q.
#4 Semiconductor manufacturing
Here's what Research Analyst at Equitymaster Aditya Vora wrote in a recent editorial:
Most emerging technologies have high dependence on semiconductors.

A mobile phone or a consumer appliance or even a vehicle, as the pace of innovation increases, the use of semiconductors will also increase.

So why don't we just increase the semiconductor capacity if it's so lucrative?

Well, that's the problem.

Making a semiconductor is a 1,500-step process and takes up to 6 months. The amount of R&D involved is massive (about 14% of revenues).

That's why only a few companies in the world make semiconductors.
So we know for a fact that the opportunity in manufacturing semiconductors is huge.
In December 2021, the Indian government launched a scheme to encourage the production of semiconductor chips within the country. The scheme came at a time when the world was suffering from a severe shortage of semiconductor chips.
With a total outlay of Rs 760 bn, the government aims to lure companies to set up a manufacturing plant in India. Many companies have submitted their plans for the same. One of the contenders looking to enjoy the benefits of the government's PLI scheme is the Tata group.
The Tata group will invest US$ 300 m to set up a semiconductor packaging and testing unit in the country. The group's investment semiconductor business will help it provide chips to other group companies such as Tata Motors and Tata Power.
The foray would also cater to a lucrative business that can find customers not only in India but across the world.
Also, check out this video where Co-head of Research at Equitymaster, Tanushree Banerjee, talks about the best semiconductor stocks in India.
#5 Healthcare services
By investing in startups and acquiring stakes across companies, the Tata group has built a long trail of aggressive investments in the healthcare space.
Here are few of its big investments in the healthcare space:
Forayed into e-health space with two acquisitions - Acquisition of a majority stake in 1MG via Tata Digital and buying a video conferencing solution from a Silicon Valley-based start-up Access Bell.
In 2020, when the pandemic stuck, the group was quick enough to identify opportunities and forayed into the medical devices segment.
Investing US$ 1.1 bn in oncology platform Karkinos.
With these acquisitions, the group is looking to strengthen Tata Health, its in-house online doctor consultation platform.
#6 Ed-Tech
In 2011, Tata Industries, a unit of the group, set up Tata ClassEdge. This entity sold classroom technology to schools. It also set up Interactive, which designed and created e-learning modules for companies.
This covers the business-to-business (B2B) part. But what about the business to consumer (B2C) market?
Well, Tata ClassEdge launched Tata Studi last year, a direct-to-student business offering content for Class 1 to Class 10 students.
This was on the cards. Sooner or later, the group was going to lay eyes on the EdTech space as the pandemic forced students and educators across all levels to rapidly adapt to online learning.
Covid has been a blessing in disguise for the EdTech companies. It was a classic case of the external environment giving a push to the industry.
This new age industry will benefit from the changing consumer. The market is all set to expand. As per a report, the online education market for class 1-12 is projected to increase more than 6x in the coming year to become a US$ 1.7 bn market.
As the current level of penetration is low, it gives big players like the Tatas (which already have an established unit) and Byju's a first mover advantage.
Profiting from the Tata group...
One of the things that is of immense value in India is the Tata group and its brand name.
Over the years, we have conducted several polls on India's most trusted corporate group and the Tata group hands down won most of them. There's no doubt that the group has emerged as the most trustworthy groups for the last few decades.
Even in the pandemic year, most of the group companies performed well.
Now, the group is coming together towards a new goal and banking on futuristic themes such as digital, supply chain, and health. The group aims to bring all its products and services under one roof. The Tata's 'super app' TataNeu aims to do this and transform the group.
By investing in all the sectors discussed above, the Tata group aims to ride on India's consumerism wave. This wouldn't be too difficult as it enjoys a strong brand recall among Indian consumers.
So, what do you think dear reader, about the Tata Group's plans? Will the most trusted group thrive in the coming decade? Or will there be bumps in the road?
Let us know. Share your views in the comments section.
Happy investing!
Disclaimer: This article is for information purposes only. It is not a recommendation and should not be treated as such. Learn more about our recommendation services here...