While investing in the stock market, you must have received stock tips and recommendations from your brokers, friends, and family.
Many a times, on asking about the rationale behind the same, the person giving the recommendation would state the source of the tip as some 'reliable' source.
Investors make decisions based on certain factual information. Subsequently, they make future assumptions based on and in support of those facts.
As such, knowing how an industry and a company functions is very important.
In addition, it's equally important for one to gain such information from proper and reliable sources.
In the second part of this series of articles on the basics of investing in stocks, we present a basic idea of where you can go about looking for information on companies you wish to invest in.
Sources of information on companies
Offer documents: For a novice investor, it is always recommended that he should understand a sector before jumping into understanding the working of a particular company. One of the best sources for understanding a particular sector or industry is the offer document of the company, if one can get hold to one. Every company which gets listed first needs to file an offer document with the Securities & Exchange Board of India (SEBI). Apart from facts and figures about the company and its promoters, this document also contains information relating to the working of the industry (the company is involved in).

One may refer to this link to see the offer documents that have been issued over the past few years.

Annual reports: In case of a company for which you cannot get hold of the offer document given that the company has been listed on the stock exchanges for long, the annual report comes in handy. The director's report and the management discussion and analysis (MD&A) sections of an annual report provide good information related to the company and industry. However, as compared to the offer document, this information is usually related to the past year and the management's views on the outlook for the next year. It may be noted that one should not blindly take the management's views into consideration as more often than not, it tends to paint a rosy picture. In the next article of this series, we shall take a deeper look into the constituents of an annual report.
BSE/NSE announcements and company press releases: We at Equitymaster have always believed in attaining information straight from a company rather than from a third party. Even if an investor gets some 'inside information' on a particular company, how factual and accurate it is, is something that cannot be determined. Apart from annual reports (which are published on an annual basis), it is the official company documents such as press releases, announcements and presentations which are released in regular intervals. The source for such information is the BSE or NSE websites (in their respective corporate announcement sections) and the company's website.
Business dailies and other media: Newspapers and news channel are a great medium for gaining updates on companies. Interviews with managements provide good information on the company's views, plans and strategies. However, information divulged from sources who do not wish to be named can be dicey. Reporters and journalists may get such news printed as they try to snoop around and find out stories relating to a particular company. However, there have been a of cases of companies (on whom the news has been reported) have made announcements stating the information is speculative or not true. As such, it would only be possible for an investor to judge the piece of news / information provided he is well acquainted with the company and its working.
Equitymaster database: You can also visit Equitymaster's database by clicking on this link. Here you will be able to view information relating to companies' historical numbers and business profile. You will also be able to view reports on key sectors.
Before we go any further, let's have a brief look at what market cap means.
If you are making a big investment decision for your long-term financial goals, understanding market cap is crucial.
By doing so, you'll be better prepared to build a portfolio that comprises a mix of 'market caps.'
What is Market Capitalisation
Market capitalisation, often called 'market cap' is the size of the company in question. It's calculated by multiplying the number of outstanding shares by the current share price.
Market cap is easy to calculate.
Market Cap = Company's share price * Shares Outstanding
Let's understand this with a simple example.
Suppose a company has 2 m outstanding shares and the current market price is Rs 400. Market capitalisation of this company will be 20,00,000 x 400 = Rs 800 m.
A company's market cap is first established via an initial public offering (IPO).
The company going public appoints an investment bank for the same. The bank uses valuation techniques to derive a company's value. It also calculates how many shares will be offered to the public and at what price.
For example, suppose Infosys, whose IPO value is set at Rs 800 m by its investment bank may decide to issue 2 m shares at Rs 400 per share or they may want to issue 4 m at Rs 200 each.
In both instances, the initial market cap would be Rs 800 m.
Now, after Infosys goes public and starts trading on the exchange, its share price is determined by supply and demand for its shares, as we understood in our previous article.
Now consider two companies with huge differences in stock prices. Yet their market cap remains similar.
Company A
Stock Price - Rs 500
Outstanding Shares - 2 m
Market Cap - 1 bn
Company B
Stock Price - 15
Outstanding Shares - 100 m
Market Cap - 1.5 bn
If you looked only at their share prices, you wouldn't know the second company was the more highly valued of the two.
There are many factors that could impact market cap. For example - changes in the value of the shares, changes in the number of shares issued, etc.
Any exercise of warrants on a company's stock will increase the number of outstanding shares, thereby diluting its existing value.
As the exercise of the warrants is typically done below the market price of the shares, it could potentially impact the company's market cap.
However, there are some misconceptions about market cap.
Market cap is not altered as the result of a stock split or dividend. After a split, the stock price will be reduced but the number of shares will increase.
For example, in a 10-for-5 split, the share price will be halved. Although the number of shares outstanding and the stock price will change, a company's market cap will remain constant.
Differentiating Companies Based on their Market Cap
Market cap helps in determining how to diversify your portfolio with companies of different sizes.
In the year 2017, Indian capital markets regulator laid down certain rules to classify companies according to their market cap.
This was done with an intent to maintain uniformity in the financial markets, in the context of investments and trading.
There are 3 different types of stocks from which an investor can choose.
Large-cap Stocks: Market cap of these companies is significantly high, coming in at around Rs 200 bn or more.
These companies have usually been around for a long period of time.
It is known that investing in large-cap companies over the long run generally rewards investors with their ability to generate cash flows and reward shareholders via dividends.
These stocks are also often included in benchmark indices (Sensex and Nifty in India). This is because they command a very strong market presence.
Infosys, TCS, HDFC Bank, Asian Paints, and the like are examples of large-cap stocks.
If you are interested in large caps, read our guide to buying bluechip stocks.
Mid-cap Stocks: As per the classification, companies which are ranked from 101 to 250 in terms of market cap are known as mid-cap companies.
Their market cap generally tends to range from Rs 50 bn to Rs 200 bn.
Mid-cap companies are established companies that operate in an industry expected to experience rapid growth.
These companies carry a higher risk than largecap companies because they are not as established, but they are attractive for their growth potential.
Small-cap Stocks: The regulator's rules state that all the companies ranked 251 onwards in terms of market cap are automatically categorised as small-cap companies.
In terms of market cap, these companies generally come in below Rs 50 bn.
These are small companies that serve niche markets or emerging industries. They are considered as high-risk investments due to their size.
It's because these companies have fewer resources and are more sensitive to economic slowdowns.
Note that shares of small-cap stocks tend to be more volatile than the others, given that there is less liquidity.
If you are interested in small-cap stocks, here's a proven approach on investing in small-cap stocks.
The Allocation to Keep in Mind When You Buy Stocks
Investors have a number of queries related to investing in stocks.
The topmost being, "How and where do I allocate my money in equities so as to get the best results?"
Usually, brokers are of little help. They spout some well-rehearsed statement involving jargon and heavy words. Well-meaning friends too, don't always give you a clear picture.
Stock markets tend to be very volatile. Putting too much money in a single stock or sector can be very risky.
Based on their relative riskiness, we have created an asset allocation pyramid that can help you in deciding how much money you should invest in a stock.
However, please note the allocation levels could differ from person to person depending on individual risk appetite.
Here's the asset allocation pyramid for your equity portfolio.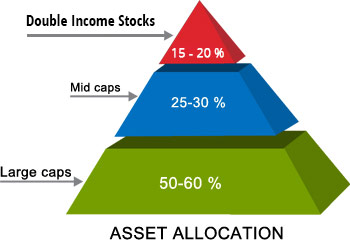 Here are some more useful links to set your equity allocation foundation when you buy stocks: