The Big Bad Bluechip Selloff. Here's How to Play this Opportunity...
Mar 14, 2022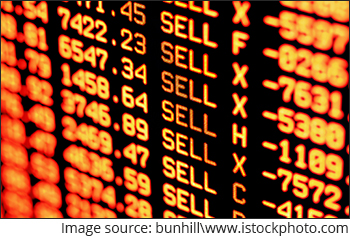 The Indian stock market bounced back strongly from the lows of March 2020 and have been in an upward rally until late 2021.
That is when the upward momentum started to wane off.
In late 2021, as companies reported their second quarter earnings, signs of inflationary pressure were clearly visible in their P&Ls.
India's consumer price index (CPI) inched towards RBI's higher limit reflecting the pinch on the consumer's pocket.
Rising inflation called for a rate hike. Investors feared that a round of rate hike would increase the cost of capital for companies thereby impacting their earnings significantly.
Since investors were uncertain of the future earnings, they believed that they would be better off investing in safer investment instruments such as G-secs (which get attractive as interest rates rise).
Thus, investors, especially FIIs, sold off their stock holdings which resulted in tapering of the upward momentum. This minor selloff turned into a major one quickly as the Russia-Ukraine conflict came into light.
The benchmark indices, Nifty 50 and Sensex 30 fell around 15% as these unexpected events unfolded.
Nifty 50 stocks that have fallen more than 15%
| Company | % Change |
| --- | --- |
| Tech Mahindra Ltd | -25.3 |
| Wipro Ltd | -25.3 |
| HDFC Life Insurance Co Ltd | -18.2 |
| UPL Ltd | -17.3 |
| HCL technologies | -17.1 |
| UltraTech Cement Ltd | -16.9 |
| Dr Reddy's Laboratories Ltd | -15.6 |
| Divi's Laboratories Ltd | -15.3 |
| Shree Cement Ltd | -15.3 |
Source: Equitymaster
The broader markets are still choppy. The benchmark indices are still down 10-12% off their highs.
This article is an attempt to guide our readers on how to navigate through this volatile market and what should be the course of action going forward.
History repeats itself
This is not the first time that two countries are engaged in an armed conflict. There have been several such instances in the past. So, it would be helpful to take cues from history and decide our next steps accordingly.
If you observe carefully how stock markets reacted to these unexpected events, you will notice an interesting pattern.
Every time such an event occurred, markets tanked sharply at first, only to rebound strongly.
Take for example Covid-19. In February-March 2020, the Indian benchmark indices fell nearly 40%. However, the market quickly recovered lost ground.
If you pull out the chart of any major index and look at its performance since inception, you will notice the index has been in an upward trend.
So, a lesson to take away from history is this: Stock markets tend to be bullish in the long term.
The tide is going to turn for sure.
When?
We don't know. But you should consider investing in the markets only if you are ready to stay put for the long term.
Where should you invest?
In such tumultuous times, you would want to allocate a sizable portion of your capital into companies having strong financials. These stocks are known as blue-chip stocks.
Though there is always a certain degree of risk associated with equities, blue-chip stocks are considered to be the safest among all. There are certain reasons for it.
Blue-chip companies are market leaders in their respective businesses. Their products and services are being used by millions every day.
These companies have a long history of producing attractive returns on capital employed by virtue of an established and profitable business model.
One key factor that sets apart blue-chip companies from others is their cash position. These companies can chug out copious amounts of cash thereby shrugging off any liquidity worries.
These companies are known as dividend paymasters as they reward their shareholders with dividends consistently.
Last but not least, these companies have stood the test of time and are known for their ability to overcome every adversity they face.
For all these reasons, blue-chip stocks are the safest investments in the stock market and that is where you should consider investing.
You can start with the stocks in the Nifty 50.
The index is down nearly 10.5% and appears to be fairly valued. The index price to earnings ratio (PE) stands at 21.3 which is close to its median PE of 20.5
So, this is definitely a good time to consider an investment in the index or its constituent stocks.
Ways to invest
You could go about investing in the blue-chip companies in several ways.
One way is to invest in index funds. If you invest in an index fund, you would be investing in 50 stocks that are in the Nifty 50 index. Your returns would be equivalent to percentage change in the index.
One benefit of investing via index funds is that you don't have to break a sweat, yet you could enjoy the benefits of equity investing.
Speaking of index funds, do check out the below video where India's #1 trader Vijay Bhambwani explains why index funds are still his top investment bet.
Another way to invest is to buy the constituent stocks directly. In this case you would have to work a lot. However, if you are ready to take up the challenge and work through the process diligently, you could end up outperforming the benchmark.
If you are investing in stocks directly, it would be hard for you to keep track of 40-50 companies. Therefore, you need to have a concentrated portfolio of 10-12 stocks, perhaps the strongest of the pack.
To get the best of the best, you could run the list of 50 stocks through various filters based on parameters such as return on equity (ROE), debt to equity ratio, price to earnings (P/E) ratio.
Once you end up with a list you could further deep dive into the fundamentals of the shortlisted companies.
Tiding over the volatility
War or not, markets are going to be volatile. Volatility is inherent to stock markets and it's important for investors to brace themselves for large and wild swings.
However, long term investing negates the effects of volatility on your portfolio.
Moreover, cost averaging, a simple investment strategy could help you deal with large swings.
Cost averaging is a systematic investment strategy wherein you break up your total capital in small equal parts which is to be invested periodically over an extended period.
For example, let's say you have Rs 10,000 that you wish to invest in stocks.
Instead of chipping in all the money at the same time, you divide Rs 10,000 in 10 equal parts and invest the total capital over a period of 10 months.
As per this strategy, you acquire more shares at a lower price and fewer shares at a higher price.
This strategy ensures that the average buying price tends to be on the lower side thereby maximising returns for investors.
The right framework
Investors can make a fortune if they execute their investment strategies in a systematic manner.
Ace investors across the globe have a strong investment framework in place to filter out companies worth investing in.
There are standard procedures laid out in a framework for every stage of an investment process such as stock selection, research, position sizing, etc.
So, if you aspire to be a better investor, you must think over building an investment framework that incorporates your strategies.
Make sure your framework has a stringent procedure for evaluating fundamentals.
Happy investing!
Disclaimer: This article is for information purposes only. It is not a stock recommendation and should not be treated as such. Learn more about our recommendation services here...