Why Sona BLW Precision Share Price is Falling
Mar 14, 2023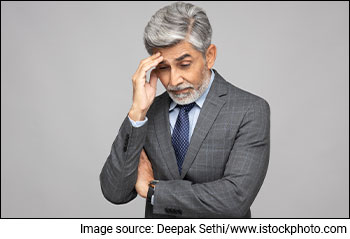 A couple of days ago, I came across a report which mentioned how auto ancillary companies stole the show on auto deal street.
Reportedly, Indian auto ancillary companies have signed deals worth over Rs 63 billion (bn) in the last three months. This compares with last year's entire Rs 69.5 bn collection, where Indian auto sector witnessed mergers, acquisitions, and joint ventures.
Amid all this, an auto ancillary firm with a solid focus on electric vehicles (EVs) has largely underperformed on the bourses.
The company in question is Sona BLW Precision Forgings or Sona Comstar.
In the past five days, the stock is down over 7%. In the past six months, the stock has fallen by 18%.
Let's find out why.
#1 Stake sale by Blackstone
The recent decline in Sona Comstar share price is because of a block deal.
Yesterday, on 13 March 2023, Blackstone sold its entire 20.5% stake in Sona BLW Precision Forgings for Rs 49.2 billion (bn) via a block deal.
Blackstone, through its subsidiary, Singapore VII Topco III, offloaded about 11,992,5641 shares at a price of Rs 410 per share, according to the data available with the exchanges.
Shares of Sona BLW Precision Forgings were already under pressure for the past few days, reacting to reports of a block deal.
Marquee investors like the government of Singapore, Fidelity, FMR, ICICI Prudential Life Insurance, and HDFC MF bought shares from Blackstone in the block deal.
Blackstone has held about 34% stake in the company post the IPO, but it has pared stake in multiple tranches, bringing down the stake to 20.5%.
With yesterday's sale, Blackstone has completely exited from this auto ancillary company.
This time too, it was mutual funds who bought the stock. We wrote about Sona Comstar last year explaining why mutual funds are bullish on the midcap firm.
#2 Slowdown in China
Sona BLW Precision Forgings is one of the world's leading automotive technology companies. The company has emerged as a global supplier with nine manufacturing and assembly facilities across India, the USA, Mexico, and China.
The company currently earns about 25% of its revenue from supplies to battery electric vehicle (EVs) makers in the key markets of Europe, North America, China, and India.
Hence, China is one of its key economies. However, because of extended lockdowns and the outburst of Covid-19 cases in China, the company's Chinese business is impacted.
Factory output slumped widely across Asia in November 2022 as slowing global demand and uncertainty over the fallout from China's strict Covid-19 lockdowns weighed on business sentiment.
Amid the pandemic curbs, China's factory activity shrank which implied weaker employment and economic growth in the fourth quarter.
Also, due to the new battery standards, most of the company's two-wheeler EV customers had to get their vehicles homologated again. That is why the company saw very little production in October and November 2022, which negatively affected Q3's traction motor sales.
What next?
Sona BLW Precision Forgings is expecting to double the share of its global electric vehicle business to 45-50% of revenue by 2025.
In financial terms, the company achieved the highest revenue, highest earnings before interest, tax, depreciation, amortization (EBITDA) and highest net profit during the quarter ended 31 December 2022.
It also won the biggest single new order in its history which is an EV driveline program. This is a big step for the company in both business development terms as well as technology because this is also a new product for us called an electronically locking differential or EDL.
The company recently also signed its first acquisition since 2019. The company agreed to acquire a 54% stake in Novelic for 40.5 m euros (about Rs 3,570.5 m). The transaction is expected to close by the end of Q4 of the financial year 2022-23.
Novelic adds the hardware and software capabilities to design integrated systems for autonomous driving, including AI and ML as well as ASIC experience, it already has mechanical, electric and electronic abilities.
This acquisition is the beginning of building its third business vertical of sensors and software. In addition to its technology prowess, Novelic is unique in its approach to profitability and sustainable growth.
The company's focus in the next three years at least will be on light passenger and light commercial vehicles and electric buses.
How Sona BLW Precision Forgings has performed recently
In the past five days, shares of Sona BLW Precision Forgings are down 6.4%. In the past one year Sona BLW Precision Forgings is down 29.4%
Sona BLW Precision Forgings has a 52-week high of Rs 706.8 touched on 21 March 2022 and a 52-week low of Rs 397.4 touched on 26 December 2022.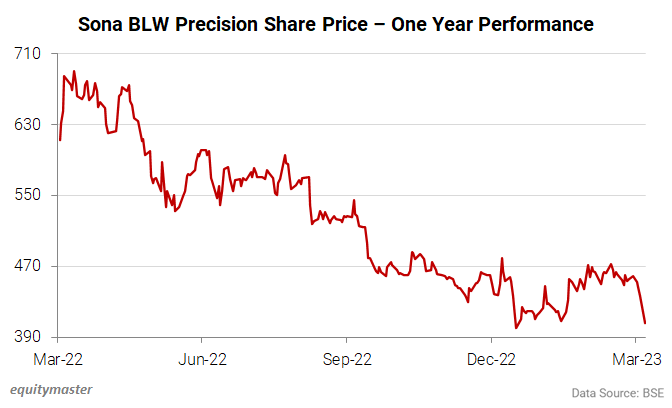 About Sona BLW Precision Forgings
The company is engaged in the business of designing, manufacturing, and supplying engineered automotive systems and components.
Some of its products include differential assemblies, gears, conventional and micro-hybrid motors, belt starter generator (BSG) systems, and electric vehicle (EV) traction motors.
With the electric vehicle (EV) revolution picking up pace, the company has increased its focus on EVs. It is one of the few companies that can design high-power-density EV systems.
The company is currently focussing on diversification across geographies and vehicle segments. It is also introducing new products to widen its product portfolio.
To know more about the company, you can check out the Sona BLW Precision Forgings fact sheet and its quarterly results.
You can also compare the company with its peers.
Sona BLW Precision vs Sansera Engineering
Sona BLW Precision vs Uno Minda
Investment in securities market are subject to market risks. Read all the related documents carefully before investing
Want to Grow Your Wealth With Safe Stocks?
If you want a simple, safe, and hassle-free approach to long term wealth building...
Without having to worry about negative news or every little downswing in the market...
And without having to worry whether your investments will actually "deliver"...
You must read our note on Blue Chip Stocks now.
Details of our SEBI Research Analyst registration are mentioned on our website - www.equitymaster.com
Disclaimer: This article is for information purposes only. It is not a stock recommendation and should not be treated as such. Learn more about our recommendation services here...