Why Paper Stocks are Rising
Mar 15, 2022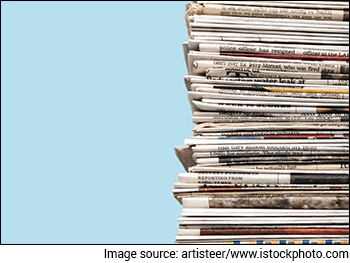 As kids, we used to make airplanes out of paper and fly them. Kids would compete to fly them the highest and farthest.
But as an investor or trader, your attention would be focused on the paper company whose stock price is flying high.
Paper stocks have risen a lot in the last few trading days.
Most states are lifting lockdowns and announcing the re-opening of schools and offices.
As kids move back from the PDF to paper for reading and writing, the prospects of paper stocks look good.
I understand changing with the time s is important but traditional forms of learning are more important for kids in the era of laptops, tablets, and mobiles.
Even as an adult, aren't you buying physical books even if it's available on kindle?
The market has woken up to recovery of paper companies.
Most paper stocks are trading near their 52 weeks high or are just breaking out of a consolidation range.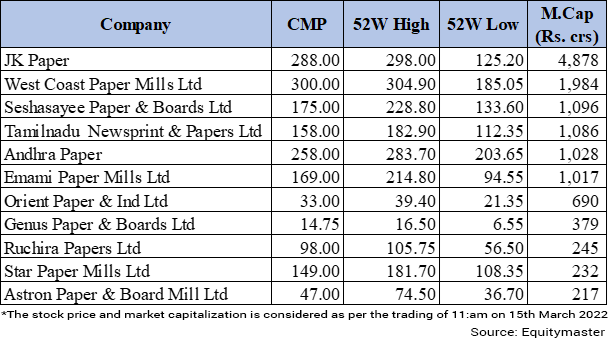 Let's look at the technical structure of a few stocks which are breaking out of consolidation zones.
JK Paper Ltd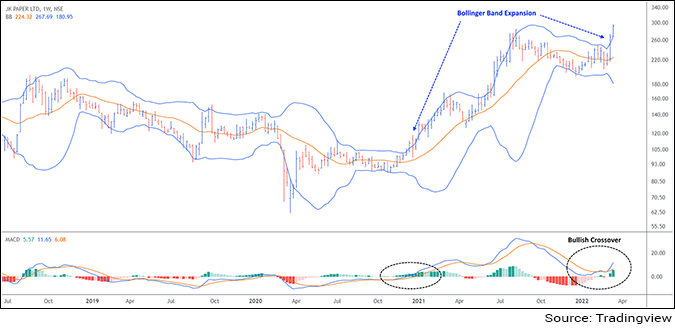 JK Paper is the leader in an organised paper industry. It's the stock with the highest marketcap in the sector.
The stock is trading near the all-time high of Rs 298 and trending bullish.
Technically, the Bollinger band expansion or widening indicates the resumption of fresh bullish momentum. This is supported by a bullish crossover on the Moving Average Convergence Divergence (MACD).
It's not the first time the stock has seen such a technical setup. History repeats itself in the market. In October 2020, the Bollinger band expansion with bullish crossover on MACD added wings to the stock's rally.
To know more, check out JK PAPER company fact sheet and its quarterly results.
West Coast Paper Mills Ltd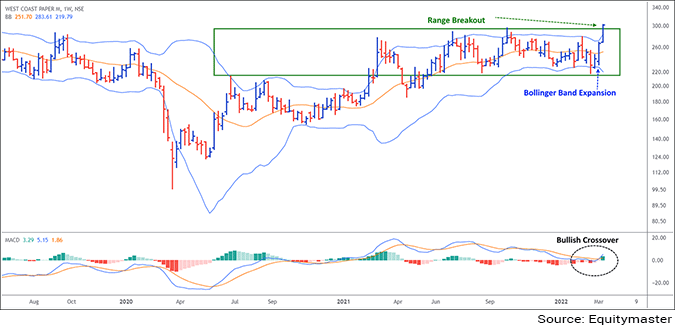 Like JK Paper, West Coast Paper Mills too is trading at its 52-week high of Rs 304.90, is breaking out of a 54 weeks consolidation zone, and has similar technical setup.
With the range breakout and the Bollinger band expansion, the bullish crossover on the MACD is the icing on cake for the traders and investors.
For more details, check out WEST COAST PAPER MILLS company fact sheet and its quarterly results.
Ruchira Papers Ltd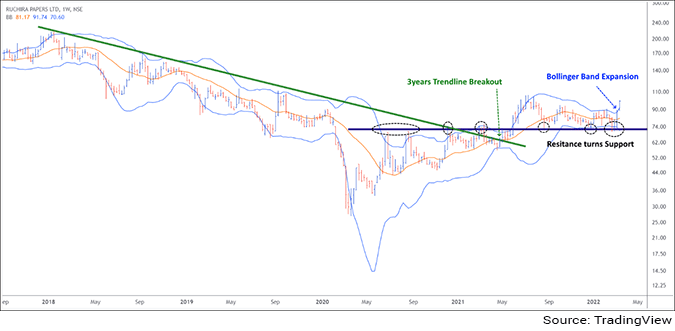 The stock has hit the three-digit mark for the first time in 34 weeks and is few percent away from the 52-week high of Rs 105.75.
With the resistance turning into support at Rs 73, the stock price has managed to hold the support level and is heading northwards.
The 3 years falling trendline breakout was followed by an expansion in the Bollinger band. This indicates the golden days for the stock could back be on cards.
To know more, check out Ruchira Papers factsheet and its latest quarterly results.
We have highlighted three stocks but most paper stocks have similar setups as they have broken out from their consolidation zones.
Investors and traders should understand the risk before investing in paper stocks as most of these stocks are from smallcap or micro-cap segments. The daily average volumes are low in many of these stocks.
This article is just to highlight the ongoing trend in the sector. We are not recommending any stocks.
As stocks from the paper sector interest you, check the latest Paper sector results.
You can also compare paper stocks on our website.
Tamil Nadu Newsprint vs Astron Paper & Board Mill
Orient Paper vs South India Paper
To know what's moving the Indian stock markets today, check out the most recent share market updates here.
Disclaimer: This article is for information purposes only. It is not a stock recommendation and should not be treated as such. Learn more about our recommendation services here...
Brijesh Bhatia Research Analyst and expert chartist, is the editor of Alpha Wave Profits. Fully committed to his craft, Brijesh has mastered the art of making money by trading using technical analysis. Brijesh has an MBA from ICFAI and 16 years of experience in India's financial markets. He began his career on Dalal Street as commodities dealer and it wasn't long before he developed his own unique trading system. Brijesh worked on his trading system until it could be expected to deliver 5 units of return for every unit of risk.