This Ahmedabad Based Firm's Solid Grip on Wellness Sets It Up for 10 Years of Dominance...
Mar 16, 2023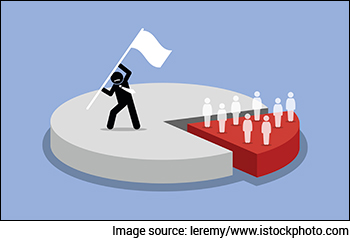 The recent crisis of Silicon Valley Bank and the headlines about its financial woes can make it easy for people to wonder: Who's next?
Barely a month before this debacle, closer back home, the markets were worried regarding the future of the Adani group.
Ironically, the New York based research firm, Hindenburg, was too busy being nosy 12,000 km away from home to ignore the second largest banking failure in the history of USA in its own backyard!
Over the years, there have been numerous instances of companies that have either gone bankrupt, merged, or still exist but have fallen from the top.
At the time of writing this, shares of Switzerland's second largest bank, Credit Suisse cratered as much as 30% after the bank's biggest lender, Saudi National Bank, said it would not be able to offer it more financial help.
This does make one wonder, what exactly is the shelf life of a company today.
While there are companies that are over a century old, are they all thriving? Are they still at the top of their game?
Thankfully, there are companies out there that are absolutely crushing it in their respective industries and they show no signs of slowing down.
In fact, there are a handful of companies that are so dominant in their industries, that it seems highly unlikely for them to lose their leadership anytime soon.
Now, ideally, when we think of dominant players, we may think that the top 3 players by market share in any category should qualify to be part of the list.
But then in an industry with say 30 firms, the top 3 companies could still qualify even with a market share of just 5% or 7% each.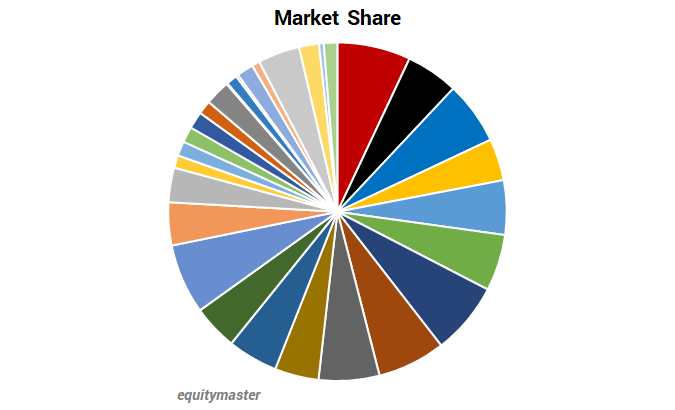 However, that would not be the ideal definition of a 'dominant player' as it could be very likely for the firm to be upstaged by another with such close proximity among each other.
Hence, for the purpose of this discussion, we decided to restrict our study to only those companies that enjoy at least a 50% share in their respective categories.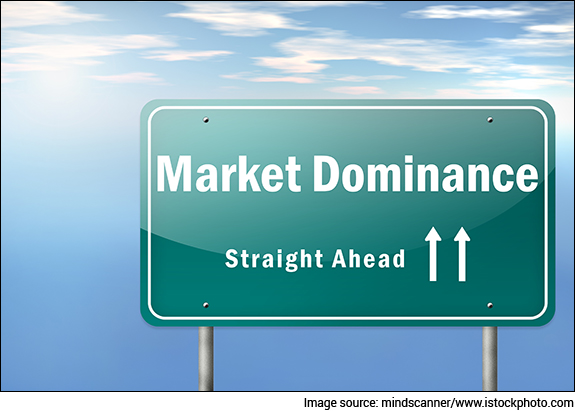 Over the coming weeks, we are going to cover the most dominant companies in their specific sectors / sub-sectors that are likely to retain their top position over the next 10 years.
It is pertinent to note here, that we are specifically looking at companies which have a dominant market share within a particular category which has potential for sustained growth over the coming years.
However, there are various other factors that can contribute to a company's survival as well as leadership position in the long term. For instance, over the long run, compliance and corporate governance play a critical role in survivability of a firm.
Groups such as the Tatas and Mahindras have survived and thrived over a century, partially because they have always endeavoured to adopt the best practices and the highest standards of corporate governance and strong compliance.
Another key point to note here is that while these companies may currently enjoy almost monopolistic share in their respective categories, there is always the risk of substitution of such products.
A classic example is Nokia. In 2007, Nokia's smartphone market share was a dominant 49.4%.
Then all of a sudden, Steve Jobs walked on to a stage and pulled an iPhone out of his pocket and changed the world forever.
Now, before we get to the first company on our list, let us take note of a few characteristics of these companies which makes them such rockstars!
Most companies that lead their segments are pioneers. Hence they had the first mover advantage.
Another key noticeable aspect is that these companies have been around for a while.
Majority of these companies have grown organically which highlights that the products churned out by these companies have an insatiable demand.
These leaders have earned and retained their leadership positions through hard work and innovation, instead of buying market share.
Finally, most of the companies deal directly with consumers, hence enjoying brand loyalty.
The companies on this list are either dominating their rivals right now or are positioning themselves so well that you'll look back in a decade and wonder why you didn't see the makings of a giant earlier.
Here is part one of the 5-part series. The first company is...
Zydus Wellness Ltd.
Zydus Wellness is an Indian consumer goods company which produces nutrition and skincare products. It is a subsidiary of India's fourth largest pharmaceutical company, Zydus Lifesciences, formerly known as Cadila Healthcare.
The company's vision is to bring wellness to your life by creating innovative products that will nourish, nurture, and energise your life.
With the launch of India's first zero calorie replacement of sugar, called Sugar Free, in 1988, Zydus Wellness began its journey as India's leading consumer wellness company.
Since then, its grown into a larger business, spanning the entire wellness spectrum with seven power brands - Sugarlite, Complan, Sugar Free, Glucon-D, Everyuth, Nycil, and Nutralite.
Headquartered in Ahmedabad and Mumbai, Zydus has 5 manufacturing facilities across 4 locations - Aligarh, Sitarganj, Ahmedabad, and Sikkim. It has eight co-packing facilities in India, Oman, and New Zealand.
Today, the Zydus Wellness business spans over 20 countries and 3 continents.
But you are probably wondering, aren't there much bigger players in the packaged food industry.
Well think again... Zydus Wellness makes the cut because of its omnipotent position in the sugar substitute industry.
The company's brand, Sugar Free is the category leader in India with a whopping 95.8% market share!
Now, that is the very definition of complete and total dominance.
India: Eat Less Sugar, You are Sweet Enough Already!
India is the second-largest producer and largest consumer of sugar in the world.
As a matter of fact, the most popular sweetener in the world, sugar, was invented in India.
There is reference to sugarcane cultivation and the preparation of sugar in an Indian religious text, the Atharva Veda.
India is simply in love with sugar. Traditionally, any occasion in India is celebrated with intake of sweets. It is customary to "sweeten the mouth" after every meal, any joyous occasion, religious festival, or social gathering.
Even our Gods are appeased with sugar! It is considered mandatory to offer sweets to the Gods on every religious occasion.
While sugar is such an integral part of our culture, unfortunately it is also believed to be the root cause of various major illnesses and as toxic as tobacco by some.
According to the World Health Organisation, in India, there are 77 million people suffering from diabetes and nearly 25 million are prediabetics (at a higher risk of developing diabetes in near future).
This makes India the second most affected country in the world after China.
But in recent times, our population is increasingly getting aware and involved in what it eats, both consumers and the food sector are showing more interest in natural and healthier foods.
Sugar substitutes as a category have witnessed higher penetration of late as more households opted for the product amid the growing incidence of diabetes, obesity, and cardiac diseases among consumers and the shift towards a healthier lifestyle.
Even governments around the world have stepped in to curb this unhealthy trend. Government organisations in over 50 countries have levied sugar taxes on sugar-sweetened drinks to reduce their increasing consumption.
India, today, has one of the highest tax rates of 40% (28% GST plus 12% compensation cess) on carbonated soft drinks.
Thus, regulatory pressure in the form of sugar taxes might also encourage beverage industries to adopt sugar substitutes and produce sugar-free drinks, driving the growth of the sugar-free products market.
Looking at the number of diabetics and pre-diabetics in India, with the changed regulatory scenario allowing the use of sweeteners in everyday consumables, the market is bound to grow.
The sale of sugar substitutes has already grown three times since the onset of the pandemic, according to data from Bizom.
Which brings us back to Zydus Wellness...
Zydus Wellness: Making Your Life Sweet
Without

Sugar

The company's brand, Sugar Free is a name synonymous to the sugar substitute category. It's the category leader in India with a whopping 95.8% market share!

The brand's portfolio consists of three products:
Sugar Free Green that is 100% natural and made from Stevia leaves.
Sugar Free Natura made using Sucralose, a derivative of sugar but doesn't contain the same amount of calories.
Sugar Free Gold, made from Aspartame - a protein derivative.
With consumers increasingly becoming health conscious and opting for sugar substitutes, Sugar Free has the potential to grow significantly from here.
While the brand has been around since its launch in 1988, it is only in recent times, that the need for sugar substitutes has gained prominence.
Sugar Free has seen a shift in consumption patterns as today non-diabetics account for almost 50% of the sales.
The product, which was mostly an urban phenomenon has also seen more takers in rural areas. The share of rural sales, now stands at over 18% as compared to 12% in the pre-Covid period.
To tap this demand for the product in rural areas, Zydus Wellness plans to expand its presence to 600,000 outlets from the current 400,000 outlets over the next two years.
In recent years, the company expanded its international footprint by entering new geographies as Hong Kong, Lebanon, Zimbabwe, Muscat, Ethiopia, and Australia.
The company also incorporated its wholly owned subsidiary Zydus Wellness (BD) Pvt Limited in Bangladesh aimed at serving local consumers at a competitive price.
The international business has continued to grow at high double digits and the company is targeting between 8-10% revenue contribution from international markets over the next five years.
With complete dominance in its domestic industry, Sugar Free has the potential to also be among the top 3 global brands.
Zydus Wellness: Sugar Free and a Whole Lot More
While we have focused on Zydus' brand, Sugar Free brand for the purpose of this discussion about dominant companies, Zydus owns other popular brands as well.
And surprisingly, the company is the market leader in four out of the five other categories it operates in!
Yes, you read that right...
Glucon-D
Glucon D is the leading Indian brand in the glucose powder category with a market share of 59.9% as on December 2022, an increase of 1.6% over the previous year.
Glucon-D is pitched as a product that provides instant energy and helps support immunity.
Nycil
Nycil is India's No. 1 prickly heat & cooling powder brand with a with a market share of 35.1%. The brand has also expanded its portfolio into the hand sanitizer category.
Everyuth Naturals
Zydus Wellness offers a range of skin care products under the brand name of Everyuth Naturals.
Everyuth Scrub has the leadership position with market share of 41.8%, an increase of 1.6% YoY in the facial scrub category.
Everyuth Peel off on the other hand is again the leader with a market share of 78.4% in the Peel off category.
Nutralite
Launched with the intention to provide customers with a healthier alternative to butter, Nutralite is India's leading brand in the category of table spreads.
Complan
Remember the popular jingle 'I am a Complan Boy, I am a Complan Girl'?
The popular brand of the eighties and nineties somehow lost its way over the years with frequent change of hands, from GSK to Kraft Heinz, and then to Zydus Wellness in 2018.
Complan's market share, which a decade ago was 15% (Horlicks is the market leader now with over 50% share), is now only around 4.5%.
Zydus continues to focus on expanding category size of each of these categories and increase the market share of its brands with necessary investments in each brand through product innovations, various media campaigns, sales promotions, and digital initiatives.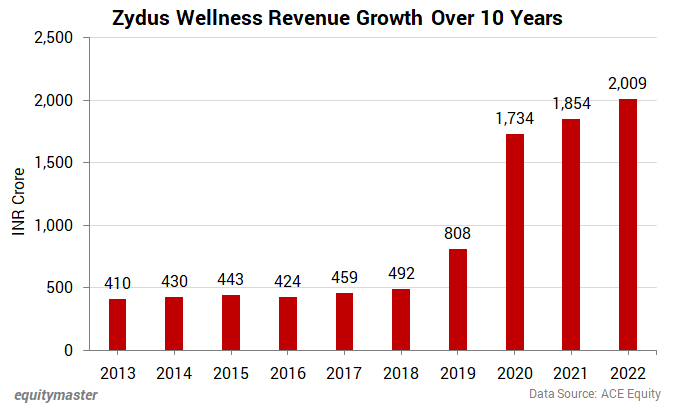 The company's sales have grown at a CAGR of 19.3% since 2013. Zydus reported revenue of Rs 20.09 bn for the year ended 31 March 2022, up 8.4% YoY.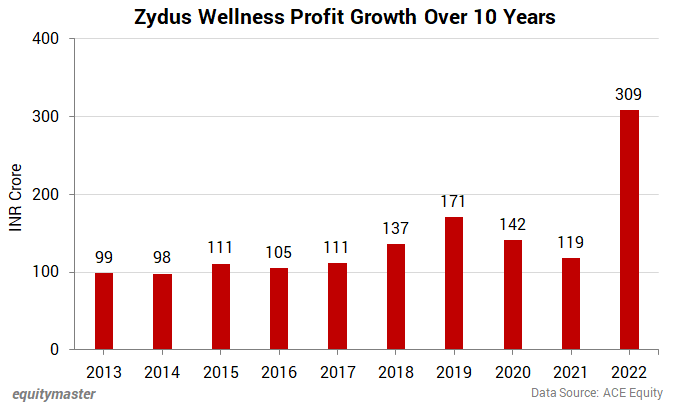 Profit jumped 160% during FY2022 to Rs 3.09 bn as against Rs 1.19 bn in the previous year.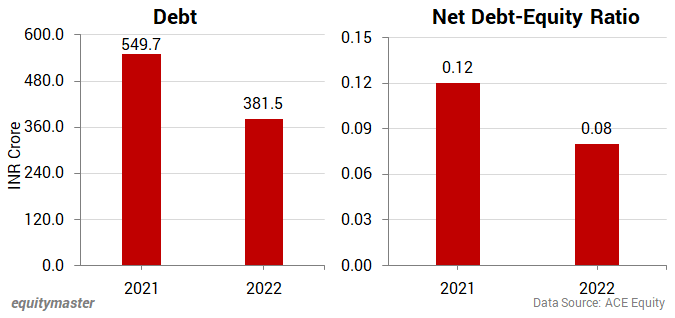 During 2021-22, the company further reduced its debt by repaying the loan of Rs 1.68 bn. The consolidated debt of the company as on 31 March 2022 was at Rs 3.81 bn against Rs 5.49 bn in the previous year.
Net debt-equity ratio was 0.08 as on 31 March 2022 as against 0.12 as on 31 March 2021.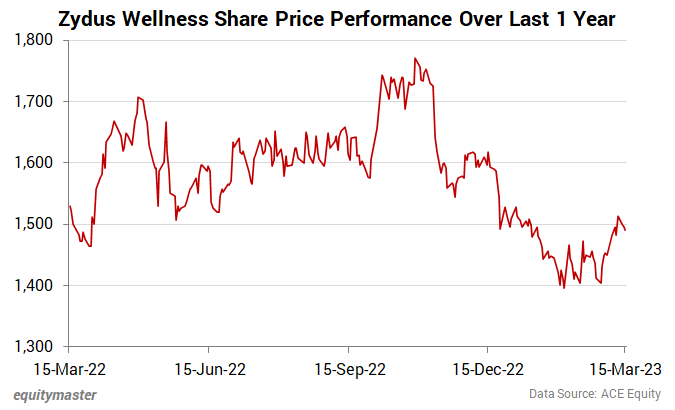 Over the last 12 months, the stock has hit a 52-week high of Rs 1,791 and a low of Rs 1,364 on the BSE. Currently, it trades close to its yearly low at Rs 1,491 per share.
On a Final 'Sugar Free' Note
Projecting a company's position and market share 10 years out or for that matter even 10 months ahead isn't an exact science.
However, with an unchallenged dominance in a particular segment, investors can look at some of such companies which are unlikely to lose their leadership anytime soon and potentially find likely winners.
But do always keep in mind Warren Buffett's motto:
"It's far better to buy a wonderful company at a fair price, than a fair company at a wonderful price."
A company might be the leader in its industry having a near monopolistic market share. But even if it has a track record of sustained profit and sales growth, the valuation might not be right.
In such cases, it is prudent for an investor to keep such companies on their watchlist and only consider them only when valuations seem fair.
It's crucial to conduct your due diligence before making any investment decisions. Despite the favourable outlook, don't overlook the significance of sustained research.
Investing your hard-earned money should not be taken lightly, so make sure to conduct thorough research before making any commitments. Take the time to meticulously analyse the financial statements of potential investment opportunities.
With that we conclude of our coverage of the first company that could continue to dominate its industry and remain the leader over the next decade.
Hope you found this information useful. Stay tuned for the second part in our series to find out the next company on our list.
Happy Investing!
Disclaimer: This article is for information purposes only. It is not a stock recommendation and should not be treated as such. Learn more about our recommendation services here...
Yazad Pavri
Cool Dad, Biker Boy, Terrible Dancer, Financial writer
I am a Batman fan who also does some financial writing in that order. Traded in my first stock in my pre-teen years, got an IIM tag if that matters, spent 15 years running my own NBFC and now here I am... Writing is my passion. Also, other than writing, I'm completely unemployable!