Mar 29, 2023 - Why Kalyan Jewellers Share Price is Falling
Why Kalyan Jewellers Share Price is Falling
Mar 29, 2023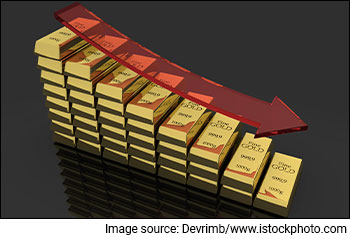 In 2022, the Indian gems and jewellery industry witnessed an upsurge in demand following a prolonged period of muted sales due to pandemic-induced restrictions.
This trend was particularly evident in the gold segment that contributed to the noteworthy performance of the jewellery sector's stocks. One of the beneficiaries was Kalyan Jewellers, with the stock delivering returns of more than 70% in a year.
2022 proved to be an exceptional year for Kalyan Jewellers. The company's revenue grew 26% YoY, the highest in the company's history at Rs 108 billion (bn). It also posted a net profit of Rs 2.2 bn.
However, the stock's rising tide changed with the onset of 2023. The company's shares have experienced a decline of over 12% so far this year, with a loss of 6% in just the past two days.
Let's find out why Kalyan Jewellers' share price is under pressure.
Block Deal
Highdell Investment, owned by private equity major Warburg Pincus, on Tuesday, divested a 2.3% stake in Kalyan Jewellers India for a little over Rs 2.6 billion (bn) through an open market transaction.
According to bulk deal data available with the NSE, Highdell Investment sold a total of 23.3 million (m) shares of the jewellery chain company, amounting to a 2.3% stake in the company.
The shares were offloaded at a price of Rs 110.04 apiece, taking the transaction size to Rs 2.6 bn.
Highdell Investment owned a 26.4% stake in the company as of the December 2022 quarter. With the stake sale, Highdell Investment's holding in Kalyan Jewellers stands at 24.1%.
Following the deal, shares of Kalyan Jewellers plunged 9.1%, registering its biggest fall in the past three months.
Positive Long-term Outlook
Kalyan Jewellers is strategically planning to increase its retail footprint by over 30% in 2023 by adding 52 showrooms.
This expansion will primarily focus on the non-southern region that currently contributes 35% to the company's Indian business. Kalyan Jewellers has set a target to increase this share to 50% by 2025.
Additionally, the company possesses competitive strengths in operating as a hyperlocal jewellery business. Its product portfolio is curated based on local market preferences and trends in each region where it operates.
This customized product mix will enable Kalyan Jewellers to offer more variety with fresh products from its national and international portfolio.
Furthermore, the company is poised to benefit from the current sectoral tailwinds.
The jewellery sector is expected to perform well as US interest rates are anticipated to decrease by the second half of 2023. Gold, being a commodity with a boom-and-bust cycle, is set to benefit from it.
The sector is also expected to experience a boost during auspicious days in the Indian Hindu calendar, such as Dhanteras, Dussehra, and Akshaya Tritiya.
How Kalyan Jewellers shares have performed recently
Kalyan Jewellers shares have declined by more than 4% in a month. Over the past week, the company's shares are trading lower by 7%.
On a YTD basis, Kalyan Jewellers share price is down over 12%.
Kalyan Jewellers touched its 52-week high of Rs 134.2 on 29 December 2022 while it touched a 52-week low of Rs 55 on 20 June 2023.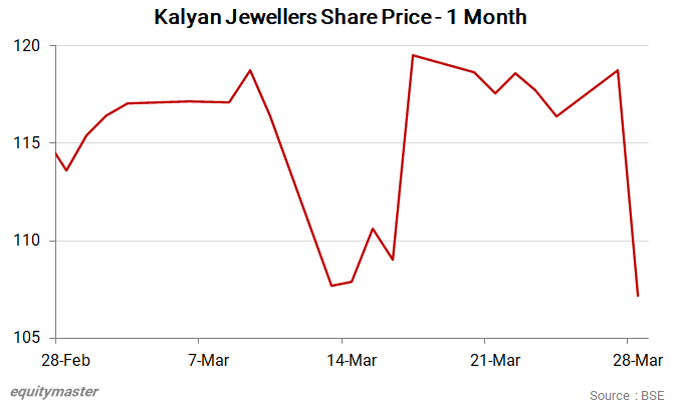 About Kalyan Jewellers
Kalyan Jewellers India Ltd (KJIL) is one of the largest jewellery companies in India.
Having ventured into jewellery retailing in 1993 in Thrissur, Kerala, the company has since expanded to become a pan-India jewellery company, with 124 showrooms across India.
Kalyan Jewellers also has an international presence with 30 showrooms located in the Middle East and operates in 5 countries.
The company is engaged in gold, daimond, platinum and silver jewellery products.
It designs, manufactures, and sells a wide range of gold, studded, and other jewellery products across various price points ranging from jewellery for special occasions, such as weddings, which is its highest-selling product category, to daily-wear jewellery.
It also provides facility like, gold insurance, wedding purchase planning, gift vouchers and gold buying tips.
For more details, see the Kalyan Jewellers company fact sheet and quarterly results.
For a sector overview, read our retailing sector report.
You can also compare Kalyan Jewellers with its peers.
Kalyan Jewellers vs PC Jeweller
To know what's moving the Indian stock markets today, check out the most recent share market updates here.
Investment in securities market are subject to market risks. Read all the related documents carefully before investing
Want to Grow Your Wealth With Safe Stocks?
If you want a simple, safe, and hassle-free approach to long term wealth building...
Without having to worry about negative news or every little downswing in the market...
And without having to worry whether your investments will actually "deliver"...
You must read our note on Blue Chip Stocks now.
Details of our SEBI Research Analyst registration are mentioned on our website - www.equitymaster.com
Disclaimer: This article is for information purposes only. It is not a stock recommendation and should not be treated as such. Learn more about our recommendation services here...
FAQs
Which are the top Jewellery companies in India?
Which are the top gainers and top losers within the jewellery sector today?
How should you value jewellery companies?
Investing in stocks requires careful analysis of financial data to find out a company's true worth. However, an easier way to find out about a company's performance is to look at its financial ratios.
Two commonly used financial ratios used in the valuation of stocks are -
Price to Earnings Ratio (P/E) - It compares the company's stock price with its earnings per share. The higher the P/E ratio, the more expensive the stock.
Price to Book Value Ratio (P/BV) - It compares a firm's market capitalization to its book value. A high P/BV indicates markets believe the company's assets to be undervalued and vice versa.