Mar 30, 2023 - Why Symphony Share Price is Falling
Why Symphony Share Price is Falling
Mar 30, 2023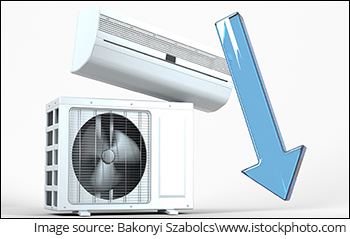 Many long-term investors are questioning their investment in Symphony, given the 43% fall in the share price over the past five years.
And some recent buyers are probably worried, too, with the stock falling 10% in the last year.
Symphony was once a multibagger stock, growing over 900% between 2011 and 2018, but has been on a downward trajectory ever since.
Shareholders have had an even rougher run lately, too, witnessing a steep decline.
The stock recently hit a nine-month high of Rs 1,188 on 6 March 2023. However, since then the stock has again erased gains of around 14%.
Let's find out why the company's share price is under pressure.
Share buyback impact
Shares of Symphony traded ex-buyback on 29 March 2023 after the company announced a buyback worth Rs 2 billion (bn) in February 2023.
The company had fixed 29 March 2023 as the record date for the same.
The company said it would buyback about 1 million (m) equity shares through the tender offer route at Rs 2,000 per share from all eligible shareholders as on the record date.
The buyback amount excludes expenses to be incurred for various charges, costs, and taxes.
It represents a premium of 109% over the closing share price on 1 February 2023, the day before it announced that it would consider a proposal for a buyback of shares.
The resultant shares to be bought back represent 1.43% of the total number of equity shares in the total paid-up equity capital of the company as of March 2022.
The promoters and members of the promoter group also participated in the proposed buyback.
Following the share buyback, shares of the company fell 7% intraday.
Positive long-term outlook
The Indian market is expected to exhibit strong demand for the company's products, particularly among channel partners, which is projected to remain steady in the near future.
Additionally, the company's presence in Tier 2 cities, where air conditioners are less affordable, presents a promising opportunity for air cooler sales.
As the company recently launched a Hi-Tech BLDC Air Cooler with breakthrough technology that saves up to 50% power, it sets to benefit from it.
It will further help the company to improve its gross margin and EBITDA (Earnings Before Interest, Taxes, Depreciation, and Amortization).
The company also plans to increase product pricing in the future, in conjunction with declining input costs, to achieve EBITDA margins equivalent to its historical peak of 0.3%.
The company will also benefit from the sector tailwind.
Despite existing weak consumer sentiment, air cooler demand is expected to be robust in the upcoming summer.
The air conditioning industry, which sold a record 8.25 m units in 2022, is projected to maintain its double-digit growth trajectory.
Low white goods penetration, including air coolers and air conditioners in India, could represent another long-term catalyst for Symphony.
How Symphony shares have performed recently
Symphony shares have declined by more than 12% in a month. Over the past week, the company's shares are trading lower by 8%.
Symphony touched its 52-week high of Rs 1,219 on 3 January 2023 while it touched a 52-week low of Rs 820.6 on 11 March 2022.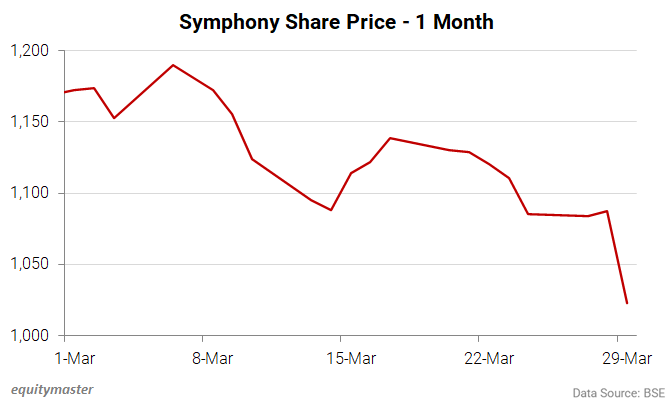 About Symphony
Symphony Limited formerly Symphony Comfort Systems provides residential mobile commercial packaged and central air cooling solutions for domestic and industrial customers in 60 countries across the globe.
Established in 1988, Symphony is engaged in the manufacturing and trading of residential, commercial, and industrial air coolers in the domestic and international markets. It is the largest air cooler manufacturer in the world.
Over the years, Symphony has built its moat by focusing on product innovation and distribution for cooling solutions that people purchase while graduating from a fan.
Its product includes household coolers products, commercial coolers, large space venti-cooling and tower fans.
For more details, see the symphony company fact sheet and quarterly results.
You can also compare Symphony with its peers.
To know what's moving the Indian stock markets today, check out the most recent share market updates here.
Investment in securities market are subject to market risks. Read all the related documents carefully before investing
Want to Grow Your Wealth With Safe Stocks?
If you want a simple, safe, and hassle-free approach to long term wealth building...
Without having to worry about negative news or every little downswing in the market...
And without having to worry whether your investments will actually "deliver"...
You must read our note on Blue Chip Stocks now.
Details of our SEBI Research Analyst registration are mentioned on our website - www.equitymaster.com
Disclaimer: This article is for information purposes only. It is not a stock recommendation and should not be treated as such. Learn more about our recommendation services here...
FAQs
Which are the top smallcap companies in India right now?
As per Equitymaster's Indian Stock Screener, these are the top smallcap companies in India right now.
These smallcap companies have been ranked as per their market capitalization. The higher the market cap, the higher the total value of the company.
Of course, there are other parameters you should take into account before forming a hard opinion on the stock valuation.
What are smallcap stocks?
According to the market regulator, smallcap stocks are companies which rank 251st and beyond in terms of their market capitalisation.
Investing in them is perceived to be risky. However, the potential for higher returns makes them an appealing investment avenue.
What are the benefits of investing in smallcap stocks?
Smallcap growth stocks are one of the most exciting segments in the market, as small companies with higher growth rates often offer investors the opportunity for market-beating returns.
These companies are sitting on the runway, waiting to take-off. However, they usually tend to trade at a premium valuation.
If you're looking to invest in smallcap stocks, read our detailed guide to screen the best smallcap stocks.