This Undervalued Stock is Set to Declare Dividend in May 2023
Mar 31, 2023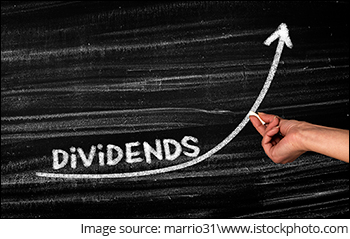 Imagine you're planning a road trip with your friends. You're all excited and ready to go, but you quickly realize that if you don't have a clear plan for the trip, things could easily go wrong.
You need to know the exact route you're taking, where you'll be stopping along the way, and who's responsible for what.
People say unplanned trips are the best but I for one believe without a precise plan, you could get lost, forget important items, or miss out on fun activities.
In short, to get the work done effectively, you must have a precise set of instructions ready.
In a sense, the same can be said for how companies run.
Efficiently managed companies, with a clear sense of their goals and objectives, tend to perform better than others. This reflects in their numbers. And ultimately in shareholder returns as well.
Today, we want to highlight one such company which has had 3 rights issues and around 10 bonus shares in the past 35 years.
What's more, the company is set to announce a big dividend in May 2023.
These efforts show how focused the company has been on shareholder wealth creation.
The company is none other than...
# Castrol India
Castrol India, promoted by BP (British Petroleum), is one of the key lubricant manufacturers in India.
It's principally engaged in the business of manufacturing & marketing of automotive and industrial lubricants and related services.
The company's strong brand positioning and tie-up with major auto original equipment manufacturers (OEMs) allows it to command higher pricing power over its competitors. Castrol can be called as the price maker in the Indian automotive lubricant market.
The company has a sturdy balance sheet, along with steady profits and excellent return ratios. This makes it one of the safest plays in the oil and gas sector.
The company follows January to December financial year when reporting numbers.
Last month in February 2023, Castrol reported a flat growth in net profit at Rs 1.9 billion (bn).
Along with the results, the company's board also declared a final dividend of Rs 3.5 per share, which is in addition to the interim dividend of Rs 3 declared in August 2022.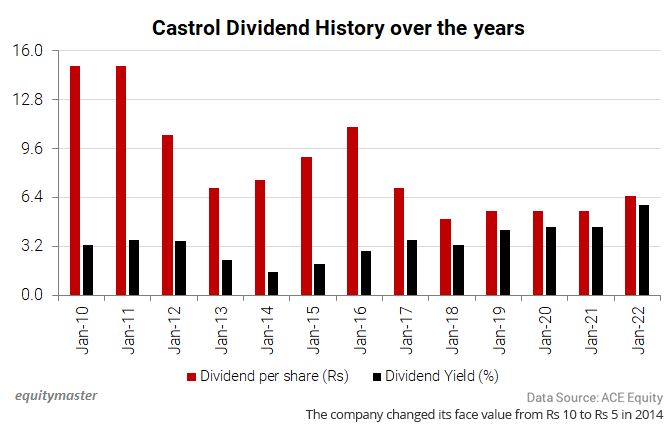 The final dividend will be paid out in May 2023 and the company has set 4 May 2023 as the record date.
At the current price, the total dividend of Rs 6.5 per share for CY23 results in a dividend yield of over 6%!
Growth prospects
India imports majority of its crude oil requirement. And companies like Castrol, that use crude as an input, remain vulnerable to the vagaries of international crude prices.
Plus, thanks to the high taxes levied by the state governments, the prices of petrol and diesel are significantly higher in India than in the neighboring countries.
Despite volatility in crude prices, Castrol India delivered one of its best performances in CY23.
The company said that price increases helped the company counter the impact of higher input costs in the past few quarters.
Castrol India Financial Snapshot (2018-2022)
| Rs m, standalone | CY18 | CY19 | CY20 | CY21 | CY22 |
| --- | --- | --- | --- | --- | --- |
| Revenue | 39,046 | 38,768 | 29,969 | 41,921 | 47,745 |
| Growth (%) | 8.9% | -0.7% | -22.7% | 39.9% | 13.9% |
| Operating Profit | 11,551 | 12,178 | 8,761 | 11,144 | 11,782 |
| OPM (%) | 29.6% | 31.4% | 29.2% | 26.6% | 24.7% |
| Net Profit | 7,084 | 8,274 | 5,829 | 7,581 | 8,152 |
| NPM (%) | 18.1% | 21.3% | 19.5% | 18.1% | 17.1% |
| Debt to Equity (x) | 0.0 | 0.0 | 0.0 | 0.0 | 0.0 |
| ROE (%) | 65.6 | 66.2 | 42.6 | 50.6 | 43.2 |
| ROCE (%) | 100.6 | 90.7 | 56.8 | 67.4 | 58.2 |
Data Source: Ace Equity
However, the threat of rising oil prices and exchange rate concerns cannot be sidelined. Castrol imports majority of raw materials from outside and procurement prices from domestic sources are also determined on import price parity basis.
This means that apart from crude prices and availability of supply, the prices paid by the company vary as the exchange rate fluctuates.
For long, there weren't any clear plans as to how Castrol would focus more on the electric vehicle (EV) segment. Not anymore.
The company recently said that it is foraying into the automotive aftercare market and into service and maintenance market.
By collaborating with OEMs which manufacture EVs, the company will help tackle the challenges in electric mobility space and support mechanics to get EV-ready.
According to the company's management, Castrol will spend around Rs 5 bn to set up a global battery R&D centre. The centre will focus on thermal management solutions for EV batteries and is expected to be ready by 2024.
Castrol's underperformance, a worrying concern...
Share price of Castrol India has remained in a range over the past couple of years...you could say its performance is relatable to boring stocks like Coal India or ITC for that matter.
As we highlighted above, there are certainly few concerns that have taken a toll on Castrol's share price.
In recent years, competition has picked pace in the sector with PSUs like IOC, BPCL and HPCL capturing market share.
That apart, there's the risk of EVs taking over which will impact Castrol's mainstream business.
Owing to these reasons and slow growth, Castrol shares have underperformed big time in the past five years.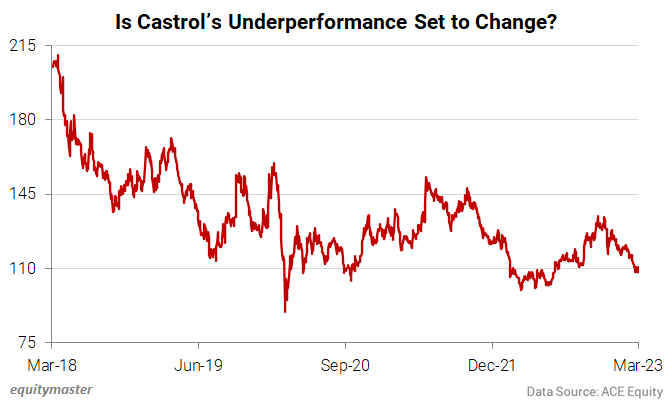 While the Indian benchmark BSE Sensex has almost doubled over the last two years, investors in Castrol would have seen their investments barely move an inch. The stock price has remained flat.
Its five-year performance shows a marketcap erosion of over 40%.
This is a classic example of how a company with high return on equity (ROE) will not create value for shareholders if there is lack of earnings growth. In such cases, investors look forward to dividend payouts.
Castrol India has had a year or two of below par growth and fell out of favour.
However, if the past performance is decent, and the company is of great quality with good dividend payouts and also trading at a discount to its long-term average, it may end up giving good returns in the near term.
Castrol currently trades at a price to earnings (PE) multiple of 13.4 times and a price to book value (P/BV) multiple of 5.8 times. Castrol's five-year median PE stands at 28.4 and five year median P/BV is 17.3x.
ITC and Coal India too were underperforming big time...their stock performance became a meme fest for social media platforms. However, both these companies made hay while the sun was still shining...they emerged as the top performing largecap stocks of 2022 and caught up on the momentum.
Could Castrol India repeat such feat in 2023? We'll just have to wait and see...
Investment in securities market are subject to market risks. Read all the related documents carefully before investing
Safe Stocks to Ride India's Lithium Megatrend
Lithium is the new oil. It is the key component of electric batteries.
There is a huge demand for electric batteries coming from the EV industry, large data centres, telecom companies, railways, power grid companies, and many other places.
So, in the coming years and decades, we could possibly see a sharp rally in the stocks of electric battery making companies.
If you're an investor, then you simply cannot ignore this opportunity.
Details of our SEBI Research Analyst registration are mentioned on our website - www.equitymaster.com
Disclaimer: This article is for information purposes only. It is not a stock recommendation and should not be treated as such. Learn more about our recommendation services here...
Yash Vora is a financial writer with the Microcap Millionaires team at Equitymaster. He has followed the stock markets right from his early college days. So, Yash has a keen eye for the big market movers. His clear and crisp writeups offer sharp insights on market moving stocks, fund flows, economic data and IPOs. When not looking at stocks, Yash loves a game of table tennis or chess.