Electric Vehicle Stocks - All Your Questions Answered
Apr 8, 2023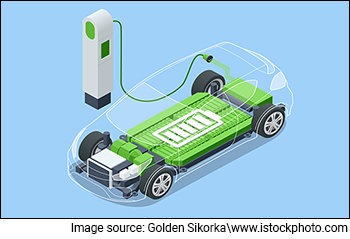 Electric vehicles (EVs) have grown in popularity in recent years as the world focuses on reducing carbon emissions and promoting sustainable energy.
Everyone, from the government to large automakers across the globe, is gearing themselves to transition from conventional fuel-based vehicles to EV.
As a result, EV stocks have garnered a lot of attention from investors across the globe. These stocks represent businesses ranging from the production, sale and distribution of EVs to their component and raw material manufacturers, such as batteries or charging infrastructure.
The EV sector has quickly become an investing megatrend of this decade. Investors hoping to profit from the booming EV market are looking for firms at the forefront of the sector.
But before you start exploring the best EV stocks to invest in, here are a few frequently asked questions on EVs.
#1 What is the difference between an EV and an ICEV?
An internal combustion engine vehicle (ICEV) is an automobile that runs with the help of an engine. The engine generates power by burning conventional, oil-derived resources, such as petrol or diesel fuel.
But apart from power, it also release harmful greenhouse gases such as carbon dioxide and other chemical agents into the air, diluting the air quality.
Due to these harmful by-products, the entire transportation environment has become a massive contributor to greenhouse gas emissions.
An electric vehicles, on the other hand, does not emit any greenhouse gases. It doesn't use an internal combustion engine to power the electric motor but uses a battery pack instead. The battery pack powers the electric motor and needs to be plugged into a wall outlet or charging equipment regularly.
ICE vehicles offer more engine power than the average electric vehicle. Moreover, they are typically less expensive to buy.
EVs demand less maintenance than ICE vehicles. Their batteries and motors don't need regular attention.
Besides, with no fuel costs, EVs are much lighter on the pocket. And there is the added environmental bonus that comes with a lower carbon footprint.
#2 Why is there so much hype around EVs?
One of the biggest reasons for the excitement around EVs is their potential to cut greenhouse gas emissions.
Unlike conventional ICE vehicles, EVs emit significantly lower emissions over their lifetime. Even after accounting for electricity charging, ICE vehicles emit almost three times more carbon dioxide than an average EV.
India ranks as the fourth-largest emitter of carbon dioxide globally, trailing behind China, the United States, and the European Union, with an annual emission of approximately 2.5 gigatons.
The transportation sector is a significant contributor to this carbon footprint. Therefore, the transition to electric vehicles (EVs) in India can play a crucial role in achieving the country's net-zero emission target of 2070.
In pursuit of this, India aims to achieve a 30% EV penetration by 2030. According to a study by the International Energy Agency (IEA), India could reduce its carbon dioxide emissions by 360 m tonnes by 2030 if it achieves its EV target.
In India, coal-fired power plants currently generate the majority of the country's electricity. Therefore, reducing the carbon footprint arising from charging electric vehicles is crucial. To address this issue, the Indian government has set a target to achieve 40% cumulative electric power installed capacity from non-fossil fuel-based energy sources by 2030.
Apart from mitigating the harmful effects of climate change, EVs can also lay the pathway to energy independence. Russia's invasion of Ukraine has brought the role of EVs in reducing oil demand to the forefront; it is one of the 10 measures proposed by the IEA to cut oil use in the near term.
#3 What is the cost of operating an EV?
EVs are powered by electricity, which is typically less expensive than petrol or diesel.
The cost of charging an EV may vary depending on the electricity rates in a particular area, but it is generally significantly lower than fuelling a petrol or diesel vehicle.
In addition, installing a renewable energy source, such as solar panels, at home can further reduce the cost of charging an EV.
The running cost of EVs roughly amounts to Rs 1-2 per km, Rs 10 for petrol, and Rs 7 for diesel (assuming petrol and diesel are at Rs 100 and Rs 80, respectively).
The cost disparity comes from EVs having fewer moving parts than ICE cars. Fewer components need less upkeep. EVs, for example, do not require oil changes, spark plugs, or other components that need replacement regularly.
The government has been incentivising the general public, helping bring down the costs. They have reduced the registration fees and road tax on purchase of electric vehicles.
FAME, or Faster Adoption and Manufacturing of (Hybrid and) Electric vehicles, is India's flagship scheme that subsidises the purchase of all types of electric vehicles in the country, effectively lowering your total outlay on an EV.
#4 How is the transition to EVs progressing in the country?
While the transition to EVs has taken the automobile industry by storm, it is still in its initial stages.
The Indian EV market, currently in its infancy, is all set to grow at a 40% CAGR from 2022 to 2030, according to our estimates.
EV sales account for less than 2% of total vehicle sales in India. But the government's EV penetration targets, outlined in 2019, remain the same. It aims to achieve an EV penetration of 30% for private automobiles, 70% for commercial vehicles, and 80% for two and three-wheelers.
The set targets may appear challenging, but they are achievable owing to the substantial policy reforms by the government and the OEMs' commitment to producing high-quality vehicles in the country.
Indian and global OEMs are together driving the shift to EVs in India by investing and launching EVs. A large number of new OEMs have attracted huge investments and launched very successful models, building demand for EVs.
Mitsubishi Electric plans to invest about Rs 2.2 bn in its Indian subsidiary to set up a new factory in Maharashtra. Swedish car maker Volvo will locally assemble its EVs at its manufacturing facility near Bengaluru.
The advent of new technology has optimised costs and the global chatter over the environment has made consumers conscious of their preferences.
#5 What are the challenges to the adoption of EVs in the country?
While the EV market has been making inroads in the past few years, the expansion has been slow.
One of the primary reasons for this is the high upfront cost of an EV.
EVs are expensive compared to conventional ICE vehicles due to the batteries, which fall between 35-40% of the price of a vehicle.
Currently, an entry-level EV in the passenger vehicle segment can cost almost two times that of a comparable conventional engine version. In the two-wheeler segment, it costs around 1.5 times as a petrol or diesel two-wheeler.
The lack of robust charging infrastructure also acts as a big deterrent to growth. As of now, India's 1,800 charging stations servicing 16,200 EVs, compare poorly to China's over 800,000 publicly available EV charging outlets.
Apart from these issues, consumers continue to prefer conventional vehicles over EVs, due to range anxiety. Range anxiety is the worry that the battery (of an EV) will run out of power before reaching the destination or a suitable charging point.
Although significant, these concerns are expected to ease in the short term. The urgent need to combat global climate change has attracted substantial investments in this sector.
The technology is evolving rapidly, resulting in reduced manufacturing costs at every stage. The government is also offering direct subsidies and tax exemptions to both consumers and manufacturers to bridge the cost gap between electric vehicles (EVs) and internal combustion engine (ICE) vehicles.
Moreover, the government is facilitating the transition to EVs by supporting companies in building charging infrastructure. It is also proactively tackling power outages and blackouts with heavy investments in the sector. The private players are being incentivised to set up renewable energy plants at a faster pace.
Resolving these issues is crucial for the successful adoption of EVs in India, and the government and industry are collaborating to create a more favourable climate for EVs to thrive.
#6 Which Indian companies are leading the EV revolution in the country?
The EV megatrend is perhaps one of the biggest investment opportunities for the country in the coming years.
As the affordability of EVs goes up, we are not far from when most vehicles will be electric.
Investors seeking to capitalize on this significant opportunity should not confine themselves to automobile manufacturers in this domain.
Besides automobile manufacturers in the electric vehicle (EV) space, investors may also consider exploring stocks of EV component makers, EV charging infrastructure providers, and commodities used in EV battery production, such as silver, nickel, copper, and others.
Every segment boasts a wide variety of companies. The 4-wheeler EV segment includes Tata Motors, while the 2 and 3-wheeler segments have TVS Motors, Bajaj Auto, Hero MotoCorp, and Greaves Cotton.
The top players in the battery segment are Amara Raja Batteries, Exide Industries, and Kabra Extrusion Technik. Tata Power, Indian Oil Corporation (IOC), BPCL, and Reliance Industries are the top contenders in the charging infrastructure space.
#7 Should you include EV stocks in your portfolio?
The EV market is developing at a rapid pace.
Back in 2012, just 120,000 EV were sold worldwide. In 2021, more than that many are sold each week. In India, around 320,000 EVs were sold in 2021, up a whopping 168% YoY.
The EV segment is likely to continue growing at this pace. The EV penetration in the country stands at less than 2%. The government aims to achieve an EV penetration of 30% by 2030. So this implies that we are looking at a 40% CAGR towards the end of the decade.
The government's committed policy reforms and the growing concern for the environment, although ambitious, make even the most ambitious target achievable.
Such an exceptional level of growth presents investors with a multitude of business investment opportunities. Investors who aim to build their wealth over the long term must seize this opportunity and participate in this growth narrative.
And while there are infinite options available, you must tread with caution, as the EV space has been undergoing a massive technological shift.
What was relevant yesterday isn't necessarily needed today. So you must be cautious about companies betting aggressively on electric vehicles in a way that requires huge capital investment and doing so while taking debt.
A better way is to focus on players with a low debt-equity ratio, a strong track record of profitability, strong cash flows, and a high return on equity. A solid backing of the promoters also bodes well for minority investors.
#8 What steps has the Indian government taken towards the adoption of EVs?
The government has taken steps to promote the adoption of EVs in the country. With a well-rounded sustained policy support, the government has covered every aspect to ensure a smooth transition to EVs.
The FAME India Scheme promotes the growth and early adoption of hybrid and electric vehicles in the country, followed by the FAME-II scheme. It outlines a budget outlay of US$ 1.3 bn (Rs. 100 bn) to support a million e-two-wheelers, 500,000 e-three -wheelers, 55,000 e-passenger vehicles and 7,000 e-buses.
The Production Linked Incentive for Advanced Chemistry Cell Battery Storage (PLI-ACC) scheme aims to boost the battery infrastructure in the country. It will disburse US$ 2.45 bn (Rs 181 bn ) to the beneficiaries (battery manufacturers) once the manufacturing facility is set up.
The government's Battery Swapping Policy aims to develop a widespread charging infrastructure. It has proposed to set up charging stations every 25 km on both sides of highways.
To encourage the consumer, the government is offering tax exemption of up to Rs 150,000 (US$ 1,960) under section 80EEB of income tax while purchasing an EV (2W or 4W) on a loan.
Moreover, they have reduced the customs duty on nickel ore (key component of a lithium-ion battery) from 5% to 0% and state-wise reduction of road tax etc.
The government is making tremendous efforts to promote EVs, which have the potential to alter the country's automotive market. Yet, the success of these initiatives will depend on their effective implementation and the willingness of consumers to adopt EVs.
#9 How is the shift to EV unfolding globally?
The shift to electric vehicles (EVs) is a global phenomenon that has been gaining momentum. Many countries, including the United States, China, and European nations, have set targets to phase out traditional ICE vehicles and promote the use of electric vehicles.
Government policies and incentives, such as tax rebates and subsidies, are playing a crucial role in encouraging consumers to switch to EVs.
Automakers are also investing heavily in the development and production of EVs. Companies are launching new electric models, while others are converting their production lines to focus on EVs.
Tesla, the world's leading EV manufacturer, has expanded rapidly in recent years, and many traditional car companies, including Ford, Volkswagen, and General Motors, have announced significant investments in the EV market.
According to the International Energy Agency, the number of EVs on the road is expected to increase from 17,000 in 2010 to more than 10 million by 2023. This growth is expected to continue as more consumers switch to EVs, driven by falling prices and longer driving ranges.
But growth is rarely smooth and often involves various challenges and obstacles.
The pandemic and the Russia-Ukraine war tested the resilience of battery supply chains. Unprecedented battery demand and a lack of structural investment in new supply capacity led to price hikes in key raw materials.
The battery supply chains are concentrated around China, which produces three-quarters of all lithium-ion batteries.
These issues highlights the need for a much more streamlined global supply chain to avoid any more disruptions over the long term.
In conclusion
Electric vehicle stocks have gained popularity as the world strives for a greener, more sustainable future.
The limitless growth in the industry offers investors a great chance to generate outsized returns over the long term. However, as with any investment, it is critical to conduct research and understand the risks involved.
Staying informed and investing wisely can help investors enjoy from the growth of the electric vehicle market while contributing to a more sustainable future.
Investment in securities market are subject to market risks. Read all the related documents carefully before investing
Want to Grow Your Wealth With Safe Stocks?
If you want a simple, safe, and hassle-free approach to long term wealth building...
Without having to worry about negative news or every little downswing in the market...
And without having to worry whether your investments will actually "deliver"...
You must read our note on Blue Chip Stocks now.
Details of our SEBI Research Analyst registration are mentioned on our website - www.equitymaster.com
Disclaimer: This article is for information purposes only. It is not a stock recommendation and should not be treated as such. Learn more about our recommendation services here...