Top 5 Breakout Penny Stocks to Add to Your Watchlist
Apr 11, 2023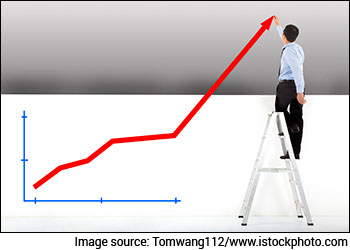 Penny stocks are appealing as they have the potential for significant gains with a relatively small investment. You could start out with just a few bucks and make a killing.
Breakout penny stocks are penny stocks experiencing a sudden and large increase in price, often due to positive news or market sentiment.
These stocks can be lucrative investments if investors can identify them early.
They can also be risky as there is often limited information available about these companies and their fundamentals.
In today's article, let's take a look at the top breakout penny stocks of 2023.
These stocks are shortlisted using Equitymaster powerful Indian stock screener.
#1 Medico Remedies
First on the list is Medico Remedies.
Incorporated as a private limited company by Haresh Mehta, the company is a pharma formulations manufacturing company.
It manufactures tablets, capsules, and dry syrups. It was converted into a public listed company in January 2017.
The company has the latest WHO-GMP and ISO 9001-2008 certifications. Its state of the art manufacturing unit has also been approved by the National Drug Authority of Uganda, Kenya, Ghana, Nigeria, and Malawi, to name a few.
Ever since the company announced a sub-division, its shares have been on a roll. The company's board decided to split shares of face value of Rs 10 into fully paid up equity shares of Rs 2 each in February 2023.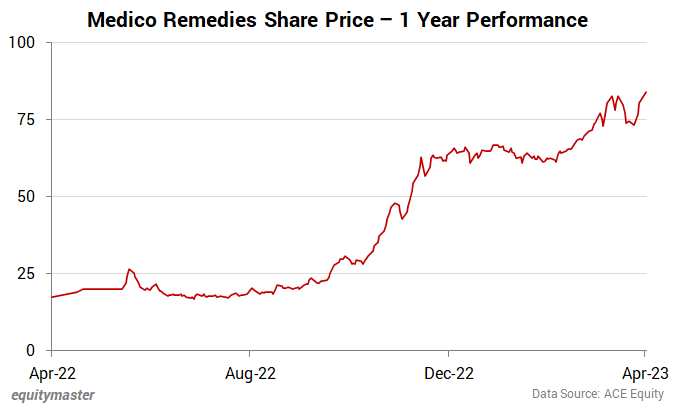 The company generates more than 95% of its revenue from the export market. Client concentration remains a key concern as the top 5 customers account for over 70% of its total revenue in 2022.
The company has repeatedly declared stellar quarterly numbers. Its quarterly net profit for September 2022 and December 2022 have been the best in nearly 2 years. It's all set to declare double digit growth for FY23.
With strong tie-ups with major players, Medico is all set to move towards its next leg of growth.
To know more, check out Medico Remedies financial factsheet and its latest quarterly results.
#2 Axita Cotton
Next on the list of breakout penny stocks is Gujarat based textile company.
Axita Cotton is engaged in the production and trading of cotton seeds and cotton bales. The company is involved in the ginning and pressing of cotton. It has over 48 double roller ginning machines.
The company came out with its initial public offering (IPO) in January 2019 and was listed on the BSE under the SME category.
In the past one year, shares of the company have gained around 400%.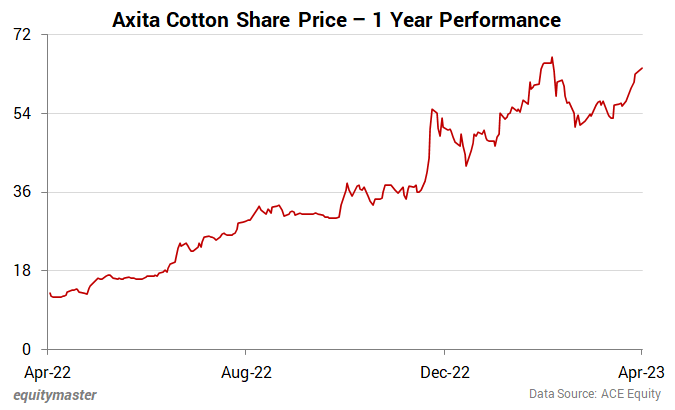 Shares of the company have been on a roll ever since it received multi-million-dollar export orders from Bangladesh for cotton exports.
It recently received more orders from Bangladesh. The company's order book now stands at around Rs 492 million (m).
In 2022, the company underwent a stock split and also declared bonus shares.
For more details, check out Axita Cotton's financial factsheet and its latest quarterly results.
#3 Hazoor Multi Projects
Third on the list is Hazoor Multi Projects (erstwhile Hazoor Hotels).
Hazoor Multi Projects is a Mumbai based company. It was initially engaged in the business of construction of residential projects. In 2021 it changed business and got into infrastructure development.
It works as a sub-contractor in executing various national highway road projects awarded by government authorities such as Maharashtra State Road Development Corporation (MSRDC) and National Highways Authority of India (NHAI).
The company's revenue has significantly improved in the past couple of years on the back of a growing order book.
One big jump was when it got the Nagpur-Mumbai Super Communication Expressway worth more than Rs 10 bn from Gayatri Projects.
In the past one year, shares of the company have gained over 300%.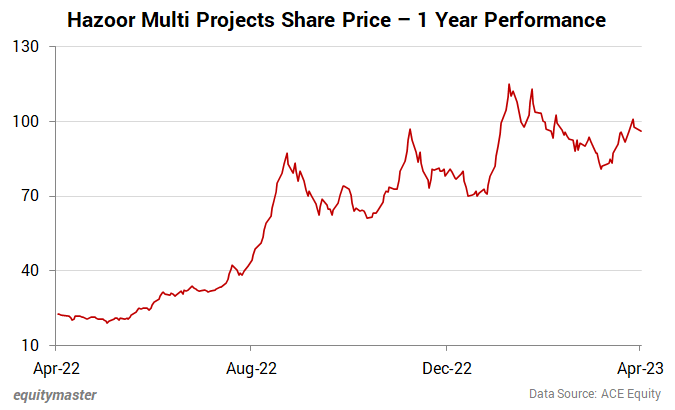 In October 2022, the company's board approved a rights issue.
The company's topline and bottomline are set to get a multifold boost on the back of its strong order book. In 2022, it reported revenue of Rs 1.1 bn. This is expected to cross Rs 6.7 bn in 2023. Profit is expected to see a ten-fold jump.
To know more, check out Hazoor Multi Projects financial factsheet and its latest quarterly results.
#4 Globe Commercials
Next on the list is Globe Commercials.
The company is engaged in the business of agriculture commodities and e-commerce solutions.
In 2022, it decided to foray into a new business and started dealing in agriculture commodity and e-commerce solutions. It further plans to leverage the opportunity in e-commerce solutions space providing stock delivery points, warehousing facilities, etc.
Globe Commercials declared bonus shares in January 2023 in the ratio of 1:1. That's when the stock started to make big moves and turned quite volatile.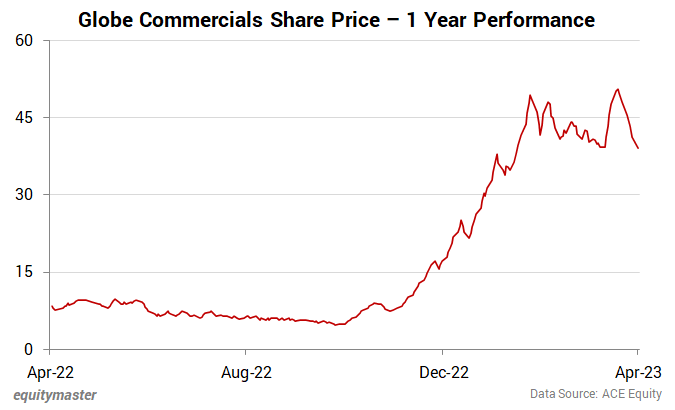 The company recently declared its best ever quarterly results and is set to report double-digit growth in bottomline in 2023.
To know more, check out Globe Commercial's latest quarterly results.
#5 Pennar Industries
Last on this list is Pennar Industries.
Incorporated in 1975, Pennar Industries is a multi-location, multi-product company, manufacturing precision engineering products.
The company's products have a significant presence in sectors like infrastructure, automobiles, power, general engineering, building & construction, refineries, white goods, railways, solar, etc.
Being an established player in the industry, the company has clients like Ashok Leyland, Lloyds Insulation, L&T Construction, HUL, among others.
In the past one year, shares of the company have gained over 100%.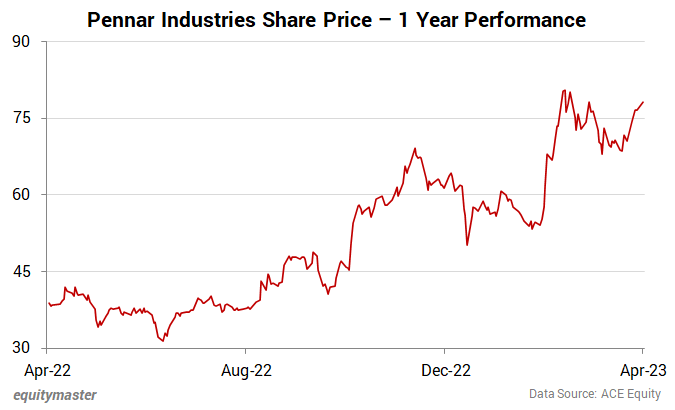 Pennar Industries has gained momentum in recent months on the back of receiving orders worth approximately Rs 8.5 bn.
The company also reported decent Q3 results where profit almost doubled to Rs 211.2 million (m) YoY.
To know more, check out Pennar Industries financial factsheet and its latest quarterly results.
Snapshot of breakout penny stocks from Equitymaster's Indian Stock Screener
Here's a quick view of the above companies based on their financials.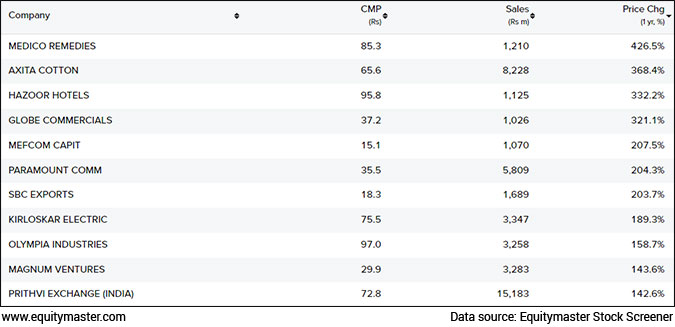 Please note that these parameters can be changed according to your selection criteria.
This will help you identify and eliminate stocks not meeting your requirements and emphasise those stocks well inside the metrics.
Before leaving, do watch the video below, where the Co-head of Research at Equitymaster shares his strategy for penny stock investing and three low-risk penny stocks for 2023.
Investment in securities market are subject to market risks. Read all the related documents carefully before investing
Safe Stocks to Ride India's Lithium Megatrend
Lithium is the new oil. It is the key component of electric batteries.
There is a huge demand for electric batteries coming from the EV industry, large data centres, telecom companies, railways, power grid companies, and many other places.
So, in the coming years and decades, we could possibly see a sharp rally in the stocks of electric battery making companies.
If you're an investor, then you simply cannot ignore this opportunity.
Details of our SEBI Research Analyst registration are mentioned on our website - www.equitymaster.com
Disclaimer: This article is for information purposes only. It is not a stock recommendation and should not be treated as such. Learn more about our recommendation services here...
Yash Vora is a financial writer with the Microcap Millionaires team at Equitymaster. He has followed the stock markets right from his early college days. So, Yash has a keen eye for the big market movers. His clear and crisp writeups offer sharp insights on market moving stocks, fund flows, economic data and IPOs. When not looking at stocks, Yash loves a game of table tennis or chess.