Apr 11, 2023 - Dolly Khanna Trims Stake in this Smallcap Stock in Q4. Do You Own?
Dolly Khanna Trims Stake in this Smallcap Stock in Q4. Do You Own?
Apr 11, 2023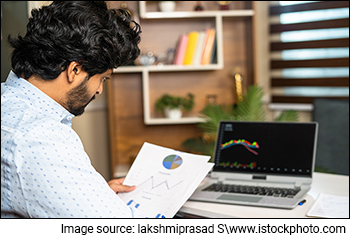 These days, investing in the stock market for retail investors is like roaming in a dense forest without a map. The forest is filled with tempting rewards and scary pitfalls.
Luckily for retail investors, the big names in the stock market, or as we like to call it - the top investing gurus in India - have been through this forest and walked away with handsome rewards.
Observing the map laid out by these investment gurus may act as a guiding light for investors.
We are not suggesting you replicate their entire portfolio or copy their investment ideas but keep track of their buying and selling activity.
In today's article, we'll take a look at one such investing guru and her recent activity in a smallcap stock. The ace investor is none other than Dolly Khanna.
Who is Dolly Khanna?
Dolly Khanna is a Chennai-based investor, known for picking lesser-known midcaps and smallcaps. She has been investing in stocks since 1996.
Dolly Khanna's portfolio, which is managed by her husband Rajiv Khanna, is usually inclined towards more conventional stocks in manufacturing, textile, chemical, and sugar stocks.
Which smallcap stock did Dolly Khanna sell and why?
The latest shareholding pattern of KCP shows that Dolly Khanna trimmed her stake in the small-cap company during March 2023 quarter.
As of December 2022, her stake in the company stood at 2.43%. In the quarter ended March 2023, her stake was reduced to 2.25%.
While we don't know why Khanna trimmed her stake in KCP, there are some reasons that we can guess...
In recent quarters, the company's financial performance has deteriorated. For the March 2022 quarter, the company reported a net profit of Rs 592 million (m) and ever since then, it all went downhill for KCP.
The company's profit started to decline for the next three quarters. In the December 2022 quarter, the company reported a net loss of Rs 120 m.
KCP's total revenue did not suffer in all these quarters. During the last two quarters (i.e. September 2022 and December 2022) the company's sales increased marginally. However, the marginal rise in revenue was wiped off by a rise in expenses.
During the March 2022 quarter, the net profit margin of the company was 11.3% which has declined significantly to -2.2% as of December 2022.
Quarterly Results of KCP (March 2022 - December 2022)
| Quarter Ending | Mar-22 | Jun-22 | Sep-22 | Dec-22 |
| --- | --- | --- | --- | --- |
| Revenues (Rs in m) | 5,566.0 | 5,716.0 | 5,438.0 | 5,715.0 |
| Net profit (Rs in m) | 592.0 | 428.0 | 40.0 | -120.0 |
| Net profit margin (%) | 11.3 | 7.6 | 0.7 | -2.2 |
Data Source: Ace Equity
During the December 2022 quarter, KCP suffered from heavy losses from its sugar segment. The losses in the sugar segment dragged down the overall profit.
Also, the company earns a big chunk of its revenue from the cement sector. The cement industry was facing strong headwinds for a long time. The profit margins of cement companies were under pressure due to high power and fuel costs.
The price of input materials like coke and pet coke was also on the rise. Power and fuel costs surged 51% to Rs 48,730 m in the December quarter compared to the corresponding period of the last year.
On a broader perspective, Dolly Khanna has been divesting her stake in the company in small proportions for a long time. She started divesting during the June 2021 quarter. Take a look at the table below.
Dolly Khanna's Total Stake in KCP (Quarter ending June 2021-March 2023)
| Quarter Ending | Jun-21 | Sep-21 | Dec-21 | Mar-22 | Jun-22 | Sep-22 | Dec-22 | Mar-23 |
| --- | --- | --- | --- | --- | --- | --- | --- | --- |
| Total Stake | 4.33 | 4.13 | 3.92 | 3.7 | 3.39 | 3.04 | 2.43 | 2.25 |
Data Source: BSE
How shares of KCP have performed recently
Over the last one month, the share price of KCP has gained 6.5%. In 2023 so far, the stock is down by 9.7%.
In the past one year KCP share price is down 20.2%.
The company touched its 52-week high of Rs 138.5 on 7 November 2022 and its 52-week low of Rs 91.6 on 16 March 2023.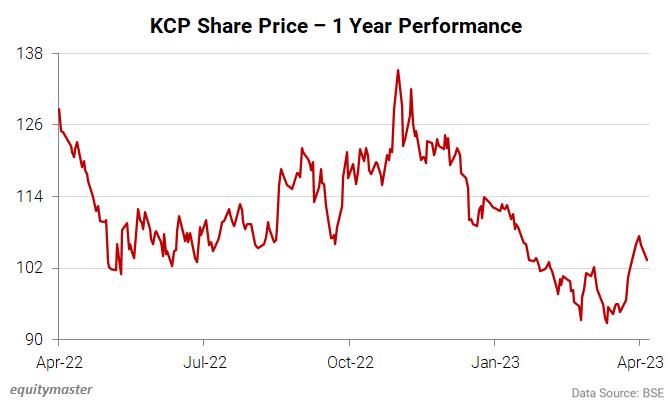 About KCP
KCP is a diversified business group with interests in heavy engineering, sugar, cement, hydel power, information technology, and biotechnology.
KCP's cement division has a state-of-the-art cement manufacturing plant at Macherla, Andhra Pradesh.
It has 9 manufacturing locations in various geographies in India & Vietnam. KCP Vietnam Industries is a sugar manufacturing subsidiary in Vietnam.
To know more check out the company's factsheet and quarterly results.
You can also compare the company with its peers:
Investment in securities market are subject to market risks. Read all the related documents carefully before investing
Want to Grow Your Wealth With Safe Stocks?
If you want a simple, safe, and hassle-free approach to long term wealth building...
Without having to worry about negative news or every little downswing in the market...
And without having to worry whether your investments will actually "deliver"...
You must read our note on Blue Chip Stocks now.
Details of our SEBI Research Analyst registration are mentioned on our website - www.equitymaster.com
Disclaimer: This article is for information purposes only. It is not a stock recommendation and should not be treated as such. Learn more about our recommendation services here...
FAQs
Which are the top smallcap companies in India right now?
As per Equitymaster's Indian Stock Screener, these are the top smallcap companies in India right now.
These smallcap companies have been ranked as per their market capitalization. The higher the market cap, the higher the total value of the company.
Of course, there are other parameters you should take into account before forming a hard opinion on the stock valuation.
What are smallcap stocks?
According to the market regulator, smallcap stocks are companies which rank 251st and beyond in terms of their market capitalisation.
Investing in them is perceived to be risky. However, the potential for higher returns makes them an appealing investment avenue.
What are the benefits of investing in smallcap stocks?
Smallcap growth stocks are one of the most exciting segments in the market, as small companies with higher growth rates often offer investors the opportunity for market-beating returns.
These companies are sitting on the runway, waiting to take-off. However, they usually tend to trade at a premium valuation.
If you're looking to invest in smallcap stocks, read our detailed guide to screen the best smallcap stocks.