How to Pick Penny Stocks With 10x Potential
Apr 12, 2022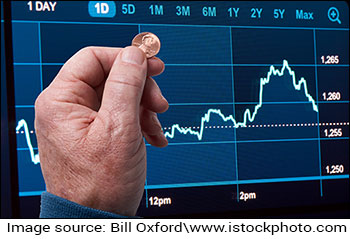 Do you have a reasonably high risk appetite when it comes to investing? If the answer is yes, then perhaps it's time to give penny stocks a shot.
Don't let the name fool you in any way. You probably never realised that a number of well-known stocks that currently trade at high prices today, i.e. bluechip and largecap stocks, started out as mere penny stocks.
So, what qualifies as a penny stock?
There is really no hard and fast rule to define penny stocks in India. However, it is generally accepted that a stock that trades at a sub-100 rupee per unit price point qualifies as a penny stock.
But then what are those 'oomph' factors that make penny stocks a must-have in your investment portfolio?
For starters, with these stocks priced really low, you can buy lots of it.
And if 'Mr Market' is really benevolent, you may just end up with a multi-bagger.
Now that would really make your day, wouldn't it?
So, without further ado, let's find out how you can pick penny stocks with 10x potential with these 6 useful hacks.
#1 A Strong and Capable Management Team at the Helm Makes All the Difference
Success in business cannot be achieved if the company does not have a seasoned and experienced leadership at its helm.
A skilled management team with high levels of integrity can sustain the success of the business in the long term.
While strength as a characteristic is subject to personal interpretation, it can help you to look at aspects like corporate governance practices, board independence, pledging of shares, discipline with obligations as well as diversion of funds to other businesses or personal interest.
All of these are key parameters that can help you identify if a penny stock is a potential multibagger investment.
A competent management can drive business growth. Examine the management and promoter holding structure. This can help you decide if the stock could be a potential 10x penny stock.
#2 A Competitive Edge Against Industry Rivals Gives that Added Advantage
Analyse the company to understand if it is doing anything innovative that sets them apart from its immediate competition in the market. If that is indeed the strategy, then it will help the company gain that much-needed competitive edge.
It will also drive sustainable high profit growth in the long run which is a trademark of a penny stock that can potentially deliver 10x returns.
Prioritise the company's long term viability along with its profitability.
Other aspects to look at are the company's market share, its brand presence, its input prices, as well as its range of differentiated product or service offerings.
#3 Strong Promoter Holding can Make or Break Your Case
You would want to ideally invest in a company where the promoters are equally invested. If you see that the promoter holding has increased over time, then it gives a positive vibe to investors.
It signifies that the people who started the business remain committed to its growth and future.
In contrast, if you notice that promoter holding has decreased significantly, it indicates the business is not operating on a growth-oriented strategy. The founders do not have faith in the company or its ability to tackle competition.
So, get your cue from the promoters.
If there is an uptick in the promoters acquiring more shares in the business, it means the road ahead for the company is profitable. You can consider buying in. On the other hand, if the share acquisition is in the reverse mode, it's best to stay away.
#4 Assess if the Company has a Track Record of Healthy Earnings Growth
This is a no-brainer.
The strongest indicator for a potential 10x penny stock is in the company's earnings growth. In other words, earnings per share or EPS.
Just divide the company's net profit by the number of shares outstanding. The figure that you arrive at is basically the earning of the company against a single share.
The EPS of any multibagger penny stock would go northwards. Generally, the driving force behind this would be its capital allocation model, revenue growth and profitability.
Check if the company has a high PE ratio and if the stocks are undervalued. If that's the case, then it can potentially become a multibagger.
If these indicators pointing in the right direction, you may consider jumping on the bandwagon.
#5 Make Sure the Company's Capital Allocation is Pragmatic and Judicious
If the company has a lot of debt and liabilities, the potential to offer investors 10x returns is less.
Look at its debt to equity ratio to decide if the company has any financial leverage at all.
What you should also be looking at is if the company is using internal funds to launch new products and pursue its expansion strategy.
Typically, you will find that such companies have lower debt against equity and tend to generate more free cash flow. This cash flow, in the future, will help them make dividend payouts. All of this are hallmarks of a potential 10x penny stock.
#6 Future Growth Opportunities is the Ultimate Decider
Ultimately, it's the growth story of the company that should help you decide if this is a potential 10x penny stock.
It's all in the financials of the company that will provide an in-depth insight into their past and current performance. That's where you should start.
But it's not prudent to base your decision on performance alone. See if the company offers a comprehensive range of products or services that can meet the demands of the market over the next 5 to 10 years.
A clear expansion strategy and the vision and focus of the management also play a big role here.
All this together will help create more opportunities for the company that will drive long term business growth.
Are Penny Stocks Just a Bag of Dreams?
No, they're not. Penny stocks are real. And they do offer high profitability. There are several success stories that say so.
Let's take a look at these top three well-known penny stocks that have turned out to be multibaggers today.
#1 Titan
You probably would not believe this but when Rakesh Jhunjhunwala bought 80 m Titan shares between 2002-2003, they were priced at Rs 3 per share.
Today, these same shares are trading at an average price of Rs 2,600 apiece. This pegs Rakesh Jhunjhunwala's holding value in Titan at a staggering Rs 118.5 bn. Mind you, we're not even considering the dividends here.
What started out as the 'Tata Watch Projects', has now become one of India's biggest watch manufacturer. And they have not just limited themselves to watch manufacturing.
The expansion has been strategic where Titan today has forayed into beauty products like the Skinn perfume range and is home to Tanishq, one of India's favourite jewellery brands. All the while continuing to maintain a high promoter holding of 52.9%.
The 34% compound annual growth over the past 21 years has made Titan one of the biggest penny stock success stories in the history of the Indian Stock Exchange.
#2 Bajaj Finance
When Bajaj Finance launched its IPO in 2001, the share price was only Rs 2.40 apiece. Today, it's one of India's largest non-banking financial companies (NBFC). The stock price trades at around Rs 7,000.
The company initially started as Bajaj Auto Finance in 1987 offering hassle-free, minimal paperwork two and three-wheeler loans at affordable interest rates.
With a vision to expand, Bajaj Finance, since then has become the leading consumer durables loan provider in the country extending its attractive No Cost EMI schemes to key sectors like retail, education, and travel.
And that's not where the growth story ends.
Bajaj Finance has forayed into SME (small and medium-sized enterprises) lending, commercial lending, rural lending, deposits, and wealth management since 2002.
The stock of Bajaj Finance has delivered 6-fold returns in the last 5 years alone. Its parent company Bajaj Finserv continues to hold approximately 52.8% of Bajaj Finance.
#3 Bharti Airtel
Bharti Airtel started out as a penny stock priced at Rs 11 per unit in November 2002. Today, it's hard to believe the same shares are trading around Rs 700.
With a 29.8% market share, it's one of India's largest private access service providers giving stiff competition to the likes of Reliance Jio, and Vodafone.
The company has always been one of the frontrunners in adopting new technologies that have helped craft its success story over the last two decades. Airtel has proactively invested in developing a quality network to enhance user experience which has helped it retain its loyal customer base.
Bharti Airtel has a healthy financial risk profile, a promoter holding of 55.9% and a profit growth of 30.2% as of fiscal 2021.
Hence, there is no dearth of reasons why Bharti Airtel is a penny stock success story that India should definitely be proud of.
There are plenty more of such penny stock success stories.
| Multibagger Penny Stock | Initially Offered at (in Rs) | Current Price (in Rs) |
| --- | --- | --- |
| Eicher Motors | 3 - 4 | 2,389.90 |
| JSW Steel | 2 | 725.7 |
| Balkrishna Industries | 12 | 2,098 |
| Avanti Feeds | 1.6 | 433 |
| Alkyl Amines Chemicals | 49 | 2,919.90 |
Is Investing in Penny Stocks Worth the Risk?
That is something that only you can decide.
No doubt there is potential for high returns. And the incredibly cheap stock prices are certainly tempting.
But remember, high gains are not without risks. So be prepared to absorb the losses if things don't go your way.
We recommend you to have, not more than 5% to 7% of your total funds allocated towards penny stocks. Combine that with a strong research framework that should help you pick the multi-baggers in the penny stock universe.
If you are still in doubt, check out the below video by Co-head of Research at Equitymaster, Rahul Shah who shares an effective technique that will help you zero in on the right penny stocks.
Now Before You Go, This is Something You Need to Know...
Equitymaster's co-head of research, Tanushree Banerjee, believes that one of the fastest growing sectors this decade will be defence.
In fact, within defence there are segments with 33x growth potential by 2030. Yes, it's a massive opportunity.
Tanushree has already identified 3 next-generation defence stocks to ride this mega opportunity.
Now, these are not ordinary defence stocks.
Very few people know about the real potential of these companies.
Because these companies are working silently on developing next-generation warfare technologies.
Our research says that these 3 defence stocks could potentially provide you some of the biggest gains of your lifetime.
* 2 out of these 3 stocks have already run up. Act fast or you might completely miss out on this big opportunity.
Disclaimer: This article is for information purposes only. It is not a stock recommendation and should not be treated as such.