How India's Best 2-Wheeler EV Stocks are Powering Ahead
Apr 12, 2022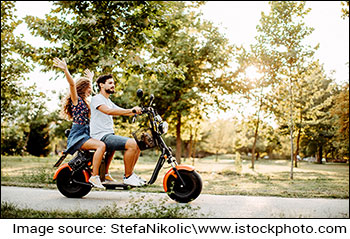 Back in August 2021, we wrote to you about how India's 2-wheeler EV market is growing exponentially.
We wrote about the top 3 listed players who are trying to gain market share and win the electric two-wheeler battle.
In this article, we will discuss the most recent advancements in this. We will also cover key updates on how Indian firms are managing the rising demand in the EV scooter market.
Every day, there are new breakthroughs in the field of electric transportation. In fact, it appears to be a very coordinated effort by automakers, battery manufacturers, R&D labs, and governments to promote EVs as the new avatar of mobility, and to make it dominant.
The government has set a goal to transition from new sales of ICE (Petrol & Diesel) vehicles to 100% plug-in electric vehicles by 2030. It also aims to transform India into a global EV manufacturing hub.
Around 20 states in India have already come up with either a draft or final state level EV policy, to promote India's transition from ICE to EVs.
Almost every state policy has emphasised the need for two and three-wheelers, public transit, and employment growth.
Let's take a look at what India's top two-wheeler EV firms have been up to in the meantime.
1. Hero MotoCorp
Hero MotoCorp, earlier also known as 'Hero Honda' is one of India's first motorcycle manufacturers.
The company is the largest two-wheeler manufacturer in the world. In India, it has a market share of about 37.1% in the two-wheeler industry.
In a very recent development, Hero MotoCorp said it will make its long-awaited entry into the country's thriving electric vehicle market in July through the Vida brand.
The new brand will house the New Delhi-based automaker's emerging mobility initiatives, including upcoming launches of electric two-wheelers.
Customer deliveries of the first product will start later this year. The company will manufacture the electric vehicles at a factory in Chittoor, Andhra Pradesh.
Hero MotoCorp's announcement also comes amid an ongoing arbitration with rival Hero Electric over the former's use of the 'Hero' brand name for its EVs.
Last year, the company announced a partnership with Taiwanese two-wheeler maker and battery-swapping infrastructure provider Gogoro. They will jointly develop an EV powered by Gogoro's swappable solutions in Indian and form a battery-swapping joint venture.
Hero MotoCorp has already entered two-wheeler EV in the form of investments in a Bengaluru-based EV start-up Ather Energy.
Recently, the company's stock has come under pressure after the Income Tax Department detected bogus expenses to the tune of Rs 10 bn made by the company.
However, the company later clarified it has provided all documents and data to the authorities and denied the press reports. This sent its shares up nearly 3% today.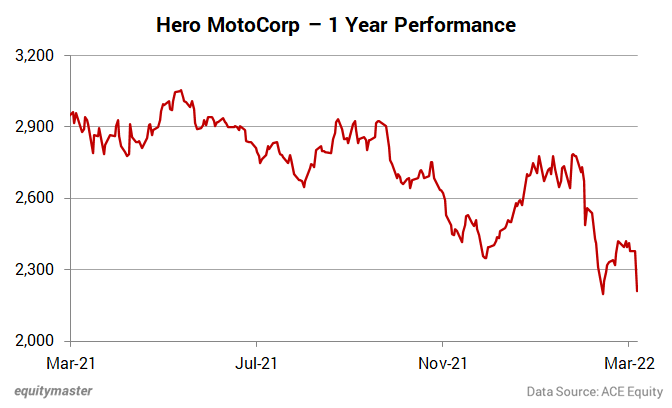 2. TVS Motor
TVS Motor manufactures a wide range of two-wheelers from mopeds to racing inspired motorcycles. The company also manufactures three-wheelers.
It has an annual production capacity of 4 million two wheelers and 1.2 lakh three wheelers.
Last month, TVS Motor said it plans to expand its electric two-wheeler capacity and charging infrastructure. It's preparing for a pan-India sale of its electric scooter
The company will also launch new products and take its electric two-wheeler to global markets soon.
During the company's earnings call, KN Radhakrishnan, Director & CEO, TVS Motor said,
Our electric scooter iQube continues to draw a good response. We have more than 6,000 bookings as of now.

Despite the challenge in the electronic parts supply chain, we have been able to improve production and sales month after month. We are engaged in discussion with major suppliers for long-term arrangements for parts.
Presently, iQube is being sold in 33 cities. The company is also working on reaching the whole country by the end of this financial year.
TVS Motor has sold more than 5,000 units of iQube during this financial year. The company is also thinking of launching it in international markets.
TVS Motor is working on a set of electric products targeting a different set of buyers in two and three-wheeler segments.
The company also seeks to offer wide and reliable charging infrastructure across India. It's in the process of partnering charging infra firms.
The company hopes its charging infra partners such as Tata Power and CESL (Convergence Energy Services) will substantially enhance customer convenience.
In December 2021, the company also announced its tie up with BMW Group. TVS Motor Company said it will develop EVs with BMW's motorcycle brand in India.
The two partners intend to co-develop an electric vehicle platform for manufacturing a range of EV two-wheelers - from scooters to motorcycles and even new concepts.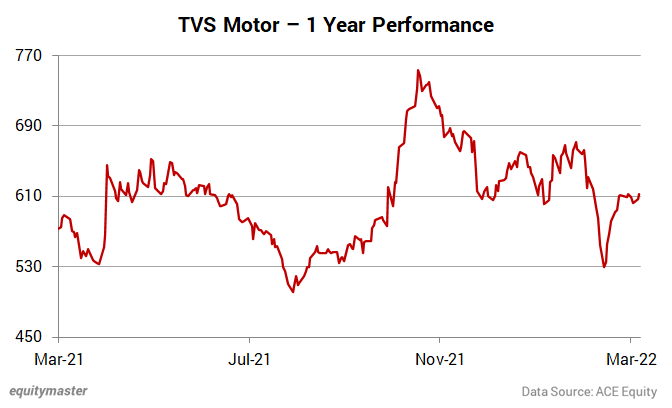 3. Bajaj Auto
Bajaj Auto is an Indian multinational two and three-wheeler manufacturing company based in Pune.
It manufactures motorcycles, scooters, and auto rickshaws. The company has plants in Chakan, Waluj, and Pantnagar. The oldest plant at Akurdi in Pune houses the R&D centre 'Ahead'.
Recently, Bajaj Auto proposed to invest more than Rs 10 bn, including investments in a new unit for EVs, under the production linked incentive (PLI) scheme.
The company has applied for the PLI scheme under which Rs 10 bn of investment will be done over the next five years.
The proposed investment outlay will include Rs 3 bn of investment in a new unit at the Pune factory complex, which will have half a million-production capacity per annum for electric two-wheelers.
The first vehicle is expected to be rolled out by June. It also claims to have a production capacity of 5 lakh units per annum.
The company sold about 2,000 units of its electric two-wheeler Chetak during the December 2021 quarter, while the order book for Chetak stands at about 10,000 units. Currently, Chetak is sold in eight cities. It's eying for pan-India penetration in 9-12 months.
Have a look at the company's share price performance over the last twelve months.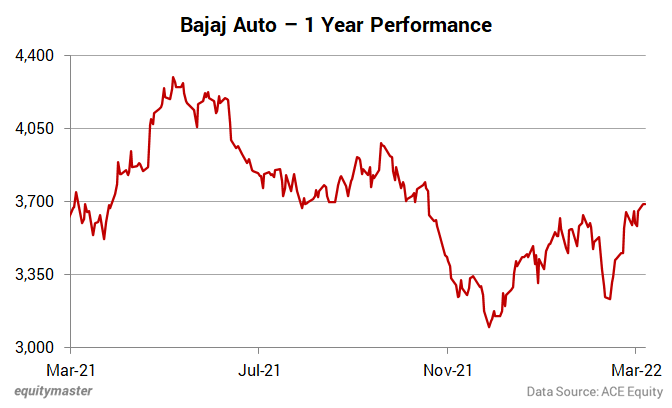 India's electric vehicle ecosystem and investment prospects
Regardless of the country's big goals, India's EV sector is at a nascent stage.
However, India is the world's greatest unexplored market, particularly in the two-wheeler category. Also, 100% foreign direct investment is permitted in this sector.
The government is also pushing the transition to clean transportation, as seen by recent changes to the Faster Adoption and Manufacturing of Hybrid and Electric Vehicles in India (FAME) II plan to make electric two-wheelers more affordable.
Several PLI schemes aim to establish a local manufacturing ecosystem to support goals related to increased use of electric mobility transport.
This is hoped to be accomplished by promoting new investments in the development of local supply chains for essential technology, goods, and car components.
Besides, several Indian states have recently enacted EV regulations to encourage investment and make EV adoption more appealing to consumers.
Considering all these factors, we can say India is heading in the right direction. Going ahead, this will create more investing opportunities in the stock market.
Look at the chart below to see the rising opportunity in the 2-wheeler EVs.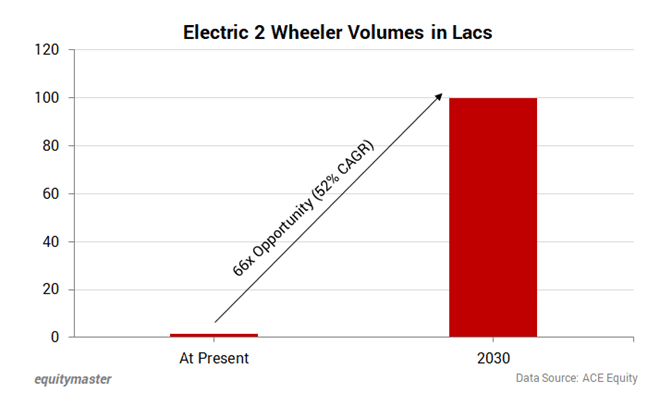 Here's what lead smallcap Analyst at Equitymaster, Richa Agarwal, wrote about this...
In the last five years, two-wheeler sales in India were around 2 crore units per year. Now the sector is cyclical and has been in the downturn for some time. So let's consider a moderate 5% growth for the next 10 years.

By 2030, we are looking at 2-wheeler sales of 3 crore units. Even if one third of this is EV sales, that's 1 crore electric 2-wheelers per year.

In the last 2 years, average electric 2-wheeler sales were 1.5 lakh units. From 1.5 lakh to 1 crore, that's a 66x opportunity in 2-wheeler EVs.

This is an annual growth rate of 52% over next 10 years. It's an almost vertical growth opportunity.
As per Richa, this is like a gold rush. But like in any gold rush, the winners will just be a few.
If you plan to invest in EV stocks, assess the fundamentals and prospects of the business. Sustained research must not be compromised despite the positive odds.
Investment in securities market are subject to market risks. Read all the related documents carefully before investing
Safe Stocks to Ride India's Lithium Megatrend
Lithium is the new oil. It is the key component of electric batteries.
There is a huge demand for electric batteries coming from the EV industry, large data centres, telecom companies, railways, power grid companies, and many other places.
So, in the coming years and decades, we could possibly see a sharp rally in the stocks of electric battery making companies.
If you're an investor, then you simply cannot ignore this opportunity.
Details of our SEBI Research Analyst registration are mentioned on our website - www.equitymaster.com
Disclaimer: This article is for information purposes only. It is not a stock recommendation and should not be treated as such.