Top 4 Gaming Stocks in India to Add to Your Watchlist
Apr 13, 2022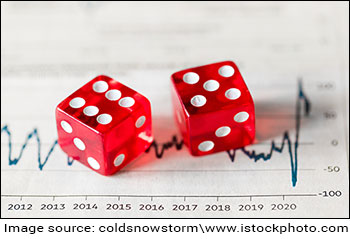 In the wake of the Covid-19 epidemic, we've all seen how successful the gaming industry has been.
Last year, the gaming business outpaced both film and sports as the leading source of revenue in the entertainment industry.
In fact, the gaming business was valued at US$ 162.3 bn globally in 2020. It's predicted to achieve a value of almost US$ 300 bn in the next five years.
The gaming industry in India is currently valued at US$ 930 m and is estimated to grow at 41% each year.
A KPMG report said the number of online gamers in India grew from nearly 250 m gamers in 2018 to about 400 m by the mid of 2020. Growing steadily for the last five years, it's expected to triple in value to reach US$ 3.9 bn by 2025.
An increasing desire for virtual entertainment among friends, family, and peer groups, along with the growth of influencers encouraging Indians to play more games, has fuelled the gaming boom.
Nowadays, well-aware investors are also looking out for niche investing opportunities in the markets.
For people interested in the gaming industry, here's the list of India's top 4 stocks with the fastest growth momentum.
1. Nazara Technologies
No prizes in guessing the first stock on this list. You probably thought of this company when you opened this article.
Nazara Technologies is the leading India based diversified gaming and sports media platform with presence in India and across emerging and developed global markets such as Africa and North America.
It offers interactive gaming, eSports, and gamified early learning ecosystems.
India's leading mobile entertainment platform now has over 100 m monthly active users.
Over the last few quarters, Rakesh Jhunjhunwala backed Nazara Technologies has entered into various M&A (mergers and acquisitions) deals.
Their network includes Nodwin Gaming (ESports company), Nextwave Multimedia (Makers of WCC - cricket game franchise), SportsKeeda (ESports content destination), Halaplay (fantasy sports), Qunami (quizzing app) and Nazara Digital (the fastest growing mobile games publisher operating in 100+ countries).
In a very recent development, telecom major Vodafone Idea (Vi), announced the launch of 'Vi Games' on the Vi App, in partnership with Nazara Technologies.
This partnership will elevate the gaming experience that both company offers to its consumers via Vi Games.
According to the latest shareholding pattern, Rakesh Jhunjhunwala holds 3.3 m shares of Nazara, which is 10.1% of the total issued paid-up capital of the company.
For the most recent quarter, the company posted a 17% decline in consolidated profit after tax to Rs 148 m.
However, for nine months ended 31 December 2021, the company recorded over four-fold jump in its consolidated PAT at Rs 428 m, from Rs 94 m in the year ago period.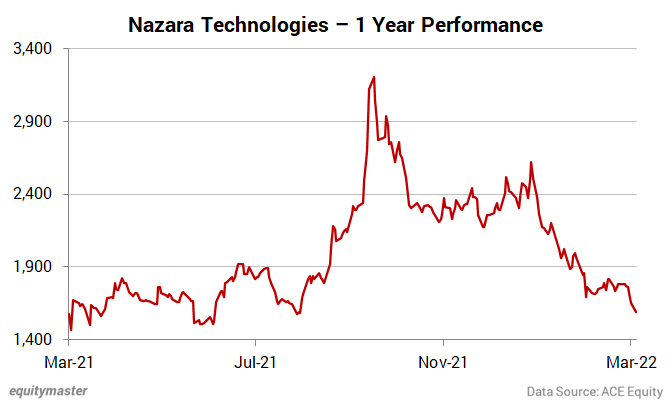 2. Zensar Technologies
Zensar Technologies is a leading digital solutions and technology services company. It's a part of the Mumbai-based RPG group and is headquartered in Pune.
It operates in two segments: Application Management Service and Infrastructure management service.
It's focused on industry verticals, such as hi-tech and manufacturing, consumer services, and banking, financial services, and insurance. They have offices located in India, the USA, UK, Europe, and Africa.
Back in 2016, the company created a specialised Game Testing Centre of Excellence aimed at helping gaming companies leverage the benefits of speed, efficiency aligned with its testing and development goals.
It provides testing services that are specifically tailored to handle the unique challenges that are faced by the gaming industry. These include security, speed, faster games, overall user experience and so on.
The stock has delivered decent returns of 37% to its shareholders over the last one year.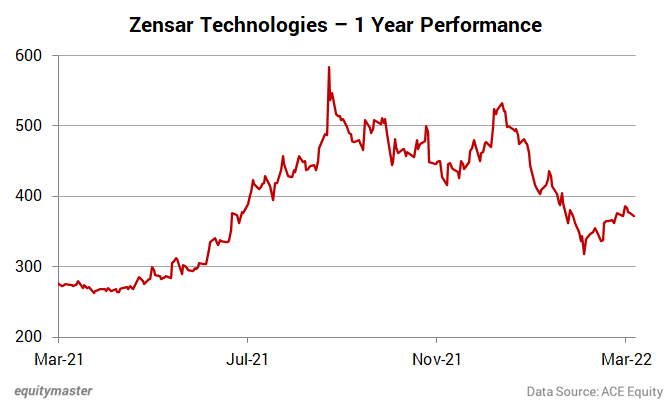 3. Delta Corp
Another gaming company backed by Rakesh Jhunjhunwala, Delta Corp, is one of the largest companies in India and they are the only listed company in the casino gaming with 2,000+ live gaming positions.
They have managed to capture 55% of market share in the organised casino market and it has three major areas of business - casinos, online gaming, hospitality.
In 2016, it acquired Gaussian Networks and entered India's rapidly developing online gambling business.
Gaussian Networks, which used to own Adda52.com is one of the biggest poker websites in India. The other website 'Adda52rummy.com' offers online games of Rummy.
During the December 2021 quarter, the company's board approved the appointment of advisors, bankers and other intermediaries by its subsidiary Gaussian Networks (GNPL), which is engaged in online gaming business to explore a potential public issue and listing of equity shares.
The initial public offering (IPO) may be by way of offer for sale (OFS) of equity shares of GNPL to enable it to raise resources for expansion of its business and unlock value for the shareholders of the company.
Over the period of last one year, the company has given a stellar return of 95% to its investors.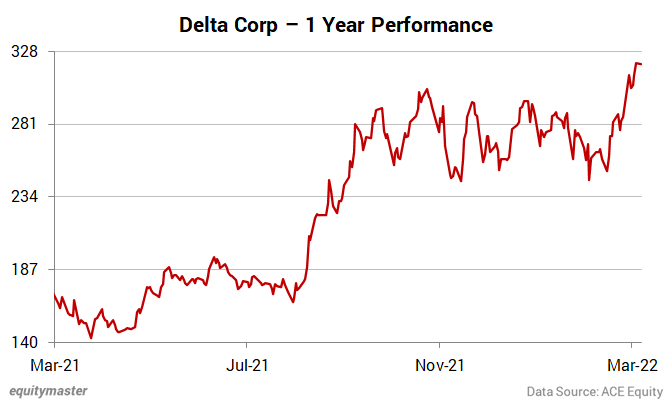 4. OnMobile Global
OnMobile is an Indian telecommunications company, headquartered in Bangalore.
It offers products such as videos, tones, games, and contests. Based on current deployments, OnMobile has over 100 million active subscribers and an addressable base of more than 1.7 billion mobile users across several geographies.
The company's emerging mobile gaming platform, ONMO is a breakthrough B2C cloud gaming platform. It hosts 1,000s of curated best short game moments from several popular casual games.
ONMO is built on three key mobile gaming trends (eSports, Social and Short Form Gaming) and two disruptive technologies (AI and Cloud Streaming).
The company has also acquired 100% stake in artificial intelligence (AI) company rob0.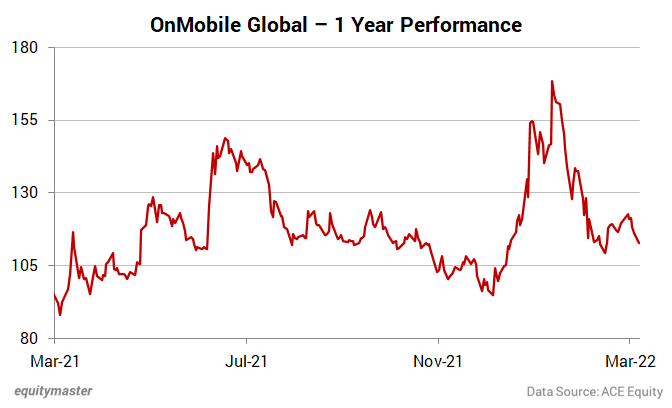 Should you invest in gaming stocks?
In recent years, video games have expanded in popularity and accessibility.
The video game business is a multibillion-dollar industry that shows no signs of slowing down. As more people join the video gaming frenzy, the pressure on manufacturers to satisfy demand while maintaining high quality requirements for the final product grows.
The industry's heavy dependence on third-party developers raises concerns over the uncertainty of whether they will be able to keep up with demand until it can find a solution to these problems or not.
Moreover, the supply chain issues related to the latest game consoles have been hurting sales.
A game console is a highly specialised computer system designed to allow one or more users to play computer games. It's usually used together with a television or other type of display device.
Popular gaming consoles in India are PS4, Xbox, Nintendo, Nxtpower, etc.
However, the video game business is thriving, and growth is expected to continue for years to come as new technology pushes the industry to evolve even further.
Here's what Aditya Vora, Research Analyst at Equitymaster, wrote in one of his recent editorial:
The gaming addiction in India has just started. We haven't seen anything yet.

The Disney channel's coverage is down 88% from 2014 levels.

Nickelodeon's coverage is down 75% from 2014 levels.

However, E-sports which is electronic sports viewership, has outpaced major sports leagues. The growth in electronic sports is evident from the massive rise in the prize money involved.

These statistics were for the US but the trend has begun in India too. With increased smart phone and data penetration, the gaming megatrend in India has just begun.

Keep this equation in mind...

Favourable demographics + internet penetration + smart phone coverage + purchasing power = Huge Long-Term Profits.
Happy Investing!
Disclaimer: This article is for information purposes only. It is not a stock recommendation and should not be treated as such.