Power Stocks Rise with Temperature. Is the Momentum Here to Stay?
Apr 13, 2022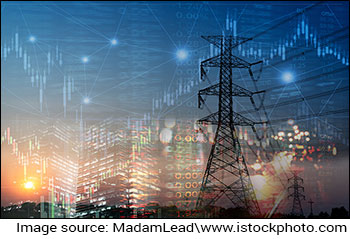 In the past few weeks, power stocks have gained momentum. The BSE Power index reached an all-time high yesterday, 12 April 2022, and is up 21.5% in the past month.
The reasons are obvious...
Most states have relaxed Covid related restrictions and businesses are operating at full capacity.
Also, the summer season has kicked in and many parts of the country have been experiencing heatwaves. Thus, drawing up domestic power consumption.
But the supply side seems to be moving in the other direction.
Coal contributes nearly 75% towards India's power generation.
The shortage of supply: both domestic (from Coal India) and global (resulting from Russia's Invasion of Ukraine) has fueled the divergence of demand and supply.
Increased load shedding across the nation is a clear indicator of supply-demand mismatch in the industry.
The shortage of electricity has shot up to 1.4% of demand over the last week, higher than the 1% deficit in October 2021 when India last experienced a serious coal shortage.
Power utilities like JSW Energy, Tata Power, and Adani Power benefit from this spread. They sell only a portion of their total power generation on a merchant basis in the short-term market, thus fetching them better prices as demand rises.
Here's a list of top power stocks that have recently rallied the most...
#1 Adani Power
Adani Power shares are witnessing a massive rally this year owing to many reasons. One of it being power demand.
The company's fourth quarter results might improve amid the increase in power demand.
Last month, the powerhouse of Adani group completed the acquisition of Essar Power's 1,200 MW thermal power project in Madhya Pradesh.
The stock is also rallying after a supreme court order ordered some state-run distribution companies in Rajasthan to pay Adani Power its dues of Rs 30.5 bn.
Shares of the company are up by 131.5% in 2022 so far.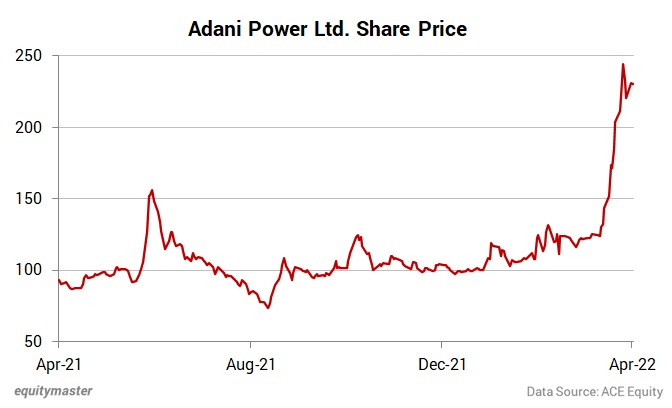 To know more, check out Adani Power's latest quarterly results and its financial factsheet.
#2 Tata Power
With major operations in Mumbai, Tata Power is a big beneficiary of rising power demand as the state lifts all covid restrictions and business are set to run at full capacity.
Tata Power is present across the entire value chain of conventional as well as renewable energy.
Strong investments in electric vehicle (EV) charging space and solar infrastructure have kept investors longing.
The company is developing home charging installations in all cities to aid Tata Motors' EV segment.
The 2022 budget allocated an additional Rs 195 m in Production Linked Incentives (PLI) to manufacture solar modules, giving the sector a boost.
The proposal of issuing 'green bonds' to raise capital for setting up green infrastructure projects in the public sector will further aid the company.
Shares of the company have almost doubled in the past year.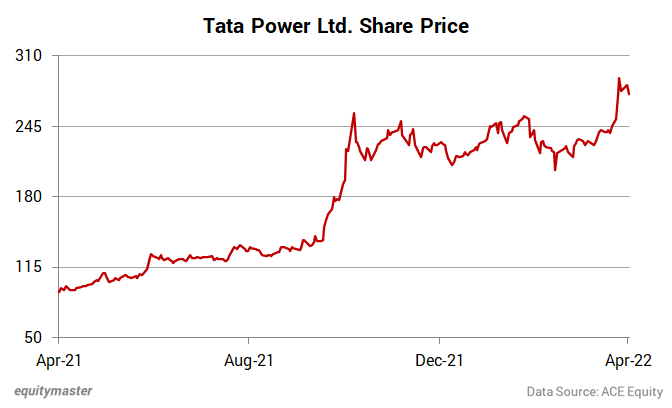 It appears Tata Power is in a race with Adani Power to reach the market capitalization of Rs 1 tn.
#3 CESC
CESC is primarily engaged in the generation and distribution of electricity across its licensed area in Kolkata, Hooghly, Howrah, and parts of West Bengal.
It operates thermal and renewable projects via its subsidiaries which have a combined generation capacity of approximately 800 MW.
It also holds a distribution license for Greater Noida, Uttar Pradesh; distribution franchisees (DFs) in Kota, Bharatpur, and Bikaner in Rajasthan, and a new DF in Malegaon, Maharashtra.
West Bengal's power demand had dipped 22% during the covid pandemic. While economic activities get back of track, the state is witnessing huge power demand.
The company's shares are up 43.3% over the year gone by.
#4 NTPC
NTPC is the largest power producer in India. So when the demand rises, it is ought to benefit the most.
For the financial year 2022, it clocked the highest ever annual electricity generation of 360 bn units registering a growth of 14.6% YoY.
The coal-based plants registered a plant load factor (PLF) of 70.7% with an availability factor of 88.8%
The group's installed capacity increased by 4.7% with 3,130 MW of capacity added in the fiscal year 2022.
In a successful attempt to widen its renewable portfolio, the company received approval from the Ministry of New and Renewable Energy (MNRE) to set up one of the largest renewable energy parks in Gujarat with a capacity of 4,750 MW.
NTPC Renewable Energy Ltd, a fully owned subsidiary of NTPC, entered into a joint venture with Damodar Valley Corporation (DVC) for renewable power projects in its command area.
To know more, check out NTPC's financial factsheet and its latest quarterly results.
#5 Coal India
Last on our list we have Coal India. Though it isn't a power stock, the company is an important ancillary to the industry.
It is the largest supplier of coal for power generating plants in India.
The miner, despite increasing output to record levels, has an insufficient supply to cater to the increasing domestic as well as international demand.
Restricting supplies to the non-power sector has helped power plants, nonetheless, not enough to curb the demand-supply gap.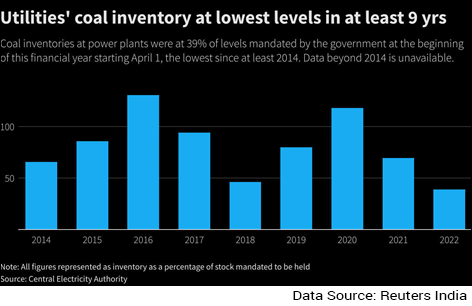 Globally the demand for coal or power has been high since September 2021, making imports expensive. No wonder the imports slumped to a nine-year low in 2021.
This shortage of supply has led to power outages in industrial states like Gujarat and Maharashtra.
The only entity benefiting from this shortage is Coal India, and one can see that in its soaring stock price.
The road ahead...
To keep a check on power generation companies, the central regulator, Central Electricity Regulatory Commission, has revised the limit of per unit electricity traded on the exchanges to Rs 12.
Even with the restricted pricing, the power tariff is significantly higher than the contracted long-term power purchase agreements (PPA).
Additionally, the proposed amendment to the Electricity Act will bring efficiency to the sector.
With the production back to pre-pandemic levels and a rising urban population, the need for clean and infallible power supply gives immense scope for growth in the power sector.
If sources are to be believed, several Indian states are likely to see a power shortage in the coming weeks as power plants struggle to find optimum amounts of thermal coal amid rising summer demand. This will lead to higher import costs which will result in supply-demand mismatch.
So it's safe to say that the momentum in power stocks is here to stay and could continue to rise.
Happy Investing!
Disclaimer: This article is for information purposes only. It is not a stock recommendation and should not be treated as such. Learn more about our recommendation services here...