Nifty: The Time Cycle Reversal
Apr 19, 2022
India's benchmark index NSE Nifty rallied over 15% to 18,114 from the lows of 15,671 in a span of a month.
But the reversal was swift too. It hit a low of 17,067 yesterday.
On the daily chart, he index is at a time-cycle reversal zone. This is likely today.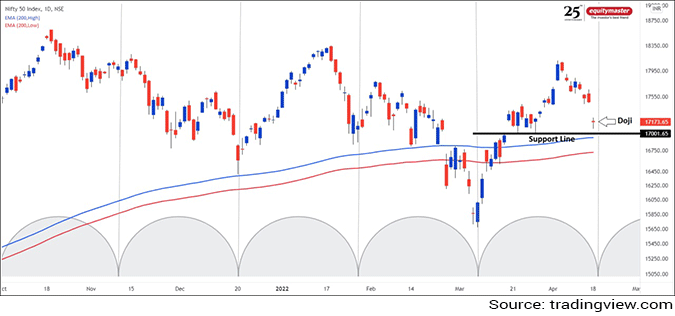 With a time-cycle reversal, the index is trading at the support line at around 17,000 levels. The slope of the 200 DEMA (high & low) is trending higher.
Historically, this DEMA band has been very successful in defining trends.
On the hourly chart, the bullish harmonic pattern is visible at yesterday's low. This indicates the reversal is on the cards.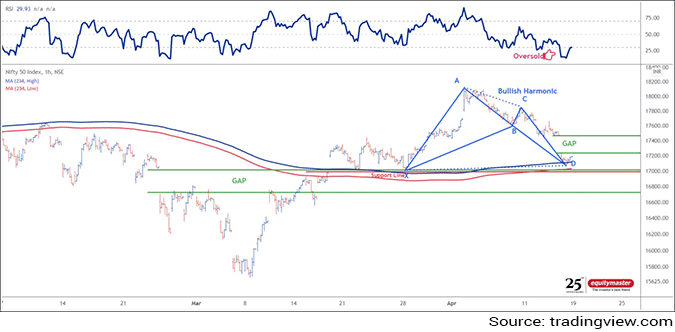 The bullish harmonic formed at the key psychological level of 17,000 and a gap-support. Additionally, the band of 234 MA High & Low, offers an excellent risk-reward trading opportunity.
The RSI, a key momentum indicator, signals a bullish reversal is on the cards.
Considering +/- 1 day for the time-cycle theory, a convincing reversal seems to be on the cards.
At present, the NSE Nifty is trading at 17,200. Coal India and Eicher Motors are leading the pack while Infosys and HDFC are the top losers.
The recent fall is led by Infosys and HDFC twins. An underperformance of the IT index and financial services index against other sectoral indices indicates that you should avoid these sectors.
If you're interested in being part of my charting journey as I share how to create wealth from the profitable trade setup, join my telegram channel - Fast Profits Daily. You'll get access to the best trading ideas in the stock market.
To know more about how the Nifty and Bank Nifty index are performing, please see the NSE Nifty Live Chart and NSE Bank Nifty long term chart.
Disclaimer: This article is for information purposes only. It is not a stock recommendation and should not be treated as such.
Brijesh Bhatia Research Analyst and expert chartist, is the editor of Alpha Wave Profits. Fully committed to his craft, Brijesh has mastered the art of making money by trading using technical analysis. Brijesh has an MBA from ICFAI and 16 years of experience in India's financial markets. He began his career on Dalal Street as commodities dealer and it wasn't long before he developed his own unique trading system. Brijesh worked on his trading system until it could be expected to deliver 5 units of return for every unit of risk.