How Did Mindtree Perform in Q4FY21?
Apr 20, 2021
In its latest quarterly results, mid-tier IT firm Mindtree reported a marginal increase in revenue, at Rs 21.1 billion for the quarter ended March (Q4FY21), up 2.9% year-on-year (YoY) from Rs 20.5 billion in Q4FY20.
In dollar terms, the company's revenue came in at US$ 288.2 million, up 3.5% YoY from US$ 278.4 million, implying favourable cross-currency gains.
Retail and Travel Verticals Drive Q4FY21 Revenue
Growth in the top line was led by traction across key verticals except the Banking, Financial Services and Insurance (BFSI) segment which de-grew by 2% YoY.
The company saw a strong recovery in the Travel segment and strong demand momentum in the Retail, CPG & Manufacturing (RCM) and Communications, Media and Technology (CMT) segments.
Here's a segment-wise and geography-wise breakup of the company's revenue -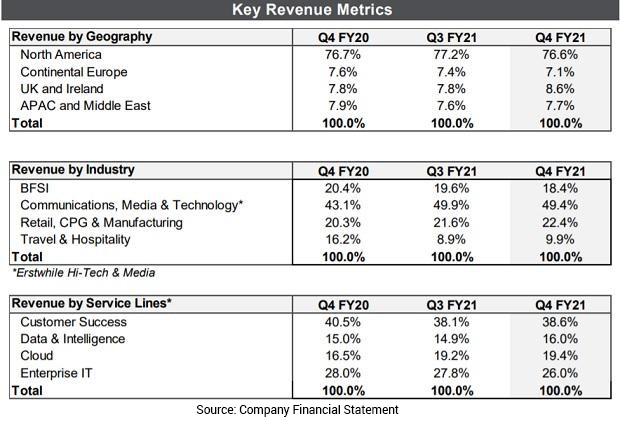 The CMT segment contributed nearly half of the firm's total revenue, which was followed by the RCM segment (22.4%). In absolute terms, the CMT segment generated revenue worth Rs 8.8 billion, while the RCM segment generated revenue worth Rs 4.2 billion.
The shares of the retail and travel verticals in the overall revenue pie have improved sequentially as a result of the opening of economies in the West, where an accelerated vaccine drive allowed governments to ease Covid-19 restrictions.
The travel vertical's full recovery is 4-5 quarters away but gradual improvement in momentum will aid growth. Mindtree is also experiencing strong traction in the Healthcare vertical and will start reporting revenues in this vertical from Q1FY22.
The BFSI vertical despite its underperformance in Q4FY21 is expected to gain momentum as deal closures were pushed to Q1FY22 and in general, Q4FY21 performance of the segment is cyclically weak.
EBIT Margins Under Pressure Due to Wage Hike
On the operational front, Mindtree's earnings before interest, tax, depreciation, and amortisation (EBITDA) grew a healthy 32% YoY to Rs 4.6 billion from Rs 3.5 billion in Q4FY20. From the previous quarter, it was down 1.1%.
On a YoY basis, both the company's EBIT and EBITDA margins improved by 4.8% YoY. EBITDA margins improved to 21.9% in Q4FY21 from 17.1% in Q4FY20 and EBIT margins improved to 18.6% from 13.8% in Q4FY20.
However, on a sequential basis, EBITDA margins were down 1.2% from 23.1% in Q3FY21 and EBIT margins too came under pressure from 19.6% in Q3FY21, due to wage hikes.
Mindtree has guided EBITDA Margins to sustain over 20% in FY22. This should be achievable despite headwinds such as hikes, the partial return of discretionary cost as revenue traction is expected to bring in operating leverage gains and a large part of operational efficiency gains to stay.
Q4FY21 Profit Up 53% YoY To Rs 3.2 Billion
Overall, the company reported a consolidated net profit of Rs 3.2 billion for the quarter ended March (Q4FY21), up 53.4% from Rs 2.1 billion in the corresponding period, a year ago. On a sequential basis, however, the net profit slipped 2.9% from Rs 3.3 billion.
The company also announced a final dividend of Rs 17.5 per share.
Strong Deal Win Momentum Anticipated for FY22
Mindtree won 3 large deals in the RCM segment and 1 deal each in the Travel and BFSI segments in Q4FY21. The IT firm's total contract value (TCV) at the end of Q4FY21 stood at US$ 375 million, down 4.5% YoY from US$ 393 million in FY20, but up 20% sequentially.
Going forward, the company expects the revenue momentum to continue and expects strong double-digit growth in FY22 as the pipeline remains healthy (all-time high) with opportunities. The company has a healthy order book of US$ 1.4 trillion.
The company also plans to continue its rationalization plan; it rationalized 70 clients in FY21. It will continue to focus on annuity-led deals and will avoid margin dilutive deals.
Attrition Inched Down Despite Strong Demand for Talent
The company's 12 months' attrition decreased to 12.1%, which is commendable because there is intense demand for scarce digitally skilled talent.
Mindtree added 1,619 employees in Q4FY21, the highest ever in a quarter and has started hiring aggressively. It also plans to accelerate campus and lateral hires in FY22 and bring online testing for hiring.
Utilization is expected to come down as hiring ramps up further.
Equitymaster's View on Investing in the IT Sector Right Now...
Since many IT companies such as Mindtree have recently released their results, we reached out to Richa Agarwal, Senior Research Analyst at Equitymaster, and Editor of the smallcap service, Hidden Treasure, for her view on investing in the IT sector right now.
Here's what she has to say -
"Post pandemic, amid liquidity in the global markets and broad-based growth momentum, the IT sector and the stocks listed in it have had a dream run.

The BSE IT index is at a ten year high, up 63% from the pre-Covid highs.

While picking stocks in the industry, one should be mindful of relative growth and valuation of companies in the sector."
How the Stock Markets Reacted to Mindtree's Q4FY21 Numbers...
Shares of the company opened on April 19, 2021, at Rs 2080 on the BSE and Rs 2081 on the NSE and closed at Rs 2094 (up 1.3%) and Rs 2084 (up 0.7%), respectively.
In the past year, Mindtree shares have rallied by 166%, outperforming sector index Nifty IT, which rose 111% in the same period.
The share touched its 52-week high of Rs 2,275.1 and 52-week low of Rs 722 on 12 April, 2021 and 13 April, 2020, respectively.
About Mindtree
Mindtree is an Indian multinational information technology and outsourcing company, headquartered in Bangalore, India. It is a part of the Larsen & Toubro Group.
Founded in 1999, the company employs approximately 21,991 employees with an annual revenue of Rs 78.4 billion (US$1.1 billion).
The company deals in e-commerce, mobile applications, cloud computing, digital transformation, enterprise application integration and enterprise resource planning, and has more than 307 active clients and 43 offices in over 18 countries.
The company's business is structured around clients in verticals such as banking, capital markets, consumer goods, manufacturing, media & entertainment, retail, and the travel and hospitality industry.
For more details about the company, you can have a look at Mindtree's factsheet on our website.
You can also compare Mindtree with its peers -
And to know what's moving the Indian stock markets today, check out the most recent share market updates here.