Nestle India Sees Double-Digit Growth Across Segments in March Quarter
Apr 21, 2021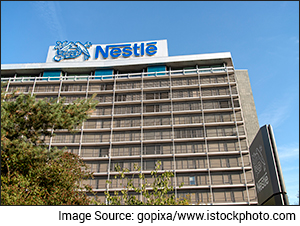 FMCG major Nestle India on Tuesday reported a 14.6% year-on-year (YoY) growth in its net profit to Rs 6 billion for the quarter ended March 2021.
The manufacturer of popular noodle brand Maggi had reported a net profit of Rs 5.3 bn during the same period last year.
Revenues for the quarter rose 8.9% to Rs 36.1 bn compared to Rs 33.3 bn in the year-ago period.
The company said that growth during the quarter was broad-based led by volumes.
Nestle India's domestic sales grew 10.2% on a YoY basis. This was seen as key brands within the company's portfolio benefited from at-home consumption and posted double-digit growth.
Double Digit Growth Across Key Brands
Nestle's key brands like Maggi Noodles, Kitkat, Nescafe classic, Maggi sauces, Milkmaid, Maggi masala-ae-magic posted double digit growth during the quarter, boosted by increased home consumption.
Demand in out of home channels also improved sequentially. E-commerce channel continued to show traction and grew by 66% and contributed 3.8% of domestic sales.
Commenting on the results, Suresh Narayanan, Chairman and Managing Director said, "as the pandemic rages on, the quarter gone by has been another test of resilience to deliver double digit growth over a strong comparable in 2020."
The company, in collaboration with authorities, is looking at setting up vaccination camps across its manufacturing locations, Narayanan added.
Rise in Key Raw Material Prices Pose a Challenge
Nestle India said that recent sharp escalations in key raw material prices is posing a challenge. It specially pointed out to headwinds in commodity and packaging materials.
Total expenses for the quarter stood at Rs 28.3 billion, up 6.2% YoY.
Here's a table comparing the above parameters on a YoY basis:
| (Rs m) | Q1FY20 | Q1FY21 | Change |
| --- | --- | --- | --- |
| Net Sales | 33,253 | 36,108 | 8.60% |
| Total Expenses | 26,643 | 28,286 | 6.20% |
| Profit before tax | 7,039 | 8,119 | 15.30% |
| Tax | 1,784 | 2,096 | 17.50% |
| Profit after tax | 5,255 | 6,023 | 14.60% |
Source: Company Presentation
The company declared an interim dividend of Rs 25 per share at a face value Rs 10 per equity share, amounting to Rs 2.4 billion.
Equitymaster's View on Nestle India's Q1CY21 Performance...
We reached out to Tanushree Banerjee, Co-Head of Research and FMCG sector analyst at Equitymaster, for her view on the FMCG major's performance.
Here's what she has to say about Nestle's Q1CY21 results:
Nestle India's 14.6% growth in net profit for 1QCY21 comes on the back of the recent spike in commodity prices, for its products and packaging materials. The company's e-commerce channel continued to show traction as it grew 66% YoY and contributed to 3.6% of the overall sales.

Despite the impact of Covid-19 on consumption, Nestle India showed resilience and its strong balance sheet keeps the company on a sound footing.
In a different vein, Rahul Shah in November 2020 had recorded a video on why you should skip stocks like Nestle and HUL.
In the video, Rahul Shah discussed why he preferred a little known stock over Nestle and how he was proven right. Tune in to find out more...
How Stock Markets Reacted to Nestle India's Q1 Numbers...
Shares of Nestle India traded rangebound yesterday and ended on a flat note.
FMCG stocks ended on a mixed note yesterday and the BSE FMCG index fell 0.6%. Bajaj Consumer Care and Kwality were among the top losers from the index.
Nestle India share price touched a 52-week high of 18,821 on 23 December 2020 and a low of 15,104 on 3 April 2020.
On a YTD basis, share price of Nestle India is down 7% and over the past one year, it has gained 1%.
Have a look at the chart below which compares the share price performance of Nestle India with the benchmark BSE Sensex over the last one year. While Rs 100 invested in Sensex a year back has turned out to be Rs 151, the same has turned out to be Rs 101 in Nestle India.
Rs 100 Invested One Year Back is Now...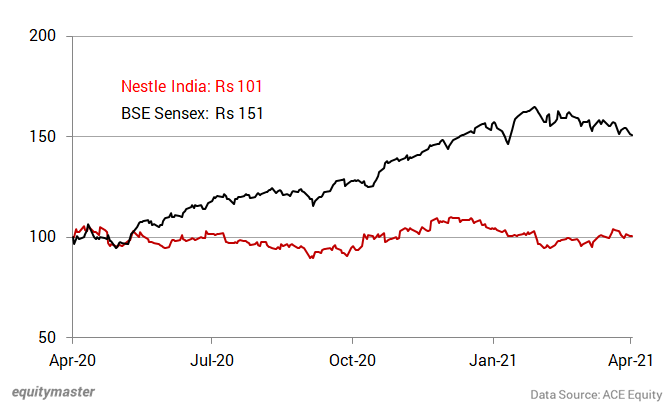 As you can see, Nestle India has merely gained 1% in the past one year whereas the Sensex has jumped 51% over the same period.
At the current price of Rs 17,086, the P/E ratio for Nestle India stands at 79.1 times.
About Nestle India
Nestle India is a 100-year old and second largest FMCG company dominating the noodle (Maggi) and the hot beverage (Nescafe) categories. The company was incorporated in the year 1956.
After more than a century-old association with the country, today, Nestle India has presence across India with 8 manufacturing facilities and 4 branch offices.
Nestle India is a subsidiary of NESTLE S.A. of Switzerland. The company has more than 2,000 brands ranging from global icons to local favourites, and is present in 191 countries around the world.
The products offered by Nestle range across categories such as milk and nutrition, chocolates and confectionary, beverages and prepared dishes and cooking aids.
Some of the famous brands of the company are Nescafe, Nestle Everyday, Sunrise, Maggi, Kitkat, Milkybar, Milkmaid, Nestea, Munch, Bar one, Polo and many more.
The company has focused on Taste, Nutrition, Health and Wellness and well-being of the customers and its tagline 'Good Food, Good life' resonates with that.
For more details about the company, you can have a look at Nestle India's factsheet and Nestle India's latest quarterly results on our website.
For more details about the FMCG sector, you can check out the FMCG sector report on our website.
You can also compare Nestle with its peers on our website:
To know what's moving the Indian stock markets today, check out the most recent share market updates here.