Bajaj Consumer Care Q4 Results: Net Profit Jumps Over Two-Fold
Apr 21, 2021
In its latest quarterly results, FMCG firm Bajaj Consumer Care (BCC) reported an over two-fold growth in consolidated net profit at Rs 547 million for the quarter ended March (Q4FY21). In the previous year, the company had reported a net profit of Rs 233 million for the same quarter.
Key Financial Highlights
The company's revenue for the quarter was up by 40% YoY at Rs 2.5 billion as against Rs 1.7 billion in the year-ago period. Domestic volumes grew 43% YoY and was driven by a distribution drive, continuous media presence and focus on overall hair oil category.
The company also saw general trade revenue grow by 40% during the quarter, driven by rural growth of 61% and urban growth of 23%. Revenue from alternate channels (modern trade, ecommerce) grew 61% YoY driven by e-commerce growing 4x and a continued recovery in Modern Trade.
Due to the increase in revenue and lower cost base, the company's earnings before interest, tax, depreciation and amortization (EBITDA) jumped a whopping 157% YoY and EBITDA margin expanded by 11.2% YoY to 24.7%.
However, the company's gross margin declined 7%YoY to 61.3% due to input cost inflation and inferior mix.
The company's board also recommended a final dividend of 400% at Rs 4 per share, on equity shares of the face value of Rs 1 each, for the FY21.
--- Advertisement ---
One stock to add to your portfolio asap

Our co-head of research, Tanushree Banerjee, has uncovered this one stock, which she believes is a must have in your portfolio.

Tanushree is very bullish on this stock.

It could potentially multiply invested money 12 to 13 times over the long term.

Tanushree will reveal details of this stock at her upcoming special event.

You can click here to sign-up. It's free.
------------------------------
Bajaj Hair Oil Market Share Reaches All Time High
Bajaj Hair Oil market share reached all time high of 11.1% for January - February 2021.
The company owns the Bajaj Almond Drops brand, which is India's second largest brand in the overall hair care segment and commands a 61% share of the light hair oil (LHO) market. LHO is the second fastest growing hair oil category across all hair oils sold in India.
Bajaj Consumer Care has positioned this brand in the premium category and thus it commands one of the highest per unit prices in the industry.
The company's consistent brand building in this space plus extensive distribution has helped this brand tighten its stronghold in the LHO market over the years. BCC's products reach consumers through 3.6 million retail outlets serviced by 7,700 distributors and 11,500 wholesalers.
BCC's other key brands include Bajaj Brahmi Amla Hair Oil, Bajaj Amla and Bajaj Kala Dant Manjan.
Bajaj Hair Oil Market Share Trends

How the Stock Markets Reacted to Bajaj Consumer Care Results...
Shares of the company opened on April 20, 2021 at Rs 309 on the BSE and Rs 309.8 on the NSE and closed at Rs 293.5 (down 5.7%) and Rs 292.9 (down 6.2%), respectively.
In the past year, Bajaj Consumer shares have rallied by 75%, outperforming sector index S&P BSE FMCG, which rose 18% in the same period.
Revealing Tomorrow: The Great Indian Wealth Project
The share also touched its 52-week high of Rs 324 on 19 April, 2021.
Speaking of the FMCG sector, have a look at the chart below which shows the performance of BSE Sensex and BSE FMCG index since 2009: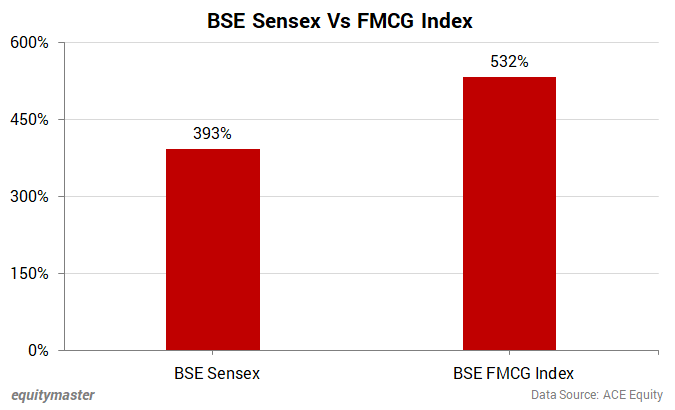 While the Sensex has offered 393% returns since 2009, the BSE FMCG index has gone up a staggering 532% returns over the same period.
Richa Agarwal, Senior Research Analyst at Equitymaster, and Editor of the smallcap service, Hidden Treasure, believes this outperformance could continue for many years.
She said that with a rising population and standards of living, Indian's consumption demand for FMCG products will skyrocket over the coming years.
--- Advertisement ---
How to Earn a Fortune in Gold, the Smart Way

Gold is on 'the verge of a decadal run' says Vijay Bhambwani, India's #1 Trader and Editor of Fast Profits Daily at Equitymaster.

He says gold has the potential to generate staggering gains in the coming years...And those who are betting on gold right now will hit the jackpot.

But wait.

While gold is an attractive investment destination, there's a very specific way to play this opportunity...

A way that ensures you rake in maximum profit and perhaps hit the jackpot...while minimizing potential pitfalls. Thankfully, Vijay - India's #1 Trader - can guide you step-by-step in the upcoming gold rush and help hit the jackpot just at the right time.

Sure, you don't want to be an average trader. That's not how you make a fortune.

Here's how you can get Vijay's guidance...
------------------------------
About Bajaj Consumer Care
Bajaj Consumer Care (formerly known as Bajaj Corporation) is one of India's leading FMCG companies with major brands in the hair care and skincare category. The company's main brand is Bajaj Almond Drops in the hairoil category. It markets its skin care products under the brand Nomarks. The company is a part of the Shishir Bajaj Group of companies.
For more details about the company, you can have a look at Bajaj Consumer Care's factsheet on our website.
You can also compare Bajaj Consumer Care with its peers -
Bajaj Consumer Care vs Hindustan Unilever
Bajaj Consumer Care vs Godrej Consumer
And to know what's moving the Indian stock markets today, check out the most recent share market updates here.