Apr 21, 2023 - Dolly Khanna Turns Bearish on These 2 Smallcap Stocks
Dolly Khanna Turns Bearish on These 2 Smallcap Stocks
Apr 21, 2023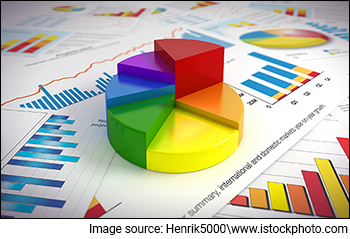 Most investors constantly search for investment opportunities that offer high returns with minimal risk of losing their initial investment.
However, it is not possible to find an investment product that combines both high returns and low risk.
In reality, risk and returns are directly related and go hand-in-hand, that means higher the returns, higher the risk and vice versa.
Due to this intense competition in the market, it can be challenging to achieve substantial returns. As a result, many investors look up to investment gurus who have achieved great success in the financial industry for guidance on how to become better traders and generate wealth in the long run.
These investors analyze the portfolios of successful market participants to determine the direction in which they have invested their money over the previous quarter.
In today's article, we'll take a look at one such investing guru and her recent activity in two smallcap stocks.
The ace investor is none other than Dolly Khanna.
Who is Dolly Khanna?
Dolly Khanna is a Chennai-based investor known for picking lesser-known midcaps and smallcaps. She has been investing in stocks since 1996.
Dolly Khanna's portfolio, managed by her husband Rajiv Khanna, is usually inclined towards more conventional stocks in manufacturing, textile, chemical, and sugar stocks.
Which stocks did Dolly Khanna cut down on and why?
#1 Monte Carlo
The latest shareholding pattern of Monte Carlo Fashions shows that Dolly Khanna trimmed 0.4% stake in the textile firm during the March 2023 quarter.
Khanna had initially bought 200,000 shares of Monte Carlo in December 2021.
Here is how her holding has varied ever since she acquired the stake in December 2021.
| Quarter Ending | No of shares | Stake (%) |
| --- | --- | --- |
| Dec-21 | 208,004 | 1.00 |
| Jun-22 | 369,032 | 1.78 |
| Sep-22 | 515,356 | 2.49 |
| Dec-22 | 526,356 | 2.54 |
| Mar-23 | 436,580 | 2.11 |
Data Source: BSE
After holding the stock until December 2021, her name was missing from the company's key shareholder list at the end of the March 2022 quarter as her stake slipped below 1%.
This can be attributed to the falling share price of Monte Carlo from January to May 2022.
But with the stock peaking up steam again, Dolly Khanna's shareholding rose to 1.7% in the company for June 2022 quarter.
While we don't know why Khanna trimmed her stake in Monte Carlo, here are some explanations.
In recent quarters, a triple whammy of elevated raw material prices, lower export demand due to the Russia-Ukraine war, and subdued capacity utilisation eroded the margins of textile companies, pulling even the multibagger textile stocks lower.
Further, according to the Cotton Textiles Export Promotion Council, Indian textile exports, which constitute about 22% of the industry, fell 13.9% YoY to US$ 35.5 bn from US$ 41.3 bn in March 2022.
This downfall was due to the huge inventory with international buyers and the high cotton prices in India last year. The inventory with buyers had affected orders to countries such as Bangladesh too.
Another reason could be FII selling. FII holding stood at 1.9% in December 2022. It now stands at 1.4%, triggering the selloff in the stock market.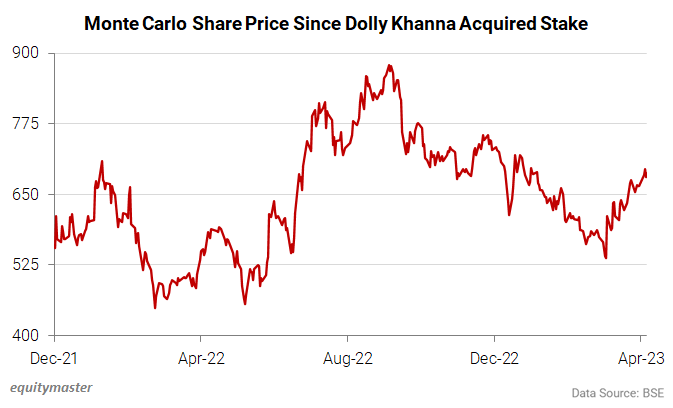 #2 Prakash Pipes
As of March 2023, the shareholding pattern of Prakash Pipes shows that Dolly Khanna has marginally reduced her stake in the company by 0.1%.
Initially, Khanna bought 324,000 shares of Prakash Pipes in December 2021.
Since then, she has constantly raised his stake in the company from 1.4% in December 2021 to 2.8% in December 2022.
Here is how her holding has varied ever since she acquired a stake in December 2021.
| Quarter Ending | No of shares | Stake (%) |
| --- | --- | --- |
| Dec-21 | 324,000 | 1.35 |
| Mar-22 | 572,323 | 2.39 |
| Jun-22 | 647,323 | 2.71 |
| Sep-22 | 665,323 | 2.78 |
| Dec-22 | 677,823 | 2.83 |
| Mar-23 | 647,823 | 2.71 |
Data Source: BSE
One of the reasons for this can be the reduction in the price of plastics.
After attaining its peak in 2021, the price of plastic has declined to a two-year low in December 2022.
The price decline has adversely affected the financial performance of the company in recent quarters. Following the revenue of Rs 1.9 billion (bn) reported in the June 2022 quarter, the company's financial performance has been on a downward trend.
The company's revenue started to decline for the next two quarters. In December 2022 quarter, the company reported a revenue of Rs 1.7 bn.
While the company's profit also declined from Rs 250 m in the June 2022 quarter to Rs 134 m in December 2022 quarter.
Quarterly Results of Prakash Pipes (June 2022 - December 2022)
| Particulars | Jun-22 | Sep-22 | Dec-22 |
| --- | --- | --- | --- |
| Total revenues (Rs in bn) | 1.9 | 1.8 | 1.7 |
| Operating profit (Rs in m) | 217.0 | 217.0 | 208.0 |
| Operating profit margin (%) | 11.3 | 11.5 | 12.1 |
| Net Profit (Rs in m) | 250.0 | 131.0 | 134.0 |
| Net profit margin (%) | 13.0 | 6.9 | 7.8 |
Source: Equitymaster
Furthermore, given the current economic conditions and high inflation, customer sentiment in these markets has seen a substantial reduction in demand.
However, her 2.7% holding in the company can be justified by reducing input costs and improving demand.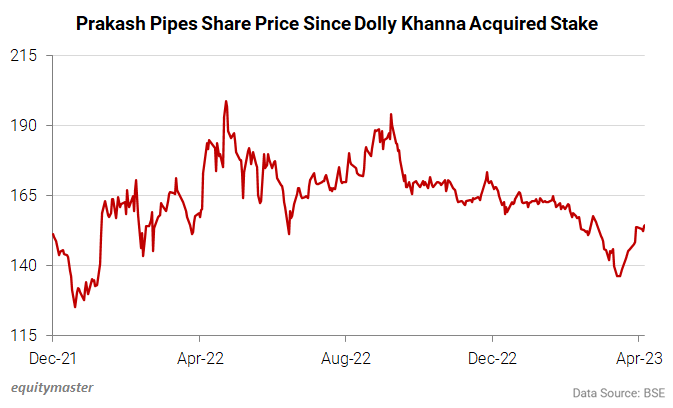 To conclude
While this approach might seem appealing, it has several potential drawbacks. A replicating investor may end up buying a stock at a much higher price than the successful investor, as the latter may have bought the stock much earlier when it was undervalued.
Also, their risk tolerance level, size of investment and investment horizon is often quite different from that of a retail investor. They may be able to take bigger risks and hold on to investments for a longer period of time.
Hence, blindly following their moves without considering one's own risk profile and investment goals can be risky.
While it might be tempting to follow the investment moves of successful investors, it is crucial to conduct thorough research and analysis before making any investment decision.
Investors should focus on investing in fundamentally strong companies that align with their individual goals and risk tolerance level, rather than blindly following these gurus.
Investment in securities market are subject to market risks. Read all the related documents carefully before investing
Want to Grow Your Wealth With Safe Stocks?
If you want a simple, safe, and hassle-free approach to long term wealth building...
Without having to worry about negative news or every little downswing in the market...
And without having to worry whether your investments will actually "deliver"...
You must read our note on Blue Chip Stocks now.
Details of our SEBI Research Analyst registration are mentioned on our website - www.equitymaster.com
Disclaimer: This article is for information purposes only. It is not a stock recommendation and should not be treated as such. Learn more about our recommendation services here...