Why Subex Shares Rallied 32% in the Last Two Sessions?
Apr 22, 2021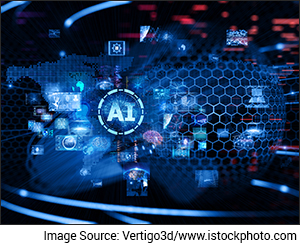 Bengaluru-based technology company - Subex share price surged intra-day in the past two sessions, ahead of the new product launch on Thursday, April 22.
On 19 April 2021, Subex informed the stock exchanges the company will be launching a new artificial intelligence (AI) automation platform on Thursday, April 22, and specific details of the same will be unveiled on the launch day.
The company said they have also started certain promotional campaigns and teasers on social media websites, which will continue till the day of the launch of the platform.
Key Financial Highlights - Q3FY21
The company's operating revenue was at Rs 938.8 m, up 0.6% quarter-on-quarter (QoQ) and down by 2.3% year-on-year (YoY).
Company's earnings before interest, tax, depreciation, and amortisation (EBITDA) was at Rs 203.5 m and EBITDA margin stood at 21.7%.
Its profit before exceptional items and tax was at Rs 643.1 m, up 48% YoY. Profit after tax (excluding exceptional items) was at Rs 87.1 m, down 7.1% QoQ and up 76.3% YoY.
Its earnings per share (EPS) stood at Rs 0.16 as against Rs 0.23 in Q2FY21 and Rs 5.77 in Q3FY20.
Financial Highlights for the First Nine Months Ended December 2020 (9MFY21)
The company's total operating revenue was at Rs 2.8 bn, up 5.8% YoY.
Company's earnings before interest, tax, depreciation and amortisation (EBITDA) was at Rs 753.5 m and EBITDA margin stood at 27.3%
Subex reported a 119% YoY jump in its consolidated net profit at Rs 361 m on the back of strong operational performance.
The company total cash, cash equivalents and free cash flow stood at Rs 1,655.4 m
and Rs 780.7 m, respectively.
Implementation, Customisation and Licenses Drove Revenue Metrics.
The company's revenue from operations is generated by three different services, as can be seen from the chart below.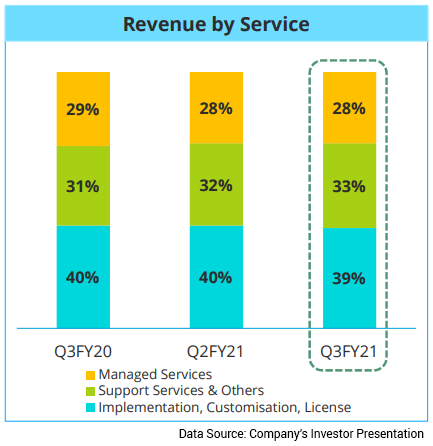 Around 40% of revenue of the company comes from implementation, customisation and license, followed by support services and managed services which stood at 33% and 28%, respectively.
Equitymaster's View on Subex Limited Right Now...
We reached out to Brijesh Bhatia, Research Analyst at Equitymaster, and editor of the premium monthly recommendation service Fast Profits Report, for his technical view on Subex Limited.
Here's what he has to say:
'The IT companies are on roll at all-time high and decade has begun with Mid and Small Caps.

Subex Ltd, the Mid-Cap IT stock is in strong bullish trend and hit all-time high of Rs.61.3 on 20 April 2021.

An accumulation is witnessed in last 8 weeks which is highlighted by rising volumes.

The bulls are in control of the stock and technically it looks strong'.
How the Stock Markets Reacted to Subex News...
Shares of the Bengaluru-based technology company - Subex - rose as much as 14% to hit a fresh 52-week high of Rs 59.8 after Monday's 16% up move.
Subex shares have surged a whopping 1,568% on the BSE from 52-week low of Rs 3.6.
On 22 April 2021, Subex ended at Rs 55.2 per piece down by Rs 2.6 or 4.5% from its previous closing of Rs 57.8 per piece on the NSE.
Over the last 30 days, the Subex share price is up by 59.5%.
Performance of the Last 1 Year

About Subex
Subex is involved in helping global communications service providers maximise their revenues and profitability.
Subex leverages product portfolio in areas such as revenue assurance, fraud management, network analytics, and partner management, and complements them through its digital solutions such as internet of things (IoT) security and insights.
Subex also offers scalable managed services and business consulting services.
For more details about the company, you can have a look at Subex factsheet and quarterly results on our website.
You can also compare Subex with its peers -
Subex Limited vs Oracle Financial
Subex Limited vs Persistent Systems Ltd
And to know what's moving the Indian stock markets today, check out the most recent share market updates here.