Tax Concerns Weigh on Bitcoin as Prices Slip Below US$ 50,000
Apr 23, 2021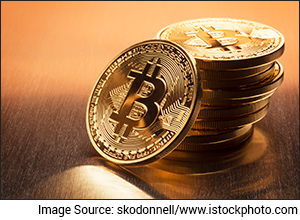 Declining for the seventh time in eight days, Bitcoin slipped to a near one-month low on Thursday after US President Joe Biden was said to propose almost doubling the capital-gains tax for the wealthy.
The cryptocurrency's price fell from around US$ 54,900 to US$ 51,500 before the markets inflicted another sell-off to US$ 48,300, according to Bitstamp exchange data.
Over the weekend, Bitcoin prices had tumbled as much as 15% in the wake of a false report from an anonymous Twitter account that the US Treasury was cracking down on crypto money laundering.
Biden's Tax Proposal
According to media reports, President Joe Biden will roll out a plan to raise taxes on the wealthiest Americans, including the largest-ever increase in levies on investment gains, to fund about US$ 1 trillion in childcare, universal pre-kindergarten education and paid leave for workers, sources familiar with the proposal said.
The plan is part of the White House's push for a sweeping overhaul of the US tax system to make rich people and big companies pay more and help foot the bill for Biden's ambitious economic agenda.
The proposal calls for increasing the top marginal income tax rate to 39.6% from 37%, the sources said. It would also nearly double taxes on capital gains to 39.6% for people earning more than US$ 1 million.
That would be the highest tax rate on investment gains, which are mostly paid by the wealthiest Americans, since the 1920s. The rate has not exceeded 33.8% in the post-World War Two era.
US Investors Already Face Capital-Gains Tax
Note that US investors in Bitcoin already face a capital-gains tax if they sell the cryptocurrency after holding it for more than a year.
On a year-to-date basis, Bitcoin prices are up 75%.
Bitcoin has been one of the best-performing assets in recent years. Anyone who bought Bitcoin a year ago, is sitting on as much as 575% gains.
People who had bought the cryptocurrency in April 2019 are sitting on as much as 800% gains.
As per an article in Bloomberg, the IRS has stepped up enforcement of tax collection on crypto sales. The agency, which began asking crypto users to disclose transactions on their 2019 individual tax returns, asks taxpayers whether they "received, sold, sent, exchanged, or otherwise acquired, any financial interest in any digital currency."
JPMorgan Chase & Co. and Tallbacken Capital Advisors LLC had recently warned there was potential for further downside in Bitcoin after it fell from its record high of US$ 64,870 on 14 April and took out key technical levels.
Bitcoin's Fall Coincided with Rally in Alternative Cryptos (Altcoins)
Reports also state that another reason for the slide in bitcoin may be attributed to the rise in other coins, particularly Ether.
Ether spiked as much as 8.5% on Thursday to a new record high above US$ 2,560, pushing the market capitalisation of the cryptocurrency near US$ 300 billion for the first time.
Earlier Thursday, bitcoin's so-called dominance ratio - its market capitalisation as a share of that for all cryptocurrencies - slipped below 50% for the first time since 2018.
Equitymaster's Technical View on Bitcoin
We reached out to Brijesh Bhatia, Ace Technical Analyst at Equitymaster, and editor of the premium monthly recommendation service Fast Profits Report, for his technical view on Bitcoin.
Here's what he has to say:
Bitcoin Falls 25%. What Happens Now?
Falling off the cliff is nothing new for Bitcoin and Cryptos. This instrument is not for light-hearted traders as volatility is always high in this asset class.
Bitcoin has corrected by 25% from the highs.
What's in store now?
Bitcoin Daily Chart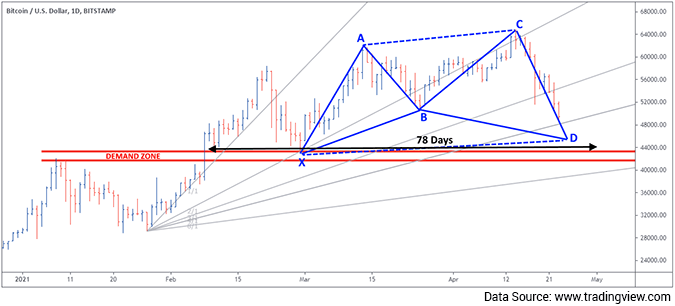 The daily chart of Bitcoin indicates the bearish momentum is likely to take a pause for the following reasons:
Bullish Shark Harmonic reversal pattern which has potential reversal zone at US$ 45,000.
Gann Fan highlights the support around US$ 48,000.
The demand zone is US$ 42,000 - US$ 43,000 zone.
As per Fibonacci Time Cycle of 78 days, the breakout is likely to retest and reverse by 27th or 28th April 2021 (+/- 3 days).
Analysing the technical structure, the fresh bullish rally might resume sooner retesting the US$ 45,000 - US$ 46,000 zone.
In a different vein, earlier this month, Brijesh did a deep dive into the price action of bitcoin.
Is it a bubble? Can the rally sustain? How high can the prices go?
Brijesh shared his views on these questions and more in the video below.
How Bitcoin and Other Cryptocurrencies are Performing Today
Currently, Bitcoin is trading at US$ 47,894, down over 12%.
After the Bitcoin tumbled, other cryptocurrencies also experienced a sharp sell-off with XRP and Ether both down 13% and 7% respectively, while Binance coin is down 5.8%.
Almost all of the assets in the CoinDesk 20 - the 20 cryptocurrencies making up the lion's share of the crypto market at eight significant exchanges - have fallen over the last 24 hours.
Resources from Equitymaster on Bitcoin
Here are links to some very insightful Equitymaster articles and videos on Bitcoin.
Happy Investing!
Yash Vora is a financial writer with the Microcap Millionaires team at Equitymaster. He has followed the stock markets right from his early college days. So, Yash has a keen eye for the big market movers. His clear and crisp writeups offer sharp insights on market moving stocks, fund flows, economic data and IPOs. When not looking at stocks, Yash loves a game of table tennis or chess.