Power Grid's InvIT IPO: Key Points to Consider
Apr 23, 2021
Shares of Power Grid Corporation of India were in focus today after the company said it is preparing to launch the first ever InvIT IPO by a state-owned firm, on April 29.
What is an InvIT?
An infrastructure investment trust (InvIT) is like a mutual fund, which enables direct investment of money from individual and institutional investors in infrastructure projects to earn a small portion of the income as return.
InvITs work like mutual funds or real estate investment trusts (REITs) in features.
They can be treated as the modified version of REITs designed to suit the specific circumstances of the infrastructure sector.
The objective of InvITs is to facilitate investment in the infrastructure sector.
First Ever InvIT IPO by a Government Owned Company
This will be the first time a state-owned entity is monetising its infrastructure assets through the InvIT route.
Note that the above move by Power Grid comes at a time when the government has set a disinvestment target of Rs 1.75 lakh crore for FY22.
It's betting big on initial public offerings (IPOs) by Life Insurance Corporation and Air India, after coming up short in the previous financial year.
As per media reports, this is a big transaction. The size of the IPO is likely to be around Rs 77 billion, with a primary component of around Rs 45 billion and the balance making up the secondary component.
The price band is likely to be announced on 29 April.
The InvIT will reportedly comprise of 11 power transmission lines owned and operated by Power Grid.
Sources familiar with the matter said strong interest has been seen from stable yield seekers. These include a clutch of global pension funds, global long only funds, and domestic infra funds. Leading mutual funds and insurance players are also keen on this offering.
"The power transmission sector has been insulated from the impact of Covid-19 and the government is looking to unlock value by monetising 5 assets," said a person familiar with the matter.
NHAI also Exploring an InvIT
National Highway Authority of India (NHAI) is another state-owned firm that is exploring an InvIT IPO to raise around Rs 50 bn.
So far, the private sector in India has seen two InvITs namely IndiGrid InvIT, backed by KKR and Sterlite Power Grid Ventures and IRB Infra InvIT, backed by the infrastructure firm and affiliates of GIC.
Equitymaster's View on the Infrastructure Sector
Since we are talking about InvITs, we reached out to Tanushree Banerjee, Co-Head of Research at Equitymaster, and editor of the premium stock recommendation service, StockSelect, for her view on the infrastructure sector.
Here's what she has to say -
"While the infrastructure sector is headed for a big upswing in terms of size and frequency of orders, investors must be extremely careful when it comes to selecting stocks.

They must verify the execution track record of the company and must be vary of companies with high debt levels or poor transparency in financials."
How Stock Markets Reacted to the News...
Power Grid Corporation of India share price surged over 4.5% in early trade today.
The 52-week high and 52-week low of the stock of Power Grid is Rs 239 and Rs 153, respectively.
On a year to date basis, the share price of Power Grid is up 7%. Over the past one year, it has gained 25% as can be seen from the chart below.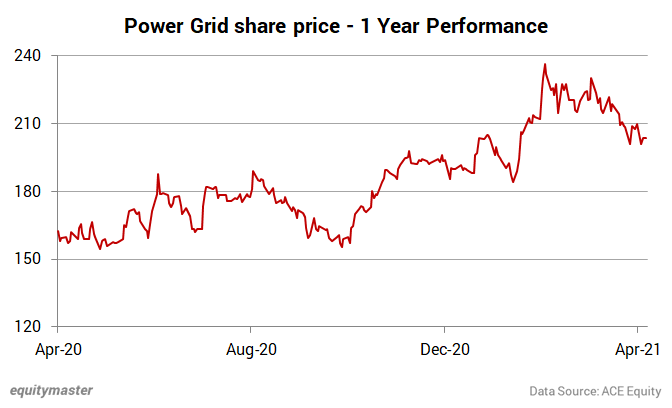 At the current price of Rs 211, the P/E ratio for Power Grid stands at 11.2 times.
About Power Grid Corporation of India
Power Grid Corporation of India is India's principal electric power transmission company.
The company is engaged in the transmission of bulk power across different states of India. It owns and operates 90% of India's interstate and inter-regional electric power transmission system.
The company's business segments are transmission consultancy telecom and ULDC/ RLDC. The company has 168,140 circuit kilometers of transmission network and 252 sub-stations as on 31 January 2021.
It has a total transformation capacity of about 422,430 lakh megavolt ampere as on 31 January 2021.
This gigantic transmission network spread over length and breadth of the country is consistently maintained at an availability of over 99%.
The company has diversified into telecom business to utilise spare telecommunication capacity of unified load dispatch center (ULDC) schemes using country-wide transmission infrastructure.
The Government of India held 51.34% stake in the company as on 31 December 2020.
For more details about the company, you can have a look at Power Grid's factsheet and Power Grid's quarterly results on our website.
For more details about the power sector, you can check out the power sector report on our website.
You can also compare Power Grid with its peers on our website:
To know what's moving the Indian stock markets today, check out the most recent share market updates here.
Monish Vora is a keen student of the markets and shares his observations through his clear and concise commentary.