ICICI Bank Posts Threefold Jump in Net Profit; Net Interest Income Grows 17%
Apr 26, 2021
India's leading private sector lender, ICICI Bank has reported a 260% growth, a three-fold jump, in its net profit to Rs 44 bn for the January-March quarter (Q4FY21).
This compared to Rs 12.2 bn in the year-ago period.
The bank's net interest income (NII) - or the difference between interest earned and interest paid - grew 17% to Rs 104.3 bn, compared to Rs 89.3 bn in the year-ago period.
The net interest margin (NIM) for the quarter came in at 3.84% compared with 3.67% in the December quarter and 3.87% in the year-ago quarter.
Total income stood at Rs 239.5 bn in the March quarter, compared to Rs 234.4 bn in the year-ago period.
Asset Quality Improves; Bank Makes Additional Covid-19 Related Provisions
ICICI Bank's Covid-19 provisions at the end of the March quarter stood at Rs 74.8 bn. Provisions of Rs 10 bn were added in the fourth quarter.
For the quarter ended March, the gross non-performing assets (NPAs), as a percentage of total loans, came down to 4.96% from 5.42% in the December quarter. This includes loans that were not tagged as NPAs following a court order or proforma NPAs.
Similarly, net NPAs declined to 1.14% from 1.26% in the December quarter.
Note that ICICI Bank has one of the highest contingency provisions for the pandemic related risks in the industry.
At the Q4 results conference call, there was uncertainty associated with the Covid-19 situation ahead.
When reporters asked the management about the guidance on growth and risks, the bank management refused to make any forecast on growth but said it's prepared for rough weather ahead.
The management said the second wave is already showing an impact on the overall business environment in April. This could mean the kind of aggressive growth seen on retail loans may not continue ahead.
ICICI Bank's board recommended a dividend of Rs 2 per share.
This is in line with applicable guidelines. However, the declaration of dividend is subject to requisite approvals.
Tough Competition to India's Largest Private Lender
In terms of deposits and loan growth, ICICI Bank has given tough competition to India's largest private lender HDFC Bank.
The bank's total deposits grew 21% YoY to Rs 9,325.2 bn. Domestic loans grew 18%, while retail loans grew 20% YoY.
As per media reports, the overall loan growth of ICICI Bank is not just higher than the industry, but also that of HDFC Bank.
The bank reported a healthy growth of 24% in average CASA balances (CASA ratio at 46%) and retail loan growth of 20% YoY.
These compare well with HDFC Bank's 27% growth in CASA and 7% YoY in retail loans.
The loan growth was broad based with both retail and corporate loan books showing healthy expansion. Sequentially, retail loans grew 6.6% while the corporate book showed a growth of 3.9%.
The lender has also benefited from the troubles of its rival HDFC Bank on credit cards. In a call with analysts, the management said the bank has seen market share gains and sharp growth in this segment.
--- Advertisement ---
These 3 Stocks are the Dark Horses of the Stock Market

The mainstream media mostly ignores them.

Mutual funds and hedge funds can't buy them in bulk.

Stock brokers rarely cover them.

These stocks are the dark horses of the stock market.

They only come in limelight after they have rallied by hundreds or even thousands of percent.

Our head of smallcap research, Richa Agarwal, has a knack for identifying such stocks before they begin their rally.

Over the years, she has spotted such stocks which have gone on to offer triple and even quadruple digit gains for investors. (* Past performance is no guarantee of future results)

Today, when the markets are near all-time high... and some investors are thinking of booking profits... Richa has spotted 3 such stocks which are set for a massive rally.

She will reveal the details of these 3 stocks on 28th June at her free online summit.

Click here to sign-up. It's free.
------------------------------
Robust Growth in Credit Cards
ICICI Bank has seen a robust growth in credit card issuances between December 2020 and February 2021, coinciding with the temporary halt on HDFC Bank sourcing new cards.
Data with the Reserve Bank of India (RBI) revealed that the outstanding credit cards of ICICI Bank stood at 10.3 m as on 28 February 2021. It registered a 4.7% jump since December 2020 when it was at 9.9 m.
In contrast, outstanding credit cards of HDFC Bank fell to 15.1 m at February-end this year from 15.3 m as on 31 December 2020.
HDFC Bank, however, continues to maintain its market leadership in the credit card segment.
Equitymaster's View on ICICI Bank's Credit Quality...
We reached out to Tanushree Banerjee, Co-Head of Research and banking sector analyst at Equitymaster, for her view on the private lender's credit quality.
Here's what she has to say:
Ideally a lending entity should ensure adequate provision cover for the incremental loans during Covid times.

ICICI Bank's healthy credit growth is hardly backed by such provisioning, which makes me wary of the bank's credit quality in the future.

ICICI Bank has never been immune to the cyclical risks of credit quality during periods of economic stress. It may not be any different this time.
How Stock Markets Reacted to ICICI Bank's Q4 Numbers...
Shares of ICICI Bank surged over 5% in intraday trade today.
Most of the banking stocks are up over 2% and the Bank Nifty index is up 2.1%.
ICICI Bank share price touched a 52-week high of Rs 679 and a 52-week low of Rs 286.
On a year to date basis, share price of ICICI Bank is up 8% and over the past one year, it has gained 62% as can be seen from the chart below.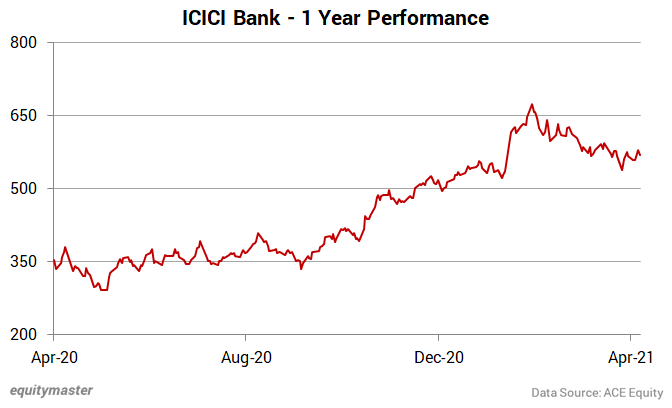 At the current price of Rs 600, the P/E ratio for ICICI Bank stands at 29.9 times.
BREAKING: It's Good Time to Invest in Gold, but Just Don't Go Blindfolded
About ICICI Bank
Industrial Credit and Investment Corporation of India (ICICI) Bank is a leading private sector bank in India.
The bank was originally promoted in 1994 by ICICI Limited, an Indian financial institution, and was its wholly-owned subsidiary.
ICICI Bank offers a wide range of banking products and financial services to corporate and retail customers through a variety of delivery channels and through its group companies.
Its subsidiaries are present in the UK and Canada and its branches in USA, Bahrain, Singapore, Qatar, Hong Kong, Oman, Dubai International Finance Centre, China, and South Africa.
ICICI bank also has representative offices in the United Arab Emirates, Malaysia, Indonesia, and Bangladesh. It's UK subsidiary has branches in Germany and Belgium.
In 1998, ICICI bank launched internet banking services and in 1999 it became the first Indian company and the first bank to be listed on NYSE.
The bank's consolidated total assets stood at Rs 14.76 trillion as on 30 September 2020.
ICICI Bank currently has a network of 5,288 branches and 15,158 ATMs across India.
For more details about the company, you can have a look at ICICI Bank's factsheet and ICICI Bank's quarterly results on our website.
You can also compare ICICI Bank with its peers on our website.
To know what's moving the Indian stock markets today, check out the most recent share market updates here.