Why Did HCL Tech Shares Plunge Today?
Apr 26, 2021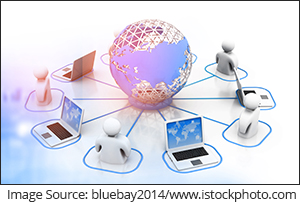 On 22 April 2021, IT services firm HCL Technologies (HCL Tech) reported a 6.1% decline in net profit to Rs 29.6 bn for the quarter ended March 2021.
HCL Tech also reported a 64.9% fall in its fourth quarter net profit at Rs 11.1 bn on a year-on-year (YoY) basis.
On a sequential basis, profit was down 72%. The provision for tax nearly doubled sequentially in Q4 to Rs 11.9 bn.
The company's revenue from operations during the quarter grew 1.8% to Rs 196.4 bn compared to Rs 193 bn in the previous quarter. The revenue in dollar terms rose 3% sequentially to US$ 2,696 m.
Revenue for the full year was Rs 753.8 bn a rise of 6.7% annually in rupee terms, and 1.1% in constant currency.
The earnings before interest and tax (EBIT) margin during the year was 21.4%.
Going ahead, the Noida-based company expects FY22 revenue to grow in double digits in constant currency, and expects EBIT margin between 19% and 21%.
The company's fourth quarter numbers were impacted by higher taxes and one-time bonus payment.
A special bonus was paid to employees in February 2021 to mark the company reaching the US$ 10 bn revenue milestone. This amounted to approximately US$ 90 m plus payroll taxes in some countries. This came to Rs 7.3 bn (Rs 5.8 bn net of tax) in rupee terms.
The company declared a dividend of Rs 6 per share, and a special interim dividend of Rs 10 per share as a milestone to mark the company crossing the US$ 10 bn milestone.
The total interim dividend is Rs 16 per share, bringing up the total for the year to Rs 26 per share.
Strong Deals Bagged by HCL Technologies will Drive Revenue Growth
A Europe-based global energy and utilities company selected HCL to build a new greenfield digital foundation by establishing a new, efficient, and modern independent IT organization to support its continued business transformation.
HCL was selected by a global Hi-Tech company as its strategic product engineering partner to drive products growth.
As part of this, HCL will be responsible for product innovation that would steer growth and customer advocacy for the client.
One of the world's leading consumer goods company signed up with HCL for workplace-as-a-service (WaaS) across all the client's support levels, geographies, and environments and to provide consumer-like experience enabled through automation and AI.
A US-based financial services company signed a strategic engagement with HCL spanning application management, application development, and digital foundation services to drive transformative innovation for the client's wealth management business.
A Japanese automotive company signed a large deal with HCL for end-to-end IT transformation spanning digital platforms, agile digital application development, migration, support and maintenance, and digital workplace services.
--- Advertisement ---
These 3 Stocks are the Dark Horses of the Stock Market

The mainstream media mostly ignores them.

Mutual funds and hedge funds can't buy them in bulk.

Stock brokers rarely cover them.

These stocks are the dark horses of the stock market.

They only come in limelight after they have rallied by hundreds or even thousands of percent.

Our head of smallcap research, Richa Agarwal, has a knack for identifying such stocks before they begin their rally.

Over the years, she has spotted such stocks which have gone on to offer triple and even quadruple digit gains for investors. (* Past performance is no guarantee of future results)

Today, when the markets are near all-time high... and some investors are thinking of booking profits... Richa has spotted 3 such stocks which are set for a massive rally.

She will reveal the details of these 3 stocks on 28th June at her free online summit.

Click here to sign-up. It's free.
------------------------------
Company's Attrition Rate to Increase in FY22
The Noida-based company plans to hire 20,000 freshers in FY22 based on the demand environment.
The company's Chief Human Resources Officer said that HCL Technologies hired 16,878 people in the March quarter with a net hiring of 9,295 and hopes to onboard around 20,000 freshers in FY22.
The IT company will conduct special programs in place to enable hiring and grooming talent to address near term demand led by increased offshoring.
Market Size of India's IT Sector
India's IT industry contributed around 7.7% to the country's gross domestic product (GDP) and is expected to contribute 10% to India's GDP by 2025.
IT industry's revenue is estimated to reach US$ 350 bn by 2025. Moreover, revenue from the digital segment is expected to form 38% of the total industry revenue by 2025. Digital economy is estimated to reach Rs 69.9 tn (US$ 1 tn) by 2025.
The domestic revenue of the IT industry was estimated at US$ 44 bn and export revenue was estimated at US$ 147 bn in FY20.
Total number of employees grew to 1.02 m cumulatively for four Indian IT majors (including TCS, Infosys, Wipro, and HCL Tech).
BREAKING: It's Good Time to Invest in Gold, but Just Don't Go Blindfolded
Equitymaster's View on Investing in the IT Sector Right Now...
We reached out to Richa Agarwal, senior research analyst and editor of the smallcap stock recommendation service, Hidden Treasure, for her view on the IT sector.
Here's what she has to say about investing in companies in the IT sector right now -
"Post pandemic, amid liquidity in the global markets and broad-based growth momentum, the IT sector and the stocks listed in it have had a dream run.

The BSE IT index is at a ten year high, up 63% from the pre-Covid highs.

While picking stocks in the industry, one should be mindful of relative growth and valuation of companies in the sector."
How the Stock Market Reacted to HCL Technologies Q4FY21 Numbers Today...
Shares of the company opened the day at Rs 944 on the BSE and Rs 940 on the NSE and closed at Rs 928.4 (down 2.9%) and Rs 928.8 (down 2.8%), respectively.
The share touched its 52-week high of Rs 1,067 and 52-week low of Rs 462.4 on 13 January 2021 and 27 April 2020.
Over the last 30 days, the HCL Technologies share price is down 4.7%. Over the last one year, the company's share price is up 101.5%.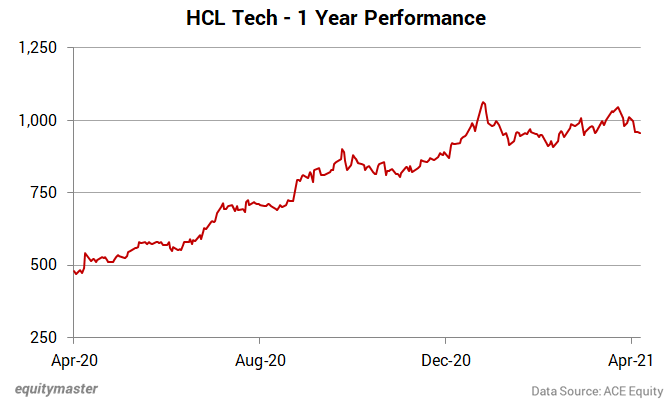 About HCL Technologies
HCL Technologies is an Indian multinational information technology (IT) services and consulting company, headquartered in Noida, Uttar Pradesh, India. It's a subsidiary of HCL Enterprise.
Originally a research and development division of HCL, it emerged as an independent company in 1991 when it entered into the software services business.
The company has offices in 32 countries including United Kingdom, United States, France, and Germany with a worldwide network of R&D, "innovation labs" and "delivery centers", over 1.6 lakh employees and its customers include 250 of the Fortune 500 and 650 of the Global 2,000 companies.
It operates across sectors including aerospace and defense, automotive, banking, capital markets, chemical and process industries, energy and utilities, healthcare, hi-tech, industrial manufacturing, consumer goods, insurance, life sciences, manufacturing, media and entertainment, mining and natural resources, oil and gas, retail, telecom, travel, transportation, logistics, and hospitality.
HCL Technologies is on the Forbes Global 2000 list. It's among the top 20 largest publicly traded companies in India with a market capitalisation of Rs 2.5 tn.
For more details about the company, you can have a look at HCL Technologies factsheet and quarterly results on our website.
You can also compare HCL Technologies with its peers:
HCL Technologies vs Tech Mahindra
To know what's moving the Indian stock markets today, check out the most recent share market updates here.