HDFC Life Insurance Reports 2% Rise in Net Profit for the Fourth Quarter
Apr 27, 2021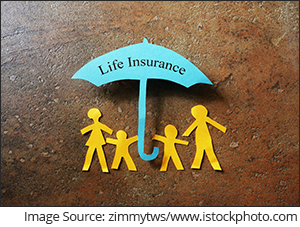 Private sector life insurer HDFC Life Insurance Company (HDFC Life) on a standalone level reported a 2% jump in net profit to Rs 3.2 bn in the March quarter of FY21, from Rs 3.1 bn in the same period last year.
During the quarter, the life insurer had collected new premiums of Rs 4.3 bn as against Rs 2.9 bn in the year-ago period.
Its investment income of Rs 60.5 bn in the fourth quarter was down almost 50% sequentially.
The insurer sold about 9.8 lakh new individual policies during the quarter under review, thereby registering a year-on-year (YoY) growth of 10% in FY21.
The Value of New Business (VNB) increased by 14% to Rs 21.9 bn on the back of consistent growth, balanced product mix, and cost efficiencies, thereby translating to new business margin of 26.1%.
The board has also recommended a final dividend of Rs 2 per equity share of face value of Rs 10 each for FY21. This is subject to approval at the company's annual general meeting.
The company's market share in terms of Individual Weighted Received Premium (WRP) has increased by 130 basis points from 14.2% in FY20 to 15.5% in FY21.
What is Weighted Received Premium?
Weighted received premium (WRP) is a measure of premium received on individual products. It is the sum of the first-year premium on renewal policies and 10% of single premium policies.
HDFC Life recorded robust growth of 17% in terms of Individual WRP during FY21, on a base of 19% growth in FY20.
Company's Annualised Premium Equivalent (APE) Increased in Q4
Individual APE: The life insurer's individual APE increased 16% to Rs 71.2 bn, compared to Rs 61.5 bn in the previous year.
Total APE: In FY21, the total APE of the insurer rose 13% to Rs 83.7 bn, compared to Rs 74.1 bn in FY20.
Also, the total premium collected by the insurer, which includes new business premium and renewal premium, increased 18% to Rs 385.8 bn.
Note that APE is a common measure of ascertaining the business sales in the life insurance industry.
It is the sum of the regular annualised premium from the new business plus 10% of the first single premium in a given period.
APE is computed as: APE = Annualised regular premium + 10 % of single premium (Including top-up premium).
Where annualised regular premium = premium amount * billing frequency.
HDFC Life's Assets Under Management
As on 31 March 2021, assets under management (AUM) of the insurer grew 37% to Rs 1.4 tn at the end of FY21.
In FY21, the company's AUM stand at Rs 17.4 bn, compared to Rs 12.7 bn in the previous fiscal year.
The company's debt to equity ratio under AUM is 64:36. Over 98% of debt investments were in government securities (G-Secs) and AAA bonds as on 31 March 2021.
Key Financial Summary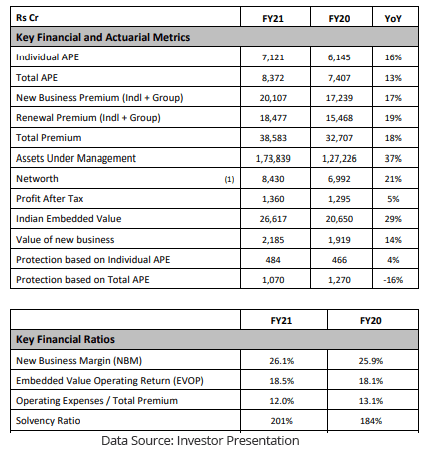 The above table shows the solvency ratio of the insurer has improved year-on-year (YoY) to 201%, against the regulatory requirement of 150%.
Based on the company's current assessment of the business operations over next one year, it expects the solvency ratio to continue to remain above the minimum limit prescribed by the Insurance regulator.
Covid-19 Related Provision Made by HDFC Life Insurance Company
HDFC Life has a Covid reserve of Rs 1.7 bn for FY22 on its balance sheet for potential adverse mortality experience.
The company said it will continue to monitor the adequacy of the reserve through the course of the financial year.
In the last financial year 2021, it was carrying a reserve of Rs 410 m, which it has fully used to pay out Covid-19 death claims. The hit on its balance sheet due to such claims was Rs 1.5 bn in FY21.
Over the course of the year, they have settled over 2.9 lakh death claims resulting in payouts in excess of Rs 30 bn.
How the Stock Markets Reacted to HDFC Life Insurance's Results...
Shares of HDFC Life Insurance Company opened at Rs 710 on the BSE and Rs 711 on the NSE.
The stock closed at Rs 678.6 (down 3.7%) on the BSE and Rs 678.8 (down 3.7%) on the NSE, respectively.
At its current price, it is trading at a P/E of 101.6.
The share also touched its 52-week high of Rs 746 on 9 March 2021, and its 52-week low of Rs 451.2 on 27 April 2020.
Over the last 30 days, the HDFC Life Insurance share price is down 0.4%. Over the last one year, the company's share price is up 39.6%.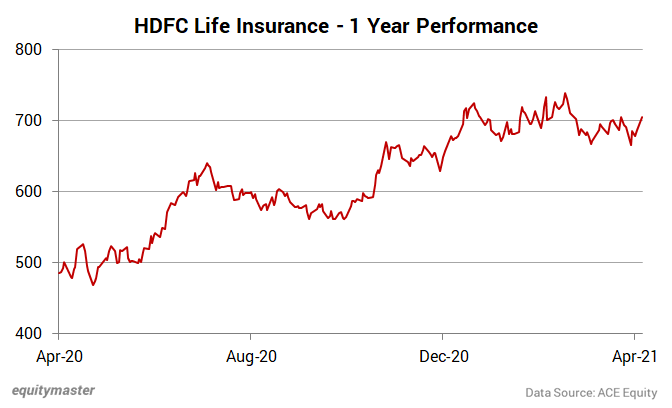 About HDFC Life
HDFC Life Insurance Company is a listed life insurance entity promoted by HDFC Group, India's leading housing finance institution and Standard Life Aberdeen, a global investment company.
Established in 2000, HDFC Life is a leading long-term life insurance solutions provider in India, offering a range of individual and group insurance solutions that meet various customer needs such as protection, pension, savings, investment, annuity, and health.
As on 31 March 2021, the company had 36 individual and 12 group products in its portfolio, along with 7 optional rider benefits, catering to a diverse range of customer needs.
HDFC Life continues to benefit from its presence across the country having a wide reach with 390 branches and additional distribution touch-points through several new tie-ups and partnerships.
The count of partnerships is in excess of 300, comprising traditional partners such as non-banking financial companies (NBFCs), mutual fund intermediaries (MFIs), and small finance banks (SFBs), and includes more than 50 new-ecosystem partners. The company has a strong base of financial consultants.
For more details about the insurance sector, you can have a look at HDFC Life Insurance Company factsheet and quarterly results on our website.
And to know what's moving the Indian stock markets today, check out the most recent share market updates here.