How Tata Motors is Dealing with the Covid Surge
Apr 27, 2021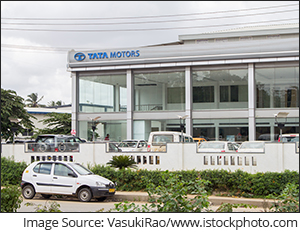 Shares of auto major Tata Motors were in focus today after it was reported the company is optimising its inventory levels as India battles the second wave of the Covid-19 pandemic.
Tata Motors said it shall ensure that optimal levels of inventory are maintained with dealers to meet customer demand.
It also said the company is prepared with sufficient inventory levels if there's a rebound in demand once the market situation returns to normalcy.
The company said the lockdown measures enforced in various parts of the country is expected to impact vehicle demand temporarily.
Hence, the company has set in motion a comprehensive 'Business Agility Plan' to protect and serve the interests of its customers, dealers, and suppliers.
By carefully calibrating and matching supplies with retail demand, the company is ensuring that optimal levels of inventory are maintained with dealers to meet customer demands.
It will also be prepared for a rebound in demand once the situation returns to normalcy.
The company also said it will continue to review and plan for the critical raw materials to cater to this volatile auto sector demand outlook and work closely with its vendor partners to meet the same.
The statement comes in the wake of a surge of Covid-19 cases across the country and lockdown measures announced by several states.
JLR Temporarily Suspends Production Due to Supply Chain Disruption
Tata Motors had last week reported that its British arm Jaguar Land Rover (JLR) will be suspending production at two of its plants from 26 April 2021, on account of supply chain disruption due to the Covid-19 pandemic.
The company's wholly-owned subsidiary, JLR UK, is currently experiencing some Covid-19 supply chain disruption, including the global availability of semiconductors, which is having an impact on its production schedules and ability to meet global demand for some of their vehicles.
Tata Motors said JLR is working closely with affected suppliers to resolve the issues and minimise the impact on customer orders wherever possible.
Tata Motors March Performance: 505% Growth in Domestic Sales
Tata Motors had reported 505% growth in total domestic sales at 66,609 units in March 2021 as compared to 11,012 units in the same month last year. This was due to mandatory business closures last year to control the spread of coronavirus outbreak.
The company's total passenger vehicle sales grew to 29,654 units last month, compared with 5,676 units in March 2020.
The company's PV business posted its highest ever sales in 9-years, in Q4FY21.
In FY21, the company's PV sales registered its highest ever annual sales in 8 years at 222,025 units, while posting a growth of 69% versus FY20.
In the electric vehicle (EV) segment, the company sold 4,219 units in FY21, a threefold increase over FY20.
The company also registered its highest-ever monthly and quarterly sales of 705 EVs and 1,711 EVs in Q4FY21.
We will keep you updated on how these numbers pan out in the month of April.
--- Advertisement ---
WATCH: FULL Replay of Our Urgent Broadcast

The full replay of our urgent broadcast on India's Revival is available for a limited time now.

In case you missed watching our broadcast LIVE...

You can see all the important highlights from our broadcast in this replay.

Please note that we may take this replay off the internet any minute.

So it is highly recommended you watch it immediately.

Click Here to Watch the Replay NOW
------------------------------
Equitymaster's View on Tata Motors...
Here's an excerpt of what Rahul Shah, Co-head of Research at Equitymaster, wrote about the stock of Tata Motors a few months back...
Of late, I have seen a perceptible change in the way car enthusiasts think about home grown brands, especially the ones sporting the Tata badge.

They believe that Tata Motors has definitely upped its game when it comes to cars, offering a much better bang for the back in terms of safety, reliability, and style. So much so that they've even persuaded a few in the group to go for a 'Tata' as their next car.

Well, it is not just in these chatrooms that Tata Motors is a hot commodity. It has also set the Indian stock market on fire with its stellar run in the last year or so.

However, any strong connection between the company's share price jump and its much improved car line up should be taken with a pinch of salt.

The company's car division is a small contributor to its overall fortunes.

What really moves the needle for the company in terms of its fundamentals is its overseas subsidiary of Jaguar Land Rover and its commercial vehicles division.

And therefore, investors should track these divisions closely if they have to take a call on the company as an investment candidate.
You can read Rahul's entire article on this topic here: Is the Tata Motors Stock Running Out of Juice?
BREAKING: It's Good Time to Invest in Gold, but Just Don't Go Blindfolded
He has also made a video on YouTube analysing Tata Motors.
Rakesh Jhunjhunwala, one of India's most successful investors, shelled out Rs 5 bn for buying Tata Motors shares a few months back and Rahul's video was about trying to understand this huge bet.
In case you haven't seen it yet, you can access it below:
How Stock Markets Reacted to the Above News for Tata Motors...
Shares of Tata Motors witnessed buying interest today and ended the day up by 2.1% on the BSE at Rs 301.5.
Automobile stocks ended on a positive note today with the stock of TVS Motors witnessing most of the buying interest.
Tata Motors share price has touched a 52-week high of Rs 357 and a 52-week low of Rs 74.
On a year to date basis, share price of Tata Motors is up 62% and over the past one year, it has gained a whopping 301% as can be seen from the chart below.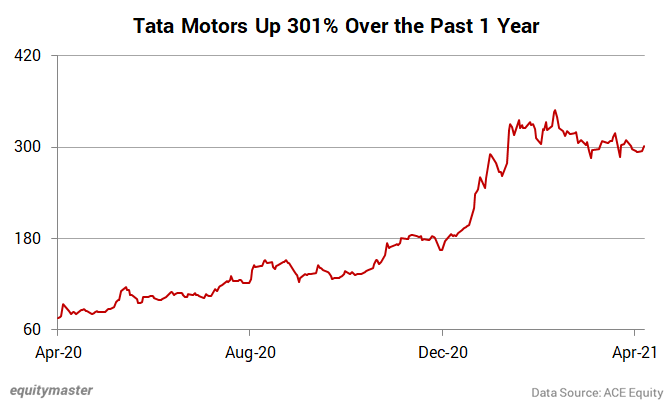 About Tata Motors
Incorporated in 1945, Tata Motors Limited (TML) is one of the leading automotive manufacturers in India.
Essentially a Commercial Vehicle (CV) manufacturer, TML forayed into manufacturing of passenger vehicles across all product segments - compact, mid-size, and utility in 1998-99.
The company forayed into the premium luxury car segment through acquisition of JLR (Jaguar and Land Rover PLC) in June 2008, which have a presence across Europe, US, China, Russia, and Brazil.
TML is one of India's largest Original Equipment Manufacturers (OEM) and the leading player in the CV segment.
In the domestic CV industry, TML has one of the most diversified product portfolios with a presence across light, medium, and heavy-duty segments.
The company offers a broad portfolio of automotive products including trucks, small, medium, and large buses, and coaches to passenger cars and defence vehicles.
Through its subsidiaries and associates, TML also has a presence in Thailand, South Africa, South Korea, and Indonesia.
The company's manufacturing base in India is spread across Jamshedpur (Jharkhand), Pune (Maharashtra), Lucknow (Uttar Pradesh), Pantnagar (Uttarakhand), Sanand (Gujarat), and Dharwad (Karnataka).
In addition, JLR has four manufacturing units and two product development centers in the UK, manufacturing units in Slovakia and China and a contract manufacturing facility in Austria.
For more details about the company, you can have a look at Tata Motors fact sheet and Tata Motors quarterly results on our website.
You can also compare Tata Motors with its peers on our website:
To know what's moving the Indian stock markets today, check out the most recent share market updates here.
Monish Vora is a keen student of the markets and shares his observations through his clear and concise commentary.